Sunscreen is an absolute step in skin care because if one can't use sunscreen, especially when using active ingredients she/he shouldn't be bothered at all. Until a couple of years ago, finding a good sunscreen in the Indian market was quite difficult. Most of them were said to be chemical-free sunscreens made with green ingredients which doesn't make any sense in terms of protection. While the good ones were only from international brands and were highly priced. But now, we have some really good sunscreens from dermatologists-recommended pharma brands as well as from new skincare brands. Re'equil, a dermatologist-tested cosmeceutical brand, has gained the trust of many consumers with its effective products. When they came up with sunscreens with proven lab results, I was sure to get this. This is highly raved and is considered one of the best sunscreens for oily skin. So here I am with my review of the Re'equil Ultra Matte Dry-Touch Sunscreen Gel For Oily Skin.
Product Description:
Re'equil Ultra Matte Dry-Touch Sunscreen Gel is a water-resistant, silicone-based sunscreen that's formulated with SPF 50 PA++++ to protect and repairs the skin from UVA, UVB rays, and IR Protection. It contains botanical extracts like Physalis Angulata which minimizes the harmful effects of infrared rays and freckles.
Re'equil Sunscreen Ingredients: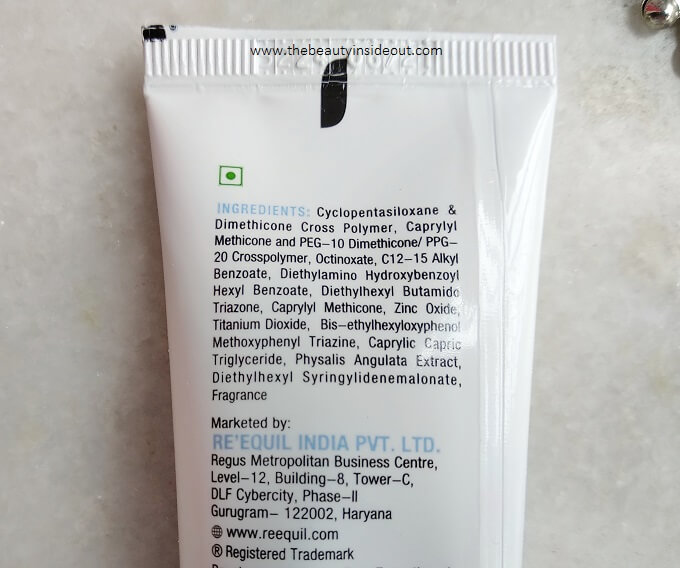 It's a hybrid sunscreen with Physical Filters of Zinc Oxide, Titanium Dioxide, and Chemical Filters of Octinoxate, Uvinul A Plus, Tinosorb S, and Iscotrizinol.
How to use it?
After cleansing, use either a hydrating toner, serum, moisturizer, or all of the above.
Take a sufficient quantity of sunscreen to cover your entire face and neck.
Apply it such that it forms a protective layer/film on the skin.
Re'equil Ultra Matte Dry Touch Sunscreen Gel Review
Packaging: The Re'equil Sunscreen comes in a sleek, white squeeze-able tube with a nozzle-type dispenser. I personally don't have anything bad to say about the packaging as it's user-friendly and travel-friendly. It occupies negligible space in my wallet for reapplication purposes.
Color & Texture: The Re'equil Sunscreen is not a gel per se. It has a thick pasty rice cream-like texture which isn't easy to spread on dry skin and pills if I use a hyaluronic acid serum underneath. The silicone base gives a primer-like feel to the skin. However, it takes a bit of time to blend the product completely because of its thick nature.
Fragrance: It has a typical old-school sunscreen scent to it. But it's subtle and goes away as soon as you wear it on the skin. So fragrance wasn't a problem for me. I feel like most skin types can work with this.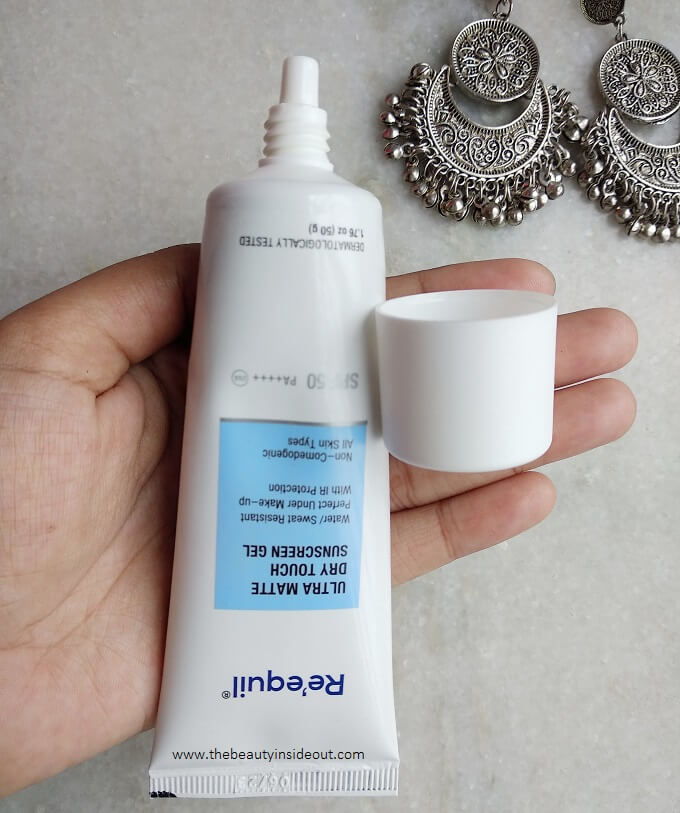 My Experience:
This Re'equil Sunscreen is a true matte sunscreen. But needless to say, it has a very comfortable matte finish, not the type you feel like your skin is dehydrated. It works wonderfully under makeup and gives an even-toned pore filling look immediately after application.
I used this when it was 40°c and I was out all day sweating like a pig – I must say it stayed put on my skin and I didn't tan as much. It is waterproof and it has been tested by independent labs to have a PA++++ which is great for us consumers. I didn't experience any breakouts whilst using this. However, don't forget to double cleanse with an oil cleanser first followed by a water-based cleanser to prevent clogging of pores.
Like any other product, this Re'equil Sunscreen has its own set of disadvantages. Sometimes it's quite difficult to blend in due to its texture and I can see white particles on the skin. If you use multiple layers of skincare, I would say this doesn't work well with every other product.
There is a also noticeable white cast (I am NC 20) initially which goes away after 10 minutes of application. It makes my textured skin look a bit dull and dry. Also, the silicone texture is too slippery. It's not something that I like for everyday use. But then it's great to wear under makeup. It blurs out the pores like I have a face tune and my foundation glides on smoothly without much effort.
I tend to reach out to this sunscreen whenever I wear makeup or am going to be out in the skin. Other times, I like to use other gel-based sunscreens. Regardless, it is a great Indian sunscreen that offers maximum sun protection.
Pros:
Offers excellent sun protection.
Silicone-based sunscreen works best under makeup.
Comfortable matte finish.
The pore-blurring formula gives an even-toned look.
Provides broad spectrum protection with SPF 50 PA++++.
Has a certified rating and has proven to be efficient in protecting the skin.
Doesn't irritate the eyes.
Non-comedogenic.
Best suited for oily, acne-prone skin types.
Alcohol-Free and Waterproof.
Dermatologically tested.
Cons:
Difficult to blend.
Have a slight white cast but goes away
Slippery silicone texture may not be liked by all.
Rating: 4/5
Would I recommend it? Yes, I would recommend this Re'equil Sunscreen For Oily Skin and Acne-Prone Skin Types. Its mattifying silicone-based texture is great to wear under makeup. The sunscreen is highly efficient in protecting the skin against tan, sunburns, and UV rays.
I hope this post was helpful