Skincare doesn't have to cost a kidney. At least one shouldn't stress about the money when investing in skincare. It is supposed to be a sense of self-care and a cure for anxiety. Not the other way around. Being a broke student, I am always looking out for a product that does the job and can be used for a very long time. This TonyMoly Wonder Ceramide Mochi Toner has got rave reviews in the Korean Beauty community. So when it was on sale, I got so excited and ended up buying the product. Was my impulsive buy fruitful? Read on to know.
Product Description:
A must-have nourishing and skin-replenishing toner that hydrates weak and dry dehydrated skin to the core. Formulated with Ceramide and other good Ingredients it helps to repair the broken skin barrier. Dermatologist tested.
TonyMoly Wonder Ceramide Mochi Toner Ingredients:
How to use TonyMoly Ceramide Toner?
Right after cleansing your skin with a face wash.
Take a few drops of the toner on your palm or cotton pad and apply it to your face and neck.
Repeat if you follow the 7skin method.
Follow it up with a moisturizer to lock in the goodness of the toner into your skin.
TonyMoly Wonder Ceramide Mochi Toner Review
Packaging: The toner comes in a tall, transparent bottle, in which you can see how much product is left behind. The bottle is big and bulky which is not easy to travel with. You have to shake the bottle to the other side so that the product comes out. And sometimes the nozzle disperses a lot of the product which you do not need. But it is very affordable so I don't mind.
Texture: The ceramide toner is milky white in color. It is quite viscous. It can feel pretty heavy when using it on the skin, especially for those who are accustomed to traditional watery toner. To me, the texture is similar to most hydrating korean toners. It works great to create a hydrating layer. One may or may not need a thick moisturizer depending on the skin type.
Fragrance: It does have quite a few essential oils which can break out some acne-prone skin. But it didn't bother my skin. The product is scented heavily with lemon peel oil. It does go away after putting it on the skin. For obvious reasons, I would have liked it better if this didn't have the fragrance components.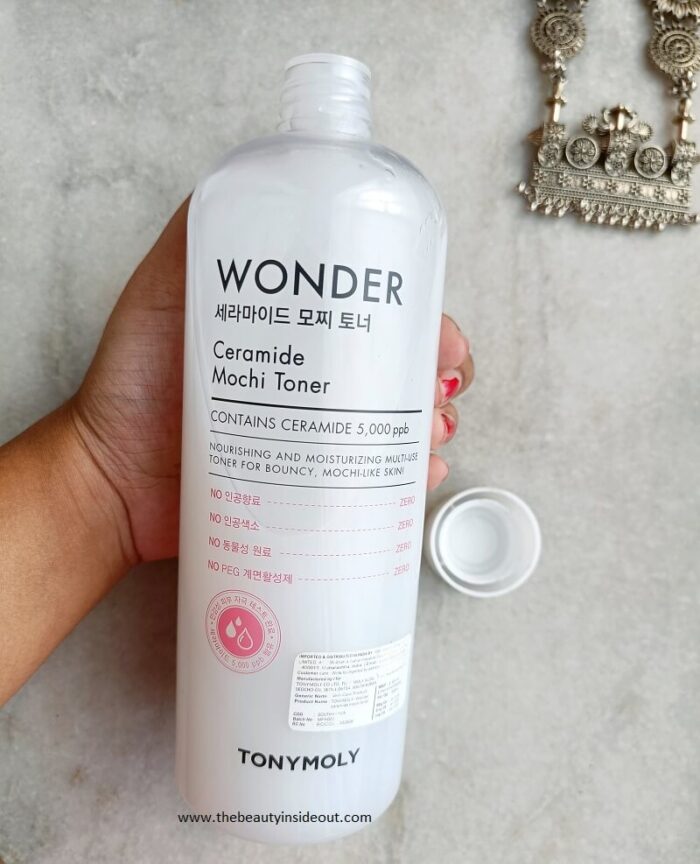 My Experience:
Looking at the claims, I can tell you this does tick all the marks they have said. It does heavily moisturize and preps the skin for further steps.
I have chronically dry skin and after putting on only one layer I don't need any heavy night cream. One cay says this doesn't do much in terms of hydration as it is only for moisturizing. It does have ceramides pretty far on the list so I don't know how much it helps when it comes to the broken skin barrier but I believe it would help as all the dermatologists say moisturizing is the key to replenishing the skin.
For very oily skin I can see it can be pretty greasy and suffocating and as a result of that it can cause breakouts with acne. But in that case, you can use a little product and apply gel moisturizer afterward.
I have used this for the last 3 months in my everyday night routine and I am nowhere to finish this product.
If you are looking for a good affordable toner that does the job then it is worth purchasing if there is a good sale going on.
Pros:
Contains 500ppb ceramide to repair the skin barrier.
Boosted with Panthenol and Hyaluronic Acid to provide long-lasting hydration.
Contains Centella Asiatica to soothe the skin.
Very Affordable and cost-effective product.
Very moisturizing to the skin.
Viscous toner so one doesn't need much when using it.
Preps skin for the next step.
Excellent for dehydrated skin.
Cons:
Can be a little oily if you use too much.
The packaging sometimes can disperse a lot of products.
Big and bulky packaging which isn't good for traveling.
Have essential oils which can cause sensitivity.
The strong fragrance may not be liked by all.
Rating: 4/5
Would I recommend it? Yes given the price I absolutely recommend it. It's a soothing toner that has ceramides in it.
What do you think of this Korean toner? Have you tried it?