Vitamin C Serums have become quite popular in the last few years. Every brand has one to its portfolio and it was high time that the drugstore brand launched one. And finally, here it is the Ponds Bright Beauty Vitamin C Serum. I bought it a few months ago and have used it enough to share my thoughts on it. Read on to know more about the Ponds Vitamin C Serum.
Product Description:
Infused with natural extracts of Vitamin C from Lemon, Green Papaya, and Pomegranate, the Ponds Vitamin C Serum from the Bright Beauty Range works to improve your skin tone and texture while imparting a beautiful glow to the skin. Its lightweight, non-greasy, non0sticky formula makes it an excellent choice for all skin types.
Ponds Vitamin C Serum Benefits:
Infused with Lemon, Green Papaya and Pomegranate Extract to make skin smooth and soft.
Helps in removing dead skin cells thereby replacing them with new healthier skin.
Protects the skin against sun damage caused by free radicals.
Reduces the signs of aging such as wrinkles, and fine lines.
Helps in reducing acne marks, dark spots, and pigmentation.
Reduces dullness and brightens skin.
Improves skin tone and skin texture.
Moisturizes and nourishes the skin with a subtle glow.
Ponds Vitamin C Serum Ingredients: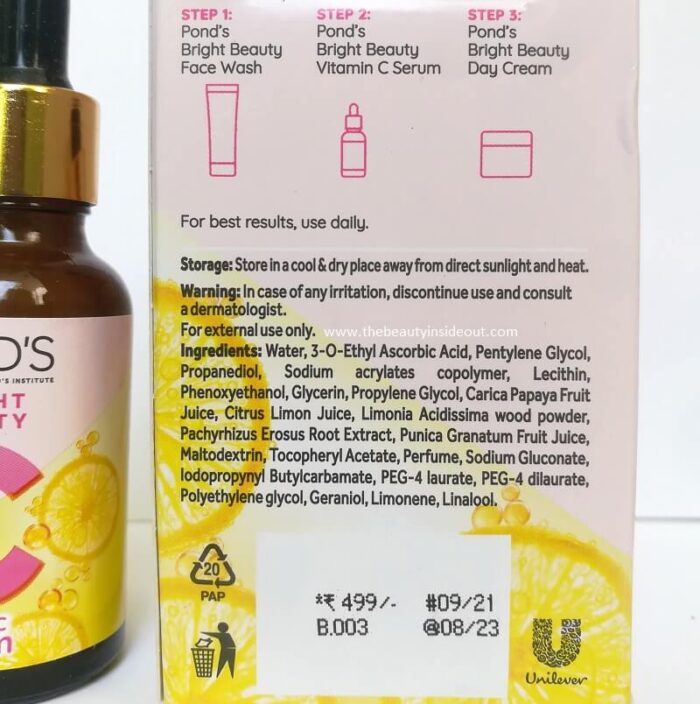 Ponds Vitamin C Serum Side Effects:
There are no side effects reported from using this serum. The serum did not even cause any tingling sensation for me which other Vitamin C Serums do.
However, it does have perfume and fragrance ingredients that may not suit everyone. I suggest looking into the Ingredient list thoroughly to check if you are allergic to any of the ingredients listed.
On another note, The Ponds Vitamin C Serum has Ethyl Ascorbic Acid which is the least irritating, stable form of Vitamin C. So this should be great for beginners and sensitive skin types too.
How to use the Ponds Serum?
After cleansing your skin with a suitable face wash, take a small quantity of the face serum on either your palms or fingertips.
Gently apply it all over your face and neck.
Gently massage it in circular motions until the serum is absorbed into the skin.
Follow it up with a moisturizer and sunscreen if its day time.
Ponds Vitamin C Serum Review
Packaging: The serum comes in a dark, amber-colored glass bottle which is a good thing. Vitamin C is light-sensitive and can oxidize easily and lose its potency if exposed to light and air. And the serum packed in dark bottles preserves its effectiveness significantly.
The bottle lid has a glass dropper attached. The inner corner of the bottle mouth has an air-tight enclosing to prevent further air exposure.
The bottle came packed in an outer carton that has all the relevant details of the product. It mentions the full ingredient list, batch number, expiry date, price, usage and storage instructions, etc clearly.
The brand has given us well-thought-out packaging when it comes to its vitamin c serum.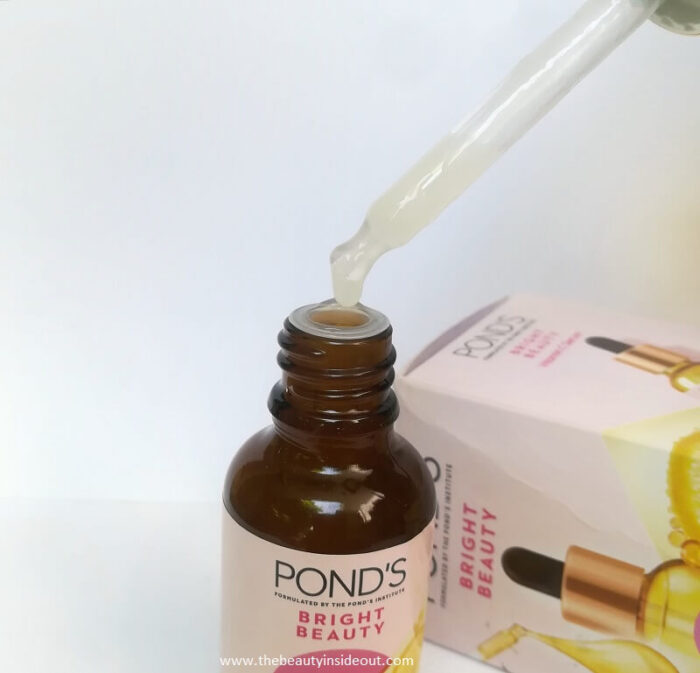 Color & Texture: The Ponds Vitamin C Serum has a milky white texture but goes on completely transparently on the skin.
It is a water-based serum that's totally lightweight and non-sticky.
Fragrance: The serum has an odd fragrance of raw fruit extracts. It's quite different from other Vitamin C Serums. The scent can either be a hit or miss. Totally depends on one's preference.
Personally, it's not an appealing scent to me. But it's a scent that doesn't linger and fades away soon after application. So I do not find it that bothersome.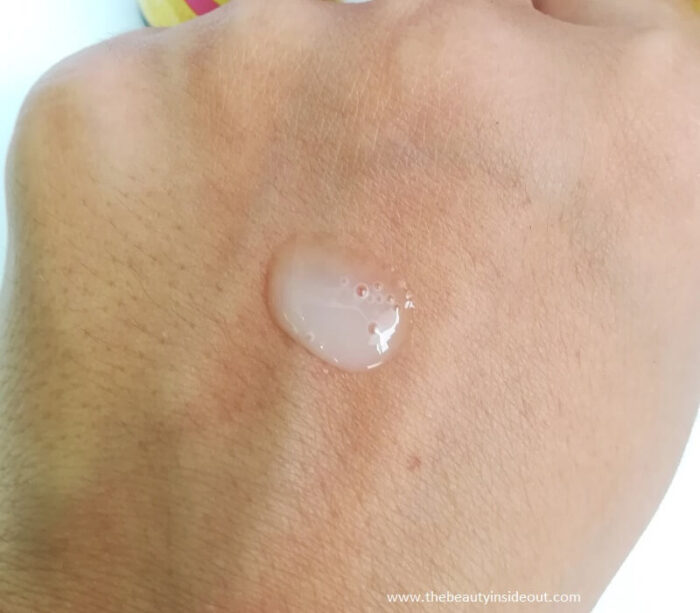 My Experience:
The Ponds Vitamin C Serum has a surprisingly elegant formula. Its watery texture is such a dream to use.
I use 3 to 4 drops of the serum for the face and neck. And it gets absorbed into the skin within seconds. It doesn't leave any residue behind and it's totally non-stick and non-greasy. If I go overboard, my skin soaks up the serum without being heavy. This is one of the most lightweight vitamin c Serums that I've used so far. Oily skin types will love its light, skin-like finish.
I've used a gel-based moisturizer as well as a gel-based sunscreen with this serum and it goes well with either of them. It doesn't pill or ball up with other products. The serum works well under makeup. It does not hinder makeup application or its finish.
On to its effectiveness, the Ponds Vitamin C Serum instantly plumps and adds a soft glow to the skin. It helped in reducing the dullness of the skin and even out the skin tone with regular use. It also subtly brightens the skin and helps with fading fresh acne marks significantly.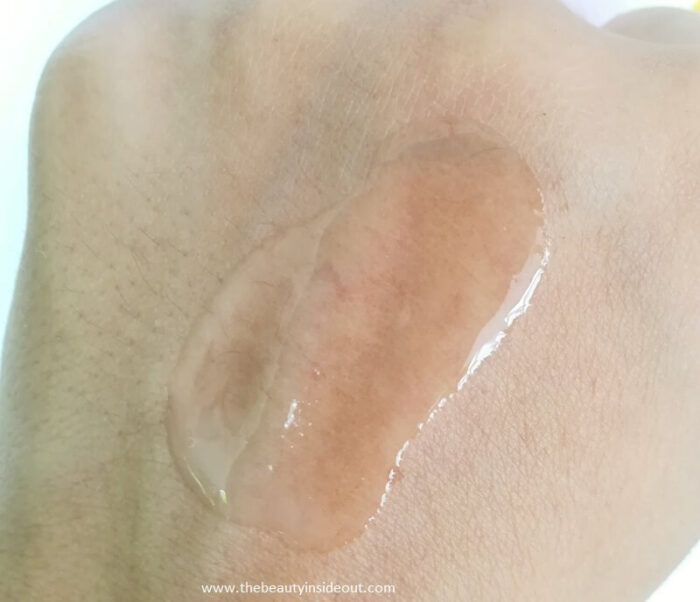 Consistent use of Vitamin C Serum has surplus benefits for the skin. It's a great antioxidant that prevents free radical damage caused by sun exposure. It's also a collagen booster and skin brightener, so it has long-term benefits for the skin.
The percentage of Vitamin C in the Ponds Vitamin C Serum is not disclosed by the brand. That can be a con if you are someone who would like to make an informed purchase of the exact percentages.
Overall, the Ponds Vitamin C Serum is one of the Best Vitamin C Serums for Beginners due to its lightweight, non-irritating formula that's great for all skin types.
Ponds Vitamin C Serum VS Garnier Vitamin C Serum
Ponds and Garnier are two popular drugstore brands that are often compared with each other. Having tried both the Vitamin C Serums, here is a quick comparison of both.
FEATURES
PONDS VITAMIN C SERUM
GARNIER VITAMIN C SERUM
Price/Quantity
INR 499 for 30 ml
INR 240 for 15 ml
INR 380 for 30 ml
INR 525 for 50 ml
Key Ingredient
Contains Ethyl Ascorbic Acid as the second ingredient.
Contains Ethyl Ascorbic Acid as the 10th ingredient after Niacinamide. Also contains Salicylic Acid which is an exfoliant.
Others
Alcohol-Free.
Contains Alcohol, higher up in the list.
Packaging
Comes in a dark amber bottle to protect against oxidation.
Comes in a transparent bottle, which is not very ideal for any Vitamin C serum.
Color
Milky white, goes on transparent.
Milky white, goes on transparent.
Texture
Viscous liquid.
Slightly more viscous than the Ponds Serum.
Fragrance
Strong raw citrus fruit fragrance. Fades soon after.
Synthetic citrus fragrance. Stronger than the Ponds. Fades after a while.
Feel
Ultra lightweight, non-sticky and non-greasy.
Has an initial tacky feel, but settles down to a lightweight finish.
Finish
Natural skin-like finish.
Dewy finish.
Post application
Skin is plump, soft, and supple with a subtle glow.
Skin is nourished and moisturized with a radiant glow.
Results
Reduces dullness, and acne marks and brightens skin.
Performance is on par with the Ponds Serum. But does make exaggerated claims like Brightening in 3 days.
Side effects
None experienced.
Can cause sensitivity if used in day time due to the presence of Salicylic Acid.
In short, if you are a novice with Vitamin C, I recommend trying out the Ponds Vitamin C Serum. If you want the added benefits of Niacinamide and Salicylic Acid for your acne-prone skin, the Garnier Vitamin C Serum will be a good option.
These are my thoughts on the product. What do you think of it? Have you tried it?
Share your thoughts in the comments section below.