You've probably noticed this one ingredient in a lot of skincare products if you've been fighting stubborn acne, blackheads, or looking to revitalize your dull complexion: salicylic acid. This ingredient is best known for its antibacterial and exfoliating properties.
While salicylic acid is widely used in skincare products, many people are unaware of its benefits, such as whether it is suitable for their skin type. With so many Salicylic Acid products on the market in India, deciding which one to purchase can be challenging. We decided to discuss what salicylic acid is and how beneficial it is to your skin in this post and give our honest opinion on the two most frequently requested products to review in this niche.
What is Salicylic Acid?
Salicylic acid (SA) is a naturally occurring beta hydroxy acid (BHA) found in willow bark. It has anti-inflammatory, antibacterial, and exfoliating properties. Many acne-fighting face washes and skin care products contain SA in varying concentrations. It specifically reduces blackheads and whiteheads by deeply exfoliating the skin. Salicylic acid loosens the attachments (known as desmosomes) between cells as it penetrates the skin. Salicylic acid also acts as a chemical exfoliator.
Salicylic Acid Benefits For Your Skin
Here are some of the benefits –
1. Helps Prevent Acne
Salicylic acid is especially beneficial for acne-prone skin. It effectively removes white and blackheads, especially around the nose. Salicylic acid reduces acne breakouts by breaking apart the attachments between cells in the skin's outer layers.
2. Exfoliates the Skin
Among salicylic acid's most exemplary properties are its ability to exfoliate the skin. The presence of dead skin cells on the skin's surface causes many skin problems. As salicylic acid penetrates the pores of the skin, it dissolves dead skin cells and flaky skin that has accumulated.
3. Prevents Whiteheads and Blackheads
Salicylic acid exfoliates the skin, and because it is oil-soluble, it can exfoliate inside the pore, reducing breakouts, congestion, and blackheads.
4. Helps in Reducing Blemishes
Salicylic acid aids in the reduction of hyperpigmentation and blemishes on the skin. Its astringent properties can help reduce discoloration and even out skin tone.
Many brands are popular in the Salicylic acid niche, and we will talk about one of them, Be Bodywise. It offers various  Saliyclic acid products ranging from gel to fash washes and even body washes. And they have gained popularity over a short span of time with a lot of consumer love. So, today we'll look at two of their most popular products in this category: salicylic acid face wash and salicylic acid face serum. These two products gained popularity shortly after their launch, so we will discuss whether they are worth the hype and give you our honest opinion on the matter. So, let's get started & dive right in!
Be Bodywise Salicylic Acid Face Serum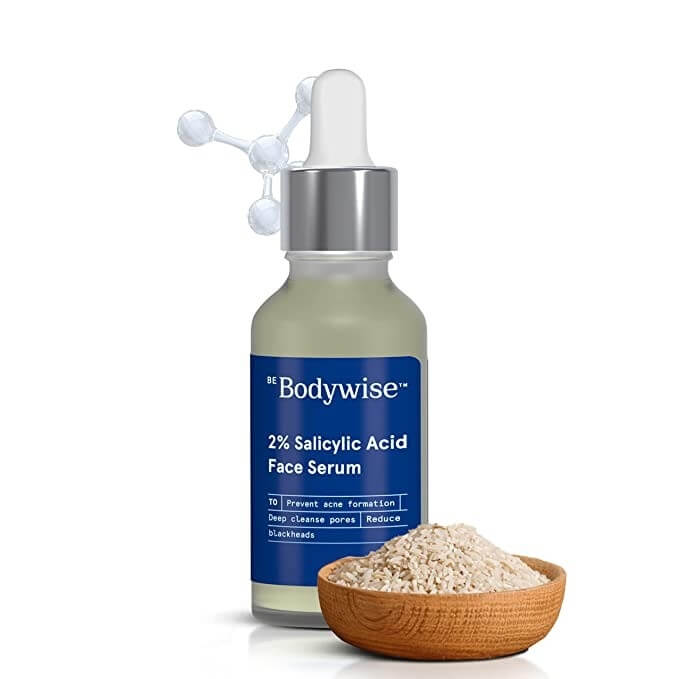 This 2% Salicylic Acid serum is clinically proven and produces visible results, making it one of India's best SA-based serums. This serum is the first step in an acne and comedones treatment plan. It works by dissolving the bond that holds the clogged pores' sticky cells together. This women's face serum contains fermented rice water, which soothes irritated skin. It has anti-inflammatory properties that allow it to penetrate deeply into the pores and unclog them. In this way, dead skin cells and other impurities are removed from pores, making them appear smaller. You can Be Bodywise salicylic acid serum for face online or at a store near you.
Price – 549 INR for 30ml
Pros :
Co-developed by dermatologists
Suitable for combination, oily, acne-prone, and sensitive skin
Harmful chemical-free formulation, paraben-free & non-comedogenic
Phthalates & Allergen-free fragrance
Helps improve skin texture, pores & acne
Gentle on the skin
Budget-friendly
Cons:
Won't give you instant results. You need to use it for at least a month consistently.
Be Bodywise Salicylic Acid Face Wash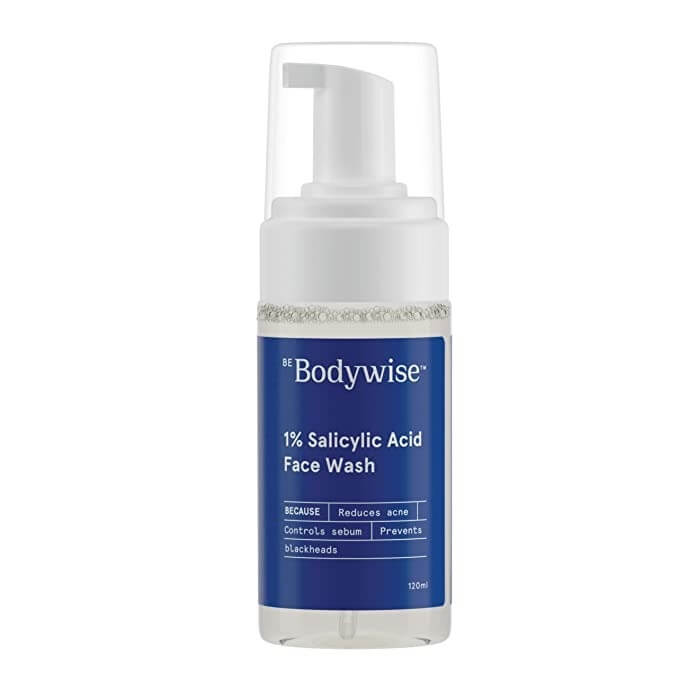 Be Bodywise brand has supplemented its products with high-level research, resulting in a well-balanced & skill-enhancing final product. Based on extensive research on the skin's needs and the ability to penetrate the skin, 1% salicylic acid in the face wash is the most accurate amount you can get, which makes the case why it is one of the best salicylic acid face wash in India.
The 1% Salicylic Acid Foaming Face Wash contains glycolic acid and is recommended for oily and acne-prone skin (AHA BHA). The anti-acne face wash clears the skin, unclogs pores, and kills acne-causing bacteria. The face wash can be used for two months to eliminate skin problems. You can buy salicylic acid face wash online from the Be Bodywise website.
Price – 349 INR for 120ml
Pros :
Phthalates & Allergen-free fragrance
Harmful chemical-free formulation, paraben-free & non-comedogenic
Suitable for all skin types
Unclogs pores and destroys acne-causing bacteria
Removes excessive oil from the pores
Budget-friendly
Co-developed by dermatologists
Cons:
Won't give you instant results. You need to use it for at least 4 weeks consistently.
Final Opinion
Salicylic acid products typically show results in 2 to 3 months. The same is true for the 2% Salicylic acid range from Be Bodywise. For those with oily skin, salicylic acid is a must-have ingredient. These products are essential for people who travel frequently, have demanding work schedules, or have sensitive skin.
We recommend this product because it effectively treats acne, regulates oil production, and keeps pores clean and clog-free. Furthermore, it's created by dermatologists, contains science-backed ingredients, and is free of any harmful chemicals. We strongly advise you to try this if you have acne-prone and oily skin. The active ingredient concentration and pH are critical for any salicylic acid product to function properly. Be Bodywise has done an excellent job of combining these elements and developing innovative science-backed products. You can consult your doctor to determine how much product you require to treat acne and control sebum production.