Cleansing makes the most essential part of a skincare routine. Slathering all your expensive serums and moisturizers on unclean skin is never going to be fruitful. So picking up a good face wash is very much needed. Gone are the days people are obsessed with harsh stripping cleansers. Now is the era of gentle cleansers that cleans the skin but without drying out the skin. Here is one of the best natural face washes that I tried recently. I'm talking about HERBCIENCE Face Wash. Read on to know more about it.
What does Herbcience Face Wash do?
Formulated with ingredients from 100% natural origin, Herbcience Face Wash is an everyday face wash used for deep cleaning the skin while leaving it soft and healthy.
HERBCIENCE is a manufacturer of 100% Natural beauty products certified by Ecocert COSMOS Natural and Made Safe, and approved by AYUSH, Government of India.
What are the Benefits of using Herbcience Face Wash?
Saponins in it provide deep cleansing and exfoliating properties to clean skin from dirt, oil and pollutants.
The face wash has Anti-Inflammatory, Antibacterial & Antiseptic properties to kill acne-causing bacteria.
It has skin conditioning herbal humectants to provide sufficient hydration to the skin.
Who can use Herbcience Face Wash?
The face wash can be used by all skin types. It benefits Oily and Acne Prone Skin Types the most.
What are the Ingredients?
Symplocos racemosa (Lodhra) 5.0; Cymbopogon citratus (Lemongrass) 3.0; Vetivera zizanoides (Usheera) 2.0; Tephrosia purpurea (Sharpunkha) 1.0; Curcuma aromatica (Turmeric) 1.0; Rubia cordifolia (Manjista) 5.0; Aloe barbadensis (Aloe Vera) 5.0; Orange peel 1.0; Azadirachta indica (Neem) 0.1; Basil Oil; Lauryl Glucoside (Coconut derivative); Coco Glucoside (Coconut derivative); Sodium Gluconate (Glucose based); Xanthan Gum (Plant derived); Caprylyl/ Capric Glucoside (Coconut derivative); Citric Acid (Citrus); Benzoic Acid (Plant derived); Orange Oil.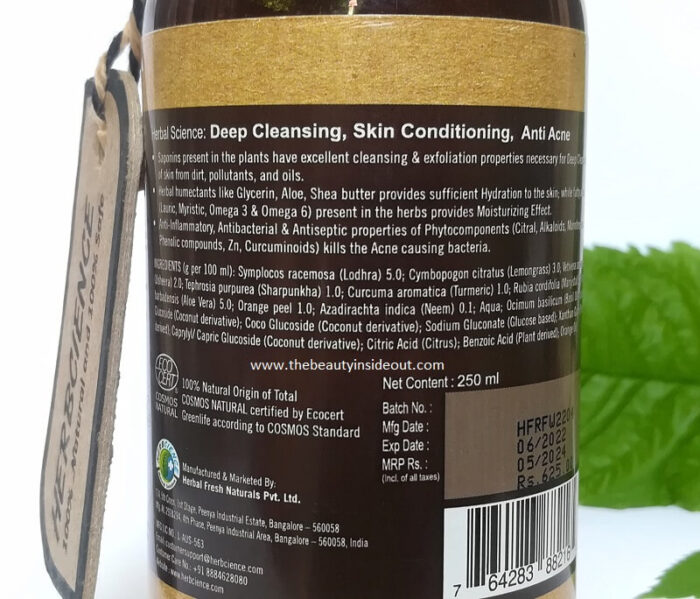 Ingredient Benefits:
Lodhra – is a herb that's used in traditional medicine. It has anti-inflammatory properties that fight acne-causing bacteria and soothe the skin.
Lemongrass– has natural astringent properties. It's great for oily skin to regulate oil production and control acne.
Usheera – Also called Vetiver is a natural coolant that improves skin texture and imparts a glow.
Sharpunkha – It's an ayurvedic herb that's used to calm skin inflammations. This helps in calming active acne.
Turmeric – The star ingredient of every household. It's great for reducing dullness, acne marks, and pigmentation, improving skin complexion, reducing pimples and giving a glow.
Manjistha – It has antibacterial, anti-inflammatory and antioxidative properties that are great for reducing acne and acne marks.
Aloe Vera – A natural coolant and humectant that soothes and moisturizes the skin.
Neem – It is very effective to fight acne. It soothes irritated skin and heals wounds and infections. It also boosts collagen and is great for anti-ageing.
Orange Peel – It's a natural antioxidant that reduces spots and blemishes.
How to use it?
Wet your skin. Take a few drops of the face wash. Gently massage it for a few seconds until lathers. Rinse it off with generous water. Pat dry and follow it up with a moisturizer.
What is the shelf life?
It has a shelf life of 24 months from the date of manufacture.
HERBCIENCE 100% Natural Face Wash Review
Packaging
The face wash comes in a brown coloured sturdy plastic bottle. It has a pump dispenser which helps you take out the product effortlessly. There isn't any lock mechanism and the huge bottles make it not so travel-friendly.
The bottle itself came in a cylindrical tin-like cardboard box which is great to reuse to store stationaries and stuff. You can also plant some saplings in it.
Color & Texture
The face wash is amber brown in colour. It has a smooth gel texture with a medium consistency.
Fragrance
The face wash has a very earthy herbal scent. The scent is a bit strong and may not be liked by many. But then I could totally relate it to the herbs used in making the face wash. It took me a couple of uses to get used to its scent. After that, it was totally non-bothering.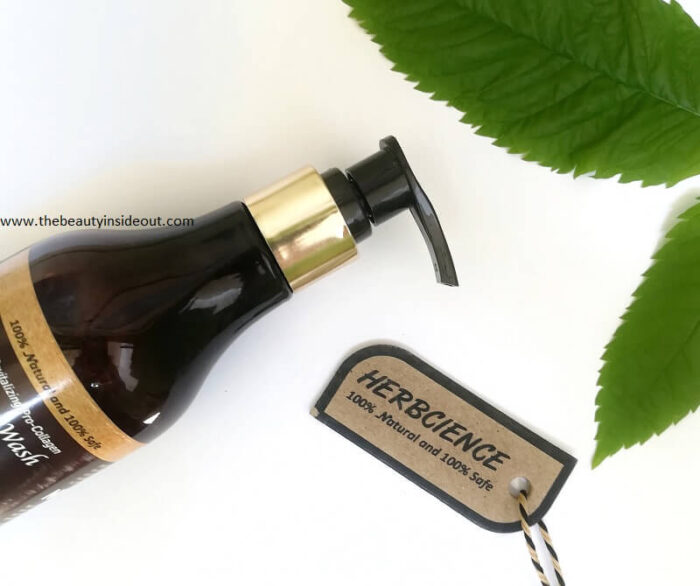 My Experience
When it comes to a face wash, there are two things that I look for. One – it should clean well; two – it shouldn't leave my skin dry and stretchy. And this natural face wash meets my expectations perfectly.
It is gentle on the skin while at the same it cleans well without stripping the skin of moisture.
The face wash is free of sulphates and is made with plant-based coconut surfactants. So it does not lather much. But that doesn't mean you need a lot of products. Half a pump is all I need to clean my face and neck.
I gently massage the face wash on my damp skin for a few seconds. And rinse it off with normal water. It washes off easily without leaving any slippery residue behind. I like that this face wash leaves my skin smooth and soft to the touch.
The face wash is very refreshing to use in the morning to awaken my skin and also at the end of the day to revive my tired skin. This would be a perfect face wash for the summer.
It is targeted for acne skin and has got some great acne-fighting ingredients such as Neem, Turmeric and Manjista. The face wash can be used by all skin types but suits best those with oily and acne-prone skin.
It is priced well and one bottle will easily last 4 to 5 months since you don't need a lot of product for each use.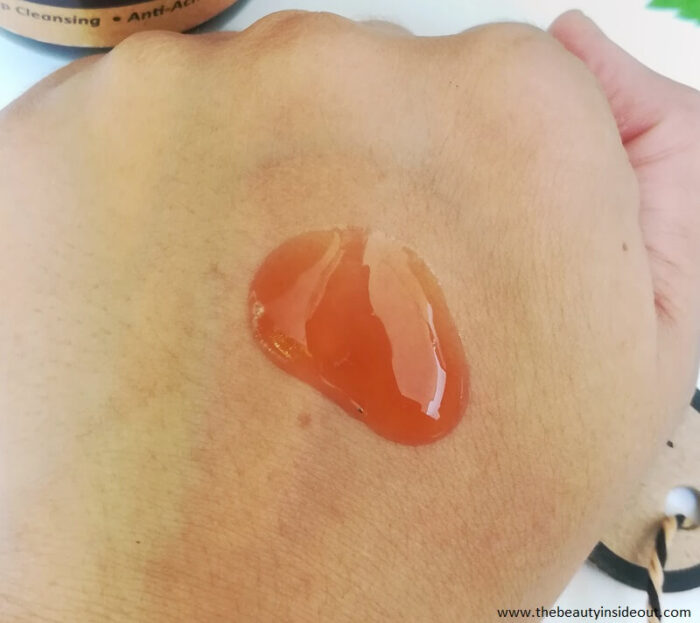 Pros
100% Natural Certified by Ecocert COSMOS Natural, France.
100% Safe certified by Made Safe, USA.
Infused with freshly extracted medicinal herbs.
Scientifically developed by expert ayurvedic doctors.
100% transparent about the ingredients.
Cleans well without drying out the skin.
Instantly refreshes the skin.
Leaves the skin soft to the touch.
Helps in reducing acne and acne marks.
Free from any chemicals like sulphates, parabens, artificial fragrance, colour and other harmful ingredients.
It's vegan and cruelty-free.
Cons
The scent may not be liked by all.
Rating: 4.5/5
Get Your HERBCIENCE 100% Natural Face Wash flat 25% on the Website or Buy from Amazon
Overall, if you have been looking for a gentle, mildly foaming, non-drying, sulphate-free, 100% natural face wash, then HERBCIENCE Face Wash meets all your requirements.
Have you tried any 100% Natural face wash like HERBCIENCE? Share your experience in the comments.