Garnier is one of the leading drugstore brands that are popular for its haircare and skincare products. This Garnier Vitamin C Serum is one of the Best Selling Garnier Products. Being an avid skincare user, I decided to buy this serum after seeing a lot of good reviews on Amazon. It was previously called Garnier Light Complete Vitamin C Booster Serum. Now it has been revamped and renamed Bright Complete. There's only a slight difference in the ingredient list. If are looking to try out this serum, read on to know my experience with it.
Product Description:
Formulated with Vitamin C, Japanese Yuzu Lemon, Korean Pearl Extract, and Niacinamide, the Garnier Vitamin C Serum works to reduce dark spots and make your skin smoother, brighter, and more translucent.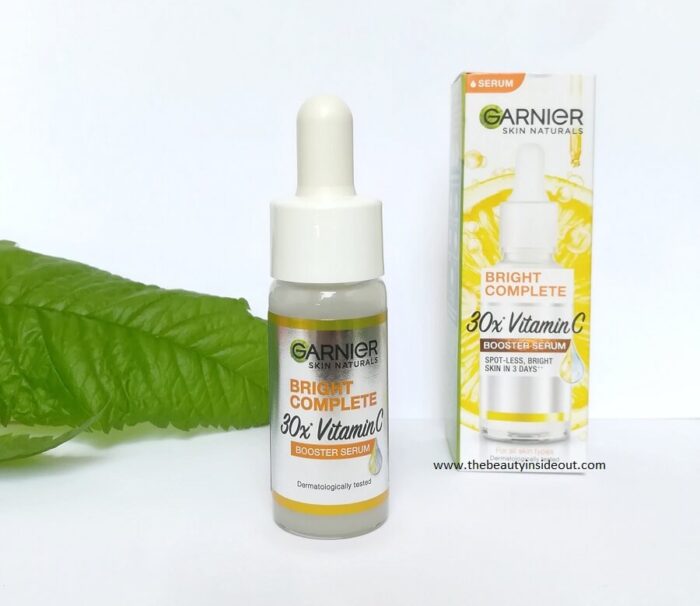 Benefits:
Fast absorbing essence works deeply to brighten dark spots and acne marks.
Skin is smoother, brighter, and translucent on first use.
There is an 85% decrease in Melanin and a 30% reduction in the size of spots.
Clears dullness and gives spotless clear skin in 3 days.
Benefits all skin types.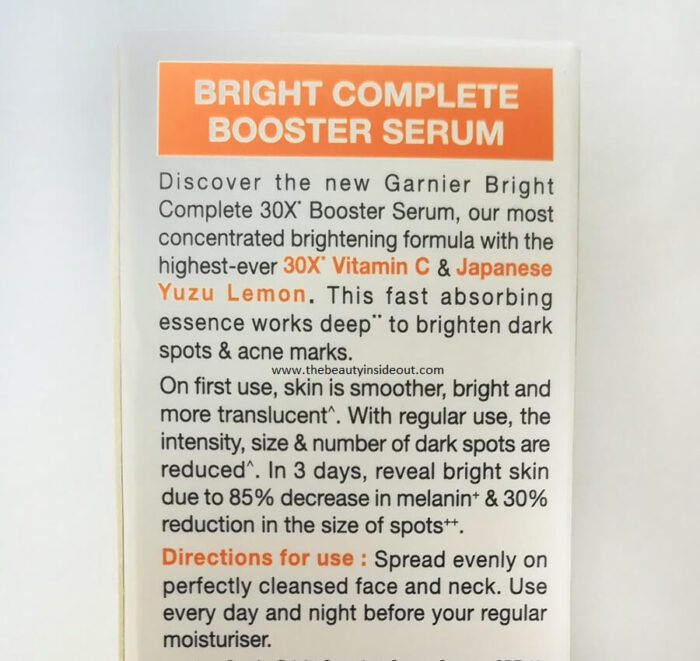 Side Effects / Precautions:
Vitamin C Serums are generally known to be irritating for some people. Vitamin C is a potent antioxidant that should be started with low strength to avoid getting burned.
Side Effects may include itchy skin, tingling sensation, burning, and rashes. If you experience any adverse effects, stop using the product and consult your dermatologist for a remedy.
Since the Garnier Vitamin C Serum contains few chemical exfoliants, it might increase sensitivity to the sun. Make sure to use a broad spectrum sunscreen generously in the morning when using this Vitamin C Serum.
The serum is not harmful. But those who are sensitive to fragrance in skincare might find this serum problematic as it contains a bunch of fragrance allergen ingredients.
Personally, I did not have any of the above-mentioned problems whilst using the Garnier Vitamin C Serum.
Garnier Vitamin C Serum Ingredients: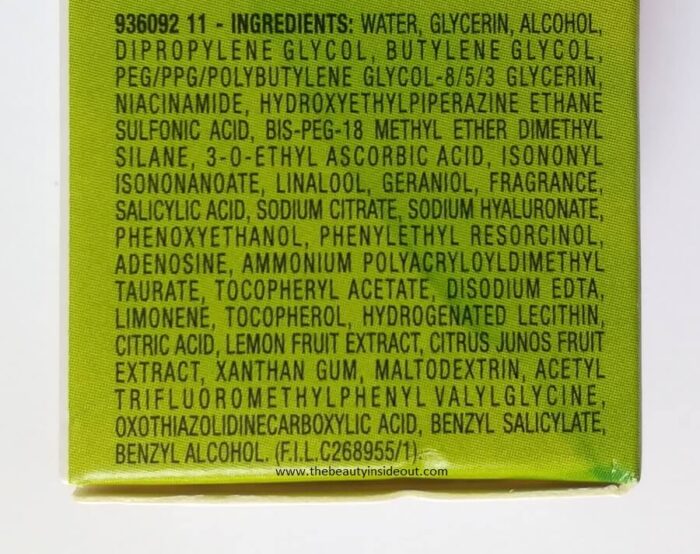 Ingredient Benefits:
Glycerin: skin-identical moisturizing ingredient, that improves the skin barrier and relieves dryness.
Niacinamide: anti-inflammatory, anti-aging, supports skin barrier, and an excellent ingredient to brighten skin.
3-0-Ethyl Ascorbic Acid: a stable form of Vitamin C. It's the gentlest of all and doesn't irritate the skin. Great for reducing pigmentation, brightening, and evening out skin tone.
Salicylic Acid: a BHA, an oil-soluble chemical exfoliant that deeply cleanses the pores for smoother and softer skin. Great for acne, oily skin, and blackheads.
Sodium Hyaluronate: Popular form of Hyaluronic Acid. Provides intense hydration by binding water onto the skin.
Adenosine: Has soothing, repairing, and restoring properties that are great for the skin barrier.
Tocopherol Acetate: this is nothing but Vitamin E. It is an antioxidant to fight free radical damage.
Phenylethyl Resorcinol: an antioxidant that has skin-lightening properties.
Citric Acid: an AHA that provides surface-level exfoliation. It has also anti-aging and antioxidant properties.
Lemon Fruit Extract: works in conjunction with AHA to exfoliate the skin and improve skin texture.
Alcohol: responsible for giving light formulation with great absorbing properties. But can be drying on the skin.
Linalool, Geraniol, Limonene, Benzyl Salicylate & Parfum/Fragrance: All of these are fragrance ingredients that give a floral scent. These are allergens that may not suit everyone.
Phenoxyethanol, Benzoyl Alcohol: preservatives that keep the product intact from going bad. In smaller amounts, they are said to be skin-safe.
As you can see from the ingredient list, Niacinamide is higher than Ethyl Ascorbic Acid. Most commercial serums have 2 to 10% Niacinamide. So I believe the Vitamin C in this serum should be lower than that. Hence making it a gentle formulation. It is marketed as a Vitamin C Serum but it does everything that a Niacinamide Serum would do too. So if you want a serum with a combination of both, this is a good choice.
How to use it?
Garnier Vitamin C Serum can be used daily, twice a day in the morning and night time.
Take a few drops of the serum and apply it gently and evenly all over the face covering every area.
Gently pat until absorbed.
Follow it up with sunscreen in the morning.
Garnier Vitamin C Serum Review
Packaging: The serum comes in a classic serum bottle that's made of glass. It comes with a glass dropper lid that functions well. The bottle is transparent, unlike many Vitamin C Serum packaging.
Vitamin C is photosensitive, so they are mostly made available in dark bottles. It must be also stored in a cool, dark place to prevent it from oxidizing and losing its potency.
I believe the brand is well aware of this fact. I think the formulation is such that it doesn't require such packaging. So far, I haven't noticed anyone complaining of the serum getting oxidized and turning yellow.
To assure us, the consumers, they could have easily made it in a dark bottle. But then they chose to go for pretty see-through-looking packaging.
Like any serum, this serum bottle comes packed in an outer carton that has all the relevant details about the product. I suggest not throwing it away immediately and keeping it for storing the bottle after each use.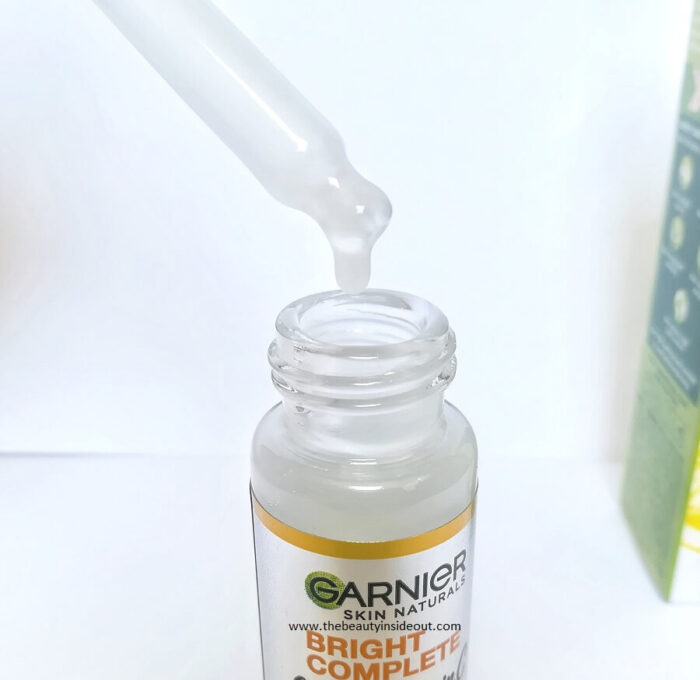 Color & Texture: The Garnier Vitamin C Serum is a milky white serum with a smooth texture. The consistency is thicker than water, but it's still flowy.
Fragrance: The serum has a bold citrus fragrance, that's standard for the Vitamin C range. The scent is similar to the Garnier Vitamin C Sheet Mask. It might sensitize some skin types. The scent doesn't linger long and vanishes soon after application.
My Experience:
I've used this serum for about a month and I can say that it's a beginner-friendly Vitamin C Serum that has its own set of pros and cons.
The first few times, I started using this serum in my morning routine just after cleansing and before my moisturizer. I used 4 drops of the serum for the full face and 2 drops for the neck. The serum is very lightweight, goes on a tad bit sticky initially but gets absorbed completely within seconds to give me a nice dewy finish that's not over the top. The serum on its own is nourishing and leaves the skin hydrated.

If you have oily skin, you could use a lightweight gel-based moisturizer on top. For my combination skin, I like to top it off with a Ceramide Moisturizer. I use Dr. Sheth's Ceramide Serum (it's a light gel, so works as a moisturizer for me) during the day and follow up with a broad-spectrum sunscreen.
When I started using the Garnier Serum at night as well, I used the Bioderma Atoderm Baume as my moisturizer. If you have dry skin, I suggest using a good hydrating toner as well before applying the serum.
With consistent usage over a period of one month, the Garnier Vitamin C Serum is really effective in reducing the dullness of the skin. It improves skin texture, evens out skin tone, and makes it look bright and lively. It helps to fade away dark spots left behind by pimples slowly.
Though the Garnier Serum didn't brighten my skin in 3 days, as claimed, it nourished my skin and made it healthy looking.
Overall, if you can forgo its heavy fragrance, this is a nice starter Vitamin C Serum for beginners. It's budget-friendly, easily available, and comes in 2 sizes. So you can also get the smaller one to test it out first.
Similar Products: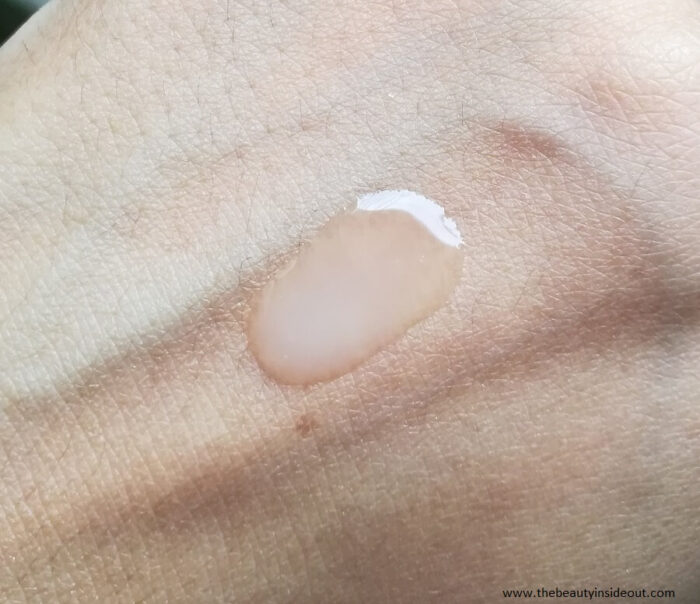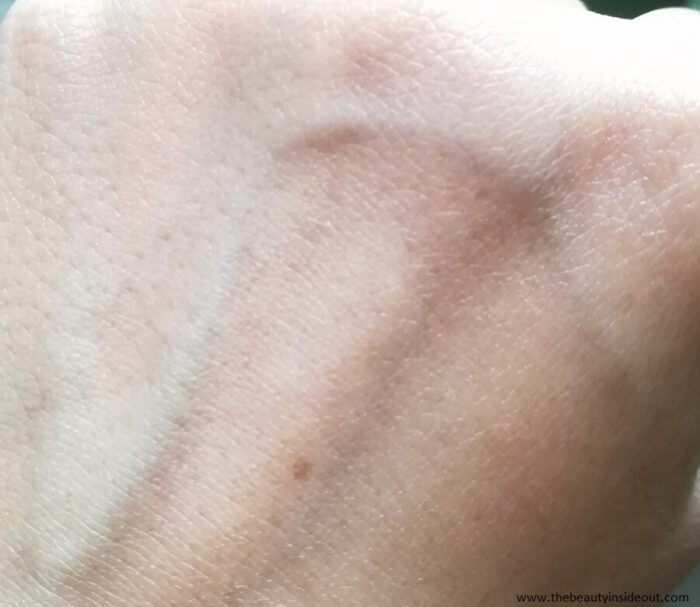 Pros:
Lightweight, fast-absorbing serum.
Budget-friendly & beginner-friendly.
Non-sticky, non-oily.
Contains Niacinamide, Vitamin C, Vitamin E.
Doesn't oxidize.
Brightens skin with consistent use.
Easily available.
Cons:
Not for sensitive skin.
Does not brighten skin in 3 days.
Contains Alcohol and fragrance.
Doesn't come in a dark bottle.
Slow results.
Rating: 3.5/5
Would I recommend it? Yes, for beginners. If you want to test the waters with Vitamin C Serums, this is a good buy. If you are an intermediate user, you might find its results lacking. The Garnier Vitamin C Serum is good for oily skin but can be used by all skin types except sensitive and hypersensitive skin.
Where to buy it? Amazon.in
What do you think of this serum? Have you tried it? Share your thoughts.