With all the craze for the korean sheet masks going on, Garnier was no different in jumping into the sheet mask genre. They launched 3 sheet masks targeting dehydrated skin. I wanted to try them out and see if they are comparable to other Facial Sheet Masks that I have tried. So I bought all 3 Garnier Sheet Masks, used them and now sharing how they worked for me.
Packaging: The packaging is similar to every other sheet masks. These come in plastic aluminium pouches with tear mark at the top of the pouch. I like how these sheet masks are colourful designed in blue, pink and yellow. They do have various details about the mask furnished at the back of the pouch which includes the claims, ingredients, how to use them, the price, the manufacturing date and each and every other detail that one would look for.
Ingredient Analysis: All three sheet masks are marketed to be Hyaluronic Acid based Serum Mask. I sense they are the following the current trend of hydrating products. If you keenly look at the ingredient list, you can find Sodium Hyaluronate (a form of Hyaluronic Acid) not anywhere close to the top of the ingredient list, which means they are not present in higher concentrations. The Hydra Bomb variant alone contains Alcohol (as its fourth ingredient) so this is not for those who look for alcohol free products. All of them have Glycerin, a humectant that reduces water loss and locks in moisture into the skin. Other common ingredients include Glycol, Parfum/Fragrance  & Phenoxyethanol. I will jot down the key ingredients under specific sheet masks down below in this post.
Material: The Garnier Sheet Masks are pretty thick compared to the usual korean masks. They are made of white cotton like fabric. These aren't the most comfortable mask due to its thickness and fit. Each sheet mask come attached to an additional blue colored textured sheet. This is probably kept for easier placement of the mask on the face. But personally I feel this blue sheet to be totally unnecessary because it isn't actually sticked to the actual sheet mask (like The Face Shop The Solution Mask) and doesn't help with the application of the mask. Also, the blue sheet holds some of the serum which goes waste.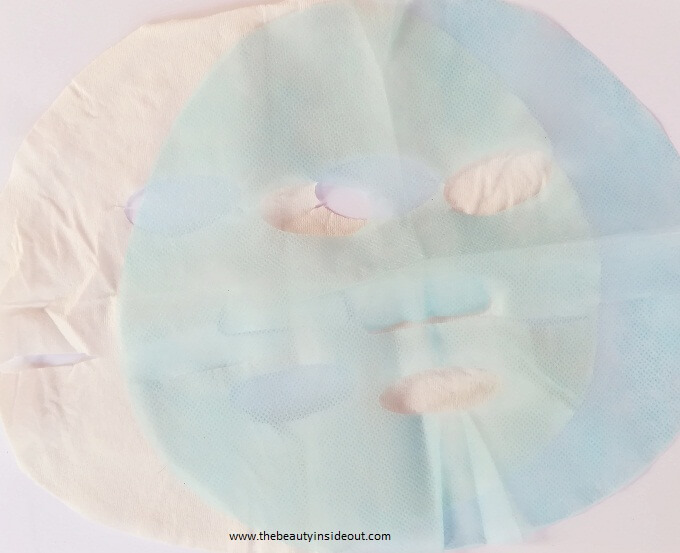 Fit: The fitting was below average for my face shape. The sheet mask failed to adhere properly near the area between my eyes and nose. The eye cuts are smaller than I expected and throughout the masking session I was conscious that the serum would get into my eyes. Overall, the fitting was a disappointment for me.
Serum: They claim to contain 1 week of serum in a sheet mask. Indeed all the sheet masks are soaked in enough serum. The serum is colourless, watery essence like, with a thin and light consistency. The serum has a slippery silicone feel to it. There was about half a teaspoon of the serum left over the pouch after the sheet mask is taken out. One can use that over the hands and legs. I chose to save them and use it in my next day morning CTM routine in the serum step.
Fragrance: All three masks have a note of typical artificial floral fragrance. The Light Complete variant has a citrusy note as well. The fragrances cannot be termed as mild, but they aren't the irritating types. The Hydra Bomb Mask has a very soothing and refreshing scent. In any case, the fragrance is just an unwanted addition and they could have easily skipped it as they don't boost the performance of the mask in any way.
How I used the Garnier Sheet Masks?
Like I've said in my previous Dear Packer Sheet Masks Review post, there are different ways one use sheet masks. Most sheet mask beginners (I was like that too) wash off the face after masking which is not the ideal way to use any sheet mask. I'll let you know how I used them so that it'll give you an idea of how they performed for me along with my CTM routine.
I used all the three Garnier Sheet Masks in the night. I cleansed using the Sebamed Clear Face Cleansing Foam followed by swiping a cotton pad soaked in Klairs Supple Preparation Toner and then sheet mask. I never washed my face after sheet masking. I let the serum soak into the skin for 10 to 20 mins depending upon the serum absorbing ability. Finally I apply my favourite Kaira Naturals Hyaluron Gel, an aloe vera based gel, as the last step.
Moving on to individual Garnier Sheet Masks Review
Garnier Sheet Masks Review
1.Garnier Hydra Bomb Serum Mask
Claims to:  Intensely rehydrate, replump skin and replenish moisture.
Suitable for: Dehydrated Skin
Key Ingredients: Pomegranate Fruit Extract, Sodium Hyaluronate, Witch Hazel Leaf Water.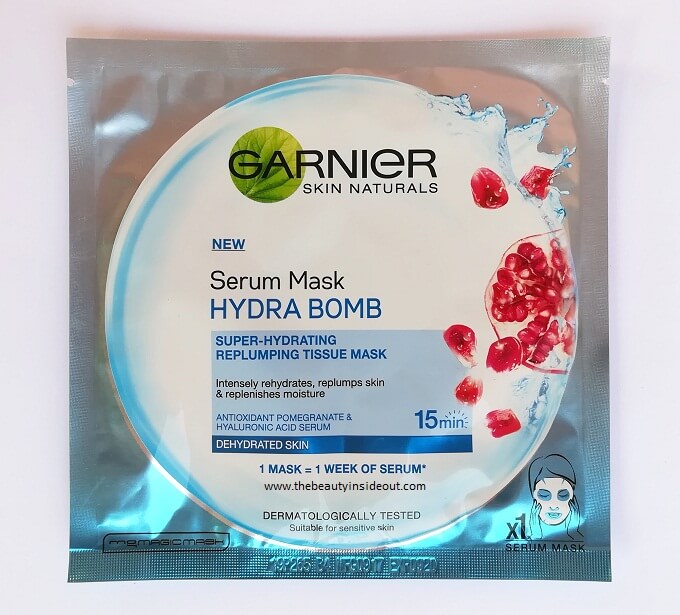 My experience: This is the first mask that I tried in this range. I didn't have plans of sheet masking that particular day. But since my skin felt a little itchy due to the dry weather, I decided to use this sheet mask then. Upon application, the mask felt cooling(not tingling) and very relaxing on my then irritated skin. I loved how calming this mask was. I removed the mask after 15 mins while it was still damp. My skin was moist and full of serum. I patted for a minute and let the serum soak in. The serum dries down matte, quickly in 10 minutes. My skin didn't feel sticky or heavy at all. I could already notice my skin supple and my itchiness was completely gone. I sealed all the goodness with aloe gel and finished off my routine. I woke up with good skin, no oiliness, no dryness, just healthy skin. I liked the effect of this mask. But everything was gone once I used a cleanser. This is not a brightening mask, so no brightening effect there. But there is glow. Overall, this mask serves its purpose of re-hydrating and replenishing the skin. I was happy to use this mask as the serum is not the heavy sticky types and dried down fast. The hydration it provides is ideal for oily, normal and combination skin types only and may not be sufficient for dry to very dry skin types.
Rating: 4/5
2. Garnier Sakura White Sheet Mask
Claims to: Intensely rehydrate, restore pinkish glow and smoothen skin.
Suitable for: Dull Skin and Lack of Glow.
Key ingredients: Japanese Sakura (Cherry Blossom Extract), Sodium Hyaluronate.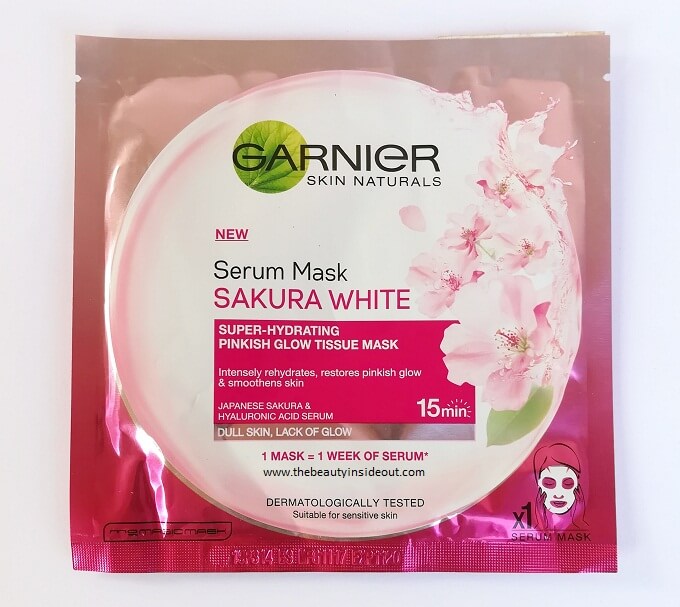 My experience: I used this after two days of using the Hydra Bomb Mask. My skin condition at the time of usage was normal with slightly dry cheeks. I didn't really like using this mask as it felt a bit more uncomfortable throughout. It itched a little bit on the cheek areas as it was drying down. I don't know if it's because of the ingredients or if my skin was sensitive at that time. After removal, the serum leaves the skin moist. This serum took a bit of time to dry down. It is much more hydrating and sticky than the Hydra Bomb Mask and would suit dry skin types very well. I didn't notice any pinkish glow or brightening effect immediately or the next morning. My skin felt nice, smooth and healthy until I washed my face with a cleanser. I would call this a decent hydrating mask for the cool weather and not to expect any "pinkish glow" from this.
Rating: 3.5/5
3. Garnier Light Complete Sheet Mask
Claims to: Intensely rehydrate, reduce dullness and fade dark spots.
Suitable for: Dull skin with Dark Spots
Key ingredients: Lemon, Vitamin C, Niacinamide and Hyaluronic Acid.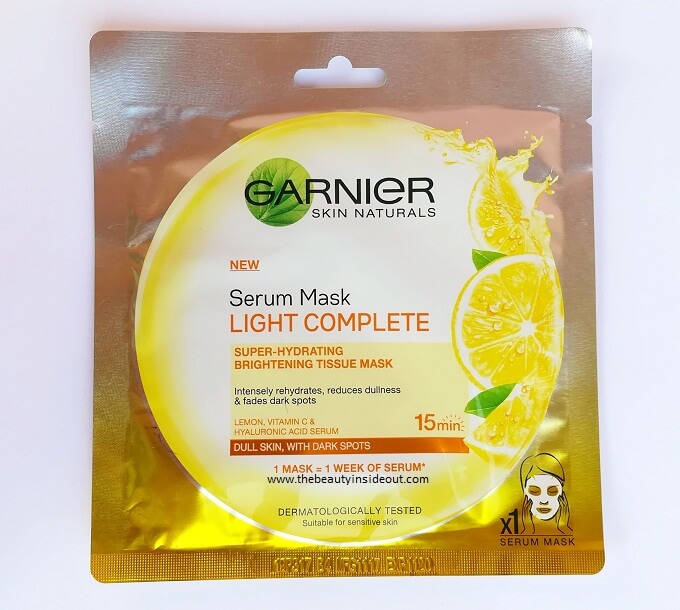 My experience: The last mask from this range. I used it after a gap of four days of sheet masking. I had two cystic acne and a couple of fresh dark marks left over by acne when I used this mask. My skin was dry-combination due to the cool weather. The first thing that bothered me is its citrus scent, it was not my favorite scent. And as I said the fit wasn't great, so the masking session wasn't a very comfortable one. This mask had a cooling sensation as well. Thankfully there was no tingling or burning sensation because this mask has Lemon and Vitamin C which are usually strong stinging ingredients. After removing the mask post 15 minutes, I gently rubbed the serum onto my skin and then let it soak on its own. This serum is slightly sticky at the beginning but dries down matte in few minutes. This mask is nicely hydrating as well. It stands in the middle of the two masks, in terms of hydration. The Hydra Bomb being mildly hydrating and the Sakura White being intensely hydrating. Immediate results were not as expected. There was no instant brightness as claimed. However my skin looked brighter the next morning and I didn't use a cleanser in my morning routine, so my skin stayed that way until the end of the day. This mask did not do anything for my fresh dark spots, but then the brand says to use it thrice a week to see lightening of dark spots. So I can't comment if it works for spots. The mask works well in bringing out the glow and eradicate dullness.
Rating: 3.8/5
Summarizing,
Pros:
Attractive Packaging.
Targeted for dehydrated skin.
Sheets are soaked in light water based serum.
Calms and hydrates skin.
No adverse allergic reactions experienced.
Skin feels smooth, soft and supple after masking.
Cons:
Ingredients are not very impressive.
The fitting wasn't comfortable on me.
The sheet masks are quite thick.
Temporary results.
No instant brightening effect.
Would I recommend the Garnier Sheet Masks? If you have dehydrated skin, this may be your cup of tea. But personally I'm not repurchasing them as I'm looking for better comfort (more fitter & thinner sheets), better ingredients and better results. Also I'm having the Etude House Sheet Masks in stock with me after that I'm planning to get the new Kaya Skin Clinic Sheet Masks.
Let us know your experience with the Garnier Sheet Masks in the comments section below.