The heat, summers, and oily skin, all call for a no-makeup no skincare days. We often tend to neglect moisturizing during summers in the notion that your skin will become more oily and sweaty. In fact, failing to use a moisturizer can signal your skin to produce more oil and hence make your skin, even more, oilier than before. So it is not a good idea to skip this crucial step. It is ideal to pick up a lightweight Oil-Free Moisturizer for the Summers. In this post, I have listed some of the Affordable & Best Moisturizers For Oily Skin in India. I have personally tried all of them mentioned in this post. For oily skin types, it is ideal to choose Moisturizers that say Oil-Free, Gel Based, and Non-comedogenic. Let's get into the list of Top 10 Best Moisturizer For Oily Skin in India.
Disclaimer: This post contains affiliate links
Which is the Best Moisturizer For Oily Skin?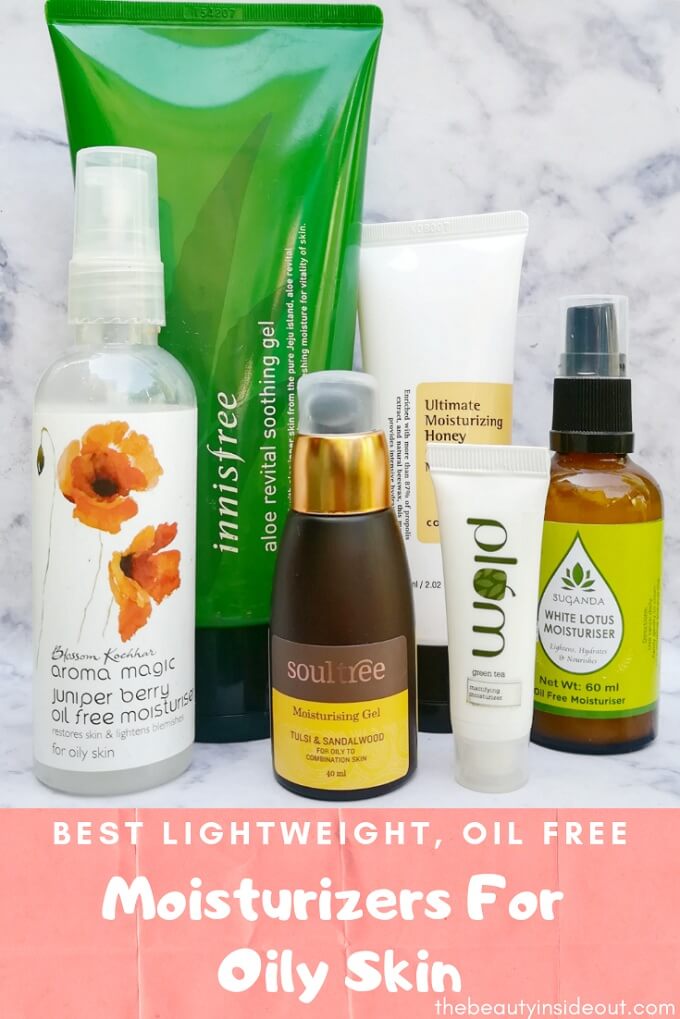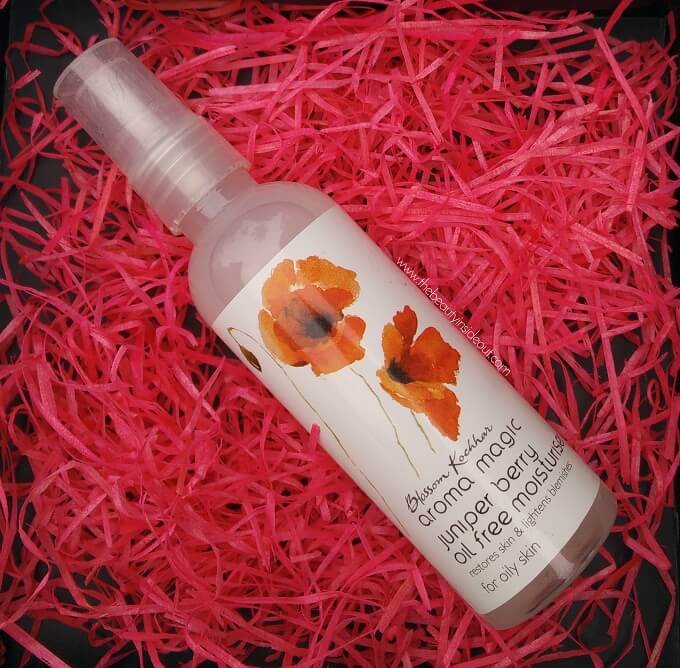 This is the most affordable, best moisturizer for oily acne-prone skin under 200. If you have kept away from moisturizers thinking that your oily skin won't need one, you should try this. Its serum, water-like texture keeps the skin hydrated from within while giving a matte skin on the outside. It contains Juniper Berry, Cucumber Extracts, Aloe Vera, and much more. This is a truly ultra-lightweight moisturizer.
Features:
Budget-friendly.
Perfect packaging with a pump dispenser.
Water like texture absorbs quickly.
Best for oily skin and summers.
Has SPF 15 which adds to sun protection.
Free of petrochemicals, phthalates, silicones, and other bad chemicals.
Cruelty-Free.
Cons:
Where to buy? Amazon.in
Check out Aroma Magic Products Reviews
2. Soultree Moisturizing Gel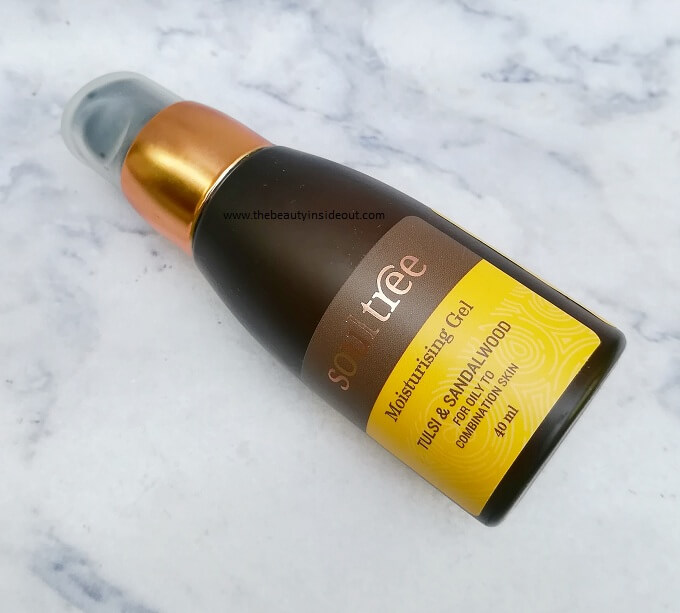 Soultree is a very trustworthy certified natural skincare brand, so you don't have to worry about its purity. The Tulsi & Sandalwood Moisturizing Gel is one of the best natural moisturizers for oily skin and open pores as it tightens the skin shrinks the pores and gives the skin a matte finish. Very oily skin types will love how mattifying and firming this gel is.
Features:
Certified Natural by BDIH, Germany.
100% Vegetarian & Cruelty-Free.
Prepared using a traditional ayurvedic recipe to soften skin.
Contains potent Herbs like Neem, Tulsi, Lodhra and Aloe Vera, Sandalwood & Honey.
Has a fresh herbal fragrance.
Suits only very oily skin types.
Controls Acne and Excess Sebum Production.
Cons:
Other skin types may find it drying.
Where to buy? Amazon.in
Check out Soultree Products Reviews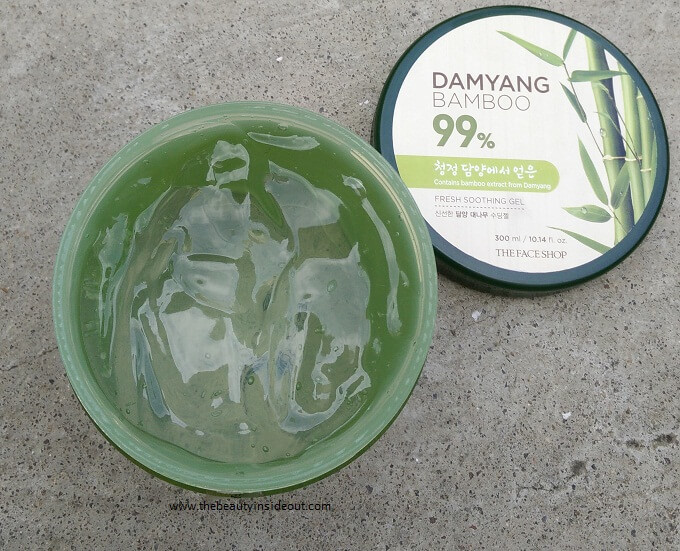 Damyang Bamboo Gel is quite a unique ingredient in the Indian market. Bamboo Extracts is a great anti-oxidant and skin healer that soothes and calms irritated skin. The Face Shop Damyang Bamboo Gel is an excellent soothing gel that gently moisturizes oily skin. It is also multipurpose, suitable for use post-sun exposure, after shaving, and also as a hair detangler. You get a whopping 300 ml jar, so it's going to last you for so long.
Features:
Contains 99% Bamboo Extract.
Perfect gel consistency that spreads with ease.
Hydrates & Soothes irritated skin.
Soft matte finish.
Multipurpose product.
Cost-Effective.
Cons:
Tub packaging may not be hygienic to use.
Contains alcohol in small amounts.
Where to buy? Amazon.in
Check out The Face Shop Products Review
4. Sebamed Clear Face Care Gel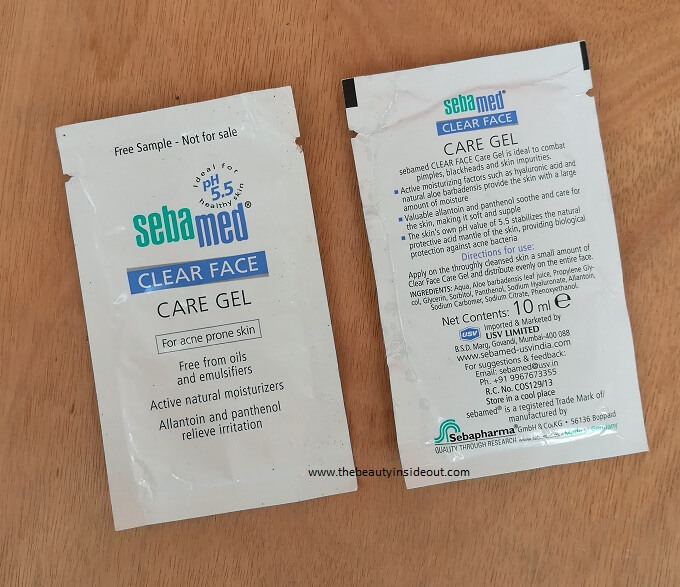 Sebamed Clear Face Care Gel is a Dermatologist Recommended Moisturizer for Oily Skin Type. It's an oil-free, fragrance-free glycerine based gel moisturizer. It has Panthenol (heals acne lesions), Allantoin (Smoothens rough skin), Aloe Vera (Soothes irritated skin), and Hyaluronic Acid (Binds moisture to the skin). This moisturizer goes well with strong acne medications.
Features:
Excellent skin-beneficial ingredients.
5.5 pH-balanced formula inhibits the growth of acne bacteria.
Suitable for sensitive, acne-prone & oily skin.
Lightweight yet moisturizing.
No fragrance, artificial colorants, Oil, and emulsifiers.
Often recommended with other acne medications.
Cons:
Where to buy? Amazon.in
Check out Sebamed Baby Products Review
5. Plum Green Tea Mattifying Moisturizer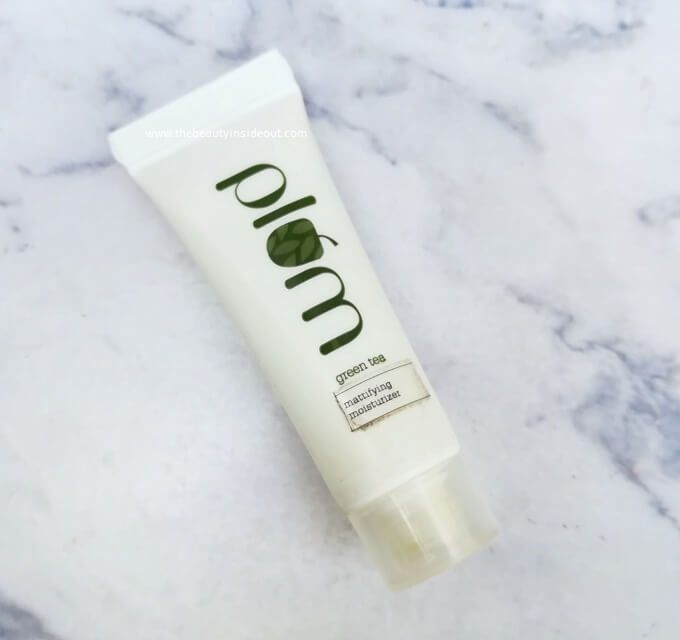 Plum Goodness is a most loved skincare brand among skincare enthusiasts. This Plum Green Tea Mattifying Moisturizer is made to work for those with acne with its carefully curated non-comedogenic ingredients. This doesn't have that clear gel texture, but a soft light lotion-y gel texture that provides ample hydration without being greasy. Suits oily to normal skin types.
Features:
Contains antioxidant-rich Green Tea Extract.
Gel-cream texture.
Moisturizes & Nourishes the skin.
Non-shiny matte finish.
Makes a great base under makeup.
Suits oily, normal & combination skin types.
Silicone Free.
Vegan Friendly.
Cons:
Contains added fragrance, color, and synthetic preservatives.
Where to buy? Amazon.in
Check out Plum Goodness Products Review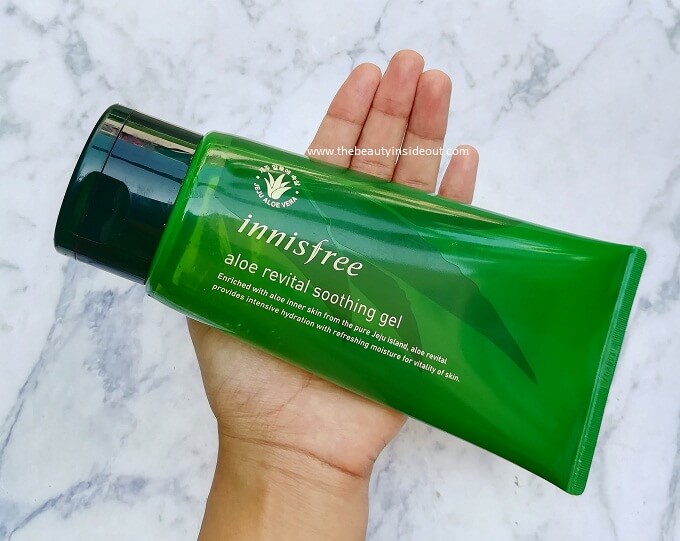 This is one of the Best Aloe Vera Gel based Moisturizer that I've come across. It doesn't form a film or sit on top of the skin. Rather it hydrates the skin with a soft matte finish. It contains 93% Jeju Aloe Vera along with the skin calming Madecassoside. This comes in convenient tube packaging and good pricing for the quantity & quality the brand offers.
Features:
Hygienic & fuss-free packaging.
Cost-effective.
Multipurpose – can be used for face, body & hair.
Lightweight texture.
Doesn't sit on top of the skin.
Keeps skin hydrated for good hours.
No added color or fragrance.
Cons:
Not completely free of chemicals.
Where to buy? Amazon.in
Check out Innisfree Products Review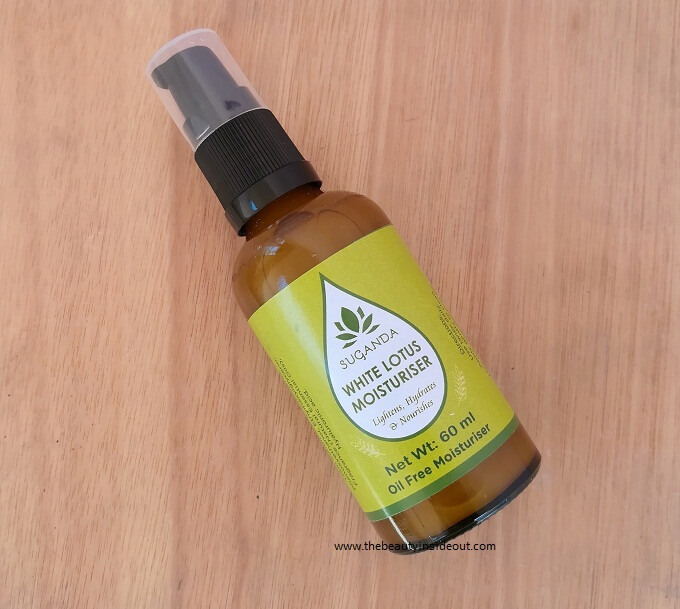 This is a much-raved water-based moisturizer in the Instagram community as it contains potent ingredients such as White Lotus & Niacinamide. This moisturizer is targeted towards oily and blemish-prone skin. It has a super light texture and helps with fading away acne marks quickly. It can be used as a serum by dry skin types.
Features:
Contains a great set of ingredients.
Lightweight, fast-absorbing texture.
Gives a non-greasy, matte finish.
Perfect for very oily skin and the summers.
Visibly brightens skin.
Helps to fade away fresh acne marks.
Oil-Free, Paraben Free & Silicone Free.
Cruelty-Free.
Cons:
Can cause purging due to Niacinamide.
Not ideal for sensitive & acne-prone skin.
Slightly expensive.
Where to buy? Amazon.in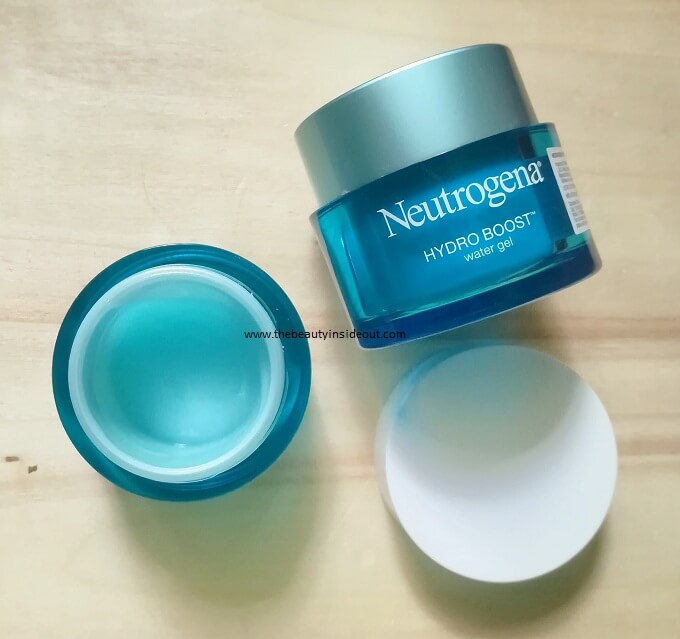 Neutrogena Hydro Boost Water Gel is an award-winning and Best Selling Neutrogena Products. Although the Neutrogena Oil-Free Moisturizer is equally popular, I personally like the Hydro Boost Water Gel due to its water-like gel texture. The oil-free gel instantly delivers intense hydration to the skin and keeps it looking smooth, supple, and hydrated day after day.
Features:
Contains Hyaluronic Acid that absorbs up to 1000 times its weight of water, keeping skin super supple and soft.
It's oil-free & alcohol-free.
Lightweight & Non-Greasy Texture absorbs within seconds.
Gives a soft matte finish. Suitable for all skin types.
Can be worn alone or under makeup
Non-comedogenic.
Dermatologically Tested.
Cons:
Not parabens & silicones free.
Not affordable.
Where to buy? Amazon.in
Check out Neutrogena Products Review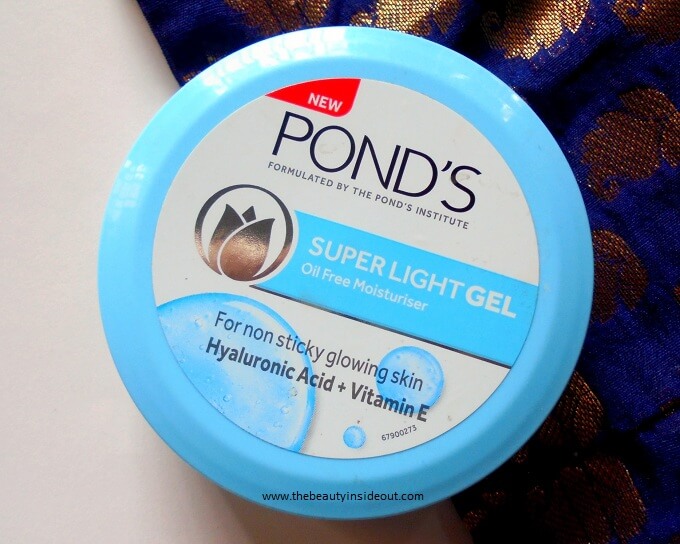 This is a pocket-friendly dupe for the Neutrogena Hydro Boost Water Gel. It is infused with moisture-boosting hyaluronic acid to improve skin's natural moisture-holding capacity and anti-oxidant Vitamin Eto make it soft and bouncy. This is one of the Best Hyaluronic Acid-based Face Moisturizer for Oily Skin in India.
Features:
Has the goodness of Hyaluronic acid and Niacinamide.
Non-comedogenic formula.
Light gel-based formula provides nourishment and hydration to the skin.
Great for oily and combination skin types.
Makes the skin soft and plump.
Instantly removes dullness due to lack of hydration.
Pocket-friendly.
Cons:
Has added fragrance, though it's subtle and pleasant.
Where to buy? Amazon.in
10. Cosrx All in One Snail Cream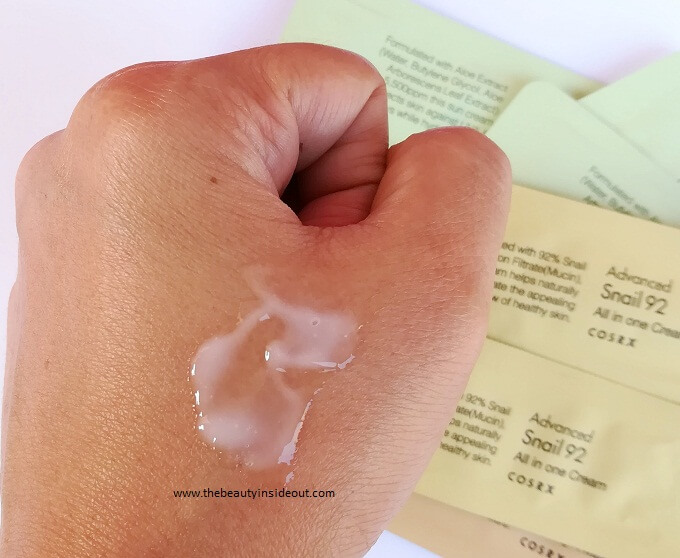 Cosrx has got some great products. This is one among them. In fact, this is one of the Best Korean Moisturizer For Sensitive Skin. This is a snail Cream containing 92% Snail Secretion Filtrate. Snail Secretion may sound a bit odd, but the look & feel of the product isn't. Snail Secretion repairs damaged skin, improves texture, reduces the appearance of fine lines & wrinkles, and also suppresses acne breakouts. Simply put, the snail cream improves overall skin health. This has got a unique gooey texture which is almost like a gel. Due to the product's skin-calming properties, this is best for sensitive & reactive skin. Typically it can be used by all skin types – oily, dry & combination.
Features:
Contains 92% Snail Secretion Filtrate.
Nongreasy & Lightweight on the skin.
Fragrance-Free.
Suits all skin types, particularly sensitive & reactive skin.
Calms irritations & Repairs damaged skin.
Makes you wake up with extremely soft skin.
It is Cruelty-Free.
Cons:
The concept of Snail Cream may be an aversion for some.
Where to buy? Amazon.in
Check out Cosrx Products Review
Those were some of the Best Moisturizers For Oily Skin in India. Do share your favorites in the comments section below.