I've been wanting to try Forest Essentials Products for a while. I was really confused about what to pick from the brand as most of their products are expensive. I didn't want to risk buying a product that wouldn't work for me. So I decided to buy the Forest Essentials Gift Set for myself. This is almost like a starter kit that will let you explore the brand's various products. The products may look tiny, but these are deluxe-sized samples of 50 ml each which will last for more than two weeks. I'm so happy with my purchase along with which I got a sample of the popular Soundarya Beauty Body Oil. Above all, the packaging in which the products came is luxurious and fabulous. It was neatly packed in a baby pink box with a bow tied to it. This kit would make a beautiful gift to a bride-to-be. I simply loved how beautifully packed it arrived at my doorstep.
Coming to the products, after using them for 15 days, I have come to share my experience with them. I tried these at the beginning of December when the weather was cold and my skin was dry and dehydrated. Let's get started with the reviews of Forest Essentials Products.
Disclaimer: This post contains affiliate links, meaning that I may earn a small commission for the products purchased through that link. My opinions and reviews about the products remain honest and are not influenced in any case.
Overview of Forest Essentials Products
Product Name
Quick Review
Forest Essentials Delicate Facial Cleanser Mashobra Honey, Lemon & Rose Water
One of the Best Forest Essentials Products. It leaves my skin so clean and super smooth. A very gentle everyday cleanser. I loved it.
Rating: 4.8/5
Where to buy it? Amazon.in
Forest Essentials Pure Rose Water Facial Toner
It has a subtle scent of fresh roses. Leaves the skin refreshed. It's not very hydrating or unique. I'd better buy affordable rose water.
Rating: 3.5/5
Where to buy it? Amazon.in
Forest Essentials Sunscreen Lotion Aloe Vera & Sandalwood
A mildly moisturizing, mineral sunscreen that protects the skin from UV rays. It's a perfect day cream for combination skin. I liked it.
Rating: 4.6/5
Forest Essentials Hand Pounded Organic Fruit Scrub
This is a really nice scrub that gives beautifully polished and glowing skin. Great to use before makeup for flawlessly smooth skin.
Rating: 4.2/5
Where to buy it? Amazon.in
Forest Essentials Luscious Sugared Rose Petal Lip Balm
An average lip balm that keeps lips moisturized for a couple of hours. Tastes weird. Not a repurchase product.
Rating: 3/5
Where to buy it? Amazon.in
Forest Essentials Sandalwood and Saffron Night Treatment Cream
It's a lightweight cream that balances the skin's moisture level & repairs the skin throughout the night. I wake up to glowing skin every day.
Rating: 4.5/5
Where to buy it? Amazon,in
Forest Essentials Soundarya Beauty Body Oil
It's infused with rich ayurvedic ingredients but is not that nourishing on my skin. I would skip this.
Rating:3.5/5
Where to buy it? Amazon.in
Moving onto the in-depth. reviews of Forest Essential Products.
Forest Essentials Review
1. Forest Essentials Delicate Facial Cleanser Mashobra Honey, Lemon & Rose Water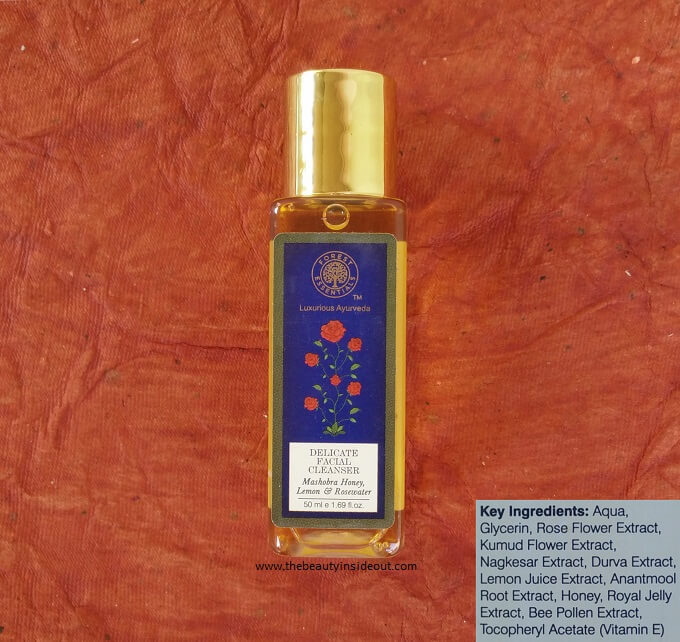 This is a chemical-free face wash prepared on the basis of a traditional ayurvedic recipe. True to its name, this is a delicate cleanser that would universally suit all skin types. The facial cleanser has the look of honey, being golden yellow in color, but the consistency is not that of honey. Rather it is liquidy and thinner. Despite that, only a tiny drop of the cleanser is enough to effectively pull out dirt from my skin. Even if I used more quantity the results are the same. So it is ideal to use just a little of the product. Why waste your money!
The fragrance is something that has to be talked about. It smells so heavenly. A high note of fresh roses with a hint of citrusy lemon. It's pure divine. Like all face washes, the scent doesn't linger but gives a calming effect to my senses.
The cleanser does not foam up heavily and produces a mild lather which I don't mind at all. The cleanser rinses off easily as there is no slippery residue which usually requires multiple rinses. Finally, once pat dried, my skin looks cleaner and velvety soft to the touch.
What I loved most about this cleanser is that it does not dry out the skin while at the same time it does not leave that slippery layer of moisture that I hate. It leaves the skin hydrated and healthy. Sometimes I like to delay the application of toner and moisturizer, to enjoy the softness it gives to my skin. This cleanser also makes my skin more breathable.
Overall, I absolutely loved this cleanser. I am always on the lookout for gentle cleansers for my morning routine and this sure has filled that space. I would highly highly recommend this product to anyone. This is one of the Best Forest Essentials Products one needs to definitely try.
Rating: 4.8/5.
Where to buy it? Amazon.in
2. Forest Essentials Pure Rose Water Facial Toner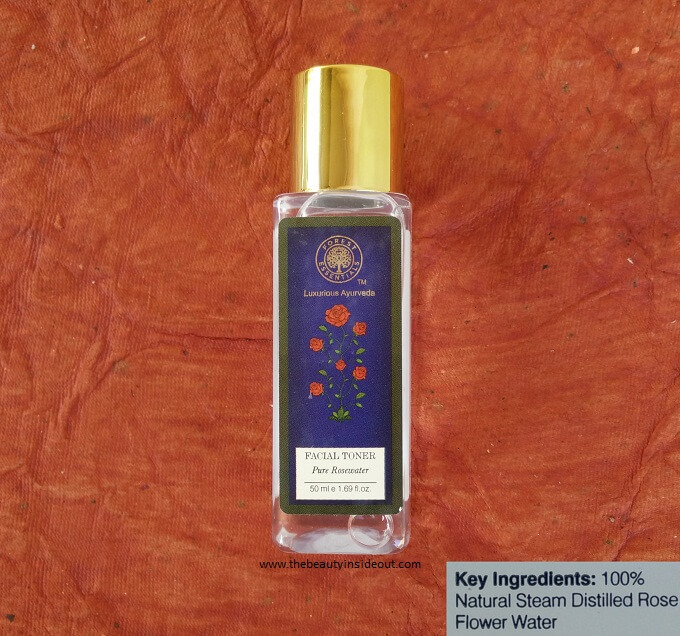 I have tried a lot of rose waters ranging from 100% natural, organic rose waters to fragrance oil-infused commercial ones. Seeing many people raving about this toner, I had high expectations from this toner.
Like all rose water, this looks like clear water but has a faint fragrance of fresh roses. This is the least fragranced rose water I've ever used. It is not at all overwhelming and is very subtle on the nose.
Coming to its effects, I usually apply using a cotton ball and it is the most effective way for me. It instantly closes the pores and firms up my skin. It adds a subtle softness to my skin. But this toner is not very hydrating. It gives a tightening effect and leaves my skin matte. Oily skin types will love this rose water. It did not sting or cause any adverse reactions on my skin. I neither tried using this as a facial mist nor in my face packs.
In summary, I liked this toner but did not love it. Considering the price, this one is high-end so I wished it did a little more to my skin. I would skip this product. I prefer something more hydrating. There are a lot of better Rose Waters in India that I love.
Rating: 3.5/5
Where to buy it? Amazon.in
Looking for another brand reviews?
3. Forest Essentials Sunscreen Lotion Aloe Vera & Sandalwood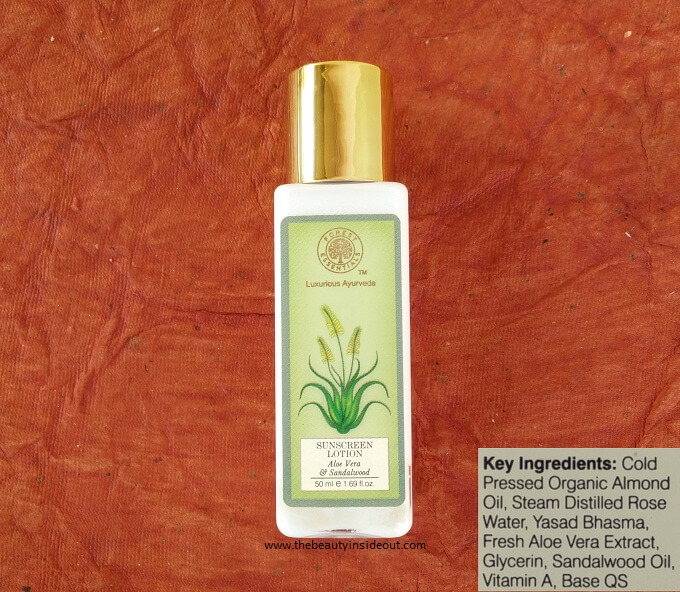 Update: This product has been discontinued. Forest Essentials now has a sunscreen called SUN FLUID Coconut Water with Turmeric & Basil SPF 50 PA++.
This is more of a daily moisturizer rather than a sunscreen. It says it protects from UV rays but doesn't state its SPF value or if it's a broad spectrum. It does have some good natural ingredients in it along with Yasad Bhasma. Yasad Bhasma is nothing but an Ayurvedic medicine prepared from Zinc, which means this is basically a Zinc Oxide Based Physical Sunscreen.
This sunscreen has a lotion consistency slightly on the thinner side which eases the entire application. It spreads so easily and soaks into the skin within seconds. Unlike many mineral sunscreens, this does not have any white particles nor does it leave a white cast. The lotion is slightly moisturizing and would suit oily skin types very well. Dry skin types will surely need a moisturizer beneath them.
I had been using this in the current non-sunny cold weather and it served its purpose well acting like a decent sunscreen. However, I would suggest going for a broad-spectrum sunscreen if you are going to go under full sunlight. I personally loved this sunscreen as my daily moisturizer/day cream. The formula is nice, mattifying, and did not break me out. Above all, it has a really nice fragrance of sandalwood that will be loved by all.
Rating: 4.6/5
4. Forest Essentials Hand Pounded Organic Fruit Scrub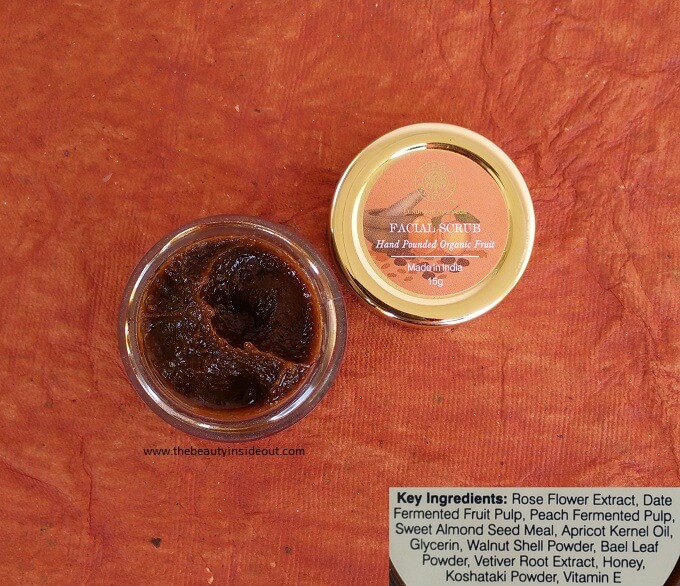 Hand Pounded Organic Fruit Scrub. I am loving the name of this scrub. Not only that, but when I learned the way in which it's prepared, I was amazed to see that there are still brands that actually prepare products based on Ayurveda. A variety of fruits and natural plant extracts are fermented by placing them in terracotta jars buried under the ground for many months. And then blended with herbs, roots, and flower infusions to create a highly nourishing and deep cleansing scrub. Impressive right? So I was!
Coming to the product, it smells very raw and natural with a mix of peaches and dates. And yes since it's fermented it smells a bit rotten and acidic, but that has nothing to do with the quality of the product. Some might like its pure, organic smell, but it was a bit turn-off for me. Also, the organic fragrance tends to linger post-cleansing too.
The scrub is dark reddish-brown in color with a thick consistency and paste-like texture. The natural scrubbing particles are of varying sizes but the presence of tiny walnut & apricot-like granules could be felt on the skin. I prefer taking a little of the scrub and massaging in gentle strokes on my wet face. Otherwise, it becomes difficult to spread the scrub on a dry face.
The scrub removes my blackheads and clears out dirt from my pores. The scrub is harsh on the skin so I used it very gently. It rinses off easily and leaves my skin super smooth and soft to touch. I loved how smooth my skin was left thereafter throughout the day. It did not strip off natural oils from my skin making it dry or stretchy. Definitely try this before applying makeup, it would enhance the look of your makeup by giving a flawless base.
Overall, this is a really nice scrub that gives beautifully polished and glowing skin.
Rating: 4.2/5
Where to buy it? Amazon.in
Looking for similar brand reviews?
5. Forest Essentials Luscious Sugared Rose Petal Lip Balm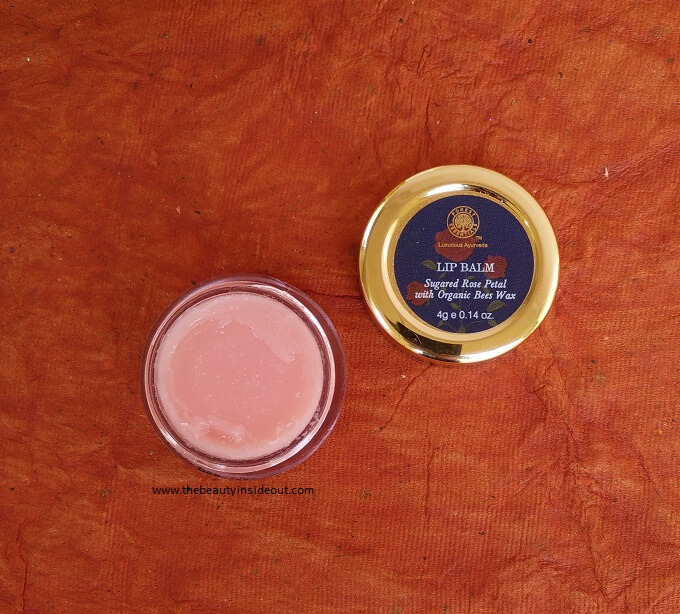 This is my least favorite product of all Forest Essentials Products. The only reason for my hate; it tastes weird. I can even use strongly scented ones but bad taste is a big No for me. This reminds me of Iraya Vanilla Lip Balm.
The Forest Essentials rose petal lip balm is made from fresh rose petals soaked in Honey. It also has Organic Beeswax which is a common filler in most lip balms. Despite that, this does not feel waxy at all and is quite light on the lips.
The lip balm is free from synthetic chemicals and petroleum products. It has a strong, artificial rose fragrance and a correlating pale pink color to it, although it applies completely colorless on my lips. It instantly adds a layer of moisture and keeps the lips supple and plump for two to three hours after which reapplication is needed. Due to its taste, I did not like it all. In all, a luscious lip balm that is not worth the price.
Rating: 3/5
Where to buy? Amazon.in
6. Forest Essentials Sandalwood and Saffron Night Treatment Cream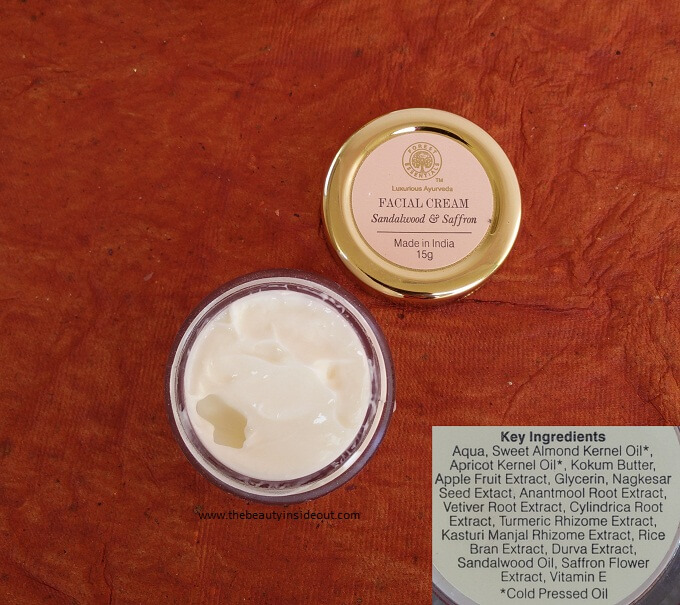 Generally, I avoid using heavy creams for the fear of breakouts. And the first time I opened this tub of Sandalwood and Saffron Cream, I thought I would never use this. The cream was sitting in there in the tub with its rich and creamy look. But it was otherwise. The facial cream has a nice gel-to-cream consistency that is not greasy or heavy on the skin. It has a beautiful aroma of sandalwood and saffron which is soothing to my senses. The scent is a big plus for me. It's mild, non-bothering, and fades away in a couple of minutes after application.
Currently, my skin has been asking for more hydration and moisture and this cream has satisfied its needs. The milky white cream spreads and blends properly without much effort. It sinks in right away and gives a silky soft skin. I've been using this cream majorly during the nights, as that's the time skin is not disturbed and efficiently repairs itself. This cream certainly helped to rejuvenate my skin and I always woke up with plump and radiant skin. It helped to fade away my new acne marks slightly after using it every day for 15 days. Also, it didn't lead to a new pimple but at the same time it did not dry out active acne. It works without disturbing them.
The brands say this is a night treatment cream, but I had tried it during the day as well as the weather is so cold here and it worked pretty well on my now dehydrated skin. The formula is light and so this would not satisfy the needs of dry to very dry skin types. This facial cream performs well on oily, normal, and combination skin as a night cream and dry skin types can use this as a day cream.
Overall, although it doesn't show any dramatic results, it is a nice cream that is light and comfortable on the skin. It balances the skin's moisture level and repairs the skin throughout the night, making me wake up to glowing skin every day.
Rating: 4.5/5
Where to buy it? Amazon,in
7. Forest Essentials Soundarya Beauty Body Oil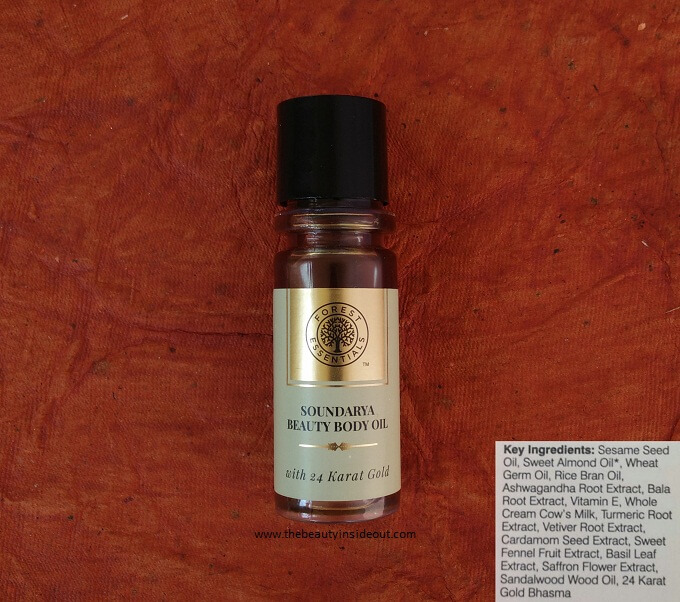 The USP of the product gives the impression of a rich and luxurious product with the presence of 24 Karat Gold Bhasma. The other precious ingredients like Extracts of Turmeric Root, Saffron, and Sandalwood make it sound even more lavish. The beauty oil can be used both as a pre-bath and post-bath. I used it only as a post-bath replacing my body butter. The oil has a dense consistency with a reddish hue. The fragrance is a mix of Sesame Oil and Sandalwood with hints of a few other herbs. It smells nice and delicate and does not linger for long.
I take a little of the oil and start massaging on semi-damp skin. I take about two minutes to massage and the oil gets absorbed into the skin by that time and leaves it nourished. Compared to other massage oils, this one is quite fast absorbing. The oil does not stain or stick to the clothes. It completely soaks into the skin and leaves the skin moisturized.
My body skin is usually on the drier side and now it has become even drier and flaky due to the harsh cold weather. I used it at night and the next morning my skin dryness was reduced by 50%, not completely though. Due to that, I did not see any improvement in skin elasticity or firmness. I still needed something even more moisturizing on my extremely dry body skin. On to its skincare benefits, it did not give me any extra softness or smoothness that I was expecting.
Overall, Forest Essentials Soundarya Beauty Body Oil is a Gold Bhasma Infused Massage Oil that keeps the skin moisturized for a few hours. Considering its huge price tag, this doesn't show any extraordinary results and a normal body lotion/body butter can easily replace this oil. The oil is more suitable for normal to dry skin types. Very dry skin types wouldn't be satisfied with their moisturizing abilities.
Rating: 3.5/5
Where to buy it? Amazon.in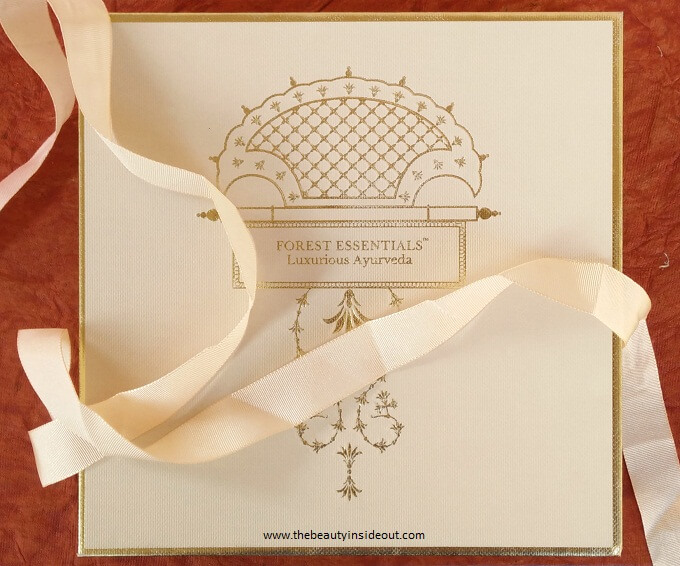 These are some of my experiences with Forest Essential Products. Answering some of the FAQ on the Brand below.
Brand Info: Forest Essentials Owner
What started as a small-scale business by Mira Kulkarni in 2000 has now become an elite name in the ayurvedic beauty segment of the industry. Initially housing soaps and candles, the brand now has an extensive range of products including ayurvedic makeup products.
Around 2008, Estee Lauder Companies (the house of Clinique, The Ordinary, MAC, etc) acquired a 20% stake in the brand. Since then its presence has been felt in the international market extensively. Their products are available in more than 80 countries.
Forest Essentials in USA
Forest Essentials ships internationally to the USA. You can order on their official website www. forestessentials.com. They offer free shipping on orders above Rs.9999 internationally and Rs.450 within India.
They are also available on Amazon.com and Amazon.in. So you can buy hassle-free without custom charges.
Forest Essentials was also officially launched in the United Kingdom in 2021.
Forest Essentials Products used by Celebrities
The Luxury Ayurveda Beauty brand's toiletries are available in prime 5-star and 4-star hotels. Forest Essentials Products are widely promoted and used by celebrities and bloggers on Instagram. Mira Kapoor is one. In one of her earlier Instagram posts, she mentions using the Forest Essentials Rasa Serum, Tejal Balancing Water, and the Date and Litchi Cream. Shilpa Shetty is also known to be one of the loyal customers of Forest Essentials.
Why Forest Essentials Products are Expensive?
Simply because that's the USP of this Luxury Ayurveda Beauty Brand. It feels and smells luxurious. Added to that is the shopping experience at their retail outlets. They give you a warm welcome and you are sure to experience happiness while shopping with them.
Packaging. It's opulent. The facial indulgence kit makes a beautiful bridal gift. Even the individual packaging of the products is rich and splendid. They usually come in glass jars and bottles which is definitely a catch for the consumers.
Fragrance. All of them smell so organic and pure. They are naturally fragranced yet none of them were too overwhelming. Most of them are subtle and refreshing.
Formula. Products are prepared in the traditional way based on Ayurvedic recipes and some of them are handmade such as their soaps. Most of the products in this kit left my skin extra soft.
Vegetarian and Cruelty-Free. They never test their products on animals. Their products are vegetarian, not vegan though as they use beeswax, honey, milk, etc which are animal-derived ingredients.
Why you might not like Forest Essentials?
The biggest flaw – No disclosure of the full ingredient list. I do get the feel of using pure and safe products when I use FE products. BUT the title Key Ingredients always irks me!
Price. No doubt we all love affordable products. The brand is expensive. If not for this kit, I wouldn't have got the chance to try any FE product.
Brands Similar to Forest Essentials
The luxury brand is often compared to Ayurveda and natural skincare brands. Let's see the most compared one.
Forest Essentials VS Kama Ayurveda
Forest Essentials and Kama Ayurveda are both pioneers of Luxurious Ayurveda in India. Kama Ayurveda was founded in 2002 by Vivek Sahni, after Forest Essentials in 2000. Both the brands offer natural, ayurvedic beauty products.
Most Forest Essentials Products are manufactured in-house in Haridwar, Uttarakhand in the brand's own manufacturing unit. While Kama Ayurveda manufactures some of its own products, they outsource a majority of its popular products. Kama Ayurveda is associated with Kottakal Arya Vaidya Salai which is the most authentic ayurvedic product manufacturer in Kerala. The quality is top-notch and the pricing of Kama Ayurveda Products is slightly lower than Forest Essential Products.
What I love about Forest Essentials is they do come up with unique ayurvedic formulations like Tejasvi Brightening Emulsion, and Ojas Illuminating Night Balm. They also do not hesitate to experiment. FE launched "Ayurvedic Sheet Masks" when the Korean sheet mask craze was all over the news. They also launched Natural Makeup Products in India recently with kajal, lipsticks, cheek tint, and skin tints
That's all I have to say about this Luxurious Ayurveda Brand.
Don't forget to share your Best and Worst Forest Essentials Products in the comments section below. Also, if you would like to keep updated on similar posts of other brands, do subscribe.