In this post, you'll find out the best organic makeup products in India. Remember our grandma's period was all about using homemade natural products from the amazing turmeric besan face pack to the Shikakai hair powder, everything was homemade and natural. Sadly, they slowly got buried with the advent of modern cosmetics. But I'm so glad that lately there is a sudden bloom of numerous startups who are willing to restore us our lost beauty recipes. Still! Keep in mind that not all of them are as natural and organic as they claim. So as I always say, you definitely need to keep an eye on the ingredient list. You could see that the terms natural and organic are used carelessly everywhere and for your information, both the terms do not mean the same.
All Organic products are natural, but not all-natural products are organic. Briefly, Organic products are those in which all the ingredients used in the product are produced without the intervention of any fertilizer or pesticide and are organically grown locally in a natural way. Only then a product becomes Organic. Whereas Natural products are those in which some of the ingredients may be grown with the use of fertilizers yet they may also contain organically grown ingredients. Holding a minimum of 50% plant-based ingredients qualifies a product for being natural according to ECOCERT. It's praiseworthy that few exclusive skincare only lines are slowly bringing up products that can substitute chemical-laden makeup products that do no good than harm in the long run. For those of you who are looking for natural & organic makeup products in India, I have come up with this list.
10 Best Organic Foundations & BB Creams in India 2021

1. Magic Dust BB cream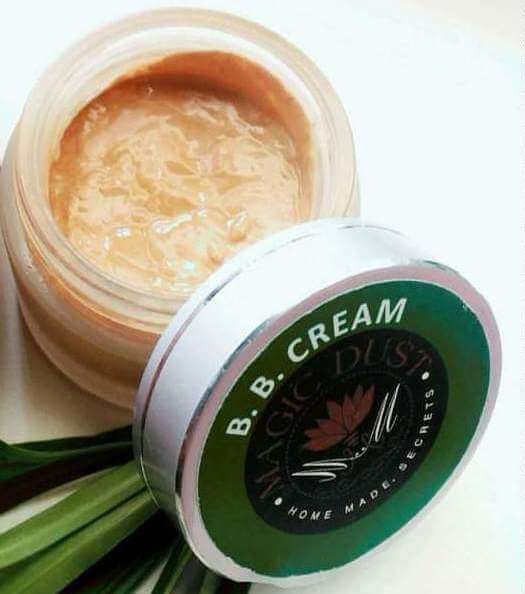 This is the perfect blend for the perfect No-Makeup look. Made with the purest organic ingredients such as Organic Grapeseed oil, Organic Cocoa Butter, Lemon Oil, Aloe Vera Extracts, Mushroom Extract, Blueberry Extracts, Strawberry Extracts, and Pomegranate Extracts, Magic Dust BB Cream is handcrafted without the use of parabens, phthalates, and any other synthetic ingredients. Giving the most natural smoothened finish, it also moisturizes the skin and provides sun protection.
Where to buy? Amazon.in
2. Just Herbs Herb Enriched Skin Tint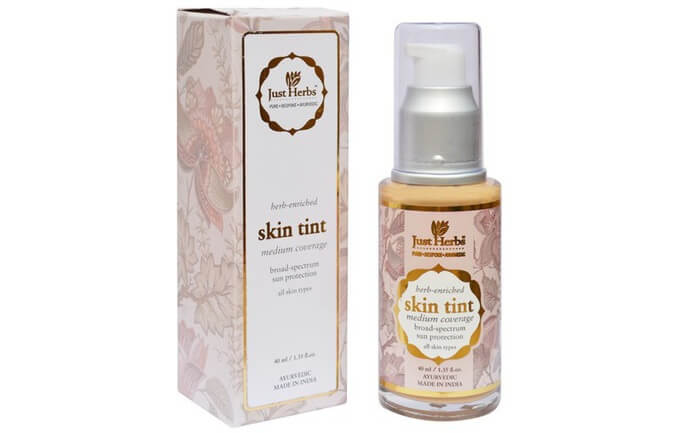 This is a new launch from one of my favorite brands. The herb enriched skin tint is a part-skincare part-makeup product. It compliments every skin shade and blends in easily with the skin masking imperfections such as fine lines, blemishes, and pores giving you a flawless look. Also, the skin tint moisturizes your skin and provides broad-spectrum UV protection. This is a must-have product for daily use and you'll always want to have a bottle in your hand-bag. Read my review and swatches of shades HERE
Where to buy? Amazon.in
3. Quinta Essentia Organic Luminescence Liquid Mineral Foundation
Quinta Essentia Organic is a natural skincare line that formulates nothing but the best of the most exquisite beauty products available, sourcing their raw materials from different parts of the world. The luxurious Luminescence Liquid Mineral Foundation has got anti-inflammatory organic ingredients, absolutely no fillers & preservatives, hence great for sensitive and acne-prone skin. This luminescent make-over is made with pure mineral extracts, organic vitamin-rich oils, organic vitamin E, organic Chilean rosehip oil, and fragrances from organic essential oils and natural sun-blocking compounds, promoting hydration, radiance, even skin tone, and absolute perfection.
(This product has been discontinued at the moment)
4. Soultree Ayurvedic BB Cream
Coming from the certified Natural Skincare Brand, Soultree BB Cream is formulated with an ayurvedic blend of herbs and oils that not only gives a natural makeup look but also provides additional skin benefits. The BB Cream is enriched with Licorice, Turmeric, Sandalwood, and Pimples, all of which are excellent for treating acne and pigmentation. The BB Cream comes in 5 shades that cater to different skin types. None of these contain parabens, PEG's, Lead, Phthalates, and other nasty chemicals.
Where to buy? Amazon.in
5. Ruby's Organics Skin Tint Mattifying Foundation
Ruby's Organics is one of the best organic makeup brands in India offering a wide range of natural makeup products. The Ruby's Organics Skin Tint Mattifying Foundation is a Vegan & Cruelty-Free Foundation that uses Ecocert/COSMOS certified ingredients. Its matte formulation is transfer-proof and is best suited for oily skin types. Made with mineral pigments, it is also enriched with skin-beneficial ingredients including Rosehip Oil, Shorea Robusta Resin(a powerful astringent), and Coco Caprylate( A skin-conditioning agent). Besides being gluten-free, the foundation is also free of silicones, microplastics, PEG's, synthetic fragrance,s, and parabens. It's available in 5 shades that adapt to different skin tones.
Where to buy? Amazon.in
6. Ilana Organics Soft Blur, Cream Concealer & Foundation
Made with non-toxic, natural ingredients, Ilana Organics Soft Blur, Cream Concealer & Foundation is said to be safe for expecting mothers. It has a luscious creamy formula that seamlessly blends and gives a dewy & natural finish. Fortified with Vitamin E, Jojoba Oil, and Kokum Butter, this cream foundation is suitable for all skin types, including sensitive skin types. It's lightweight, gives full coverage and a long-lasting glow to your skin. It is available in 3 Shades – Fair, Luminous & Tan.
Where to buy? Vanitywagon.in (Use Code: TBIO for 20% OFF)

7. Paul Penders Handmade Moisture Foundation
Paul Penders Handmade Moisture Foundation is a 100% Vegan, Cruelty-Free, and Halal Certified Foundation. Fortified with a trademarked Levens Essentie Gold which has 22 organic herbs and antioxidant vitamins, this Moisture Foundation contains mineral pigments that provide sheer, oil-free coverage. It is available in 6 classic shades and has a luminous finish that is suitable for all skin types.
Where to buy? Vanitywagon.in (Use Code: TBIO for 20% OFF)

8. Organicmill Compact Powder SPF 30 & Beauty Balm (BB Cream) SPF 40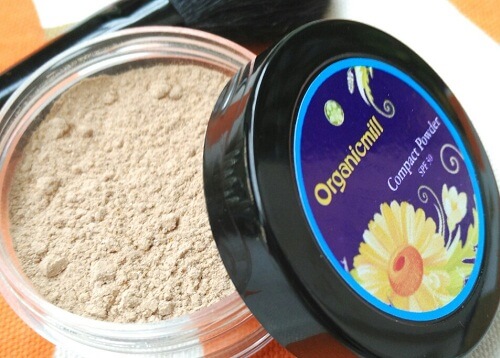 This compact powder comes from the 100% chemical and preservative-free skincare brand, Organicmill, wherein products are freshly prepared on an order basis. The compact powder is packed with natural minerals that do not clog pores or prevent it from breathing. It has a unique mix of rich minerals, including zinc oxide, which enhances the product's ability to prevent and calm skin conditions such as acne and also protects from harmful UVA and UVB rays. This compact powder is ideal for all skin types which leave skin naturally soft and fresh.
Also, the brand has newly launched a BB Cream which is loaded with the goodness of Shea and Cocoa butter to help you give flawless coverage, hydration, smoothness, and sun protection with its natural SPF 40. The BB Cream is also infused with anti-aging serums and essential oils which help to diminish the appearance of wrinkles and open pores giving radiant and supple skin. Shades can be customized as per request.
Where to buy? Organicmill Facebook Page.
9. Ecoberry Handmade Natural Loose Mineral Foundation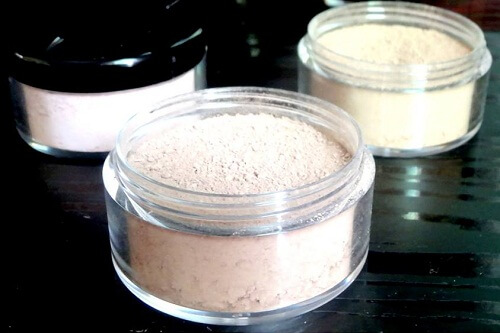 Ecoberry, a natural and wellness handmade brand from Bangalore brings us a new range of handmade cosmetics that are completely safe for our skin. Ecoberry Loose Mineral Powder Foundation is made out of naturally mined minerals such as non-nano zinc oxide, titanium dioxide, kaolin clay, micas, jojoba oils, and naturally mined zinc oxides. All of these are FDA approved skin safe minerals and are free from any metal impurities. Available in 4 shades – 01 Ivory Pink, 02 Warm Beige, 03 Honey Beige, 04 Hazelnut, this powder foundation is perfect for everyday makeup.
Where to buy? Nykaa.com

10. BON Organics Face Loose Powder
BON Organics Face Loose Powder is a handmade and organic loose powder. Completely made with only natural ingredients like Bentonite Clay, Kaolin Clay, Arrowroot Powder, this powder minimizes large pores, provides a super matte finish, has good coverage and natural sun protection. It also has anti-aging benefits. The powder comes in three shades – Fair, Mermaid, Dusky. It has it own, soft, sponge applicator, so traveling with it is super easy.
Related:
Bonus:
Best Organic Concealer in India
1. Ruby's Organics Cream Concealer
Ruby's Organics is one of the best organic makeup brands in India. Their best-selling cream concealer has a weightless balm-like texture that is thoughtfully created with seed oils, clays, and butter. Although it's a Concealer, it can be applied all over the face as a foundation since it has buildable coverage. This is a 100% vegetarian product and doesn't contain any synthetic preservatives. It is available in 3 shades – Light, Neutral, Deep. Ruby's Organics has recently launched Organic Foundations in 4 shades in 2019.
Where to buy? Amazon.in | Vanitywagon.in (Use Code: TBIO for 20% OFF)
Click here to find the best natural/organic lipsticks and lip colors in India>>
That was all about it. I hope you find this post on the Noteworthy natural/organic makeup products in India helpful.
Related
Disclaimer: I do not claim ownership of the images used in this post.