Glutathione is an essential antioxidant that is naturally produced by our own body. It is the anti-oxidants that help us to protect our cells from various internal and external damages. They fight free radicals and prevent oxidative damage. If you don't know, the lack of anti-oxidants is the common cause of various cancers and heart diseases. That is why it is often said to intake foods rich in anti-oxidants. Glutathione known to be the Mother of all anti-oxidants protects our cells from within the body.
Typically Glutathione is a simple peptide molecule composed of three amino acids such as cysteine, glycine and glutamine. It is present in all healthy human beings. However natural glutathione production can be easily disrupted and glutathione levels can be depleted in no time; mainly due to stress, poor diet, medications, infections and exposure to a lot of toxins. So having proper glutathione levels is not only an essential, it has become a need in the current environment that we live.
All the while providing health benefits, Glutathione also imparts skin lightening & anti aging benefits since it encourages production of lighter melanin pigment (pheomelanin) over its darker counterpart (eumalanin). Since it is difficult to supplement Glutathione with food intake alone, we can easily get the benefits of it through oral supplements. One of the best skin care supplement in the market for skin lightening is Glutone 1000. Glutone products contain world's best Glutathione, "SETRIA Glutathione" – the pioneer in Glutathione research on various health issues. SETRIA Glutathione is also GRAS approved.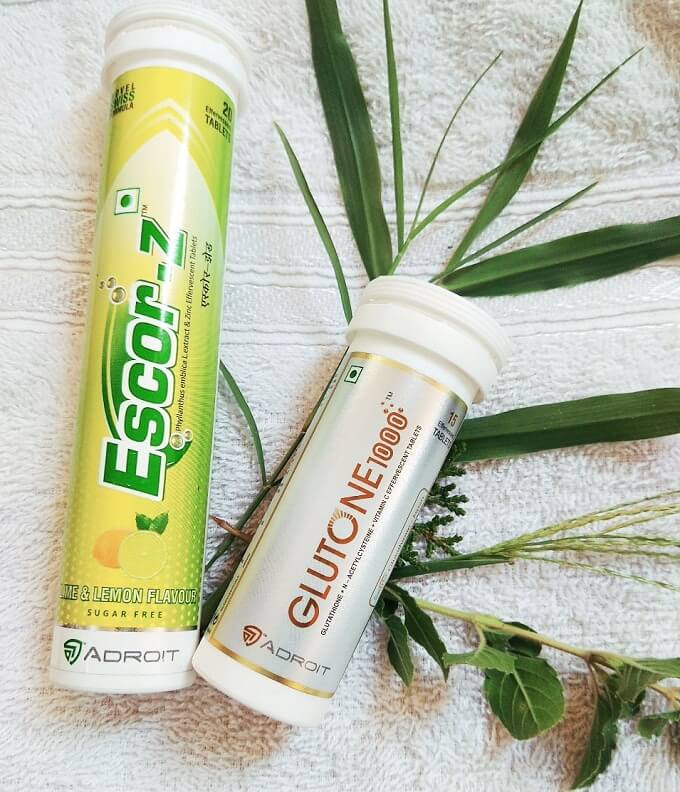 Glutone 1000 has 3 key ingredients
L-Glutathione, the master anti-oxidant which improves skin tone of both exposed & covered parts, lightens skin tone and reduces wrinkles.
Vitamin C , an essential water soluble Vitamin which works in synergy with Glutathione to contribute for normal immune function and collagen synthesis
N-Acetycysteine, an anti oxidant that reduces free radicals and improves body's Glutathione Level.
Just like how Calcium & Vitmain D supplements go hand in hand, it is best to take Glutathione supplements with Vitamin C for better absorption hence better results. For this, we have Glutone's combo pack with ESCOR Z. Though Glutone 1000 has vitamin C in it as an ingredient but it is not sufficient for effective results, hence EscorZ provides that extra push for glutathione to work as it makes it easily absorbable in the body.
Escor-Z is considered as a rich source of vitamin C. It helps fight free radicals, boosts collagen and lightens the skin. Presented in effervescent format it's the right choice of your daily health drink.
ESCOR Z
Lightens skin by reducing melanin pigment
Increases production and transfer of anti ageing protein
Exerts photoprotective effects by neutralising free radicals
How to use Glutone 1000 & ESCOR Z ?
Take 1 tablet of glutone 1000 and 1 tablet of Escor Z in a glass of water and wait for 2 minutes for them to completely dissolve. Then consume it like any liquid drink.
It is advised to consume daily in the morning on empty stomach.
For effective and actual results, you have to take them for minimum 4 months and the results will be visible after 30+ days with optimum use and proper diet.
Why you should go for Glutone 1000 & ESCOR Z?
Glutone 1000 contains world's best Glutathione, "SETRIA Glutathione"
Escor Z are enriched with Phyllanthus embelica(Gooseberry/amla) extract, considered as a rich source of vitamin C.
Both Glutathione & Vitamin C tablets are in effervescent form hence they easily are absorbable in water and then you can drink it.
Tastes really good with its Lemon flavour and doesn't have any after taste.
Provides faster results than other Glutathione in the market.
It is said to be the best skin whitening combo out there in market as these products have the most positive reviews from its customers.
Along with proper diet and a good skin care routine, this combo of Glutone 1000 & ESCOR – Z supplement can not only lighten skin but also improve overall skin health and give you glowing skin. In fact, this can make an ideal supplement to be in your wedding skin care kit.