Enns Closet is one of the natural skincare brands that is well known in the Instagram Beauty Community. Enns Closet has a wide range of skincare products in various categories along with an exclusive lipstick range. The brand stands out among the crowd of natural brands with its consistent new launches, keeping with what's currently trending. I mean they recently launched Sleeping Masks, Washed Ghee & Rice Toner which I find it noteworthy. Enns Closet claims to be Toxic Chemical Free, Cruelty Free & Vegetarian. So "Natural" Skincare Enthusiasts, this is for you. In this post, I'll be sharing my thoughts on three products that I received from Enns Closet.
About Enns Closet:
Finally, a brand that puts your health FIRST! Enn's Closet aims restoring the golden words 'In harmony with nature & YOU'! We bring you products that are safe, non-toxic, and highly effective. We believe in tangible results you can see and feel, and we believe in the power of nature to bring these results. Whether you're looking for natural skin care or paraben-free makeup, we have an array of natural products for skin rejuvenation.
Lets quickly get into the reviews,
Enns Closet Products Review
1. Enn's Closet SPY C Foaming Face Wash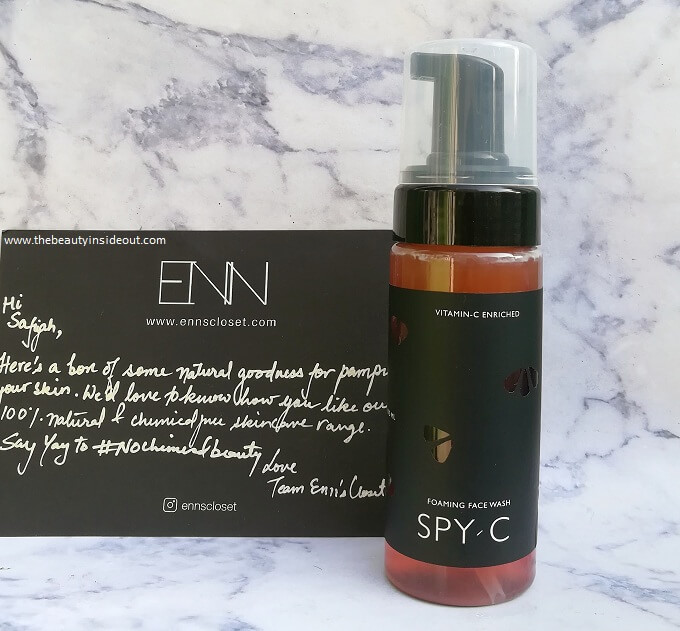 Ingredients: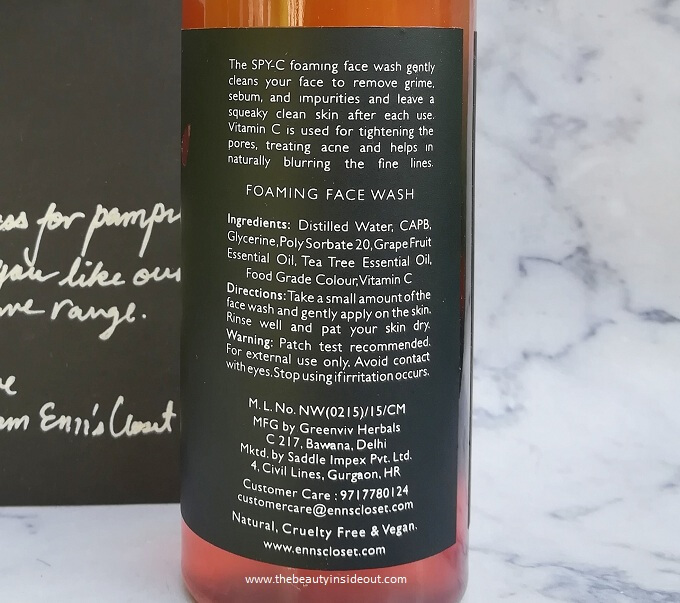 Price: Rs.640 for 175 ml.
Ideal For: Oily & Blemish Prone Skin Types.
My take on Enns Closet SPY C Foaming Face Wash:
Cleansing Foams are my recent addiction as I find them to be super quick to use. Just as its name, this is a foam face wash that comes out as a rich foam. One pump is more than enough for the face. It rinses off easily and cleans the skin really well without overly drying out the skin. It certainly leaves the skin fresh and awake. The face wash has got an invigorating citrusy fragrance from the essential oils in it. Some will like it and some will find it overwhelming. I like such fragrances in my body washes more, than in face care products. Since my skin is on a reactive phase, I have been low on essential oil based products particularly the citrusy ones. So I used this face wash only a couple of times and it did not irritate or have any adverse reactions on my skin. It cleansed my skin perfectly. My husband is the one who uses this more regularly and he's been liking it very much, particularly on how it refreshes the skin after a hectic day out.  You get a large quantity of this face wash for the amount you pay and since only one or two pumps is needed for each use, I am sure this will last for atleast 3 to 4 months, making it a cost effective face wash. The face wash is free of sulphates, parabens, pthalates, petrochemicals, aluminum and triclosan.
2. Enns Closet Aloe Cucumber Face Scrub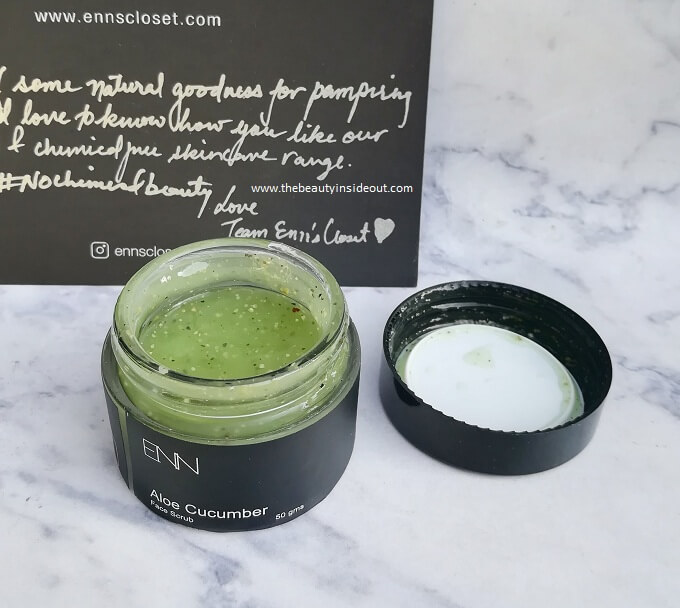 Ingredients: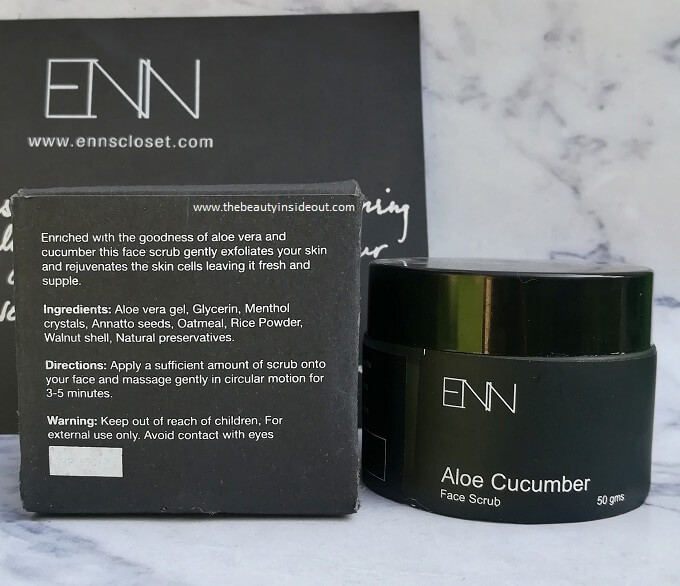 Price: Rs.600 for 50 gms.
Ideal For: All Skin Types
My take on Enns Closet Aloe Cucumber Face Scrub:
I chose this product to rekindle my interest on face scrubs as some of you might have known that I barely buy face scrubs. This has aloe vera & cucumber in a gel base which intrigued me more. But looks like it has got more than what I thought. First things first, it has a striking scent of Kiwi with a mix of Cucumber. The gel is easily spreadable since it's on the thinner side (not runny though). It has got black and white Menthol Crystals and Anatto Seeds to provide the exfoliating action. The granules are sparsely distributed hence you get to easily control where you want to have more scrubbing action. Also the granules are not very small, so they do not feel abrasive on the skin. Most face scrubs that I've tried do not fit to be face scrubs rather they are made to work on the body or feet. But this one is surely suitable for facial skin. It stands there providing moderate exfoliation. Neither too mild, neither too harsh. It rinses off fairly well unless you plan to leave it on as a face mask, since it has got that slip due to its gel base. The face scrub removes dead skin cells, removes dullness and also imparts freshness to the skin. It doesn't leave the skin dry rather leaves it soft and smooth to touch. I liked to use this as a bi-weekly skin pampering product.
3. Enn's Closet After 9 Overnight Sleeping Mask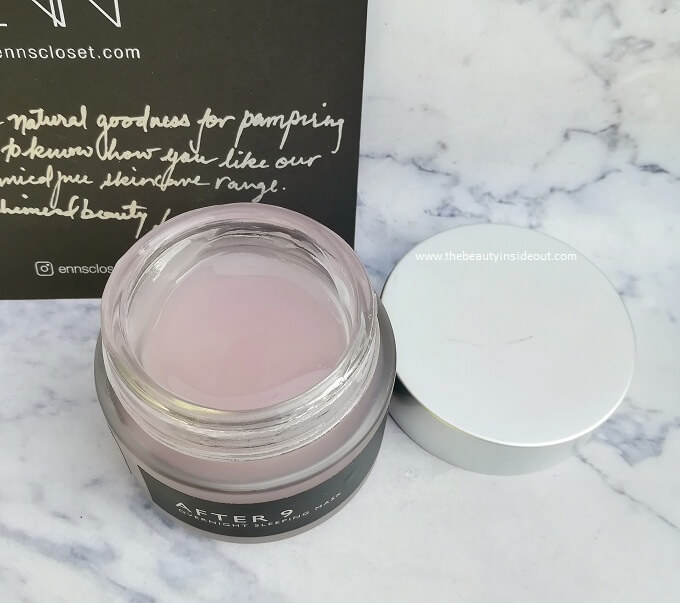 Ingredients: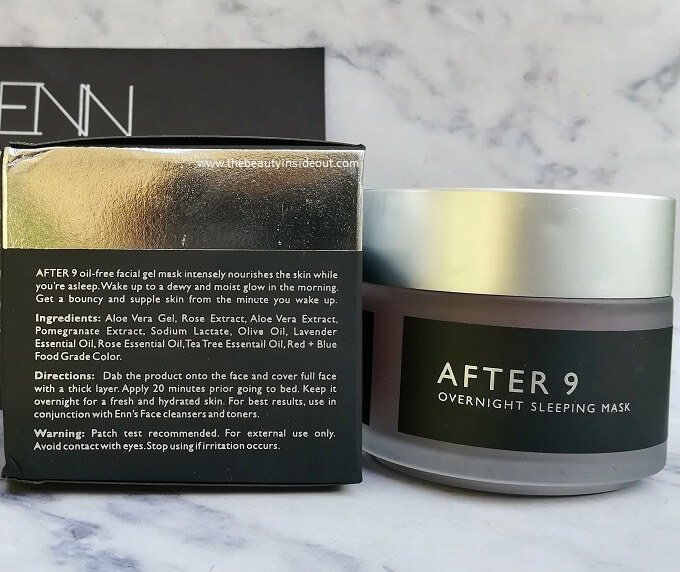 Price: Rs.1150 for 50 gms.
Suitable For: All Skin Types. Best suited for oily skin.
My take on Enn's Closet After 9 Overnight Sleeping Mask:
Finally a sleeping mask from our own Indian Brand. This reminds me of the much raved Laneige Water Sleeping Mask. This has to be my most favorite Enns Closet product. It has a super light gel texture. It's more on the watery side and I'm sure oily skin types will love this oil free formula. Nonetheless, it can be used by all skin types. The main purpose of a sleeping mask is to seal in all the hydration & moisture from your previous steps (that is from your serums, creams and oils), boost its performance and make you wake up with a bouncy and supple skin. And this mask does that wonderfully. Its lightweight texture is perfect to lock in everything without being heavy on the skin. I apply a thin layer but you can apply a thick layer as per the instructions for better performance. The sleeping mask feels moist on the skin while applying, as if splashing cold water but seeps into the skin quickly without any problem. This doesn't make my skin stretchy like aloe gels. I love these type of gel products that actually hydrates the skin without making my skin taut. So a big applaud for this. When I wake up, I see a plumped up, non greasy, well hydrated skin. The sleeping mask smells of Lavender Essential Oil which is best known to induce sleep. The scent lasts a long while after application. Some may find it strong.
These days, I've gone out of my comfort zone and have been experimenting with layering products and I find this sleeping mask a great addition to my skincare routine. I use this sleeping mask twice or thrice a week and I am thoroughly liking this product for its ultra lightweight texture and instant burst of hydration which makes me wake up with a bouncy & glowing skin.
My Final Thoughts on Enns Closet Products
They mostly have a strong fragrance, so if you are into nicely scented skincare something like The Body Shop Products, I am sure you will like Enns Closet Products. What's makes Enn different is, they smell natural and most of the scent are from essential oils.
All their products are free from potential harmful ingredients such as parabens, sulphates, triclosan, aluminum, pthalates, artificial fragrances and synthetic dyes. On top of that, Enns Closet is a Vegetarian & Cruelty Free Brand.
Price Point is on the higher side. Some of the products like the face wash are long lasting making it cost effective while few other products are surely pricey (atleast for me!).
I love the chic & classy packaging of all their products. Their Face Mask tubs are totally eye candy, which resembles Lush products.
Overall my experience with Enns Closet Products has been positive. I liked the Sleeping Mask among the three. I'm also interested in their Rose Light Hydrating Crème and Lipsticks. You should definitely check them out if you are into clean beauty.
That's a wrap up for this review post. Do share your thoughts and experience with the products in the comments section below. I would love to hear them out.
Disclaimer: Products sent by the brand, but that does not affect my views & opinions.