In today's post, I'm going to talk about a product from a promising herbal skincare brand Vanya. Vanya Herbal Products are handcrafted with fresh, natural ingredients harvested from the foothills of the Himalayas and the lush green countryside of India. Their Products are natural, 100% vegetarian, paraben free, they are environmentally friendly, not tested on animals, safe and free from harmful chemicals. Unlike most herbal brands, Vanya Herbal discloses the full ingredients list on its packaging itself. The USP of the brand is quite impressive and I'm sure those who are into herbal products will like their products. Anyways, I have been trying out the Vanya Herbal Gulaabcare Face Cream for the past two weeks and here are my thoughts on it.
Product Description:
The Vanya Herbal Gulaabcare Face Cream is made with Pure Himalayan Rose Water and a dash of olive oil and gives your face a day-long sweat-free glow. This cream gives a natural glow and brightens the face. Feel the freshness and natural nourishment of steam distilled Himalayan Rose Water.
Ingredients: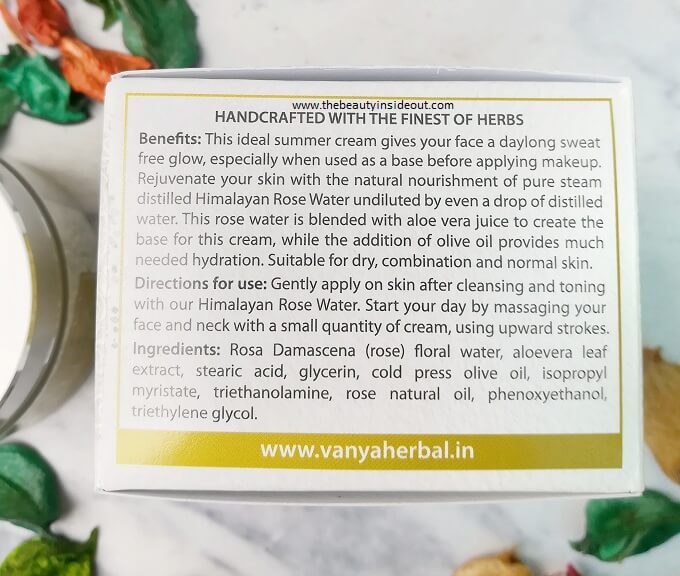 Price: Rs.750 for 35 gms.
Where to buy? VanyaHerbals.com
Vanya Herbal Gulaabcare Rose & Olive Face Cream Review
Packaging: The Vanya Gulaabcare Face Cream comes in thick heavy glass jar with a silver colored lid. The packaging looks really classy and luxurious, definitely speaks for the price it retails. The jar further comes enclosed in a white carton box which has all the relevant details about the product including the benefits, full ingredient list, directions of use, batch number and every other little detail. The addition of a small spatula to scoop out the product would have made it even more perfect.
Color & Texture: It is a pearly white thick face cream. It has smooth consistency that blends easily.
Fragrance: I like my skincare products to be fragrance free, be it natural or synthetic. I am glad that this product is not overly scented. It has a very faint floral fragrance, that is barely detectable once applied.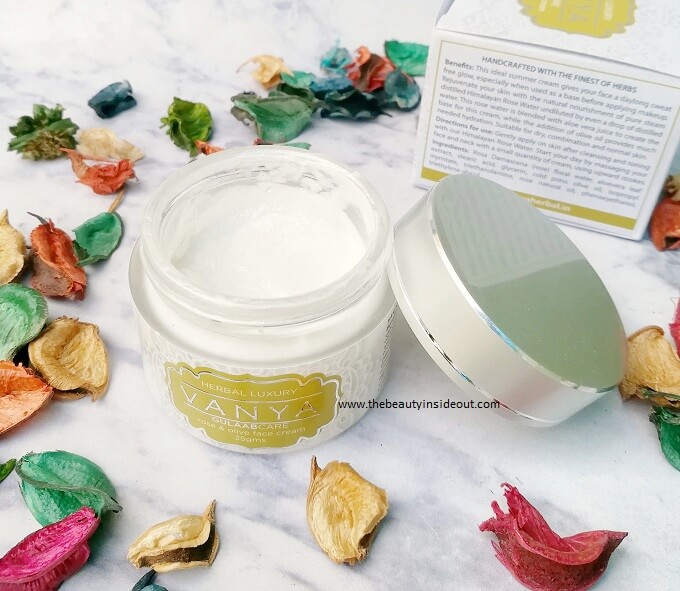 Experience: I have combination skin that is prone to acne. After cleansing and toning, I take a pea sized quantity of the cream and apply it all over my face. Although the cream is dense, it blends and gets absorbed into the skin easily with a little bit of massaging. The face cream mattifies the skin and gives a shine free, non greasy finish. I am happy that this cream doesn't leave any white cast or whiteness on the skin nor does it make me perspire more after a while, like most day creams do. Instead, it adds a subtle brightness to give you that fresh looking skin, without looking made-up.
Despite its thick texture, this is not a heavy duty moisturizer. It's pretty lightweight on the skin and moisturizes adequately. On my combination skin, this works best after using a good hydrating toner, otherwise it feels a tad bit drying due to its oil free finish. Ideally this claims to be a summer cream for a sweat free look so it will be a good choice for oily and normal skin types, rather than dry skin types. I love using this as a day cream and also before applying makeup as it acts as a primer and increases the longevity of my makeup.
Overall, I liked using the Vanya Herbal Face Cream. It does what it claims to do, giving a sweat free glowing look throughout the day.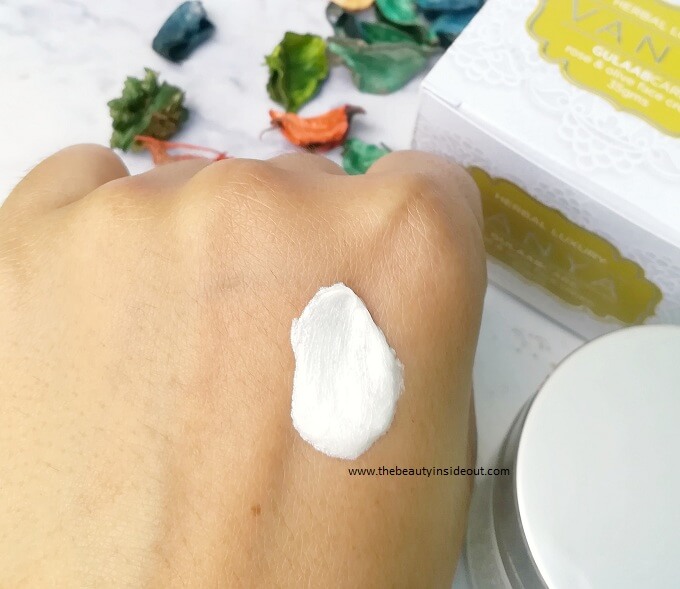 Pros:
Minimal Ingredients.
Contains Steam Distilled Himalayan Rose Water & Aloe Vera Leaf Extract.
Non- Bothering Subtle Fragrance.
Absorbs quickly.
Gives a fresh look to the skin.
Provides oil free matte finish.
Mild moisturizer suitable for the summers.
100% Vegetarian.
Against Animal Testing.
Cons:
Not budget friendly.
Not for dry skin types.
Rating: 4.5/5
Would I recommend? Yes, it is a nice cruelty free, vegetarian, oil free moisturizer perfect for the summer season.
I hope you found this review helpful. Do try this product and share your experience with us in the comments section below.
Disclaimer: Product sent by the brand.