Face Masks are a part and parcel of a skincare routine. Well, who doesn't love to pamper their skin with a soothing and nourishing face mask? But when we talk about face masks – the first thing that comes to one's mind is the old-school clay masks that can often dry out the skin. We have tons of such clay masks in the market. Not that it is a bad thing. But don't we all crave change? That's what made this brand, Bayla Skin, stand out. Bayla Skin has gel-based face masks that are easy to use while delivering excellent results. I got to try the three Bayla Skin Face Masks and here is what I have to say about them.
Bayla Skin Face Masks Review
Variants:
Bayla Skin Face Masks come in 3 variants
Watermelove Blemish Fighting & Hydrating Face Mask with Salicylic Acid
Blueberry Shield Revitalizing & Pollution Defense Face Mask with Aloe
Raspberry Vital Skin Brightening & Hydrating Face Mask with AHA
Packaging:
The Bayla Skin Face Masks are housed in classic glass jars. They come in striking colors correlating to the star ingredient of each mask. The Watermelon variant comes in red, the Blueberry in blue, and the Raspberry in pale pink.
The jars came packed in small carton boxes. Both the box and jar are furnished with all necessary details about the product including a full ingredient list, usage directions, and manufacturing details.
How to use Bayla Skin Face Masks?
You should always use a face mask on clean skin. So firstly, wash your face with a cleanser/face wash that suits your skin type.
Apply a layer of hydrating toner. I find this step immensely beneficial to avoid post-masking dryness especially the ones with chemical exfoliants (Raspberry & WaterMelove).
The packaging says to scoop out a generous amount of the product. Personally, I find that a coin-sized amount is more than sufficient. Because the gel-based face masks spread smoothly and effortlessly and easily cover all areas of the face. So you won't need a lot.
Massage it for 2 to 3 minutes until it gets absorbed completely. The masks feel like those lightweight, gel-based moisturizers or more so like sleeping masks. They are very comfortable on the skin.
After 30 to 60 minutes, rinse the mask and pat dry with a soft towel.
Follow it up with your soothing serums and moisturizers.
1. Bayla Skin Watermelove Face Mask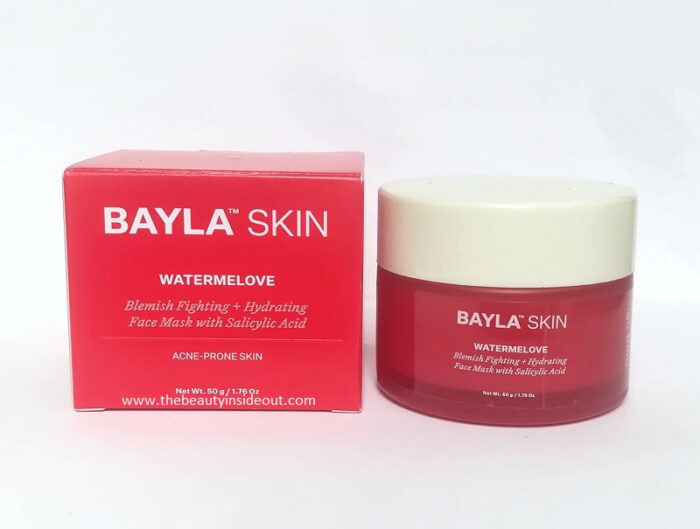 Claims: Enriched with Watermelon and Salicylic Acid, this face mask fights acne while leaving the skin hydrated for soft supple skin.
Ideal For: Acne Prone Skin.
Targets: Acne, inflammation, and hydration.
Full ingredients: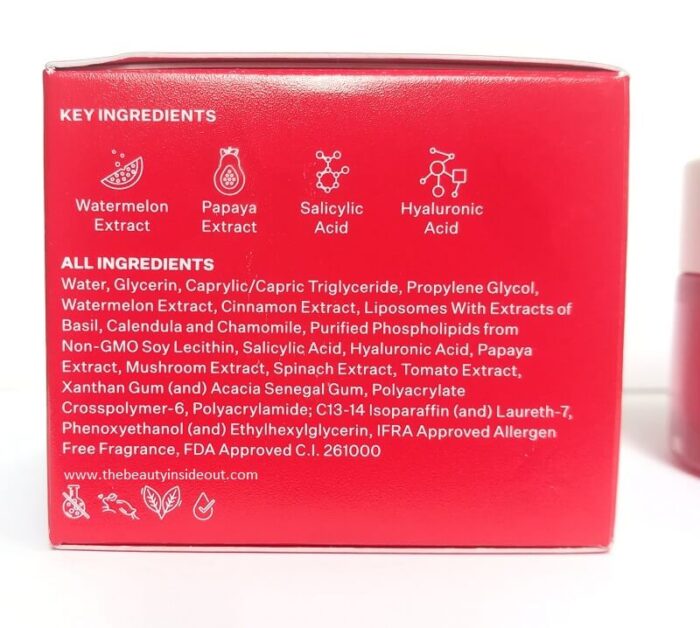 Key Ingredient Benefits:
Watermelon Extract: has antioxidant and anti-inflammatory properties.
Cinnamon Extract: an antioxidant that helps with acne, pigmentation, and dark spots.
Papaya Extract: a natural exfoliant that improves skin tone.
Basil Extract: anti-inflammatory that soothes skin irritations.
Chamomile: repairs damaged skin.
Calendula: locks in moisture giving supple skin.
Hyaluronic Acid: deeply hydrates the skin for plump supple skin.
Salicylic Acid: a beta hydroxyl acid (BHA) that removes dead skin cells deep within the skin, fights acne, and reduces blackheads.
Fragrance: All three Bayla Skin Face Masks has IFRA Approved Allergen Free Fragrance in less than 1% concentration.
This watermelon variant has the mildest scent of the three. It's nothing like watermelons. However, the scent is very subtle and non-bothering.
Texture: All three Bayla Skin Face Masks have a viscous, soft gel-cream texture with a tad bit different in its thickness.
The watermelon variant is pale pink-white in color and has the densest consistency of the three.
My take: This is a Salicylic Acid Based Face Mask with acne-fighting Natural Extracts. The mask has 0.8% Salicylic Acid, which is a good percentage in my opinion. It is a gentle yet effective concentration to work on acne without causing any irritations. This mask is great for beginners in acids.
I've used this mask a couple of times leaving it on for 15 minutes for the first time and 30 to 40 minutes the subsequent times. The mask helps with subsiding acne inflammation and zaps zits effortlessly. It leaves the skin clean and refreshed on rinsing. The mask doesn't overly dry out the skin. However, it is best to use a soothing ceramide moisturizer to tackle any dryness.
If you are looking for a mild Salicylic Acid based Face Mask for your acne-prone skin, this is for you.
2. Bayla Skin Blueberry Shield Face Mask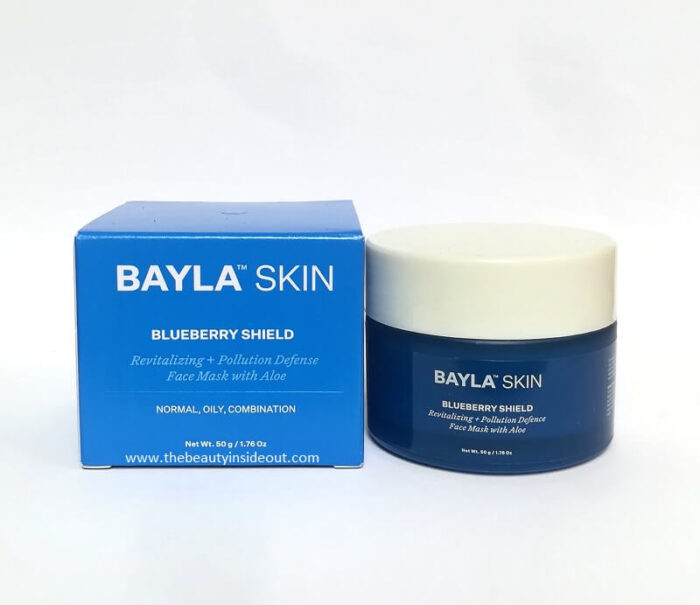 Claims: Packed with powerful antioxidants, this face mask rejuvenates, replenishes, and repairs your skin to boost skin's natural glow.
Ideal For: Oily, Combination, and Normal Skin.
Targets: Skin Repair, Skin Rejuvenation, and Pollution Defense.
Full Ingredients: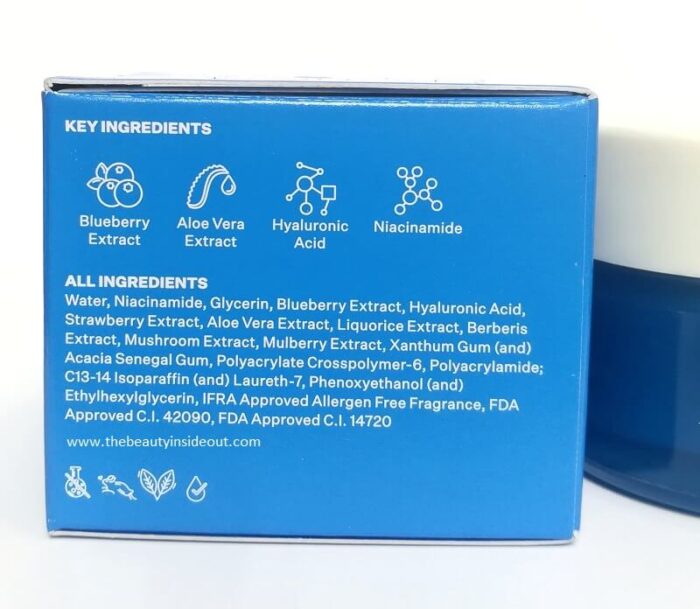 Key Ingredient Benefits:
Blueberry Extract: rich in antioxidants to fight free radicals caused by sun damage.
Niacinamide: brightens skin and strengthens the skin barrier function
Aloe Vera Extract: soothes, softens, and hydrates skin.
Hyaluronic Acid: has a plumping effect by deeply hydrating the skin and gives a younger-looking skin.
Fragrance: This mask has the refreshing scent of sweet blueberries. It's an awakening scent that enhances the overall face-masking session.
Texture: This is a pale blueberry blue-colored gel cream with a smooth medium consistency.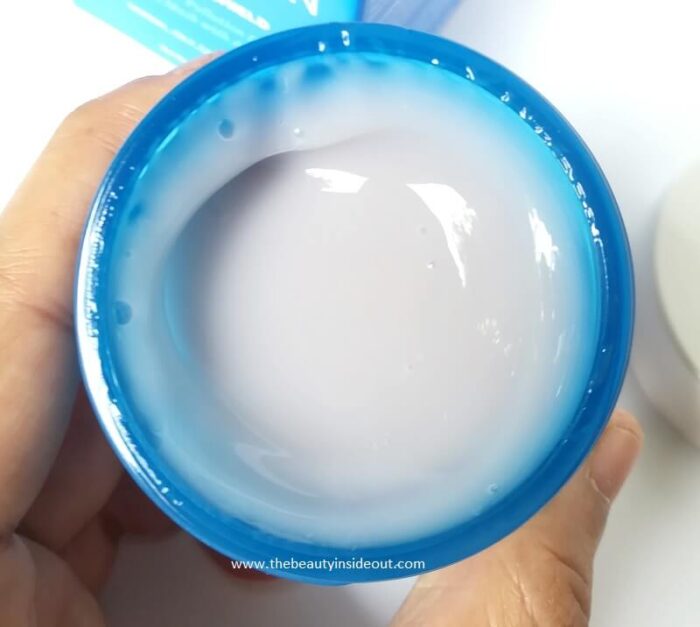 My take: This is an antioxidant-rich, hydrating face mask that's great to unwind during the weekends. The amazing blueberry fragrance adds to the pleasing experience. This face mask is infused with Aloe Vera and has a nice cooling sensation on the skin.
Out of the three, this is the only mask that doesn't contain any chemical exfoliators, so it's safe to use twice or thrice a week without any purging. It's also the most hydrating among the three. It detoxifies the skin and leaves the skin brightened and hydrated.
If you are looking for a nice hydrating face mask after a tiring day out in the sun, this is for you.
3. Bayla Skin Raspberry Vital Face Mask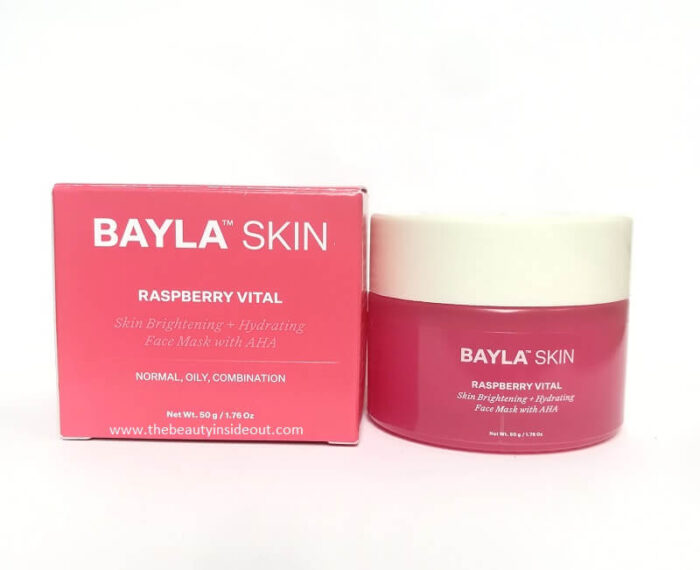 Claims: Formulated with a blend of exfoliants, this face mask brightens the skin while repairing and rejuvenating it for clear glowing skin.
Ideal For: Normal, Oily, Combination Skin.
Targets: Skin Brightening and Hydration.
Full Ingredients: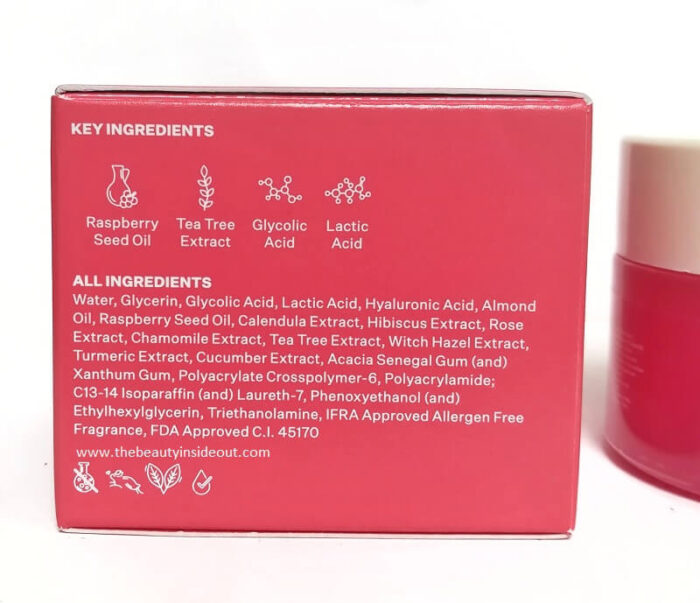 Key Ingredient Benefits:
Glycolic Acid: an AHA that exfoliates to remove dead skin cells.
Lactic Acid: an AHA, that gently exfoliates to brighten skin.
Hyaluronic Acid: locks in moisture for plump-looking skin.
Raspberry Seed Oil: an anti-acne, antioxidant, anti-aging ingredient that promotes youthful skin.
Tea Tree Extract: an anti-acne ingredient that reduces inflammation.
Rose, Hibiscus, Chamomile, and Calendula Extracts: have various antioxidant and anti-inflammatory properties that benefit the skin.
Fragrance: This mask smells like fresh, sweet raspberries. It's very soothing and refreshing.
Texture: This is a translucent pale pink gel cream. This has the lightest consistency of the three.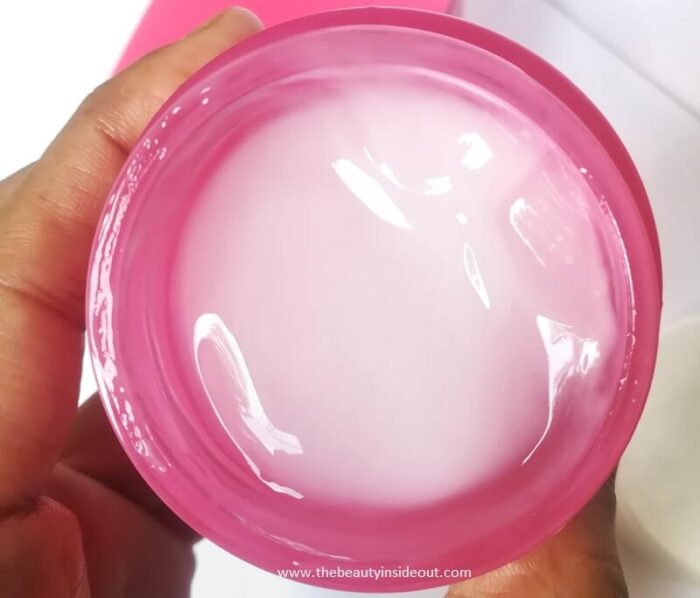 My take: This is an AHA-based Face Mask with 0.5% Lactic Acid and 0.5% Glycolic Acid. It has low concentrations of AHA, so it's very gentle and ideal for beginners. This mask has an excellent combination of ingredients for healing acne and acne marks.
It is best to use this mask weekly once leaving it on the skin for 30 minutes. The mask gently exfoliates the skin to reveal fresh and clear-looking skin. With consistent use, it helps to fade fresh acne marks.
If you are looking for a beginner-friendly AHA-based skin-brightening face mask, this is for you.
Bayla Skin Face Masks Texture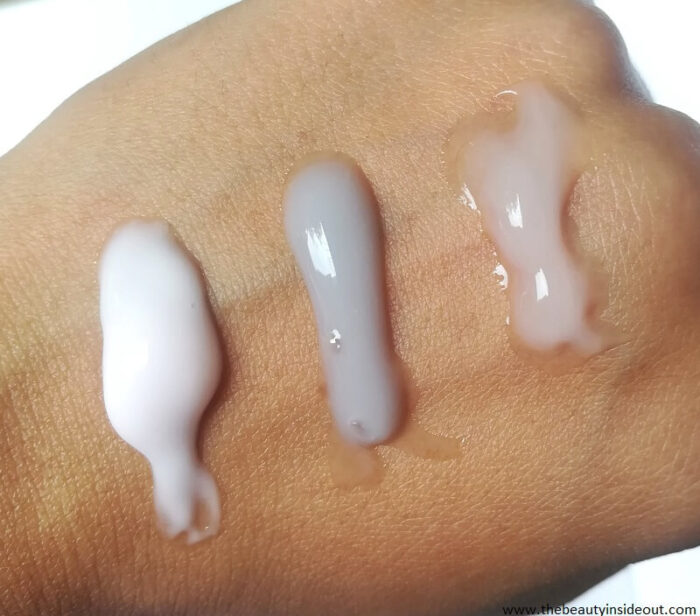 Brand Info
Bayla Skin is an Indian Skincare Brand that focuses on nature-derived and science-backed products. Bayla thrives in providing holistic, experiential, and sensorial experiences through its products.
Currently, Bayla has 5 thoughtful-made skincare products in their portfolio including a face wash, a hydrating serum, and 3 face masks.
Bayla Skin Products are
PETA Certified Vegan and Cruelty-Free
FDA Approved
Dermatologically Tested.
Clinically Proven.
Free of 20 Toxic Ingredients.
That's not the only reason why you should try their products.
They are made with a good combination of nature-derived and science-backed ingredients and also disclose the full ingredient list. If you like fragranced skincare products, I'm sure you'll like Bayla Skin as their products have amazing fragrances that can take your whole skincare routine to a relaxing experience.
What do you think of this brand? Have you tried any of their products? Share with us.