I started using the Enchanteur Body Lotion in Charming Perfumed about three months ago and today's review is going to be all about that. Since I'm a sucker for fragrances, I fell in love with the product. This was the first time I was trying this brand and was a bit sceptical about how it'll turn out to be, but here I am, using it every single day. Let's dig deep into the review, and find out my experience with this body lotion so far. Read on.
Enchanteur is a brand that is famous for producing a collection of french perfumes, and bath and body products serving people in almost 40 countries all over the world. They are quite famous for their signature fragrance notes, namely roses, white jasmine, and vanilla. Their products are made with a special formula that is very gentle on the skin and offers long-lasting freshness and amazing fragrance.
Product Description:
Presenting you the Enchanteur Charming Perfumed Body Lotion with Glow Reflectors and Pomegranate extracts. The variant that I have comes in a 500ml bottle with a pump, which makes it quite user-friendly. Its lightweight and non-greasy formula make it perfect for wearing every day, especially in humid weather. Not only that, it gives you instant visible fairness and radiance after the application, thanks to the glow reflectors and pomegranate extracts present in it. This one is best suited for all skin types and makes the skin baby-soft and supple. Also, as the name suggests, this is a perfumed body lotion and comes infused with amazing french fragrance notes.
Enchanteur Body Lotion Ingredients:
Ascorbyl Tetraisopalmitate, Glow Reflectors, Pomegranate Extracts, Tocopheryl Acetate, Retinyl Palmitate, Arachis Hypogaea (Peanut) Oil, Ethylhexylglycerin, Lilium Candidum Bulb Extract, Tocopherol, Phenoxyethanol, Chlorphenesin.
Ingredient Benefits:
Pomegranate Extracts: It helps even the skin tone and strengthens the skin barrier. Pomegranate also has excellent moisturizing, protection, and nourishing benefits.
Glow Reflectors: They provide instantly visible fairness. The smooth texture of this lotion provides a sheer, luminous effect to your skin, making it visibly radiant from within.
Price: Rs.475 for 500ml
Where to buy? This Enchanteur Body Lotion is available on a lot of online shopping sites like Amazon, Myntra, and even the brand's own website. This also comes in other variants, in case you'd like to check it out.
How to use it?
1. After taking a shower, wipe your skin dry.
2. Squeeze out the lotion from the pump bottle, as needed.
3. Gently massage it all over your skin, until it's fully absorbed.
4. Enjoy your day with the long-lasting fragrance and freshness.
Enchanteur Body Lotion Review
Packaging: This Enchanteur Body Lotion comes in easy-to-use packaging. It's a tall white-coloured pump bottle with the brand logo printed on the front. The bottle that I use is a 500ml one, but it comes in 250ml packaging as well. However, it's a family pack which makes it inappropriate for travelling purposes.
Colour & Texture: This body lotion is pure white in colour, and has a flowy consistency which makes it easily blendable on the skin. It makes the skin super-soft without greasing it off. Out of all the body lotions I've tried, this one is one of the best, simply because it gives a matte finish after a few seconds of application and is not at all oily.
Fragrance: Fragrance is hands down a point of importance to me when it comes to picking skin care products. I love smelling nice all day long and this body lotion by Enchanteur does the job pretty well. The Charming variant that I have has a really nice floral and fruity fragrance. However, the strength of the fragrance might bother some people who have migraine issues, otherwise, it's as nice as it could be and has never caused me any problems as such.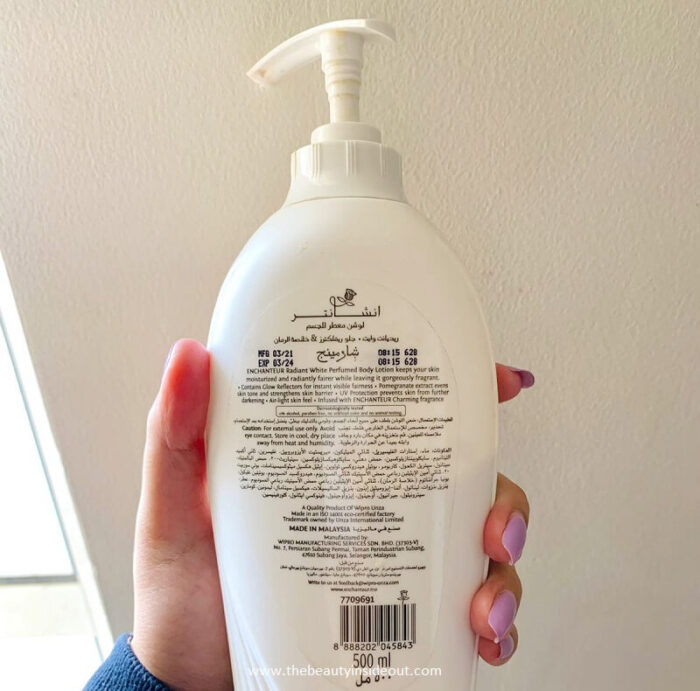 My Experience:
I love exploring new skin and body care products and have had a fair share of trials with body lotions. Around three months ago, I got my hands on this Perfumed Charming Body Lotion by Enchanteur and I heard about the brand for the first time then.
This is a super lightweight body lotion that intensely nourishes your skin and keeps it fresh all day long. Made with Glow reflectors and Pomegranate extracts, it gives your skin instant radiance and fairness with a subtle matte finish. I don't like my body lotion too greasy, so this one works well for me. It leaves my skin with a floral-fruity fragrance that is quite long-lasting; however, if you have major migraine or sinus issues, make sure to use a small amount to test first as the smell can be a bit hard for some people. I use it right after showering on partially damp skin for better results.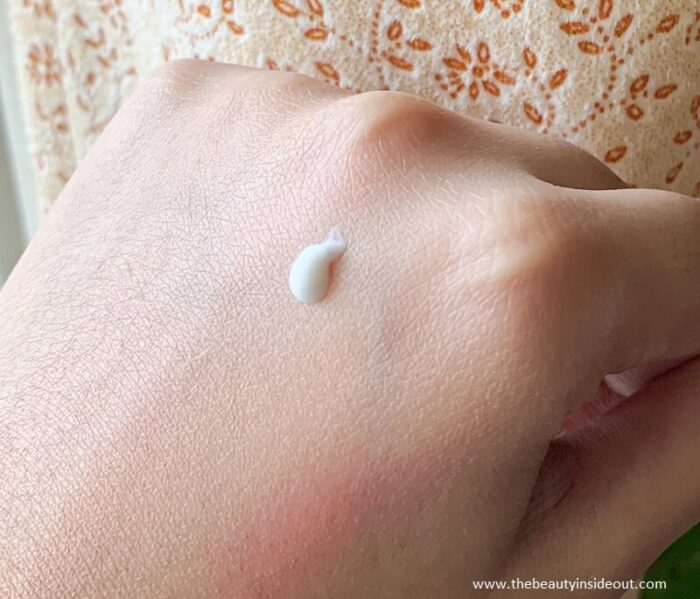 Pros:
Lightweight body lotion.
Best suited for all skin types.
Extremely affordable.
Provides long-lasting fragrance and freshness.
Non-greasy.
Gives instant radiance and fairness.
Cons:
Might trigger migraine problems due to strong fragrance.
Rating: 4/5
Would I recommend it? This Enchanteur Body Lotion is one of the best ones in the market in this price range. It's long-lasting, available in amazing fragrances, and makes the skin smooth like a baby. Definitely get it if you want to try something new and are obsessed with fragrances.
What do you think about this product? Let us know in the comments below!