The mental suffering of an acne-prone skin girl is real. We all have that depressing moment when we have encountered acne outbreaks. And to treat that single pimple we do all sorts of things to make it vanish. In my years of experience in treating acne, I learned that having a proper Daily Skin Care Routine at Home with a good set of products will actually give better results, rather than trusting a single then-popular spot treatment product. Technically although you cannot control your acne breakouts, you still have a say in what happens to your skin. Starting from a healthy lifestyle to food habits, and sleeping routine, everything accounts for your skin problems in one way or the other. So you will have to take the initiative to help your skin get rid of acne by following a good routine. Being a skincare enthusiast, I've kept changing my routines quite frequently over the past two years. Finally, I've come back to the same routine (with a little variation) that worked for me 5 years ago. This Dermatologist Recommended Skin Care Routine For Oily Acne Prone Skin is one that I followed for a whole year. This gave me amazing results in healing my acne and acne marks. I still have noticeable acne scars (the pitted ones) which may or may not go away. I'm ok with that. Because I know that unless I'm going to go for laser or cosmetic treatments, scars wouldn't vanish. Anyways I ain't looking for super flawless skin, but just a better and healthy-looking skin.
So should we get into the Best Skin Care Routine For Oily Acne Prone Skin that worked for me. Don't be overwhelmed by the word routine. I'm not going to put up a Korean Skin Care Routine with tons and tons of products. This will be a simple CTM routine with products that worked for me. (Note: I'm stating 'that worked for me'. So it may or may not work for you. I'm just sharing my experience)
Skin Care Routine For Oily Acne Prone Skin
Step 1: Cleanse
I picked up the Sebamed Clear Face Cleansing Foam after a lot of research. It was the best thing I've ever found. This Cleanser is Infused with Montaline C40, a patented anti-bacterial ingredient that kills acne-causing bacteria. The product is basically a foam that needs to be applied and let work for 2-3 minutes. Although I don't like many things about this Cleanser like – the wait time, foam getting absorbed into the skin feel, no squeaky clean effect (it does clean the skin really well), and that occasional slipperiness while rinsing, I still love this for its amazing effectiveness on acne. This also brightens the overall complexion after a month's usage. The ingredients used in this are minimal, with no comedogenic ingredients, no parabens, and harsh chemicals except for two – fragrance & phenoxyethanol. I used this in both AM and PM routines.
Since my exposure to dirt and pollution is less nowadays, this cleanser is just enough for me. But back then, I was out and about working, so I introduced a salicylic acid face wash from the second month onwards as I wanted the squeaky cleaned freshness effect. I used it in my PM routine only on days when I felt the need and still stuck to the Sebamed religiously. I use the Neutrogena Oil Free Face Wash with 2% Salicylic Acid. It is not a mild Cleanser like Sebamed. It's your typical drying foaming Gel face wash. But is a great acne skin cleanser as well with 1% Glycolic Acid, a good concentration to start with as a beginner.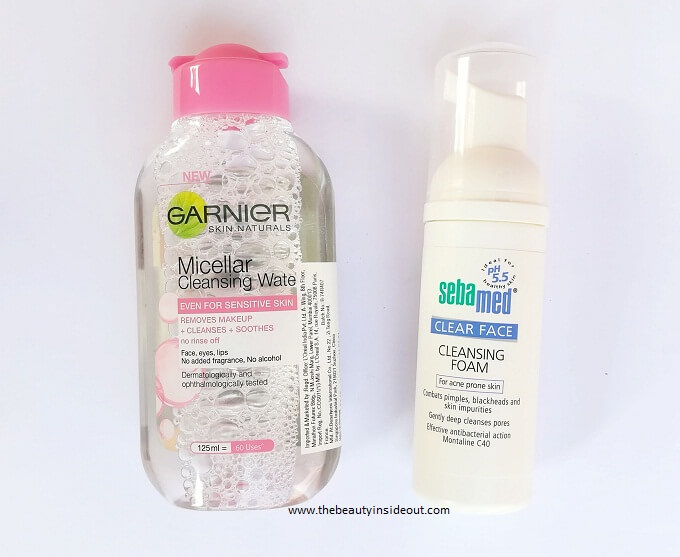 I recommend not using makeup at all when treating acne. I abstained from using it as well. But whenever I used my go-to Ponds BB Cream, I would need to remove them at the end of the day. I would use the Bioderma Sensibio H2O which is a fragrance-free product. Currently, I have the Garnier Micellar Water in place. There are a couple of oils that work for oily acne-prone skin too like Squalane Oil. But I would recommend not to use one unless you are sure that it'll not break you out. This first cleanses makeup removal step is not necessary unless you wear makeup. I hardly did this step once or twice a month during an acne breakouts episode.
Step 2: Tone
Next up is Toning. I know people who consider this step optional. But this is mandatory for me. In fact, this is the step that majorly contributes to acne treatment. Here come acids into play. I mean chemical exfoliators. Using acids may look like a new trend now. But I never knew that I was using one 5 years ago.
I was using the Kaya Purifying Toner with Mandelic Acid which is an alcohol-free toner specifically meant for oily acne-prone skin types. Mandelic Acid derived from bitter almonds is an AHA and the gentlest of all Acids. It is suitable even for sensitive skin types as it is non-irritating. It gently exfoliates, unclogs pores, and increases cell turnover with its anti-aging property. The Kaya Toner also contains Niacinamide (Vitamin B3) which is widely known to clear blemishes and even out skin tone. I generally use toners straightaway by spritzing or using on my palms. But with the Sebamed Foam, I always use my toner with a cotton pad as the cleansing foam is mild and I want to make sure my skin is clean before putting on my moisturizer.
Currently, I'm using an internationally popular one – By Wishtrend Mandelic Acid Prep Water which I got from BeautyBarn. It has got 5% Mandelic Acid along with other notable Ingredients like Licorice Extract (brightens skin), Sodium Hyaluronate (deeply hydrates), and Centella Asiatica Extract (soothes skin). Both the toners are equally effective and haven't stung my skin. I used the Kaya toner twice a day with no issues (I didn't have sensitive skin at that time), but I'm taking it slow with the Wishtrend using it only once a day in my PM routine and have been using the Klairs Toner in my AM Routine. Klairs Toner may or may not suit acne skin, in that case, you could use any Organic Rose Water Toner. Keep in mind that Mandelic Acid takes the longest time to show results, so be patient and never overdo it. Too much exfoliation is not good either.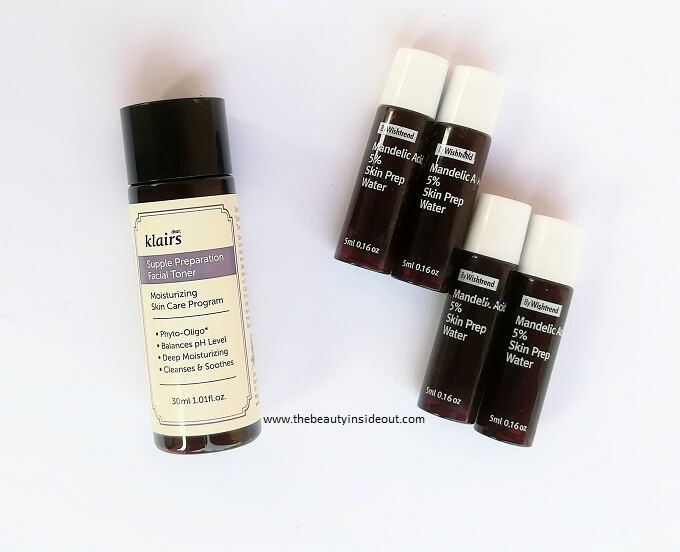 If your skin is not sensitive and has much tolerance, you could try either Glycolic Acid or Salicylic Acid(BHA) Toners. Never both. Salicylic Acid is the one that is proven to work for oily skin. A good option will be The Ordinary 2% Salicylic Acid. If you have acne along with blackheads and whiteheads, Cosrx BHA Blackhead Power Liquid is known to work wonders. If you would like to go for Glycolic Acid Products, then no doubt you will have to pick up the ever-so-popular Pixi Glow Tonic with 5% Glycolic Acid, Aloe Vera and Ginseng Extract. This is known to help with acne scars as well.
Step 3: Hydrate
I'm picking up the plain old aloe gel in this category. We do not want to overload you with too many acne-treating products. So I chose a moisturizer that will soothe my skin from all the acne-treating ingredients. Especially since we are using an exfoliating toner, just pick a soothing gel rather than another acne moisturizer. Unless you are allergic to aloe vera, this will your best oily skin moisturizer. Any aloe vera gel will do. Make sure to check the ingredient list and pick one with minimal non-comedogenic ingredients. You could go for plain organic ones like the BlendItRaw Aloe Gel or go for the Korean ones like Innisfree Aloe Revital Soothing Gel which has got additional skin beneficial ingredients like Madecassoside. In the earlier days, I used to use the Lotus Aloehydra Aloe Vera Gel (discontinued) and then moved on to the Aloe Veda Aloe Vera Gel. Both of them served their purpose and didn't cause additional breakouts.
Currently, I'm using an amazing aloe vera gel from an Indian Indie Brand Kaira Naturals. The product is called Hyaluron Gel. Along with Aloe Vera Gel, it has got 10% Vegan Hyaluronic Acid and Rosehip CO2 Extract. The gel is super lightweight while deeply hydrating the skin. I've been using this in both AM and PM routines with no regrets.
If at all, plain Aloe Vera doesn't suit your skin, I would recommend trying out the Sebamed Clear Face Gel which has got Panthenol, Hyaluronic Acid and Allantoin. And if you want to go for an affordable treatment moisturizer, then Clean & Clear Oil Free Moisturizer is a great option. It has salicylic acid which is an exfoliator, so use this only if you are not using an exfoliating toner. If you ever find your skin becoming darker, you are either skipping your sunscreen or over doing your exfoliation. In that case, slow down your exfoliator and use it 2 to 4 times a week and stick to pure rose water on other days.
Step 4: Protect
Lastly, your Skin Care Routine For Oily Acne Prone Skin isn't complete without a sunscreen. You don't want all your hard work go in vain. Skipping your sunscreen can reverse all the benefits of the above steps and can make your skin dull, darker and sensitive. So never ever skip your sunscreen specifically because we are using a chemical exfoliator.
Finding a sunscreen that doesn't break out is crucial. There are tons of sunscreens in the market with the majority of them containing comedogenic ingredients. I started my sunscreen journey with the Sunproteck SPF 50. A typical white cast, greasy, shiny disco ball face sunscreen. I can't believe I used this diligently. Why? Because the formula is non-comedogenic and never broke me out. I could bare all the negative things for that one positive attribute of not breaking me out. After one tube of this, I moved on to find my then HG sunscreen – the Lotus Herbals 3 in 1 Matte Sunblock. I picked up with second thoughts as the formula was not free of acne causing ingredients. Fortunately it didn't break me out and I loved the non-greasy, matte finish of this sunscreen. Above all, this is tinted and has a BB Cream effect with no white cast. I've used multiple tubes of this during my entire acne treating year. After which I moved on after getting to know about Parabens in this product.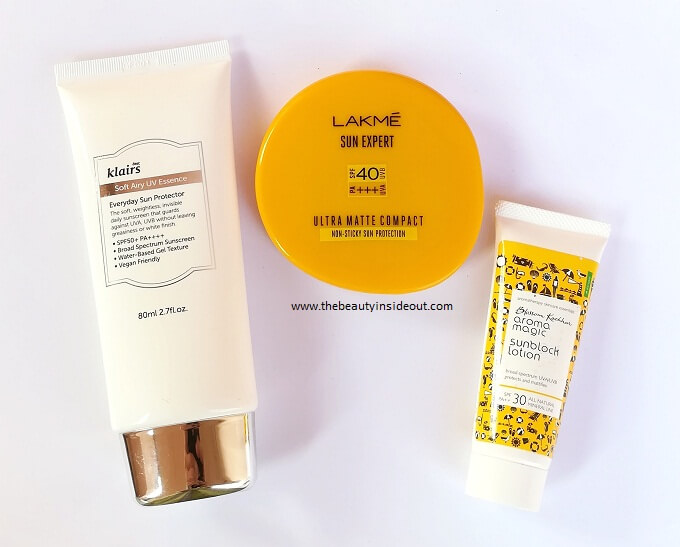 Currently I have two sunscreens (three) that I've been using which haven't contributed to new pimples. The first one is the Klairs Soft Airy UV Essence SPF 50 PA++++. This is a chemical sunscreen with water based gel type texture. Why I love this? There is absolutely no white cast and works like a moisturizer for oily skin. What I hate? It makes my skin oily and uncomfortable after an hour or so. If you are living in a colder climate, this will be great hydrating sunscreen. I live in a hot and humid place and with that oily skin. I guess you get the point. To make the Klairs sunscreen work, I use the Lakme Sun Expert Ultra Matte SPF 40 PA +++, a compact sunscreen on top of it to mattify my skin. The combination of both works well for me. On days when I can't have the hassle to use two sunscreens or when I stay indoors, I just use my Aroma Magic Sunblock Lotion with SPF 30 PA++. This is a wonderful physical sunscreen for oily skin. It is similar to Lacto Calamine Lotion. It is mattifying and has a brightening effect on my skin tone. I so wish this came with a higher SPF, so that I can use this whenever and wherever. I'm still searching for that one HG Sunscreen with clean ingredients. So let me know in the comments if you have any sunscreen suggestions.
These are the four mandatory steps in the Skin Care Routine For Oily Acne Prone Skin. These steps are enough for treating mild acne. Follow a consistent routine for atleast two months without changing products for effective results.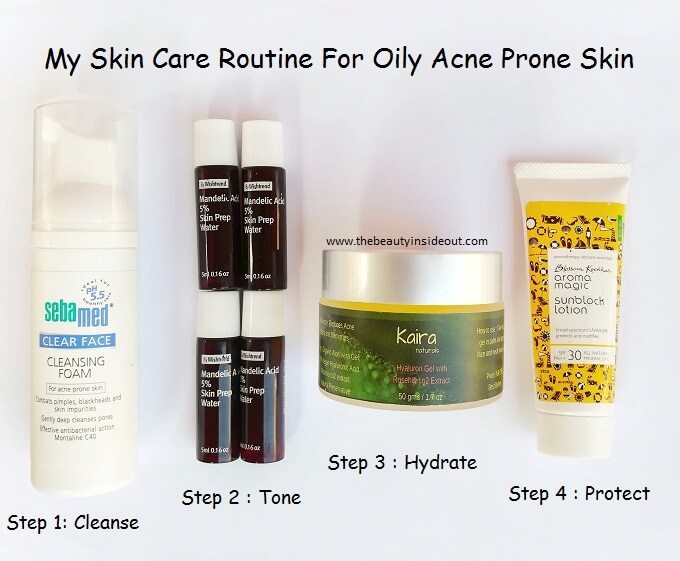 Other Optional Steps in your Skin Care Routine For Oily Acne Prone Skin
For those suffering from moderate acne and sudden breakouts despite following the above routine, you could include spot treatments and face masks to zap the zits quickly.
Spot Treatments should go after your Cleansing, Toning and Moisturizing Steps. I apply them as a blob on the active acne and let it stay overnight for it to work on it. Back in the days, I used to have atleast one over the counter benzoyl peroxide or clindamycin gel with me. Currently I am having the Ponds Clear Gel to do that work. I don't see them being available widely, so it might be difficult to get that. Other notable spot treatment product is The Body Shop Tea Tree Oil. This is a diluted Tea Tree Oil so you can safely use it on your acne spots without having to worry about overdoing the essential oil. Some think that diluted form will not be effective. However it is otherwise. Unless you know the dermal limits of using essential oils, it can make your skin even worse by burning or causing sensitivity. This Body Shop one is very safe and known to be effective among many acne sufferers.
If you are an International reader you can also try out the La Roche Posay Effaclar Duo Acne Spot Treatment with Benzoyl Peroxide. If you are into Korean products, Cosrx Centella Blemish Cream is known to work for acne, redness and even other skin irritations. In any case, just pick one spot treatment and don't try everything at one go.
Apart from spot treatment gels, I also depend on the Cosrx Acne Master Pimple Patches for day time use. The patches are great for people like me who have the habit of pricking the pimples, in order to save from serious damage of getting pitted scars.
Face Masks are optional. Use them appropriately, not more than thrice a week. They come handy when there are tiny zits and whiteheads. Back then I never had a face mask or face scrub in my routine, because the CTM routine itself was too much for me and honestly I had no time for extra pampering. I would only do my most trusted DIY Face Mask for Acne wheneverI had the time.
In general, Clay Masks are known to work best for oily acne prone skin. You can go for Plum Green Tea Mask, but if and only if your skin is not sensitive. This mask is heavy duty kind and can sting your skin due to the presence of Glycolic acid. This mask is popularly to know zap zits in one application. Other good options will be the Himalaya Neem Face Pack. This one is both affordable & effective.
That winds up the two optional yet most effective steps if you have moderate acne. For severe acne, I would recommend consulting a dermatologist rather than experimenting.
Summarizing the Morning and Night Skin Care Routine For Oily Acne Prone Skin
AM – Cleansing -> Toning -> Moisturizing -> Sunscreen
PM – Cleansing -> Toning -> Moisturizing -> Spot Treatment
Products for Skin Care Routine For Oily Acne Prone Skin
Well, we have come to the end of this post. I genuinely hope that this Skin Care Routine For Oily Acne Prone Skin was helpful to you. Do let us know what is your acne routine in the comments section below.
Disclaimer: This post is for informational purposes only. What worked for me may not work for you. Please consult your dermatologist/doctor. It is best to rule out hormonal and other health related problems associated with recurrent acne.