Hello everyone. Toning, which is a very essential part of skincare routine, is something that I sometimes skip due to my laziness. But ever since I started getting breakouts I thought why not include a toner that is acne skin friendly into my routine. When I stumbled upon Kaya Purifying Toner online I thought why not give it a try. Read ahead to know more.
Product description: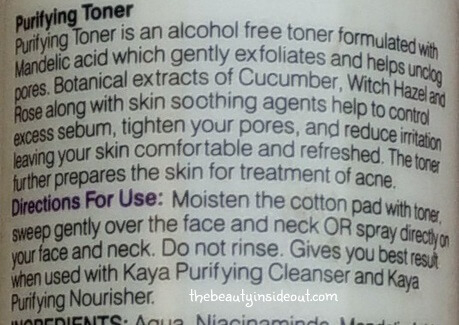 Ingredients: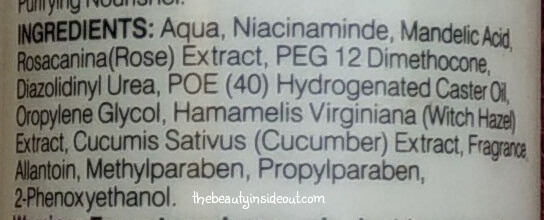 Price & Quantity: Rs.325 for 100 ml
Shelf life: 24 months from date of manufacture.
Availability: Available at Kaya Skin Clinics. You can buy online here.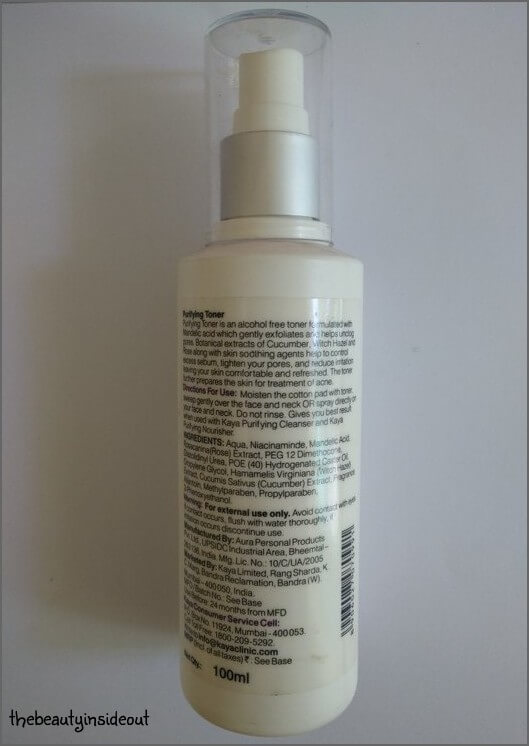 My experience with Kaya Purifying Toner:
The toner comes in a white colored plastic bottle which is opaque. It has a spray nozzle covered with transparent cap. The packaging is simple, sturdy and convenient to use. The toner is a clear liquid just like water. It has a mild fragrance which lingers for quite some time. It might bother people with sensitive noses.
I have been using this toner since two months now twice a day, during the day and night. I prefer to apply this toner using a cotton pad instead of spraying directly on my face. I use this toner after washing my face with my Sebamed Cleanser. I pump the toner twice on a cotton pad and swipe it across my face. I can see that it effectively removes impurities, any left over makeup traces and even the residue left behind by some face washes. You know the thin filmsy slippery layer some face washes leave behind!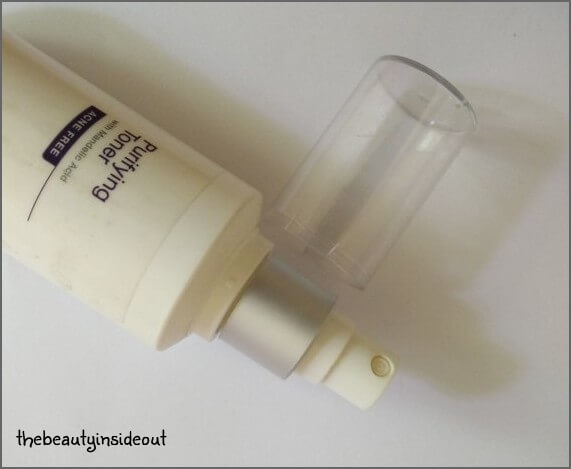 It is so gentle on the skin and instantely tones, refreshes and stabilizes pH of the skin. It neither stings nor dries out my skin. It must be because it is alcohol free. It did not cause me any further breakouts and it did reduce the occurrence of blackheads. This toner can be used along with other acne treatments. The presence of cucumber extract and rose soothes and calms the skin from any skin irritation.
The toner claims to contain Mandelic acid which is nothing but alpha hydroxy acid (AHA) made from bitter almonds. It did prevent pimples from reoccurring and also helped in slightly fading my acne scars over time. This is not a miracle product as such, it works slowly but yes you can see some results with this toner when used regularly.
Pros:
Alcohol free.
Non comedogenic.
Presence of Mandelic acid which promotes skin renewal.
Prevents acne and blackhead occurrence to some extent.
Controls oil to a certain extent.
Long lasting. One bottle will last long.
Easy to use.
Packaging is travel friendly
Cons:
Contains parabens.
Fragrance might be a bother for sensitive noses.
Final Word:
With Kaya Purifying Toner you are sure to get clean and brighter skin. It is an effective acne skin friendly toner that removes impurities and tones the skin. It is best suitable for oily and combination skin. I would repurchase it again until I find something better.
Rating: 4.6/5
Have you tried Kaya Purifying Toner ? What toner do you currently use? Share your thoughts in the comments section below.
Stay Happy!