Hello everyone. Kajal is a staple product in everyone's vanity. It is one of the first products I used even before knowing about face makeup. Recently I reviewed one of my most favorite eyeliner in recent times which is Sugar Eye Told You So Eyeliner. Today I' m back with another review from the same brand Sugar Cosmetics. I got the Sugar Twist And Shout Fadeproof Kajal in the shade Still Got The Blues in my April Fab Bag. I had high expectations in this kajal since I liked their eyeliner very much. Let's see whether this kajal impressed me or not.
Ingredients: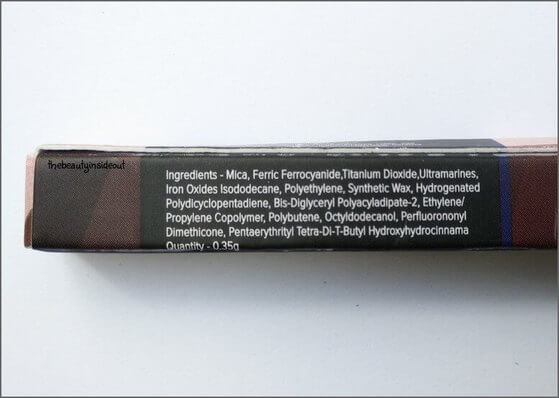 Price & Quantity: Rs.399 for 0.35 gm.
Shelf Life: 3 years from date of manufacture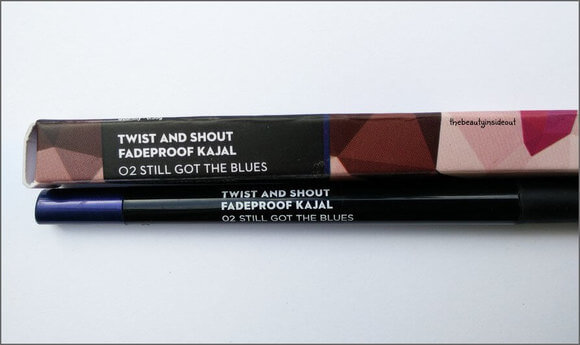 My experience with Sugar Twist And Shout Fadeproof Kajal – Still Got The Blues:
The Kajal is housed in the brand's signature cardboard packaging which is nice and attractive. The Kajal comes in a long sleek pen form which looks fancy with a shiny cover. It has a retractable twist up mechanism which works smoothly without getting stuck. I like that no extra sharpener is required leading to no product wastage. It has an anti-slip grip which provides a steady hold of the kajal. Overall I like the look and feel of the kajal which is cute and travel friendly.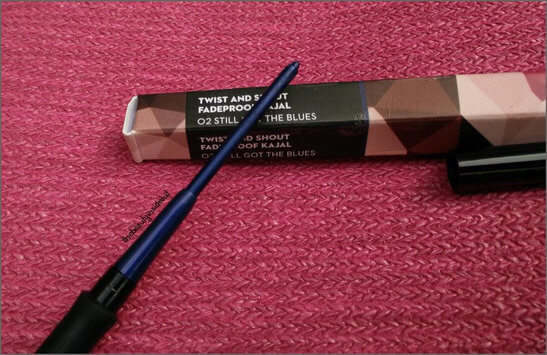 Coming to the shade, it is such a beautiful dark blue color which looks absolutely gorgeous with no shimmers at all. The formula is smooth and creamy but don't worry it is not so creamy enough to break. It glides smoothly on both my upper and lower lash lines without causing any tugging or pulling. It sets quickly into a complete matte finish. I like that it can be used both as an eyeliner and kajal. It did not sting or cause me watery eyes even when I wore my contact lens. Hence it should be safe for sensitive eyes and contact lens wearers .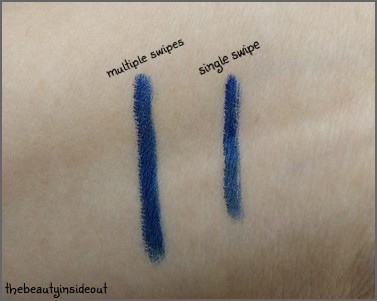 The pigmentation is quite high which can be easily buildable. For my upper lash line one swipe was enough to give me decent pigmentation. However, I needed 2-3 swipes on my waterline. This kajal stayed on my waterline for 6+ hours which is the longest for me, since every kajal fades away in 3-4 hours on my waterline. As an eyeliner it stayed for more than 10 hours without smudging or fading. It is absolutely smudgeproof. Once applied it does not smudge at all. So if you want to do a smokey eye, you have to be very quick enough in smudging it. I like that it did not budge even when I washed my face, indeed it must be waterproof. One would require a good oil based remover to take if off from the eyes.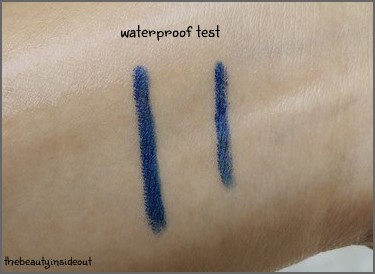 Pros:
Travel friendly packaging.
Gorgeous dark blue shade.
Glides smoothly setting into a matte finish.
2 in 1 product. Works great as a kajal as well as eyeliner.
Good color pay-off.
Long staying power.
Smudgeproof, fadeproof and waterproof.
Safe for sensitive eyes.
It is free of mineral oil, preservatives, paraffin & parabens.
Cons:
Final Word:
Long staying, excellent pigmentation, smudgeproof, fadeproof ,waterproof, what else one would look for in a kajal! This is one of the best I have ever tried. The shade Still Got The Blues is absolutely gorgeous and I highly recommend everyone to give it a try.
Rating: 4.5/5
I hope you enjoyed reading. Have you tried Sugar Twist And Shout Fadeproof Kajal ? Share your thoughts in the comments section below.