Hello everyone. We all have encountered acne sometime or the other in our life. Today I've come up with a DIY spot treatment for acne which is super effective and clears the acne soon. This is something that I've tried and tested and it suited my skin and I had good results. However, it might not be suitable for sensitive skin types since the ingredients used are quite strong. So I recommend doing a patch test first and then try it on the face.
Coming to the DIY, three essential things are needed
1.Cinnamon
Cinnamon is an amazing spice that is a great anti-oxidant and has anti-bacterial, anti-inflammatory and microdermabrasion effect on the skin. Cinnamon gently exfoliates the skin by sloughing off the top layer of dirt and aids in blood circulation. It is probably one of the best natural treatments for acne that treats and heals acne. Cinnamon can be quite harsh on the skin if used alone. So it is advisable to be used along with a soothing liquid medium. In this case, we are going to be using honey.
2.Honey
Honey is a natural antibiotic that kills the bacteria causing acne and prevents the formation of new pimples. Honey is an effective acne remedy that removes excess oil and sebum that causes acne leaving the skin smooth and moisturized. Honey is moisturizing on its own and is suitable for all skin types even those with oily skin. Its soothing effect can counteract any irritation caused by cinnamon.
3.Lemon Juice
Lemon juice is a powerful disinfectant that kills the bacteria causing acne. The ascorbic acid in lemon juice is a natural astringent that helps to dry out the acne. Lemon is best known for its bleaching and lightening property. It efficiently removes acne marks and blemishes which results in a clearer and brighter skin.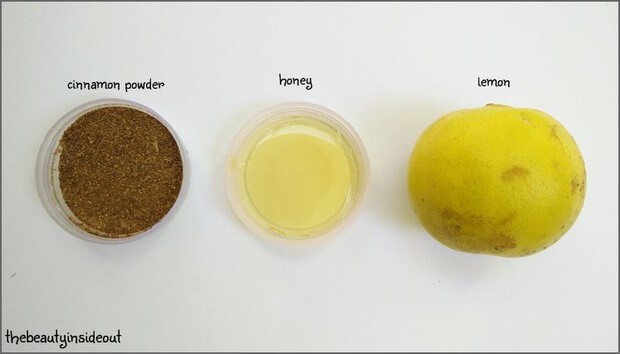 To make spot treatment for acne:
You will need freshly ground cinnamon. You can get store bought cinnamon powder too but I prefer to ground the cinnamon myself at home. I take 3 cinnamon sticks and grind it in a mixer either coarsely or finely. If it is coarse I sieve it and get the fine powder.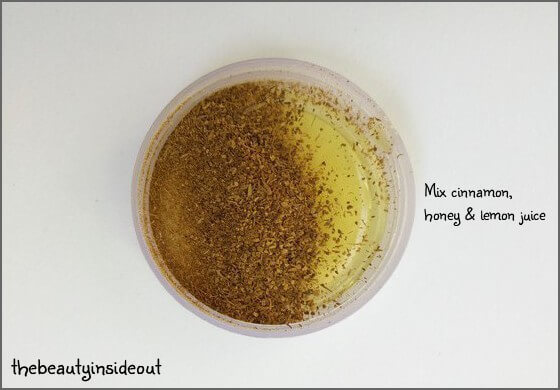 In a bowl, take 1 tablespoon ground cinnamon and mix it with 2 tablespoon honey. Then, I add just 2 drops of lemon juice and mix them well together. Do not add more than 2 drops. I apply it only on the acne spot since it is quite strong. As soon as you apply it on the acne spot, it is quite normal to have a tingling sensation which fades away in a couple of minutes. If it does not subside, wash it off immediately and apply ice cubes all over the face. This is due to the presence of cinnamon and lemon. I leave the mixture on the spot for one or two hours. Sometimes I leave it on overnight and wash if off in the morning.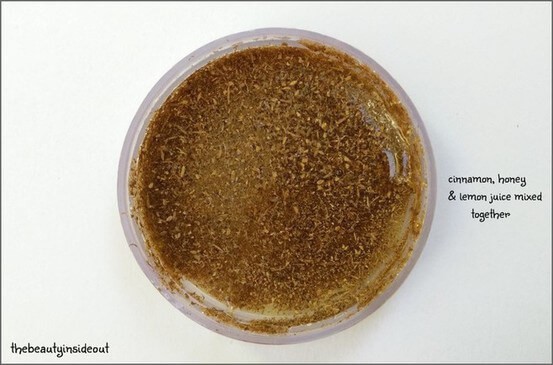 In case you want to use it as a face mask, you can skip the lemon juice and apply the cinnamon and honey mixture for 15-20 minutes and then wash it off with lukewarm water. Scrubbing the mixture on the face is not recommend as it might cause skin irritation. If you want it to be a little mild, increase the amount of honey according to your skin type.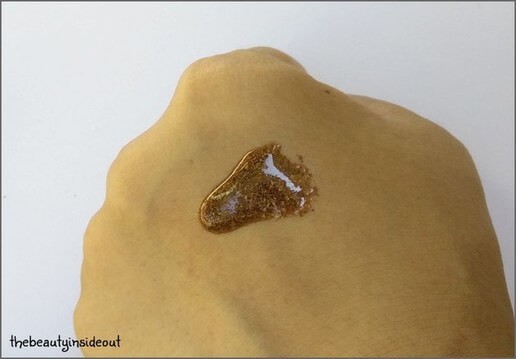 Have you tried this spot treatment for acne. If so what were your results? Share your thoughts in the comments section below.
Also Check out my other posts on
Until Next Time,
Stay Beautiful♥