Soultree. This is one of my first finds in the natural beauty and personal care segment. I stumbled upon Soultree Products six years ago when I decided to go chemical-free. No doubt, I'm truly impressed with the brand's USP. Soultree believes truth is the route to beauty. Their products carry a triple seal of truth, which is Ayurvedic, Organic, and Ethical. Soultree is a genuine ayurvedic brand. It is not one of those brands that market their products as ayurvedic yet contains loads of chemicals added as base and preservatives. They show complete transparency in what goes inside their products. I love this most about them.
The botanicals and herbs used in Soultree products are organically farmed and ethically sourced. They absolutely do not use any sorts of nasty chemicals in any of their products. Above all, Soultree is the only Indian Brand to have been certified Natural by the reputed European Certification Agency BDIH of Germany. This is a certification that has to be renewed each and every year. So think about how consistently they work to provide us with pure and genuine products.
Needless to say, they do not test their products on animals and all their products are vegetarian. They are not vegan though as they use animal-derived products such as honey and beeswax in some of their products. Soultree is not only a house of skincare and haircare products, they also make Organic Lipsticks and Lead-Free Kajals. Today I'm going to share my experience with a handful of Soultree Products. Hop on to know which products were a hit and which were a miss.
Soultree Products Review
1. Soultree Sun Protection Cream SPF 30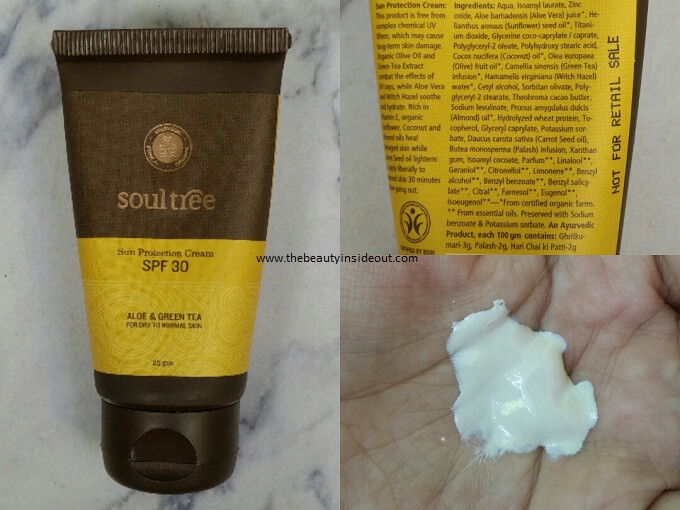 This is a chemical-free sunscreen, made out of natural ingredients. In other words, it's a physical sunscreen that has Zinc Oxide as the key sun-protecting ingredient. Along with that, it has carrot seed oil and green tea extracts. The brand claims to provide an SPF of 30 which is decent considering that this is a natural sunscreen. Oily skin types don't even think about using this as it will leave your face like a shining disco ball. The packaging clearly says it is meant for 'Normal to Dry Skin types'.
I do not use this on my face as you know that I have oily facial skin. But since I have dry body skin, I use it on my hands, arms, and other exposed areas barring my face. The sunscreen has a beautiful, pleasing nutty aroma. It smells so lovely that I keep sniffing it all the time. The formula is very rich and creamy. I need to give a good massage before it starts sinking into my skin. The sunscreen has a good amount of oils such as coconut oil, almond oil, olive oil, and sunflower oil. Hence it's a given that it feels slightly oily and shiny in the initial hours of application. But that sinks into the skin and leaves my skin immensely moisturized and nourished as time flies by.
The sunscreen does not leave a prominent white cast unless you slather on the sunscreen heavily. The sunscreen is not free from comedogenic ingredients, meaning acne-causing ingredients, so I would not really recommend this for breakout-prone skin. As for sun protection, it provides adequate protection against harsh sun rays and tanning. Still, I would suggest re-applying it every 2-3 hours for maximum sun protection.
Rating: 3/5
Where to buy it? Amazon.in
2. Soultree Pure Rose Toning Mist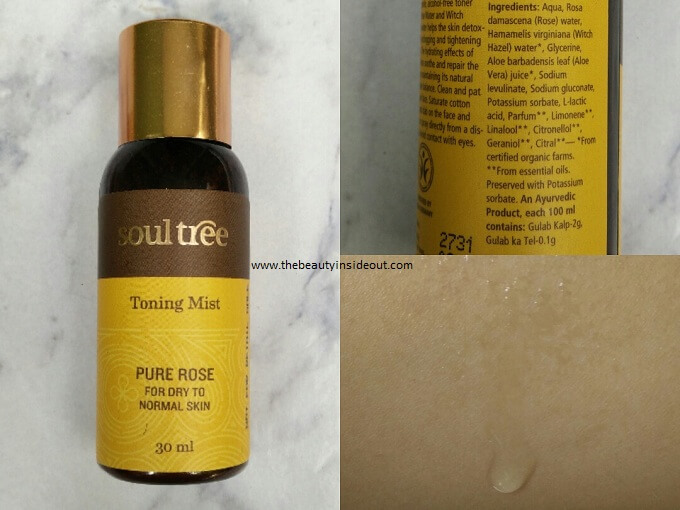 You must be knowing how much I love rose water toners. I have tried a couple of organic rose water toners of which the most effective has to be the Cucumber Organics Toner. Coming to the Soultree Rose Toning Mist, this is an alcohol-free, parabens-free, and artificial fragrance-free toner. It has the mildest fragrance among all the other rose waters. I could relate it to the paneer rose water scent which we use as food flavor. I kind of like this scent, it is very faint and pleasant.
The rose toning mist is also fortified with Witch Hazel (a natural astringent that is good for acne), Glycerin(a humectant that locks moisture into the skin), and Aloe Vera(Hydrates and Soothes Skin). The toning mist is prepared for Normal to Dry Skin Types. However, it performs well on my oily skin too.
Generally, I use this after washing my face with a chemical-free face wash. I take a few drops of the toner on a cotton ball and swipe across my whole face. I love how instantly it hydrates and adds a layer of moisture to my skin, which is supposedly dry after cleansing. The toner does not give any stinging or tingling sensation, so it can be used by sensitive skin types too. It shrinks my pores to a certain extent giving me a toned look. It also calms down the skin and gives a soothing, refreshed feel.
Overall, I would give a positive sign for this toning mist for the instant hydration it gives. A good product according to me.
Rating: 4.5/5
Where to buy it? Amazon.in
3. Soultree Indian Rose & Cooling Vetiver Shower Gel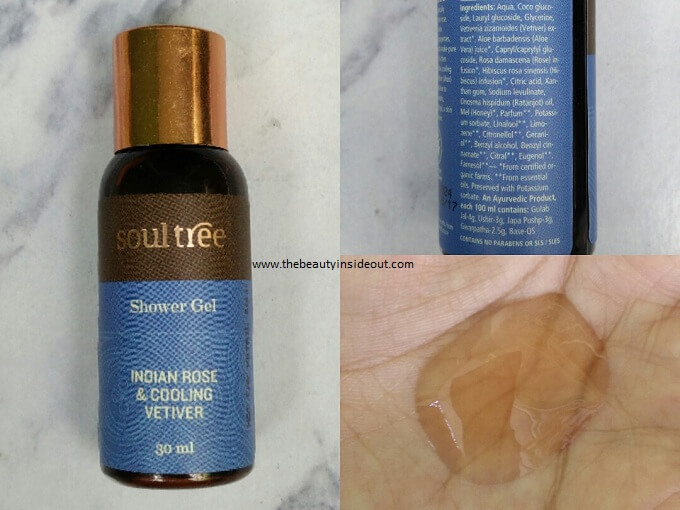 It's been a while since I started using handmade soap bars. Still, the pleasure of using shower gels cannot be forgotten. Shower gels are mostly preferred by many because they are hygienic to use, easy to store, and travel-friendly. I mean no one would like to travel with a half-used soap right. I tried the Soultree Rose Shower gel after a really long time and certainly had an invigorating bath time.
The shower gel has Rose, Aloe Vera, and Vetiver as its main components. It has a light rose fragrance that does not intensify. The scent isn't long-lasting too. It vanishes once I'm out of the shower. Too bad because I like fragrant body washes to feel refreshed. The shower gel is honey-like and has a jelly consistency that moves around. It does not lather much since it is soap-free. Nevertheless, it cleans the skin really well and does not leave any slippery residue behind. I hate slippery skin. The shower gel is the least hydrating. Also, since I have dry body skin, I have to need to slather on my body butter immediately. Not a must-have product for me.
Rating: 3/5
Where to buy it? Amazon.in
4. Soultree Licorice Hair Repair Shampoo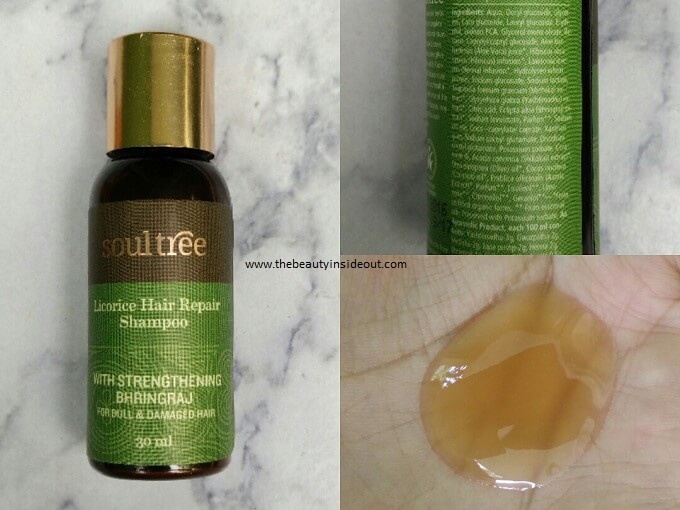 Sulphate free shampoos can be tricky to use if you are a first-time user. It takes a lot of time to get adapted. I would always recommend doing a baking soda rinse before trying out a chemical-free shampoo. In that way, the silicones and other product build-ups would be washed away from your scalp and hair.
The Soultree shampoo is meant for dull and damaged hair. I do not have dull or damaged hair as I oil my hair regularly and keep them nourished. My hair type is generally oily roots and dry lengths. This shampoo is made with a blend of seven ayurvedic herbs including Henna, Licorice, Bhringraj, and Shikakai. This is non-foaming, sulphate-free shampoo, so if you are going to wait for that lather to happen, you would end up emptying the bottle sooner.
After trying it out for a couple of times, I found the best method to use this shampoo – wet your hair completely, take one coin-sized quantity of the shampoo, dilute it in a cup of water say 200 ml, and mix it well. It produces a mild, very mild foam, and then uses the shampoo-water mixture on your scalp. Massage it on your roots, again don't expect it to foam, just massage your scalp for a minute or two and then rinse thoroughly with water.
While shampooing you would feel like it doesn't clean as it doesn't foam up. But trust me, once you rinse it, your scalp actually feels clean and nourished. You don't need to shampoo your lengths separately as it gets cleaned while rinsing. I repeat this one more time if I have oiled with heavy oils, otherwise, one wash would be enough to cleanse your hair. This is the most effective and economical way to use this shampoo.
The shampoo can be drying if used on non-oiled hair and usage of a conditioner would be needed in that case. Myself I don't use a conditioner as I said I use hair oils all the time. The shampoo is free of silicones, so don't expect that silky feel, still, it gives a bit of softness and bounce to my flat thin hair. If you are used to sulphate-free, non-foaming shampoos, you will enjoy using this. Others may not like it. According to me, this is a good shampoo that can be used in the long term since it is free from bad chemicals. Ah! I forgot about the fragrance, it smells herbal, a strong one though. Gladly it doesn't linger or make your hair smell awful.
Rating: 4/5
Where to buy it? Amazon.in
5. Soultree Hibiscus & Henna Hair Conditioner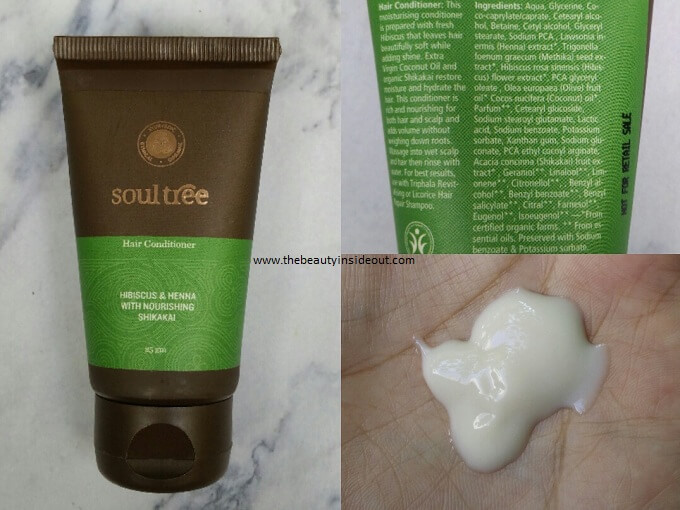 If you have read the above review, you would probably know that I'm not a person who uses separate conditioners. Somehow I haven't found a liking to post shampoo conditioners. Often they weigh down my thin hair and make them appear limp. Also, they tend to not get rinsed easily and feel like there is some product still left on my mane.
I am using this conditioner just for testing purposes, so I didn't really have any expectations with it. Apparently, Soultree Conditioner is Silicone-free. It is enriched with natural ingredients such as Hibiscus and Henna, both of which are highly nourishing. The fragrance is that of herbs and flowers, a strong yet nice one though. This scent lingers for quite some time on my hair. The texture is creamy with an oil base. It has coconut oil and olive oil, hence the oiliness. I use this conditioner only on days when I don't oil my hair. I used it in conjunction with the Soultree Shampoo. After shampooing, I take a coin-sized amount and apply it at the ends of my hair and a little above that. This does not feel silicone at all. At last, I rinse it off with generous amounts of water.
For a conditioner, the results are always visible after the hair dries. I let my hair air dry naturally. The conditioner does what it's supposed to do. It tames frizz, detangles, and adds moisture to my dry ends without weighing down. The packaging says the natural formulation can be used on the scalp as well. But I doubt that it will completely weigh down my hair. It certainly won't do harm to your roots, so you can try it on your roots if you have a dry scalp. Overall, this is not essential for me but would be a necessity if you suffer from dryness.
Rating: 3.5/5
Where to buy it? Amazon.in
6. Soultree Lotus & Kokum Butter Lip Balm
Firstly, this is not a beeswax-based lip balm and majorly consists of organic ghee, kokum butter, and seven other organic oils. So it does not feel waxy even a bit and is very light on the lips. But, that's where the product lacks in its moisturizing ability. I have very dry lips and this lip balm hardly keeps my lips moisturized for an hour. I have the need to reapply this frequently to avoid chapping of my lips.
The lip balm does not glide super smoothly and tends to tug my lips at times. One thing I like in this lip balm is its sweet vanilla fragrance. It's heavenly. It stays for a few minutes once applied. The packaging is also commendable. They chose to use a biodegradable cardboard kind of packaging. Though the lip balm is safe and made with natural ingredients, I would totally skip this as it neither provides adequate moisture nor heals my chapped lips. The price is also not justified for the performance. Definitely not for people with dry lips.
Rating: 2/5
Where to buy it? Amazon.in
7. Soultree Amla Shower Gel with Hydrating Aloe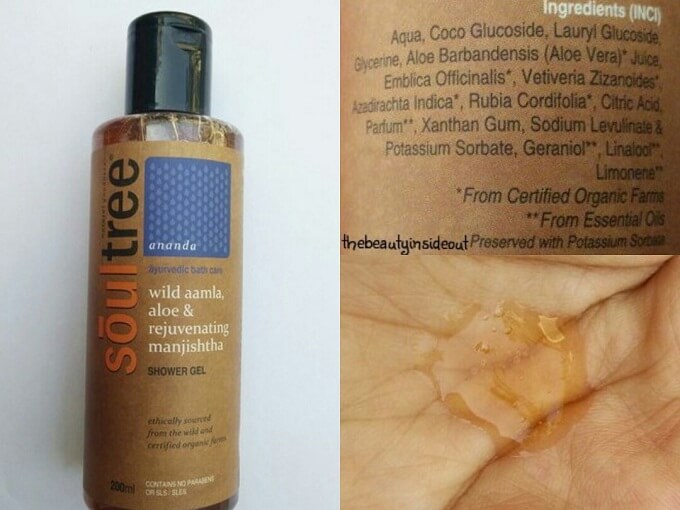 This was my very first Soultree product and as a matter of fact, my first shower gel too. This shower gel has some skin-soothing ingredients including Aloe Vera, Aamla, Vetiver, and Manjistha. I loved this shower gel more than the Rose version because this smells so amazing. This has a very refreshing citrusy fragrance which I loved. The color, consistency, and lathering ability are similar to the other shower gel. It is honey brown colored with a jelly consistency. However, this is not drying and leaves a layer of moisture on your skin. I totally loved using this. This would be suitable for all skin types and can be used in all seasons.
Rating: 4.3/5
Where to buy it? Amazon.in
8. Soultree Ayurvedic Lipstick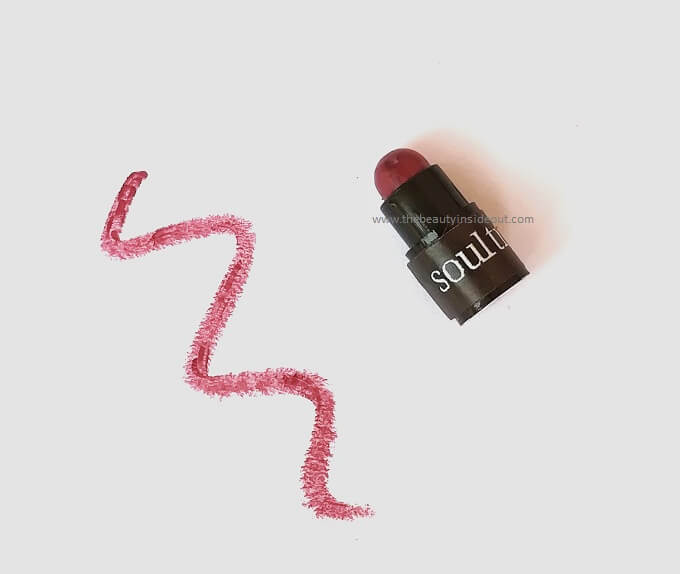 Finally, I got to try the Soultree Lipstick. I recently got this tiny miniature from Smytten. These lipsticks are available in 16 shades. The shade I have is Iced Plum, a burgundy plum shade that is not too on the face and quite subtle for everyday wear. I don't know about the finish of other shades, but this one has a frosty sheen to it which looks nice on me.
Made with butter and oils, the lipstick glides on smoothly but I have to go back and forth twice for full coverage. The lipstick is moisturizing and never feels drying over time. The lipstick does not smudge but is not transfer-proof. It would transfer to cups and papers. The staying power is decent, averaging 3 hours, and is completely gone with food intake. Being a natural lipstick, I expected it to have some flaws, but I still liked the lipstick as it's not drying and is free of harmful chemicals that I don't mind re-applying frequently.
Rating: 4/5
Where to buy it? Amazon.in
Soultree Makeup Products
Soultree introduced organic makeup products with the motto of offering beauty products with skin benefits. Soultree Makeup Products includes the following.
1. Ayurvedic BB Cream
Formulated with natural ingredients such as Sandalwood, Turmeric, and Pink Lotus, this tinted BB Cream is a boon for acne-prone skin types. Sandalwood reduces acne and Turmeric acts as an antiseptic. Soultree Ayurvedic BB Cream blends effortlessly and gives a beautiful glow to the skin.
It is available in 5 shades to suit Indian skin tone.
Hazel Dew
Mild Earth
Soft Beige
Golden Glow
Rich Honey
2. Soultree Ayurvedic Mascara
Fortified with Castor Oil, Black Seed Oil, and Green Tea Leaves, Soultree Mascara not only lengths & nourishes but also promotes the growth of your eyelashes. It's a lightweight ayurvedic formulation that doesn't clump and weigh down your lashes. It is a lead-free mascara.
It is available in two shades.
Black.
Soft Brown.
3. Soultree Ayurvedic Kajal
This is the first Soultree Makeup Product launched. It is a 100% natural kajal that uses 3000-year-old traditional ayurvedic recipe. Soultree Kajal is made with Organic Ghee, Camphor, and Organic Almond Oil for a soothing and cleansing effect on the eyes.
It is available in many shades and Soultree uses natural pigments for its color.
Pure Black.
Grey Glow.
Caribbean Teal.
Fern Green.
Rich Loam.
Purple Haze.
Moss Velvet.
Violet Bainganee.
Copper Tint.
4. Soultree Lip Gloss
Made with a blend of rich oils such as Almond Oil, Rose Oil, Sunflower Oil, Coconut Oil, and Wild Rose, this lip gloss not only adds a beautiful shine but also moisturizes the lips. It is a non-sticky lightweight lip gloss that softens the lips.
It is available in 5 shades.
Sunshine.
Rose Dew.
Coral Pink.
Lush Berry.
Cocoa Rich.
My Final Thoughts on Soultree Products
First and foremost, I appreciate the brand for coming up with products that use authentic Ayurvedic Recipes and honestly sourced natural organic ingredients that do no harm.
Most of their products have a shelf life of 2 to 3 years comparable to commercial brands. But don't worry they don't use nasty chemical preservatives like parabens, EDTA, etc. They use preservatives such as Potassium Sorbate and/or Sodium benzoate that have been derived from botanical ingredients.
Price Factor; I haven't seen any natural skincare brand that comes cheap. Although Soultree products aren't very cheap, I find the pricing to be reasonable. And the quantity they provide is usually more than what other brands give. Before GST, the prices were even lower than what it is now. So the hike might be a disappointment for regular customers.
I cannot end without talking about its packaging. The new packaging is so much more attractive than the older packaging. They have changed the color, and design and have made it look so classy. I like it.
Finally, Out of the 7 Soultree products I've tried, I'm happy with the performance of the Rose Toning Mist, Licorice Shampoo, and Aamla Shower Gel. The other products didn't suit me. But it might work for you. I also wish they introduce sunscreen meant for oily skin.
They have a lot more products too which I didn't get to try especially their makeup. If at all I try them, I will update this post with a review of them in the future.
Please subscribe if you would like to receive future updates on this post. And if you have reached the end of this post. Thank you so much for reading.