I have been trying quite a lot of Cosrx Products lately. Today I'm going to be reviewing the Cosrx BHA Blackhead Power Liquid. Best known to be a blackhead removal product, let's see how this worked for me.
Cosrx BHA Blackhead Power Liquid Benefits

Cosrx BHA Blackhead Power Liquid helps to remove blackheads and excess sebum while moisturizing the skin.
Cosrx BHA Blackhead Power Liquid Ingredients
Cosrx Blackhead Power Liquid has minimal ingredients.
Willow Bark Water: Willow Bark Water contains natural Salicylic Acid derived from salicin. The Cosrx BHA Blackhead Power Liquid uses Willow Bark Water as its base, unlike most cosmetic products that use Aqua (plain water) as a base. This Willow Bark Water is an excellent acne-fighting ingredient.
Betaine Salicylate: A milder form of Salicylic Acid that fights acne.
Niacinamide: Anti Aging and Brightening Agent.
Arginine: Has Anti Aging Benefits.
Panthenol: Promotes wound healing and a skin soother.
Sodium Hyaluronate: Boosts hydration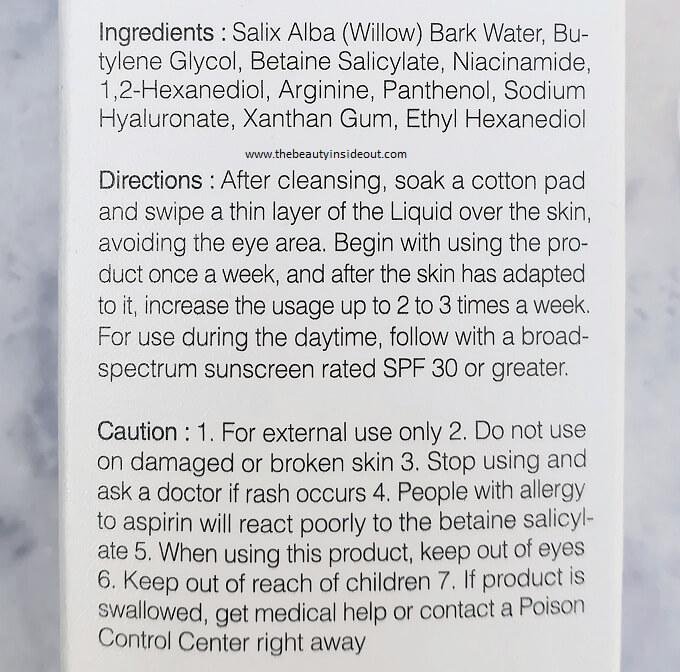 Cosrx BHA Blackhead Power Liquid Price
Rs.1450 for 100 ml
Cosrx BHA Blackhead Power Liquid Review:
Packaging: Cosrx BHA Blackhead Power Liquid comes in a sleek, see-through plastic bottle. It has a convenient pump dispenser that works smoothly. The bottle further comes housed in a typical cosrx card box with the full ingredients clearly stated on the box. The overall packaging is good. The only minor con is that, if you have more than one cosrx product say like the Cosrx Advanced Snail Mucin Essence or the Whitehead Power Liquid, it becomes a hassle to identify them as all of them look very much similar. They could have added some color coding to differentiate them.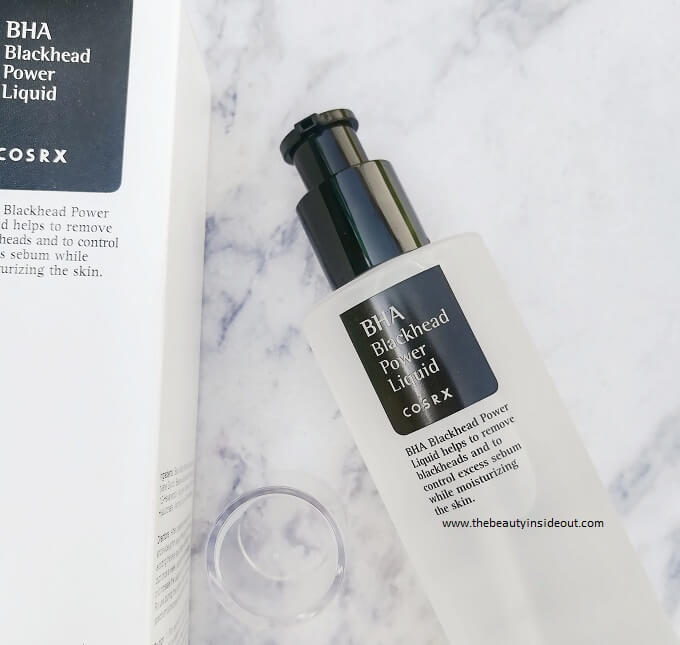 Color & Texture: The Cosrx BHA Blackhead Power Liquid is a clear runny liquid that has more viscosity than conventional western toners.
Fragrance: The product doesn't contain any added fragrance. But it does have a prominent chemical scent from the acids used in it. The scent does not linger and dissipates into the air soon after application. I was glad that it didn't reek of alcohol like the Clinique Clarifying Lotion 3 which was my previous BHA Exfoliant.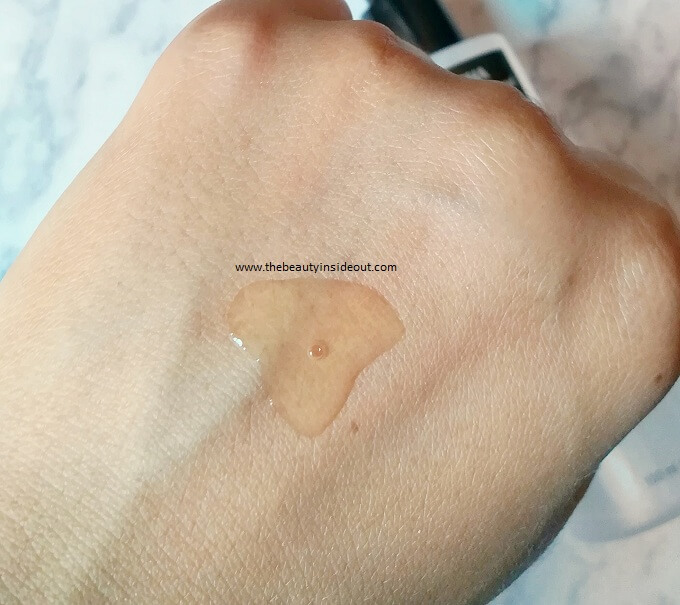 How to use Cosrx BHA Blackhead Power Liquid?
Right after cleansing, I take one or two pumps of the BHA Liquid on my palms, gently press it together and pat it all over my face concentrating more on my nose area where I have more blackheads. One can also take the product on a cotton pad and swipe it across the face. I follow the former method and recommend the same. The BHA Liquid by itself is an exfoliant and using it on a cotton pad is like double exfoliation which can irritate the skin for some.
Precautions:
While BHA doesn't cause photosensitivity, it is best to use sun protection all through the year, irrespective of using any chemical exfoliator or not.
It is best to avoid using any other actives like AHA, Vitamin C, Retinol, etc in the same routine as a BHA.
Avoid applying in and around your eye area.
Cosrx BHA Blackhead Power Liquid is not recommended for use by pregnant and breastfeeding women since it contains Betaine Salicylate which is a component of Salicylic Acid.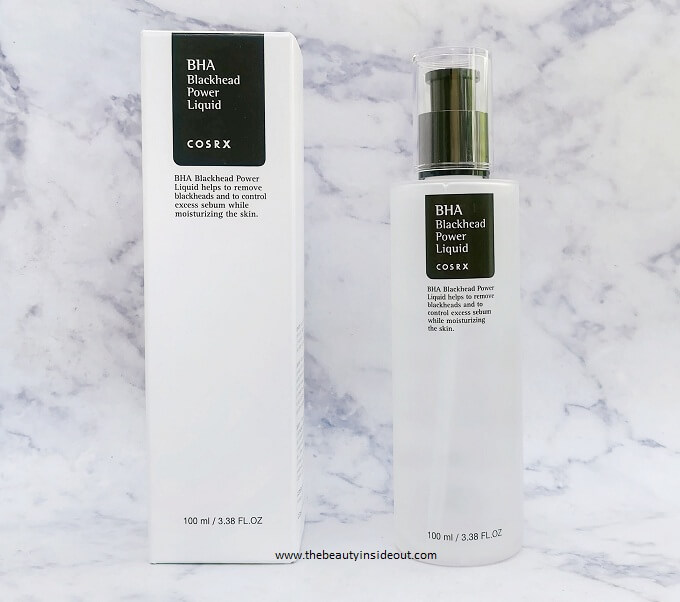 Efficacy: The Cosrx BHA Blackhead Power Liquid contains 4% Betaine Salicylate, a gentler form of Salicylic Acid but is said to be as effective as 2% Salicylic Acid. The Cosrx BHA Blackhead Power Liquid has good spreadability but applies slightly tacky, which does settle down in few minutes. Generally, BHA's are recommended for oily skin types, but this would suit dry skin types as it's on the moisturizing side. I can even do the 20 minute wait time without dryness or itchiness. The product did not sting or tingle when applied.
I have had this product with me for more than 6 months now and my experience with it has been really good. I use it twice a week, at times thrice. I was taken aback on the first day of usage when I woke up with brighter skin as though I had freshly applied a face mask. This product always gives me brighter-looking skin. So I often reach out to this the night before a big day.
The product works well in healing pimples and whiteheads. Over time, it controls excess sebum production and I felt less oily than before especially in my T zone. One place that it took time to work was on my nose blackheads. It did not eradicate them completely but reduced the prominent look of it and kept them away from reoccurring to a certain extent. Blackheads in general are high maintenance and I think this product did a decent job. The product did not cause me any purging.
Overall, rather than as a blackhead removal product, I liked this more for its skin smoothening and brightening effect. This is a pretty good product to try from Cosrx. One bottle is going to last really long at least 7 months to a year depending on the frequency of usage, I'm halfway through the bottle with consistent usage and I consider it value for money.
Summarizing the pros and cons
Pros:
Minimal yet Effective Ingredients.
Unclogs pores and keeps them clean.
Brightens and Smoothens skin texture.
Removes excess sebum.
Less drying compared to other exfoliants.
Free from alcohol, parabens & phthalates.
Cruelty-Free.
Cons:
Takes time to work on stubborn blackheads.
Rating: 4.5/5
Would I recommend it? Yes. Cosrx BHA Blackhead Power Liquid is a really good product. It gentles exfoliates, helps to keep the pores clean by revealing smoother and brighter skin. Yet again, this is one of my most favorite products from Cosrx, followed by Cosrx Overnight Honey Mask.
Where to buy it? Amazon.com