Ever since I broke out with hives, I have been very careful in choosing my body care products. I always had dry body skin but for the past year I developed itchy skin as well. So I stopped buying my usual value for money body lotions and kept looking for lotions that are meant for sensitive and dry skin. Earlier I was prescribed Calamine Lotion For Itchy Skin, which helped soothe my skin. But it wasn't moisturizing enough for my super dry skin. I analyzed a lot and found the Aveeno Mosturizing Lotion to be a great option. But then I wanted something that's not loaded with synthetic chemicals, that's when I stumbled upon The Moms Co Natural Soothing Relief Lotion, which looked like an Indian Version of it. I have previously used and loved The Moms Co Natural Protein Shampoo and Conditioner, so the brand has been on my good books and I swiftly bought the lotion. Anyways, let's see if this really relieved my dry skin problems. Read on to know my experience.
Product Description:
The Moms Co Natural Soothing Relief Lotion with  1% Colloidal Oatmeal, Organic Aloe Vera & Calendula Oil protects, intensely moisturises and soothes sensitive skin. Gentle enough to be used on babies skin, the lotion is clinically proven to keep skin moisturized for 24 hours and relieve itching and discomfort of Eczema. The Moms Co. Natural Soothing Relief Lotion is the best body lotion for dry skin.
1% Colloidal Oatmeal relieves skin dryness and itchiness
Organic Aloe Vera leaf gel & Calendula Oil soothe irritated skin
Organic Shea Butter and Cocoa Butter moisturize and soothe skin
Organic Apricot Oil and Avocado Oil nourish and soften dry & damaged skin
Ingredients: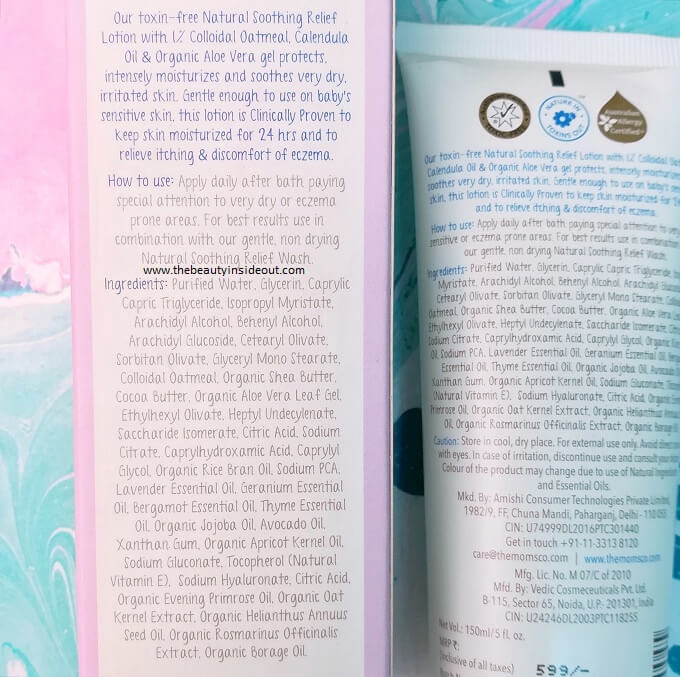 If you look at the ingredient list, you may wonder at the chemical names. But worry not. Not all chemicals are bad. For example; the Arachidyl Alcohol & Behenyl Alcohol are not bad alcohols; they are a waxy substance that acts as a emollient. I checked for every ingredient and all the ingredients have Green Level on EWG. You are also assured that the product is Certified Toxin Free.
Personally, I prefer to go for 'safe skincare' products tag rather than strictly going for all natural products because I have had both good and bad experiences in either categories. I particularly look for products that disclose the full ingredient list without hiding anything from the consumers and The Moms Co ticks that category.
How to use to The Moms Co Natural Soothing Relief Lotion?
Apply Soothing Relief Lotion all over the skin, at least once a day. Apply twice a day or as needed on sensitive or very dry areas.
Price: Rs.599 for 150 ml. Often available on discounts.
The Moms Co. Natural Soothing Relief Lotion Review
Packaging: The Moms Co Natural Soothing Relief Lotion comes in a plastic tube with a flip cap. The tube packaging makes it very convenient to travel with it. The back of the tube has every little detail about the product. It also comes with an outer card box.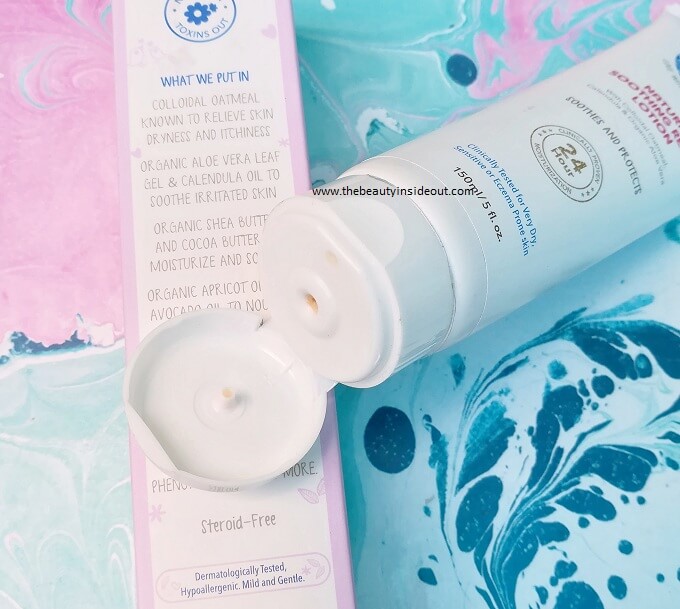 Color & Texture: The Moms Co Natural Soothing Relief Lotion is a pale pink coloured lotion. It has got the usual smooth lotion consistency that's neither too thick nor too thin. It spreads and blends so well. The lotion gets absorbed completely with a light massage and it doesn't feel sticky at all.
Fragrance: I don't know why but I assumed this was a fragrance free product. So I was a bit disappointed when it had a fragrance. It's not a synthetic fragrance and the product don't contain any added fragrance as well. The lotion has lots of natural ingredients and the scent comes from them. Precisely, the body lotion smells like Calendula; it's not overwhelming strong. I got used to the fragrance after a couple of uses.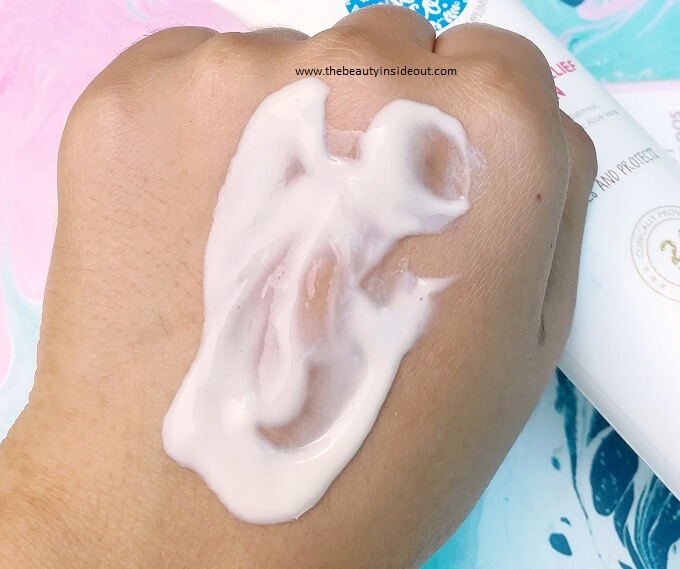 Efficacy: As I said earlier, I mainly bought this lotion to soothe my itchy skin and I can happily say that it served it purpose really well. I apply this body lotion whenever I felt my skin dry and itchy and this lotion eradicated my itchiness within a few minutes of application. The body lotion provides balanced moisturization. It's not ultra lightweight to feel less moisturizing, but it's not heavy with that sticky feeling as well. Overall, I really liked this body lotion. It definitely helps with dry skin issues like eczema, rashes and itches.
Pros:
Certified Toxin Free and Made Safe.
Contains excellent skin soothing ingredients.
Fast absorbing lotion with good spreadability.
Releives dryness and itichess.
Excellent for Eczema Prone, Dry and Sensitive Skin Types.
Suitable for people of all age, including babies.
Free of steroids, mineral oil, parabens, pthalates and PEG's.
Cons:
Rating: 4.9/5
Would I recommend? Definitely. The Moms Co Natural Soothing Relief Lotion is an excellent body lotion for itchy, dry, sensitive, eczema, rashes and redness prone skin. It is a lotion that not only moisturizes but also soothes your skin.
Would I repurchase? Yes I would. I haven't found any product that relieves my dry, itchiness problem like this one did.
Where to buy? Amazon.in