After my first experience with a korean sunscreen, my eyes fell on this upcoming sunscreen. This sunscreen is from the brand called Purito. Purito is a cruelty free skincare line that focuses on providing safe products using natural ingredients. I bought this Purito Centella Green Level Safe Sun SPF 50+ PA++++ from BeautyBarn to replace my Klairs Airy UV Essence Sunscreen. Both of them are considered to be safe sunscreens made with advanced uv filters along with skin soothing ingredients. In fact, they are considered a dupe for each other because they almost have similar ingredients. If you are curious to know my take on this, keep reading.
Product Description:
Purito Centella Green Level Safe Sun SPF 50+ PA++++ is a water based sunscreen cream formulated with Centella Extracts and mild ingredients to help reduce skin stress, which protects against UV rays and harmful environments without stickiness nor white residue left on the skin.
SPF 50+ PA+++
Safe Ingredients for all skin types.
UV Shield + Brightening + Anti Wrinkle.
Calming & Moisturizing.
No sticky & white residue.
Ingredients: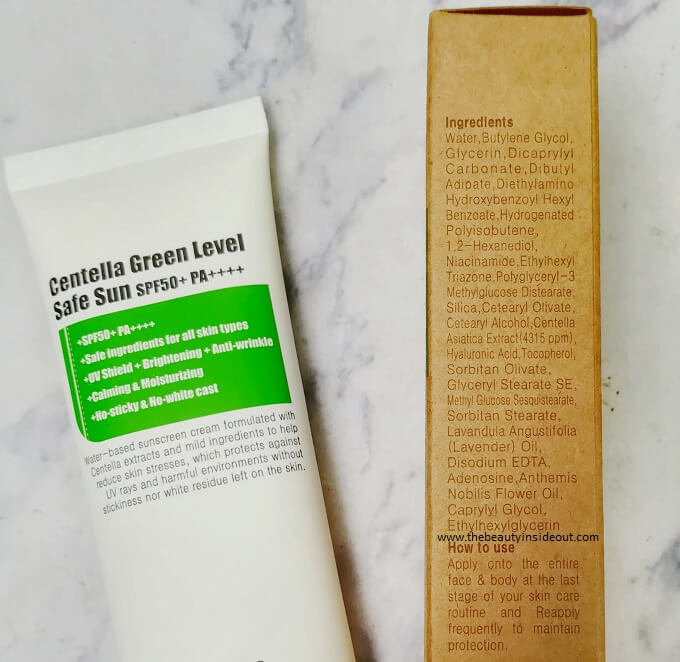 Overview of Purito Centella Sunscreen Ingredients:
Purito Centella Green Level Safe Sun is a chemical sunscreen with two filters.
Ethylhexyl Triazone (Uvinul T 150): Protects against UVB rays.
Diethylamino Hydroxybenzoyl Hexyl Benzoate (Uvinul A Plus): Protects against UVA rays.
Both of the filters are non-endocrine disruptors and are said to be safer chemical filters compared to Oxybenzone, Octylmethoxycinnamate which are known to be hazardous.
Purito Centella Green Level Safe Sun is also enriched with skin beneficial ingredients.
Centella Extract: Helps with skin soothing and production of new collagen improving skin elasticity.
Tocopherol: Forms a protective layer on skin.
Hyaluronic Acid: Helps molecules with 1,000 times more hydration to enter the skin improving the moisture and wrinkles in skin.
How to use Purito Centella Sunscreen?
Just like any other chemical sunscreen. Apply liberally 15 minutes before sun exposure. Reapply every 3 hours when exposed to sunlight. Discontinue use if irritation develops.
Price: $19 for 60 ml / Rs.1250 for 60 ml.
Where to buy? Amazon.com / BeautyBarn
My take on Purito Centella Green Level Safe Sun SPF 50+ PA++++:
Packaging: The Purito Centella Sunscreen comes in a basic plastic tube with a screw lid. The white matte tube with its green labelling gives the whole packaging a clean and classy look. The tube, which holds 60 ml of product, is convenient to hold and travel friendly as well. The product further comes housed in a recycled, eco-friendly paper card box, which is furnished with relevant details about the sunscreen. You can also find more info about the brand's philosophy on the inside of the card box.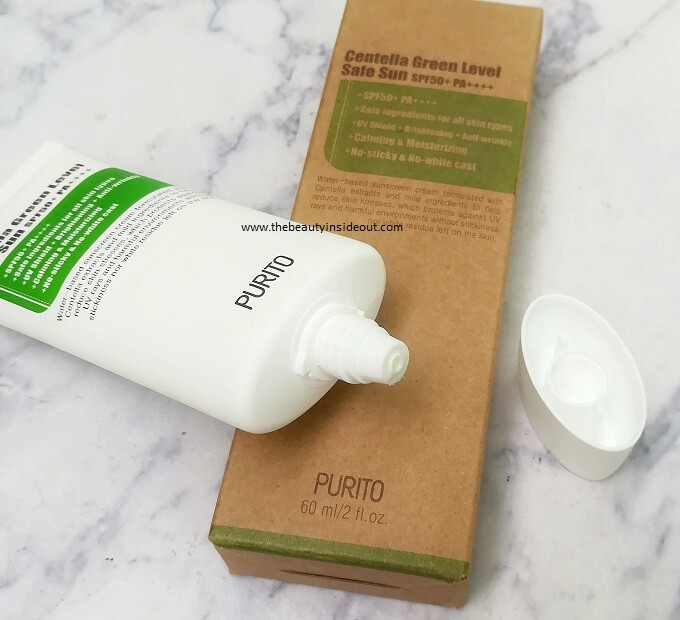 Texture: The Purito Centella Sunscreen has got a thick and creamy texture. But surprisingly, it spreads effortlessly like a lotion. You don't have to blend in hard like most thick sunscreens.
Fragrance: This variant has got the scent of lavender oil. It's not too strong but it's still there detectable while applying. After a while, it does subside down. The presence of lavender oil has not irritated my skin so far. Those with sensitive skin can very well opt for the unscented version.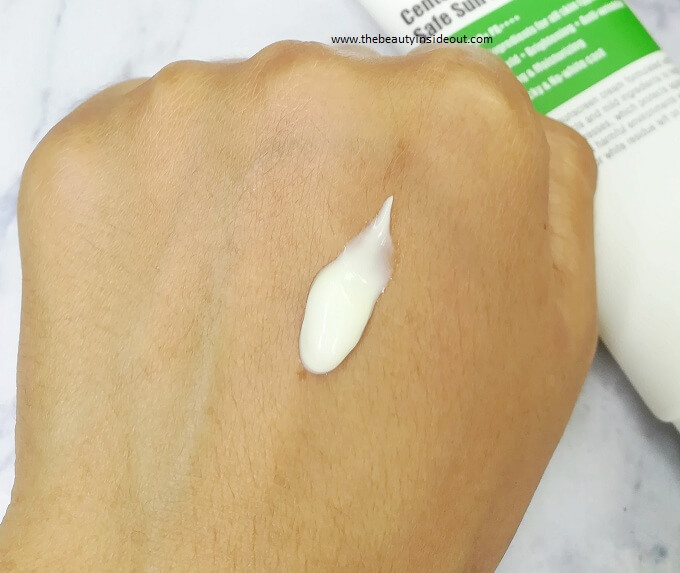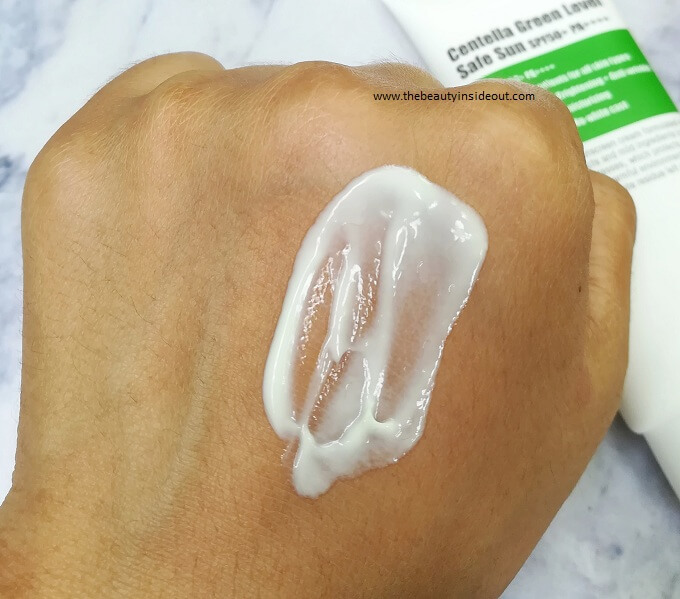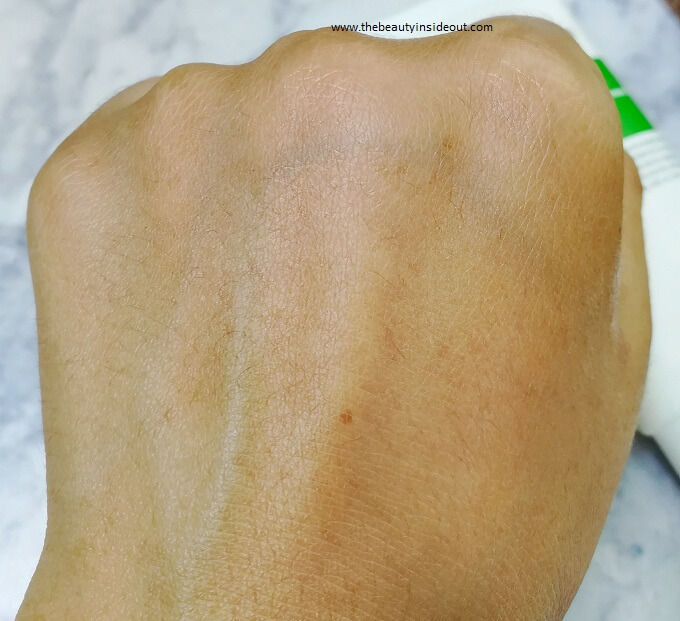 My experience: I have combination skin – dry cheeks and oily T zone. In my morning routine, after cleansing my skin with the Etude House Soon Jung Cleanser and toning with a thermal spring water mist spray, I apply a thin layer of Innisfree Aloe Revital Soothing Gel which acts as a barrier between the skin and the sunscreen. I then take a coin sized amount of the sunscreen and apply it generously all over my face and neck. The Purito Centella Sunscreen applies smoothly, gets blended nicely and vanishes into the skin without trace within a minute. It does not stick to dry patches.
What I like the most about this sunscreen? It literally has zero white cast and it works just like a moisturizer. No need to worry about flashblacks in photographs as skin looks natural. The sunscreen also works really well under makeup and it never pills up. However on the negative side, the sunscreen has a mild tackiness/moist feeling initially which may not be liked by very oily skin types. As per the instructions, I apply it 15 minutes before sun exposure and by that time, the sunscreen does settle down to a comfortable satin finish and I don't feel it to be heavy after that. If I'm heading out on a very hot day, I do powder up with the Lakme Sun Expert Compact to mattify my skin which makes me perspire less. The sunscreen did not break me out. It is also one of the sunscreens that doesn't sting my eyes when applied on my eyelids.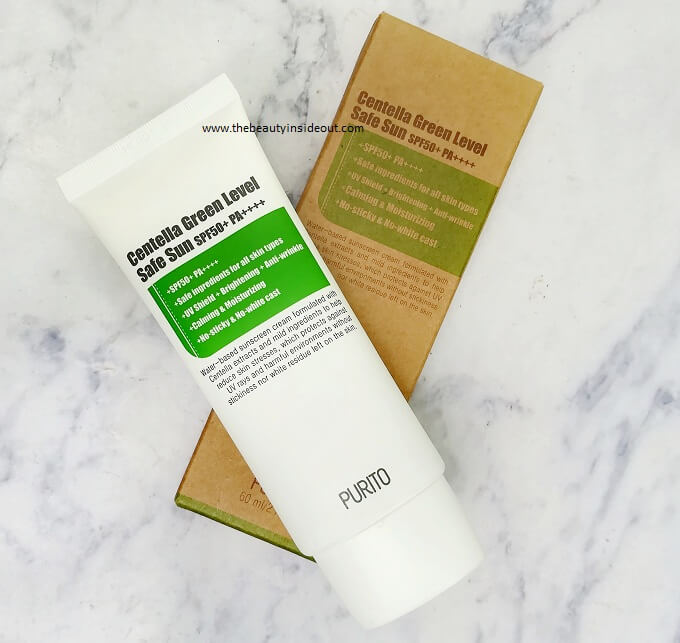 In my opinion, I would say, this is a sunscreen that is best suited for combination dry skin types and for the cooler months. This may not be an ideal choice for the hot summers. In comparison with the Klairs Soft Airy UV Essence, I liked the Purito sunscreen more since it is less tacky, less moisturizing and sits more comfortably on my combination skin. Neither of them leave a white cast nor did they break out. But Purito one has an unscented version while Klairs doesn't have one though.
Overall, I would recommend this sunscreen as it is considered safe and leaves no white cast at all, which are the two main attributes that I look for in a sunscreen.
Related posts:
Pros:
Vegan and Cruelty Free.
SPF 50+ PA++++.
Available in both scented and unscented versions.
Contains skin beneficial ingredients like Niacinamide, Centella Asiatica and Hyaluronic Acid.
Free from parabens, silicones, pthalates and other harmful chemicals.
Absolutely no white cast.
Works well under makeup.
Cons:
May not suit very oily skin.
The initial tackiness may not be liked by all.
It's not pocket friendly.
Rating: 4.4/5
Would I recommend? Finding a safe sunscreen has been a real task for me. So yes, I will recommend this sunscreen, until I find a similar one that is more affordable.