I have completely fallen in love with pump type foam cleansers to the extent they have become a staple in my skincare stash. I like them because they are so easy to use and saves time. The Etude House Soon Jung Cleanser is a latest addition to my skincare routine. This cleanser has been raved a lot for its minimal ingredients and suitability for sensitive skin types. I'm impressed with the fact that it contains 98% naturally derived ingredients. But did it meet my expectations? Read on.
Product Description:
Meet the soft, moisturizing cleansing foam of your dreams! This cleanser has a low pH of 6.5 and uses 98.9% naturally derived ingredients to cleanse skin in the gentlest way possible.Panthenol, a skin-benefitting compound closely related to Vitamin B5, delivers deep hydration while madecassoside, derived from Centella asiatica, repairs skin damage. Free of potential irritants like fragrance, artificial color, and parabens, this cleanser uses minimal ingredients and a rich foam to effectively cleanse and soothe irritated skin.
Ingredients:
Water, Glycerin, Sorbitol, Propanediol, Lauryl Glucoside, Disodium Cocoyl Glutamate, Panthenol, Madecassoside, Camellia Sinensis Leaf Extract, Butylene Glycol, Citric Acid, Glyceryl Caprylate, Ethylhexylglycerin
It has just 13 ingredients.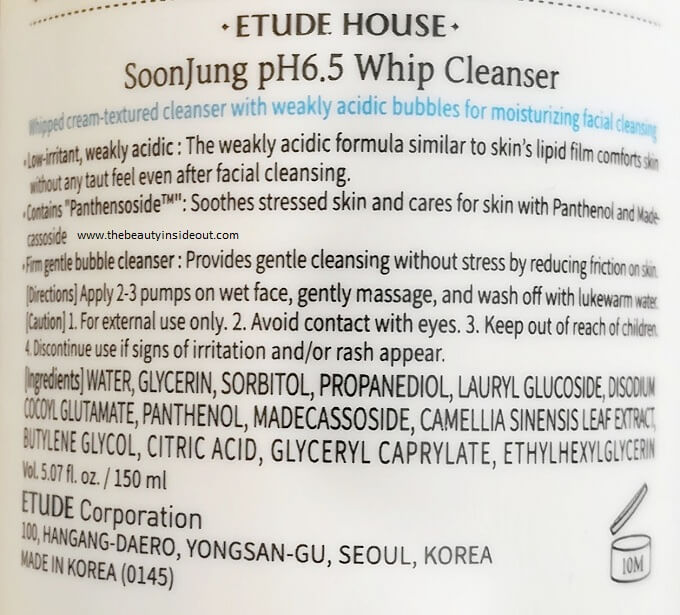 My take on Etude House Soon Jung pH 6.5 Whip Cleanser:
Packaging: The cleanser comes in a sleek white plastic bottle with a pump dispenser. The bottle pretty much looks like the Sebamed Cleansing Foam bottle with its minimalistic design. The pump has worked well so far without any breakage. It hasn't leaked or damaged while I travelled with it as well. The product doesn't come with an outer box, nevertheless all details about the cleanser is printed on the bottle itself. The Soon Jung Cleanser is available in two sizes 70 ml and 150 ml. I have the bigger size which will easily last for 5 to 6 months with twice a day usage.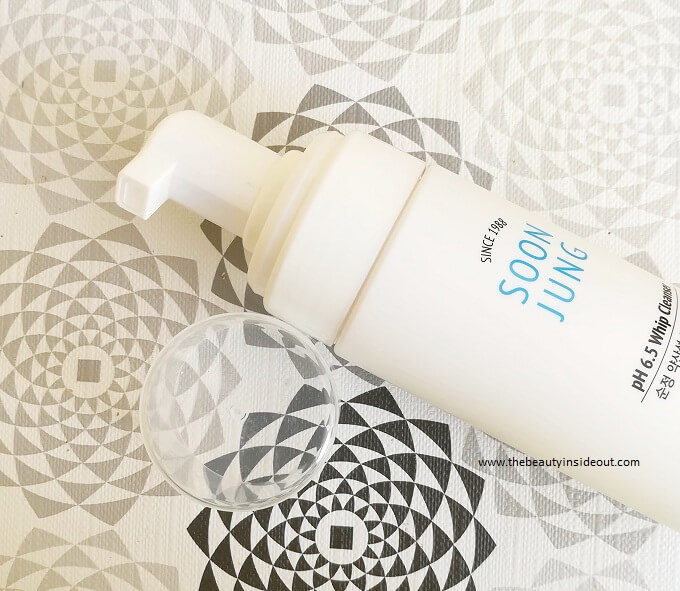 Texture: The pump dispenses a rich, fluffy, white foam. The whipped foam goes on to produce a creamy lather when massaged on the skin, which totally feels luxurious. Due to its dense texture, one pump is more than enough for the face and neck. The foam is very soft and gives a super soothing cleansing action.
Fragrance: The cleanser is unscented, which means it is formulated without any added synthetic fragrances. I wouldn't say this doesn't smell like anything. It does have the product's natural fragrance, plastic like scent, similar to the rest of the Soon Jung Line Products and few Klairs Skincare Products. Anyhow, the fragrance is totally non-bothering and does not linger on the skin too.
Efficacy: I double cleanse on days when I go out or wear makeup, on other days when my skin is less exposed to dirt, I just use a single step foaming cleanser. The Soon Jung Cleanser has worked well in both cases. It works efficiently to remove dirt and impurities without making my skin taut and stretchy. It is a gentle cleanser, but I would not classify this as a mild morning cleanser as it is not very hydrating. On cold dry skin days, I felt this cleanser to be a tad bit drying. But it not as drying as the Cosrx Low pH Morning Cleanser. The Soon Jung cleanser has a pH of 6.5 which is slightly acidic and is still a low pH. The cleanser is free of potential irritants like artificial colour, fragrances, parabens, sulphates and phthalates. It hasn't irritated my skin or caused breakouts. In fact, it soothed my existing active acne and reduced redness. Overall, I liked using this cleanser and I will recommend people with sensitive skin to give this a try.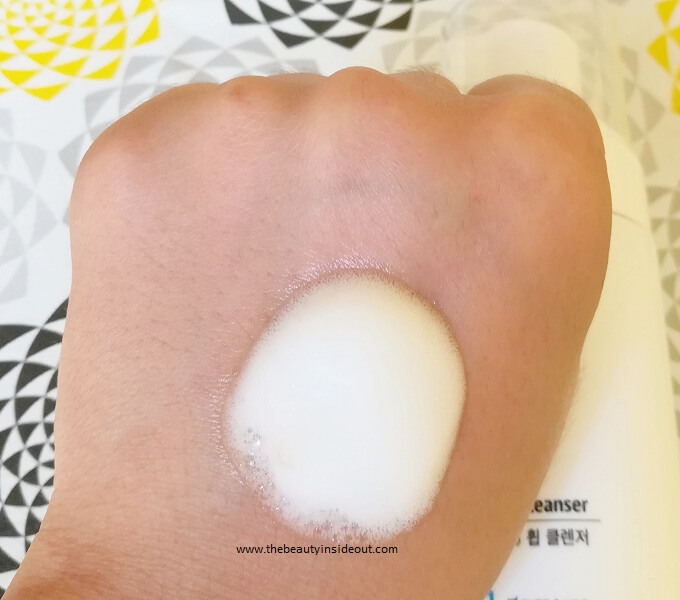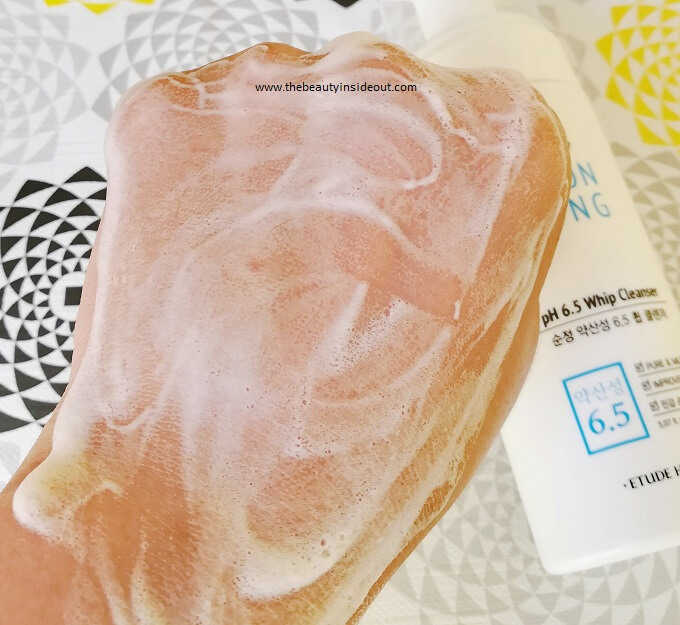 Pros:
Whipped creamy foam texture.
Soothing and EWG safe ingredients.
Contains 98.9% naturally derived ingredients.
Free of artificial color, fragrances, sulphates & parabens.
Cleans the skin efficiently.
Does not strip off the skin nor make it taut.
Available in two sizes -70 ml & 150 ml.
One pump is sufficient for each ease, hence long lasting and cost effective.
Cons:
It may not be suitable for extremely dry skin.
Rating: 4.5/5
Would I recommend? Yes, it's fluffy whipped foam texture is to die for. It feels so nice and comforting on the skin while cleansing the skin thoroughly at the same time. The presence of soothing Panthenol and Madecassoside is an added plus. I will recommend this for sensitive skin types. If you are comfortable with essential oils and have oily acne prone skin, I will also suggest the Kama Ayurveda Anti Acne Cleansing Foam.
Related posts: