In today's post I'll be sharing my hands on experience with a couple of Vedaearth Products that I tried. Inspired by the age-old knowledge of Ayurveda and new-age techniques of Aromatherapy, Vedaearth is a 100% Vegan and Cruelty Free Brand that is committed to provide us safe skincare and aromatherapy products. All their products are free of sulphates, parabens, pthalates and other synthetic chemicals. Vedaearth follows a holistic approach to wellness and craft their products with the healing power of herbs and uplifting aroma of essential oils. The brand's vision and mission is impressive and if you are into natural skincare, Vedaearth is surely one of the brands that you need to check out. Let's have a detailed look on how each of their products worked for me.
1. Vedaearth Cleansing Facial Oil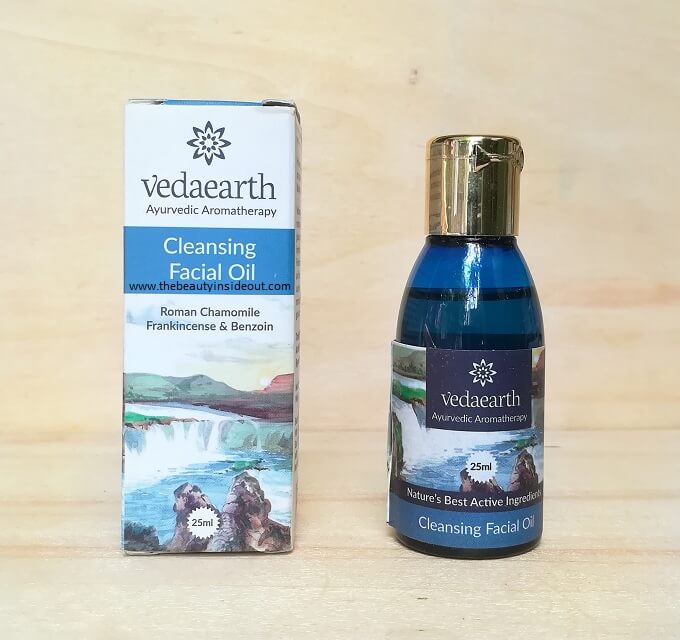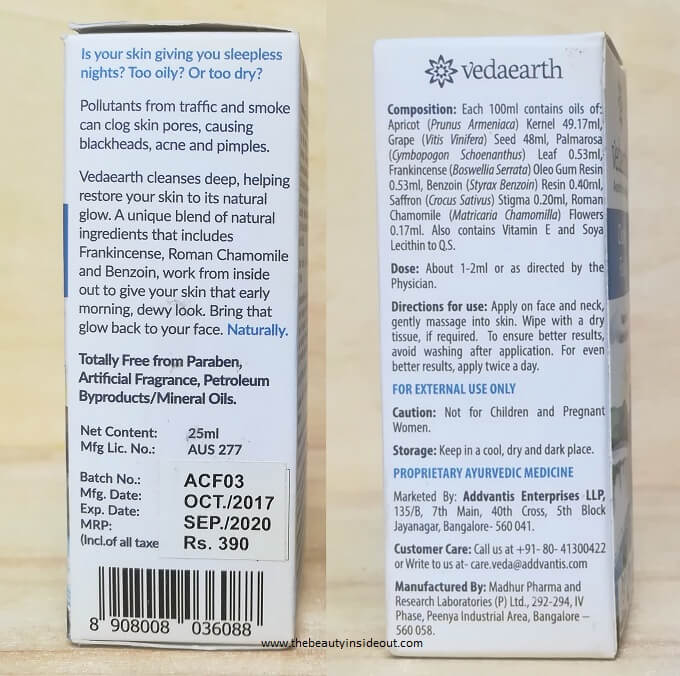 Years ago I had the misconception that oils cause acne and are a big no for my oily acne prone skin. Guess I was wrong! Incorporating oils into my skincare routine has done nothing but only good. Using oils has regulated my natural sebum production and these days I feel less oily than those days when I used to use harsh acne cleansers. The Vedaearth Cleansing Oil is a recent addition to my routine.
It is a multifunctional oil. One can use this oil in multiple ways.
as a first cleanser to remove sunscreen, makeup and then follow up with a foam cleanser.
as a massage oil on clean skin. Take a few drops of the oil, massage all over the face in gentle strokes to promote blood circulation. Remove excess oil with a cotton pad and need not rinse or wash your face. This gives you a glowing and healthy skin.
as a facial oil. After cleansing and toning, apply two drops of oil on your palm and gently press it on your skin. You can either use this as a part of your skincare routine with other products or use it as a standalone moisturizer.
All of this becomes possible because of its light texture. Its not a thick oil hence leaving it on the skin for long does not make your skin greasy. It gets absorbed nicely into the skin. In fact, dry skin types may even find it less moisturizing. For my oily to combination skin, this is one of the rarest and most comfortable oils that I've tried. As per the ingredient list, Vedaearth Cleansing Oil has essential oils in it, but I was surprised that it's not at all overwhelming and has a rather barely noticeable fragrance. I personally like minimal scent in my products, so this is a plus for me. The oil neither irritated nor sensitized my skin which happens with many essential oil based products. I assume the essential oils are added in mild doses to suit every skin type while still providing the essential oil benefits to the skin. Overall I enjoyed using this oil. It is light, non greasy and hasn't  broke me out. Well, it's completely natural as well, made without any chemicals. I only wish the quantity was a bit more for the price it retails.
Price: Rs.390 for 25 ml.
2. Vedaearth Pain Relief Oil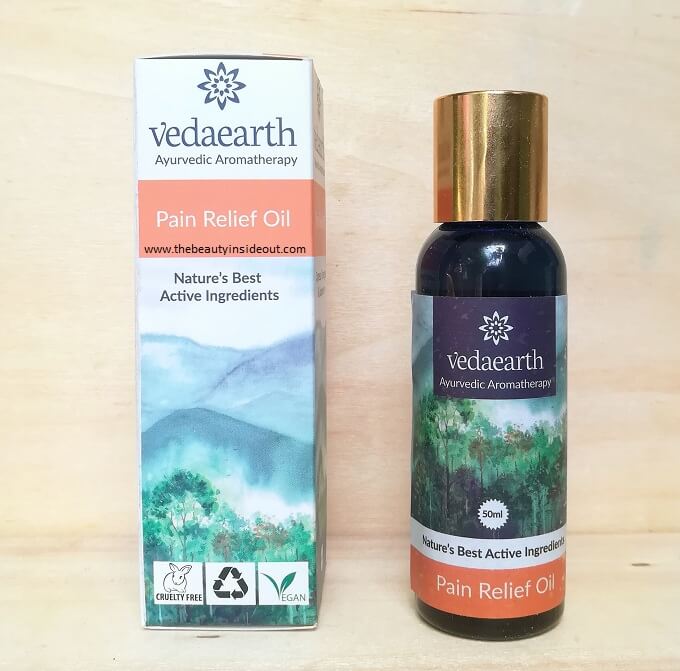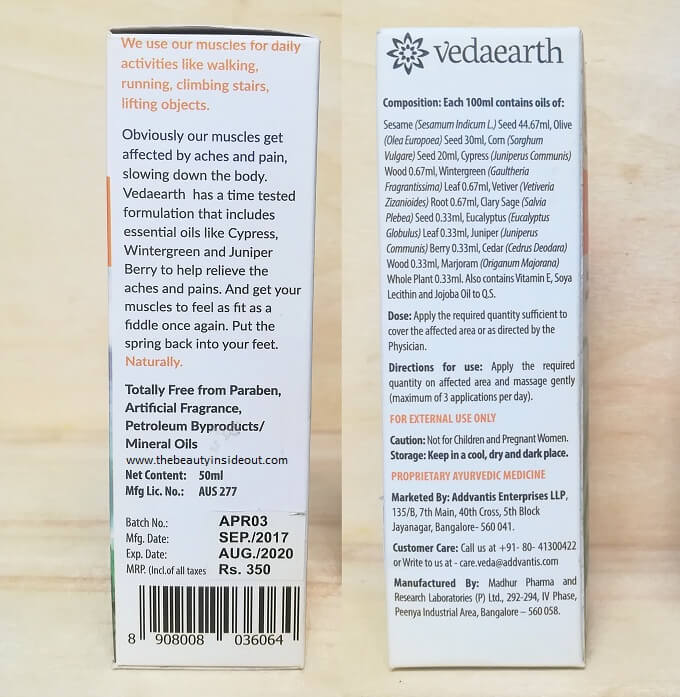 Using pain relief oil is not something new to me. We always have pain relievers in our home for those muscle pain, sudden spasms, and even headaches. The Vedaearth Pain Relief Oil is different from the commerical ones as it's completely natural and is enriched with essential oils. It has got pain relieving oils like the Cypress Essential Oil (helps with spasms), Winter Cherry Essential Oil (a potent natural pain killer) and Juniper Berry Essential Oil (removes toxins). I have used this frequently for my shoulder pain and ankle pain and it has eased my pain significantly. The Pain Relief Oil is a light oil that has good spreadability and absorbability. It doesn't tingle or burn on application. It has a mild fragrance which I like. Instead of getting pain relievers containing unnecessary fillers, I suggest getting this one.
Price: Rs.575 for 50 gms.
3. Vedaearth Rose Water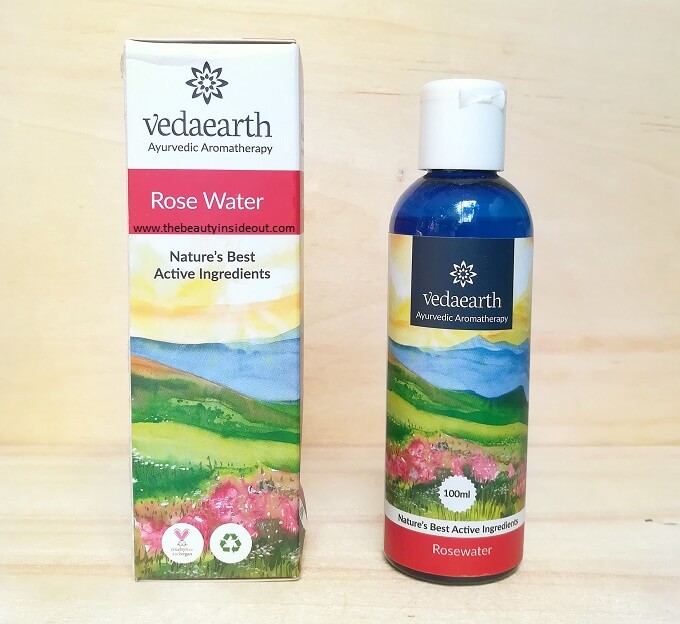 I don't think there is anyone who doesn't like rose water. I love them a lot as well. Rose water has natural anti inflammatory effects hence soothes irritated and sunburnt skin. The Vedaearth Rose Water has a very fresh paneer rose fragrance, the one that we use in cooking. I love this particular scent and how refreshing it feels on the skin. I store mine in the refrigerator for the extra cooling effect. And use it as a toner, mix it in my face packs and also as refreshing face mist throughout the day. The quality of this rose water is really good and I do consider this as one of the best Rose Waters in the Indian Market.
Price: Rs.350 for 100 ml.
4. Vedaearth Lemon Essential Oil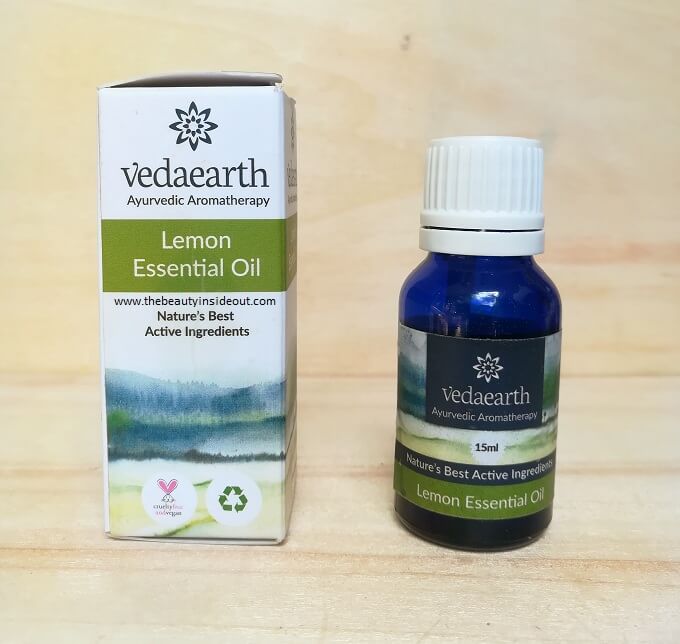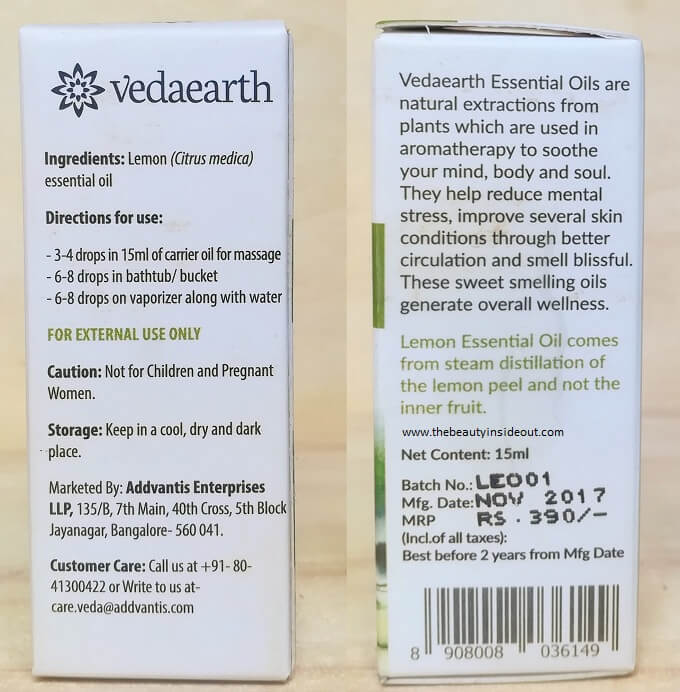 This is the first time I'm trying a Lemon Essential Oil. It has the expected lemony scent, fresh and strong. I love such citrusy fragrances in general. I use lemon essential oil in my foot soak as I like to soak my tired feet in warm salt water atleast twice a week. Adding 4 to 5 drops of this oil not only relaxes my feet but also removes bad odor from them. Other ways I liked to use them are – a few drops in my bath soak relaxes tired muscles, a few drops in my pillow case aids in calming my senses for sound sleep and when I feel nauseating during travel, sniffing this oil really helps. I keep a handkerchief in which I add two drops of this essential oil. Overall, Lemon essential oil has multiple uses & benefits and I recommend getting this one from Vedaearth.
Price: Rs.390 for 15 ml.
5. Vedaearth Handmade Soap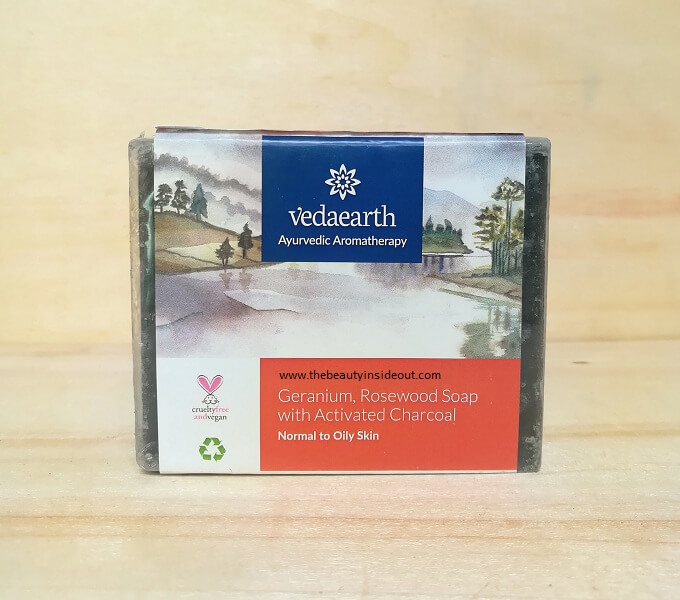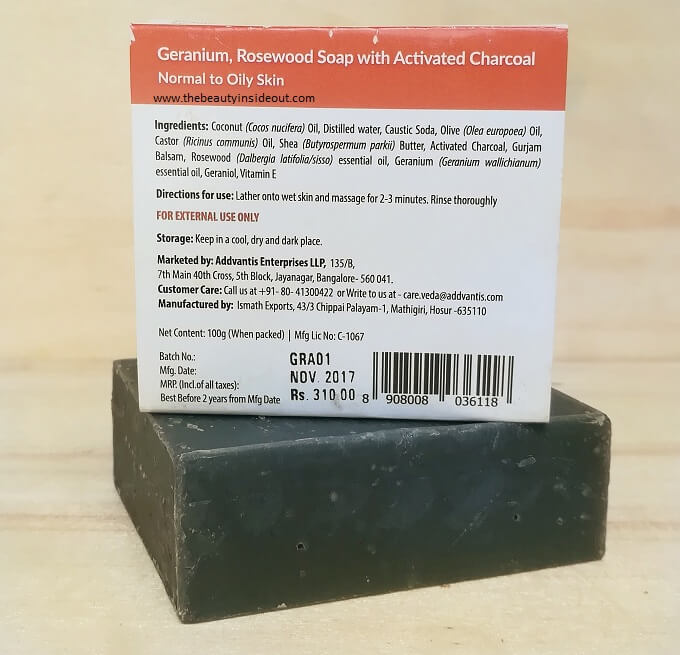 This is a cold processed handmade soap, made without any heat to preserve the nutrients of the ingredients used in it. This soap contains Activated Charcoal which is a great skin purifier and detoxifier, Shea Butter to nourish your skin and Rosewood & Geranium Essential Oils to provide therapeutic effects. The handmade soap lathers quite well and washes off easily without leaving behind any residue. It removes impurities & oils from the skin thoroughly without making my skin dry. I have sensitive skin and this hasn't irritated my skin at all. In fact, it feels soothing and nourishing. It gives a very refreshing bathing experience. The charcoal soap smells like Shea Butter and doesn't have any added synthetic fragrances. Overall, this is a good handmade soap, that will suit all skin types including those with sensitive skin.
Price: Rs.310 for 100 gms.
Final Thoughts:
Personally I am happy with Vedaearth Products. Not many essential oil based products work on my skin, but this one did. I mean although their products contain healing essential oils, they are mild enough to be used on sensitive skin types without irritating or burning the skin. The products being vegan and cruelty free is an added plus. The prices are mid range, not very budget friendly. But then quality products comes with a price. Overall, I find Vedaearth Products to be good, do check them out.