Whenever I see products with hydrating written on it I tend to get gravitated towards it. Being a dry skin girl, foundations have not always been on my side. Everything looks cakey and messy. So when I saw the Smashbox Studio Skin Hydrating Foundation I knew I have to try that. It had everything I wanted. From hydration and long-wearing skin like the formula to perfect shade range and cheery on top, for photography and modelling purpose. It claims to do so much. If you are interested in this foundation keep reading to know my experience with it.
Product Description:
A high-performing liquid foundation that helps you face anything. Studio Skin evens skin tone & never settles into pores & lines. It's a great formula proven to last 24 hours!
Ingredients: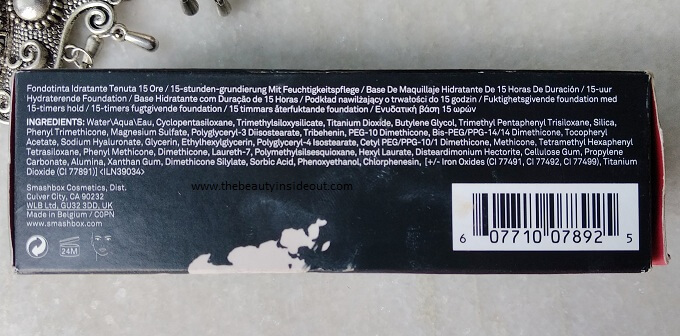 Shades: It has 40 shades, equally divided into different undertones and skins.
Price: 3300 INR. Available both in offline and online.
Smashbox Studio Skin Foundation Review: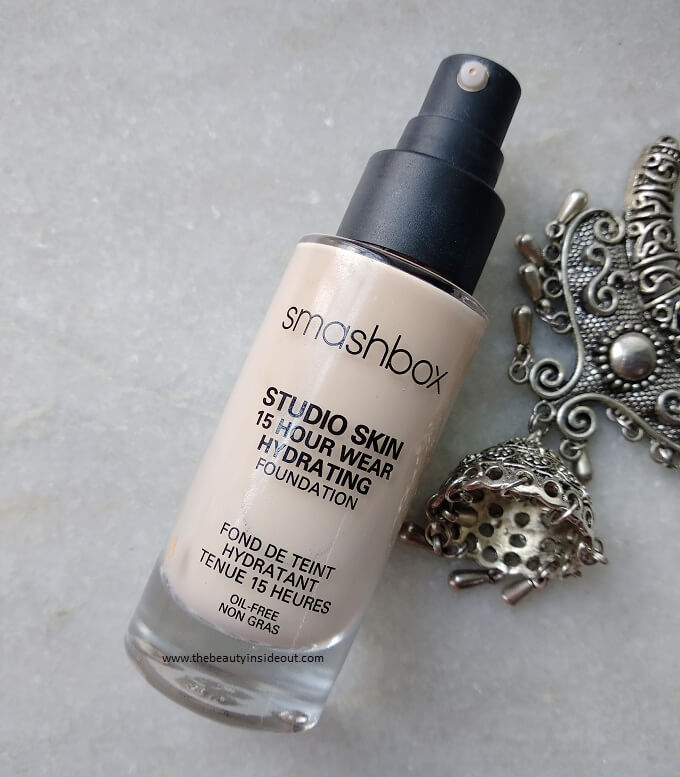 Packaging: The Smashbox Studio Skin Foundation comes in a glass bottle with a pump. It looks luxurious but it's not travel-friendly for sure as the glass bottle can break easily. The pump is great. I love pumps in foundation bottles because it makes everything less messy and more hygienic. It also helps me to calculate the foundation per usage. The foundation comes enclosed in a black cover which has its name and ingredients written on it.
Shade: I bought the shade 0.3 which is a very neutral shade. The shade is obviously very much lighter for my skin tone. But the shade matches me perfectly since it does oxidize at least 3 shades darker. I am an NC25-30 and golden undertoned girl. when I first applied it, it looked very white for being too light but then it oxidized into a pure grey form. I don't know why it did that but I applied it on one of my very pale friend who is the perfect match for this foundation..it turned grey on her too!. It not only didn't cover any dark circles of my eyes and mouth area pigmentation but also it made them more greyish. I don't have much pigmentation or dark circle but for the sake of this review I colour corrected with LA Girl Yellow Corrector but it didn't do any good for concealing.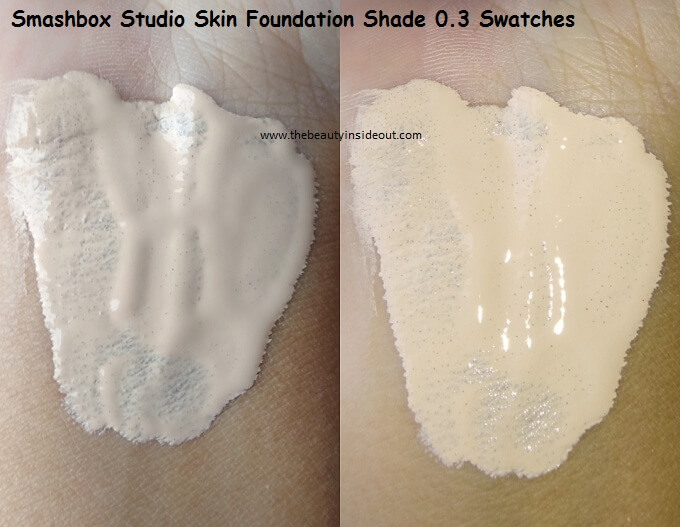 Texture: The Smashbox Studio Skin Foundation is quite liquidy. It applies easily on the skin. But if you use a very heavy moisturizer like me, then it will turn into a glue-like texture and when you try to blend that texture the foundation will cake up so beware of that. My suggestion is, let the moisturizer sink into the skin first completely and then apply the foundation.
Fragrance: It has a very mild fragrance like MAC Foundations, which subsides after sometime.
Coverage: It provides medium to buildable coverage. But then it cakes up if you layer on.
Application: I tried to use this with my Real Techniques Brush and Sponge. And I think sponge makes you look definitely better with this foundation. Brush side looks very heavy and looks like the foundation didn't blend in and sat in the upper part of the face.
Finish: Despite saying it is a hydrating foundation, I didn't see anything near hydration. On my very dry skin, it looked horrible. It was flaking and caking and I didn't even use a powder. I think oily to very oily skin would very much enjoy this but the dry skin beauties this is just not for you.
Staying power: It is very much long-wearing. I wore it for legit 12 hours and it didn't budge or fade. The foundation definitely looked way better throughout the day than when I first applied.
Photography: The name says it is for studio and photography purpose..and yes it does its job perfectly! It looks amazing in photos and videos.
Pros:
Very long-wearing.
Good shade range.
Looks professional in photos.
Claims to be Vegan & Cruelty Free.
Formulated without parabens, pthalates, fragrance & talc.
Cons:
Oxidizes way too much.
Looks cakey on the skin so you can't layer it up.
Looks like you are wearing heavy makeup.
Not good for everyday basis.
Very pricey.
Gives a very matte finish.
Rating: 3/5
Do I recommend? Not really. It does not do anything other than make you look good in photos and longevity on the skin. This foundation is surely not worth the money. Only people with oily to very oily skin can give it a try, especially those who have a problem with any foundation staying put on their face.
Guest Author: Parama Sarkar