Ayurveda is an ancient, natural healing tradition that dates back to over 5000 years. Having its roots in the Indian Subcontinent, Ayurvedic recipes were documented in Vedas (Ayurvedic Texts). Ayurveda is not just about skincare, it is an overall healing method of the body, mind, and soul. Ayurveda is such a huge subject to talk about. But let's stick on to the topic – Indian Ayurvedic Beauty Products. In the modern days, the words herbal and ayurvedic are used interchangeably which isn't correct. Herbal simply means that the formulation is made of a blend of herbs and plants. But when you say the product is ayurvedic, it not only involves herbs and plants, but it also involves metallic components like copper, gold, silver, tin, and animal extracts like milk, etc. This post will be all about Best Ayurvedic Beauty Products & Brands that you need to look for.
6 Best Ayurvedic Beauty Products
1. Kumkumadi Tailam
What is it?
Kumkumadi Tailam is a herbal oil infusion meant to improve skin tone and texture.
What does it contain?
The traditional ayurvedic recipe is made with a blend of 16 (or more) carefully picked herbs, flowers, fruits, and milk extracts.
The key ingredient is Saffron (Kumkumadi means Saffron, hence the name) which is considered as a renowned potent potion for improving skin tone and texture.
The other wonderful Indian herbs that usually goes into this herbal infusion are Red Sandalwood, Licorice, Turmeric, Manjistha, Vetiver, Wild Himalayan Cherry, Manjistha, Lotus Pollen, Fig to name a few.
It will also contain some uncommon ingredients like Lac Secretion and Goat Milk.
Kumkumadi Thailam is most often made in either Coconut Oil Base (called Kumkumadi Keera Thailam) or Sesame Oil Base (called Kumkumadi Thailam).
What does it do?
The Kumkumadi Oil is known to work amazingly well for hyperpigmentation, discolorations, acne marks, dark spots while improving overall skin complexion giving a radiant glow.
It can be used as leave-on oil, as a massage oil, or for oil cleansing, depending upon your skin type.
Notes & Precautions

It is not a vegan product since it contains Lac secretion and Goat Milk.
Depending upon your body type, pick the Coconut Oil Base if you have a heat body as it cools down the body. But if you are prone to cold, it is ideal to pick the Sesame Oil Base.
If you are skeptical about using oils, then there is a cream (or say ointment) version called Kumkumadi Lepam which has almost similar benefits.
Recommendations: Kottakkal Arya Vaidya Sala Kunkumadi Tailam, Vaidyaratnam Kunkumadi Thailam, and Kama Ayurvedic Kumkumadi Miraculous Beauty Fluid
2. Nalpamaradi Thailam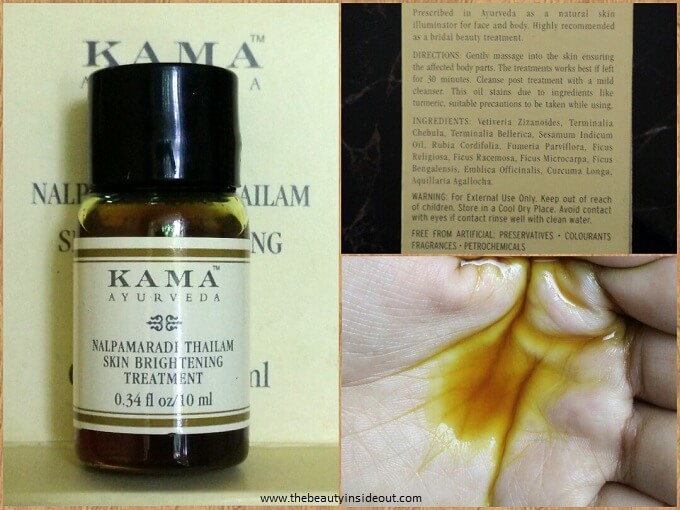 What is it?
Nalpamaradi Thailam is a herbal oil infusion that is fabled for skin lightening and brightening.
What does it contain?
The classical formulation is made with a blend of fruits, herbs, plant extracts which includes 4 variety of Figs, Fresh Turmeric, Indian Gooseberry, White Sandalwood, Vetiver, Manjistha, Indian Costus Root among them.
Just like Kumkumadi Oil, this is either made in Sesame Oil or Coconut Oil(Keera Thailam) Base.
What does it do?
Nalpamaradi Oil is anti-fungal, antiseptic, antipruritic and has been used for mild skin allergies, eczema, herpes, scabies, dermatitis, and fungal infections.
Nalpamaradi is not just a beauty treatment, it is a skin nutrient oil that has so many medicinal properties.
Traditionally it is used for baby massages to improve skin complexion.
Nalpamaradi Thailam is a cult favorite for tan removal and skin brightening.
Notes & Precautions:
Nalpamaradi Thailam is mostly applied, massaged, and left on for 20 minutes or so, and then wiped off with a warm cloth.
The oil stains yellow due to the presence of Turmeric. Hence it is not recommended to leave-on overnight unless you are fine with yellow stains on your clothes and pillows.
Recommendations: Bipha Ayurveda Nalpamaradi Thailam, Vaidyaratnam Ayurvedic Nalpamaradi Kera Thailam, Kama Ayurveda Nalpamaradi Thailam and Blue Nectar Nalpamaradi Thailam
3. Shata Dhauta Ghrita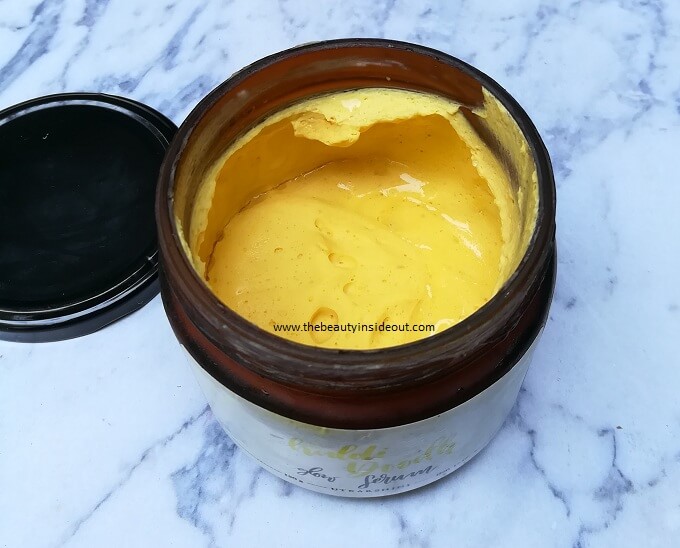 What is it?
Shata Dhauta Ghrita means 100 times washed ghee, which is what it is literally.
What does it contain?
How it is made?
Cow Ghee is washed by clean hands in a copper vessel hundred times (practically 20 to 50 times, until one gets tired!) to form a white fluffy whipped light buttery consistency.
The ghee can also be washed with rose water and other herbal infused water for added skin care benefits.
Sometimes it is also said that during the washing process, mantras are recited to boost its performance.
What does it do?
The washed ghee is an intensely cooling light moisturizer that is not only used for skincare, but also serves as a skin-healing ingredient.
Shata Dhauta Ghrita is an excellent anti-aging cream to reduce wrinkles, acne scars, stretch marks, soothe sunburns and relieve inflammations.
It is suitable for the face, body, hand, and feet as well. Dry, flaky, and dehydrated skin types will love this as a face moisturizer.
Notes & Precautions:
Shata Dhauta Ghrita can be done at home by anyone but it's time consuming and improper washing can cause contamination faster and lead to shorter shelf life.
Shata Dhauta Ghrita is self-preserving and ideally, it should last for 4 to 6 months depending on storage and weather conditions.
If you stay in a hot and humid place, storing it in a refrigerator is recommended.
Recommendations: Fab Homemade Shata Dhauta Ghrita, Enns Closet About To Glow
4. Ubtans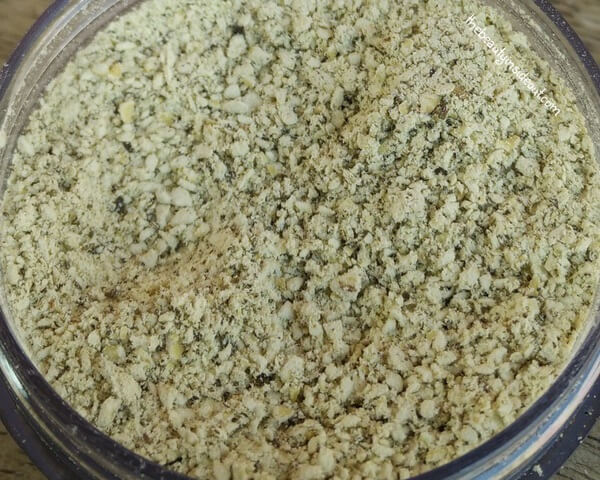 What is it?
Ubtan is an age-old, traditional ayurvedic beautification product that was used on a daily basis, instead of soaps & cleansers.
Ubtans are ideal to be used on both the face and body.
In the modern days, it is often seen to be used only as a pre-bridal treatment.
Ubtan is simply a coarsely grinded mix of different grains and herbs which is made into a paste and rubbed all over the body. As per Ayurveda, ubtans are tailored according to one's body type.
What does it contain?
Traditionally, Ubtans are made with Green Gram (Mung Beans) Base along with Turmeric, Saffron, and Sandalwood as their key skin brightening components.
It may contain Oatmeal Powder, Almond Powder, Red Lentil Powder.
Ubtans mixed with rose water, milk, or fresh cream for intense nourishment.
What does it do?
Ubtans deeply cleanse the pores, increase blood circulation, reduces wrinkles, pigmentation, improve skin texture and complexion with regular usage.
Ubtans not only impart that bridal glow but enhances the overall beauty of the skin.
Modern-day ubtans are available in so many varieties which is no less in effectiveness than the traditional ones.
Recommendations: Forest Essentials has a couple of Ubtans named Soundarya, Tejasvi, etc
5. Neelbringadi Thailam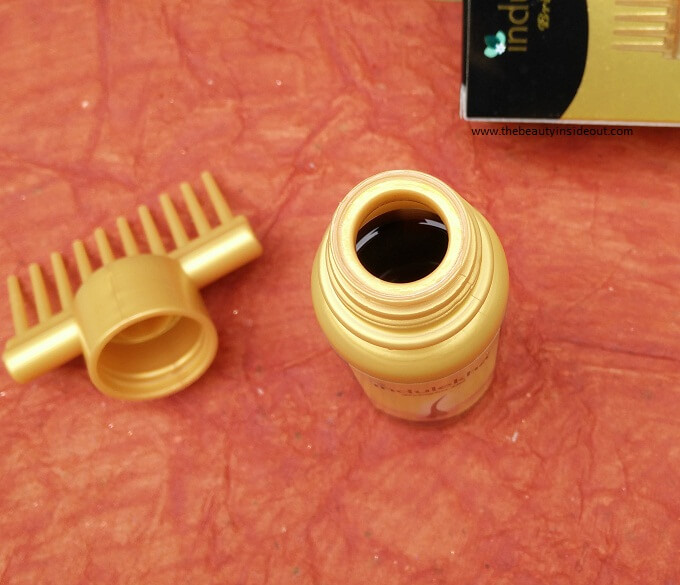 What is it?
Neelbringadi Thailam is a Hair Oil Concoction.
What does it contain?
The two main ingredients – Neeli and Bhringraj both of which are potent medicinal herbs.
Along with these, it is also enriched with Indian Gooseberry, Licorice, Tree Turmeric, Animal Milks of Goat, Cow, and Buffalo.
The base oil used is either Coconut Oil or Sesame Oil.
What does it do?
Neelbringadi Thailam is used for all sorts of hair problems including hair fall, premature greying, baldness, itchy scalp, split ends and hair thinning as well.
This herbal hair oil is trusted by most Indian consumers which is also why every brand is launching their own Bringadi Hair Oil.
Recommendations: Arya Vaidya Sala Ayurvedic Nilibhringadi Thailam and
Khandige organic Nilibhringadi Hair Oil

6. Shikakai Hair Wash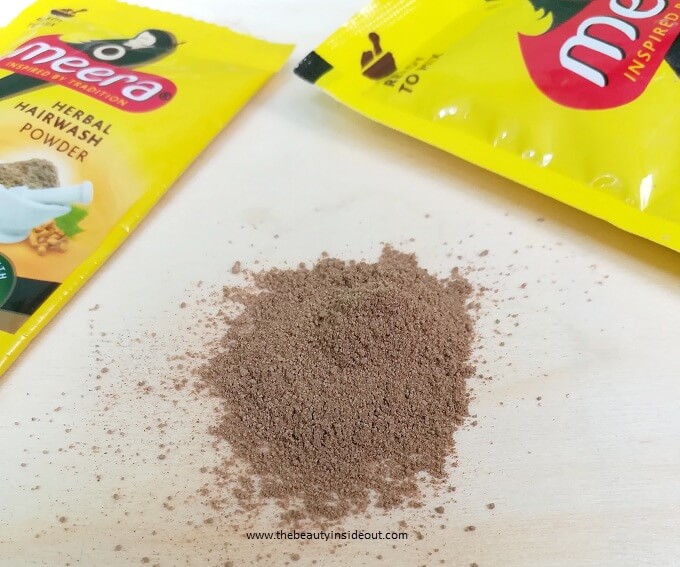 What is it?
This is usually a homemade hair wash liquid/powder that replaces your shampoo.
What does it contain?
Traditionally it is made with Shikakai, Reetha(SoapNuts) and Aamla(Indian Gooseberry).
Herbs like Neem, Holy Basil, Fenugreek Seeds, and Curry Leaves are usually added when it is made in dry form.
How it is made?
For hair wash liquid: All the three herbs are soaked in water overnight and boiled in simmer for an hour. It is then cooled down and the herbal residues are filtered out. The liquid that remains is used for shampooing.
For hair wash powder: All the herbs are made to dry for 6 to 12 hours under sunlight and ground together to form a hair wash powder. The powder is to be mixed with water to make a paste before usage.
What does it do?
SoapNuts is a natural foaming agent hence it cleans the scalp from oil and dirt.
Shikakai is anti-fungal and tackles dandruff.
Amla naturally darkness your hair and helps with grey hair.
These are the most common Ayurvedic Beauty Products known and used widely. There are tons of other ayurvedic recipes as well!
Moving onto the brands that make some of the authentic ayurvedic products. I will be putting them in two parts – firstly, the authentic ayurvedic manufacturers based at Kerala, the House of Indian Ayurveda. Secondly the brands that make Ayurveda-based Modernized Beauty Products.
Ayurvedic Skin Care Products Manufacturers
Arya Vaidya Sala Kottakkal (Kerala)

Vaidyarathnam (Kerala)
Kairali Ayurveda (Kerala)

Kerala Ayurveda (Kerala)

Arogyaamrutham Vaidya Sala (Chennai)

Khandige Organic (Bangalore based, offers a variety of pure ayurvedic wellness products)
All the above companies except Khandige have their own ayurvedic clinics/hospitals. Since these aren't the commercial brands that are focused on marketing, these aren't 'the easily available online types'. If you go to Kerala in person you could very well find a lot more ayurvedic centers that make ayurvedic products.
Kottakal, Vaidyarathnam, and Khandige products are the only ones that are currently available for purchase online on Amazon.
For beauty buyers looking for safe, gentle and efficient beauty treatments that are rooted in the ancient science of Ayurveda with a mix of modern science, you can look upon the following brands. The first part contains brands that I've tried and loved. The second part – the rest of the popularly available brands.
The Best Ayurvedic Beauty Brands
Following are Ayurvedic Beauty Brands That I Trust.

1. Forest Essentials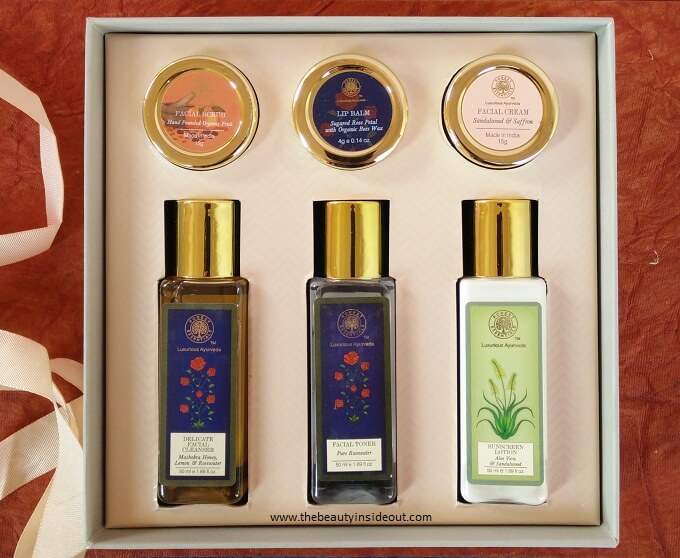 Forest Essentials is one of the leading players in the Luxury Ayurvedic Beauty Products segment. I love their Mashobra Honey, Lemon, and Rose Water Facial Cleanser for its gentle and soothing formulation. Their ubtans have also got some rave reviews. I did a complete review of the Best and Worsts of Forest Essentials Products that I tried. Do check it out for more details.
2. Kama Ayurveda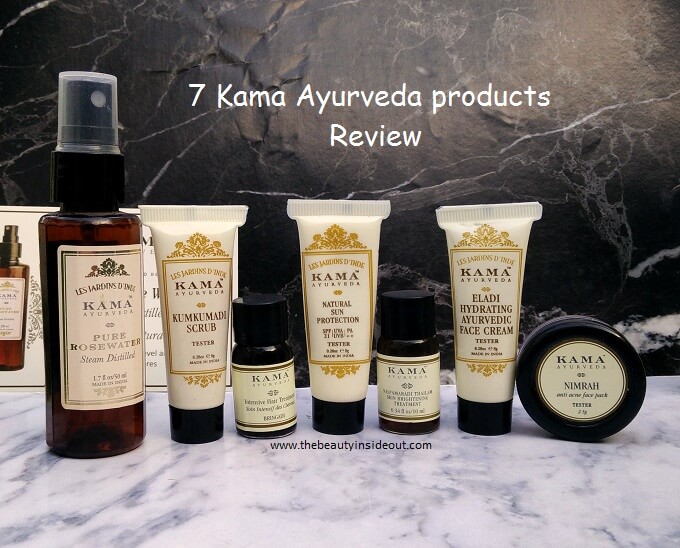 I love Kama Ayurveda Products as much as I love Forest Essentials. But when it comes to authenticity, I trust the Kama more. The Kama is partnered with the authentic ayurvedic institution, Arya Vaidya Salai in Coimbatore to prepare their ayurvedic products. Kama's iconic Beauty treatments Nalpamaradi Skin Brightening Thailam & Bringadi Intensive Hair Treatment Oil are surely worth giving a shot.
3. Blue Nectar Ayurveda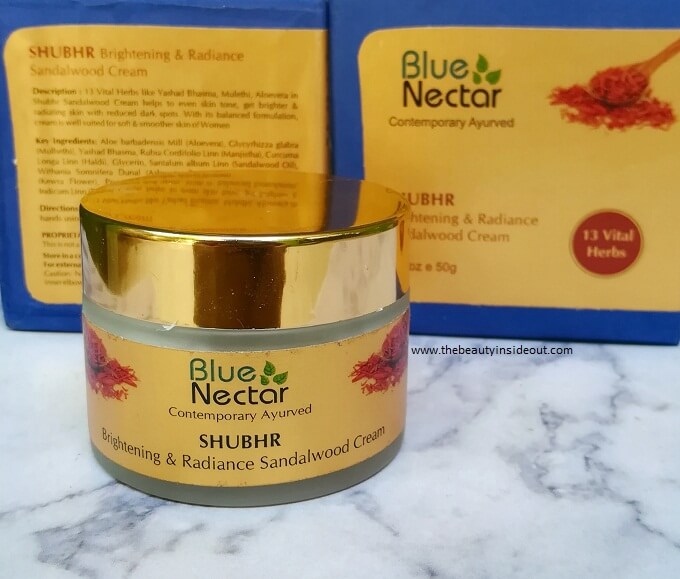 Blue Nectar prepares some of the authentic ayurvedic products including the Kumkumadi and Nalpamaradi Tailams. The brand promises that each of their products is curated by ayurvedic doctors and are prepared only in SL 316 Vessel as per Ayurved Texts with vital herbs and ingredients. I liked their Sandalwood Radiance Cream and the Honey Facial Cleanser among their Ayurveda based contemporary products.
4. Bipha Ayurveda
Based at Kottayam, Kerala, Bipha Ayurveda is established by visionary ayurvedic physician K Pappy Vaidyan in 1929. Bipha Ayurveda has their own ayurvedic doctors whom you can consult for free. They make most of the traditional oils including Keshavardhini Oil, Eladi Thailam, Nalpamaradi, Kumkumadi, and also traditional massage oils. Apart from that, they do make skincare and haircare products that combine Ayurveda and Modern Science.
5. Soultree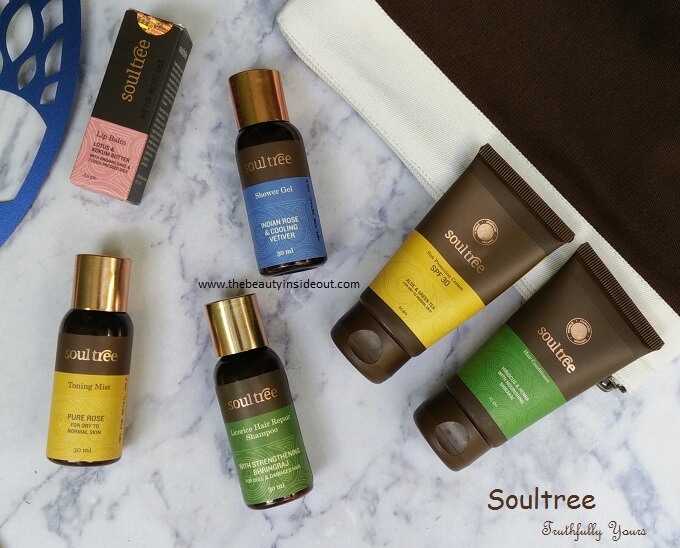 Soultree is yet another Ayurvedic Beauty Brand that I love. Their products are pretty amazing and results-driven. Started by 3 crew members (one chemist, one 70-year-old Ayurvedic Doctor, and 1 driven entrepreneur), Soultree is BDIH Natural German certified. All their products are made in-house in batches using ayurvedic recipes. The brand is transparent about everything that goes inside its products. They also have an impressive coming of age makeup products. Do check out the Soultree Products Review post to find out my most favorite.
6. Just Herbs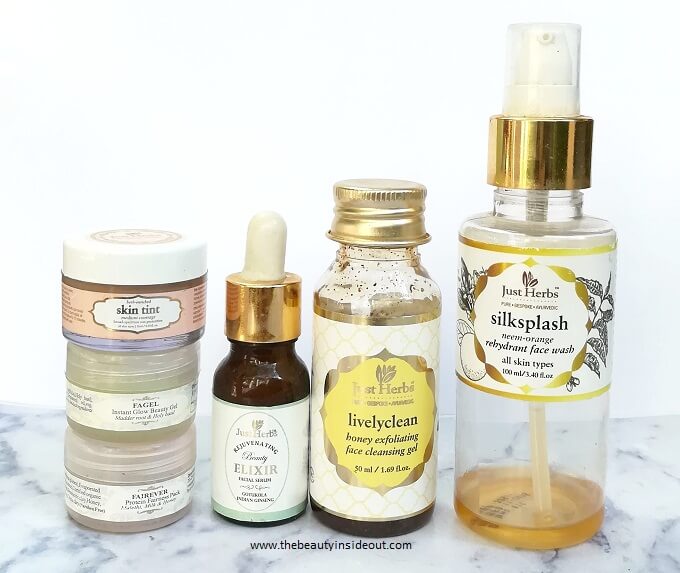 Just Herbs is another nice brand with ayurvedic roots in its formulations. I loved their Neem Orange Face Wash among all the Just Herbs Products that I tried. They use wild-harvested ingredients across the country in all their products. Their latest launch, All in One Moisturizer BB Cream kind of product, The Herb Enriched Skin Tint is an instant hint among the young consumers.
7. Iraya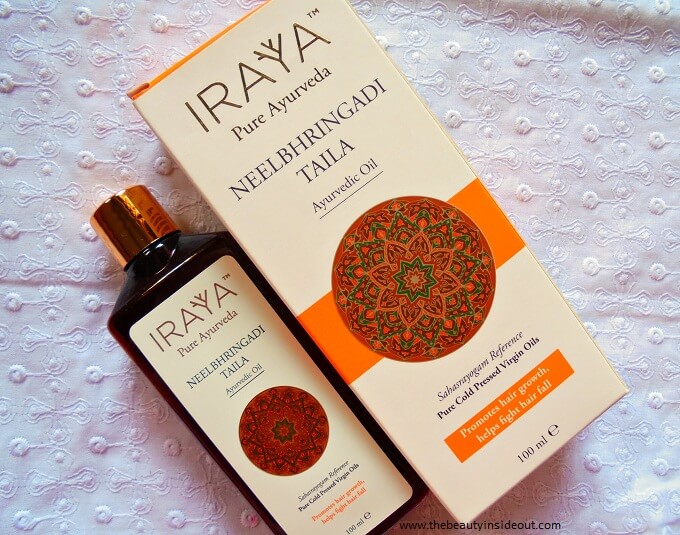 Iraya (means from the Earth) prepares ayurvedic recipes blended with the finest ingredients. The brand is well known for its Kumkumadi Range, Lepas, and various Taila's. Iraya Neelbringadi Taila is one of our writer's favorites. Iraya has a professional ayurvedic spa range used by therapists in leading spas.
Other Ayurveda Based Beauty Brands
The rest of the brands that's coming up in this post have the ayurvedic tag but are mass-produced for the consumers.
Patanjali: Patanjali is a big name in the industry. Due to various controversies on the poor quality of the products, I don't prefer this brand. I've tried their famous Aloe Vera Gel and found it too artificial with fake color & fragrance.
Lever Ayush: Launched recently by Hindustan Unilever. Lever Ayush is considered to be the competitor of Patanjali. Although I don't buy the Ayurveda tag, I found their products to be much better than Patanjali. The Anti Damage Fenugreek Shampoo and Anti Marks Turmeric Face Cream are well above average products.
VLCC Ayurveda: VLCC basically falls in the herbal cosmetics category. Recently they launched a new subcategory VLCC Ayurveda focusing on ingredients like Haldi, Chandan, Neem, Tulsi. But the products are much similar to the normal range. Read my reviews on VLCC Ayurveda Face Washes, VLCC Ayurveda Multani Mitti Face Pack, and VLCC Ayurveda Facial Kit.
Biotique Botanicals: If you go to a supermarket and ask for a natural skin care brand, you are most likely to be directed towards this brand. Biotique has got mixed reviews among consumers for not disclosing their base Q.S while claiming their products to be ayurvedic propriety medicine! The Biotique Tan Removal Scrub is the only one among all the Biotique Products that I have liked and repurchased. Not because it's ayurvedic but just for the amazing performance of the product.
Khadi Natural: Khadi Natural says it's an Ayurveda based brand. Most of their products have sulfates, parabens as such. The only product that I will recommend from Khadi Natural is its dry powder packs. Khadi Natural Neem Tulsi Face Pack is a good one to start with.
Himalaya Herbals: Himalaya Herbals is yet another big name in the herbal cosmetics industry. It's a decade-old brand, hence it's widely popular all over. The products are affordable and worth giving a try for their efficacy. However, they have paraben preservatives in most of their products. Read my reviews of Himalaya Herbals Products.
Vicco: Vicco laboratories established in the 1950's is one of the oldest ayurvedic brands. Vicco is pretty popular for their Turmeric Skin Cream, which again has an undisclosed base Q.S. But still, it's an effective cream for acne and pimples. I also liked their newly launched Turmeric Cream in Foam Base.
Roop Mantra: A revamped brand. I've tried a few Roop Mantra Products and found most of them to be average. They have a wide range of affordable products including face packs, sunscreens, body lotion, pimple gels to name a few.
Indulekha: Indulekha is popular for its Bringha Oil and Bhringraj Shampoo. The products contain a lot of ayurvedic herbs. It should be noted that the brand comes from the manufacturer Hindustan Unilever, which manufactures Ponds, Lux, Dove, and other commercial brands.
Herbodaya: A Tamil Nadu based brand. Although it looks like a replica of Indulekha, with a similar oil, Herbodaya does look promising with a couple of wellness products like Nilavembu, Thiriphala and Turmeric Powders.
And the list keeps ongoing. You could easily find more ayurvedic brands since it's quite popular here. Feel free to add the brands you know in the comments section below.
If pure ayurvedic skincare products is what you are looking for, then I would recommend getting the ones from Kottakal or Vaidyaratnam. Because it's authentic as well as super affordable compared to the so-called Luxury Ayurveda Product Brands.
In conclusion, Ayurveda is not just about outer beauty, just like our blog's name it's about both the inside and outside of a human being. For beginners, you could check out this wonderul book 'Ayurveda – Idiot's Guide' written by Sahara Rose Ketabi who is a certified ayurvedic practitioner herself.
I hope you found this post useful. Do share your thoughts in the comments section below.