I have had skin issues since my teen years. I am coping up with PCOS for a long time. The hormonal disruption has taken a toll on my skin. Acne and old acne marks used to be my everyday issue till my early 20's. Using active ingredients like salicylic acid and hyaluronic acid has been a turning point in my life. My skin no longer breaks out abruptly or looks dull like before. The redness issue is under control as well. My main skincare goal right now is to reduce the pigmentations left by healed pimples. Niacinamide is one of the best skincare ingredients to take care of these imperfections. Though there are plenty of brands offering skincare actives in the US and UK these days, getting a good quality active ingredient for skin is not that easy in India. Recently the brand Minimalist came up with an array of essential skincare ingredients. These products are quite affordable considering similar products from other brands. I always love to try good quality products in a reachable price range. Let's dig deeper into the Minimalist Niacinamide Serum.
Product Details:
Minimalist Niacinamide Serum is a nourishing, daily serum packed with pure Vitamin B3 and the antibacterial mineral zinc. It boosts dermal immunity, keeping your skin resilient and healthy.
Minimalist Niacinamide Serum Uses & Benefits
The soothing aloe-based formula contains pure 10% Niacinamide that is clinically proven to promote protein synthesis, reduce melanin concentration & improve skin complexion in 2 weeks.
Oil-free lightweight serum coupled with Zinc that balances sebum activity and reduces inflammation, leaving smooth textured skin with no sticky residue.
Formulated with Niacinamide PC by Royal DSM, Netherlands and is guaranteed to contain less than 100 ppm residual nicotinic acid (which, at higher concentration may result in unpleasant skin sensations). Concentration may result in unpleasant skin sensations).
Ingredients: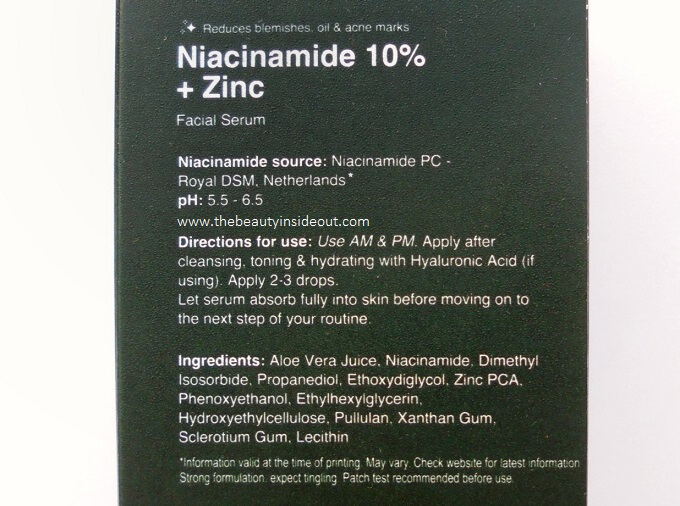 Price: Rs.599 for 30ml
Where to Buy? Minimalist products are available at Minimalist's own shopping website. You can also buy them on Amazon.
Minimalist Niacinamide Serum Review
Packaging: Minimalist Niacinamide Serum comes in a translucent dropper bottle. The matte bottle is made up of glass. Active ingredients such as niacinamide should be packed in glass containers to keep the strength and effectiveness intact. The lid of the bottle has a plastic dropper. The packaging reminds me of products from the world-famous brand The Ordinary. Minimalist provides a black cardboard outer packaging to secure the bottle from damage. Both the outer pack and the product have a detailed ingredients list and usage mentioned.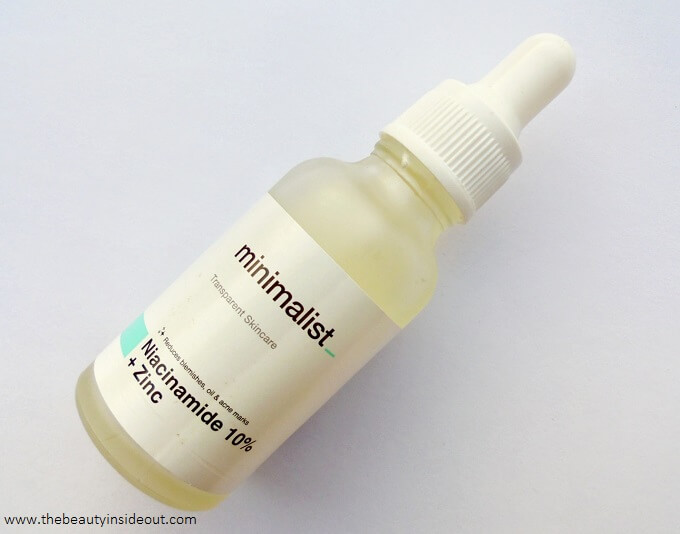 Color & Texture: Minimalist Niacinamide Serum is a colorless watery liquid. Its consistency is slightly thicker than water though. The texture is very similar to rice starch. The flowy liquid gets absorbed into the skin within seconds. It doesn't leave any sticky residue behind. This type of texture is suitable for all skin types. Even the extremely oily skin people can use it without any issue. Ingredient-wise, it's a suspension of skincare active niacinamide in the solution of purified aloe vera juice. Ingredients are super skin-friendly and wouldn't be the cause of bother for sensitive skin.
Fragrance: This serum is free from added fragrance.
My Experience:
For those who don't know what niacinamide is, it is actually a derivative of vitamin B. This skin-safe ingredient is extremely beneficial for all ages and skin types. Niacinamide reduces the dullness of skin and provides glow. It also fades scars and pigmented patches on the skin with regular use. It helps to lessen the appearance of large pores, prevents and cures acne. Niacinamide is also linked to anti-aging skincare as it aids in the keratin formation process of the skin and keeps the youthful firmness of your skin intact.
Minimalist offers two concentrations of niacinamide; 5% and 10%. I have a lot of imperfections to tackle so I chose the stronger concentration. Minimalist Niacinamide 10% + Zinc not only has niacinamide but the formula has zinc in it. Studies have shown that the zinc and niacinamide combo gives even better results.
I have been using this serum for 6 weeks now. For the first two weeks, my skin purged a little. I had sudden pimples here and there. They took 2-3 days to heal. My pimples generally take at least 5-6 days to heal. For the 3-4th week, I used only a salicylic acid face wash and applied Minimalist Niacinamide Serum; no other active ingredients. From the 4th week, everyone could see the difference in my skin. My skin looked a lot clearer, pigmentation started fading. For the 5-6th week, I added one more active in my skincare routine. I now use niacinamide in the morning and retinoid at night.
This niacinamide serum is definitely a bomb product. My skin used to look textured due to clogged pores. This serum has helped in clearing those. I still have pigmentation spots but they are less evident than before. A single layer of foundation is able to hide those. I don't need spot concealing like before.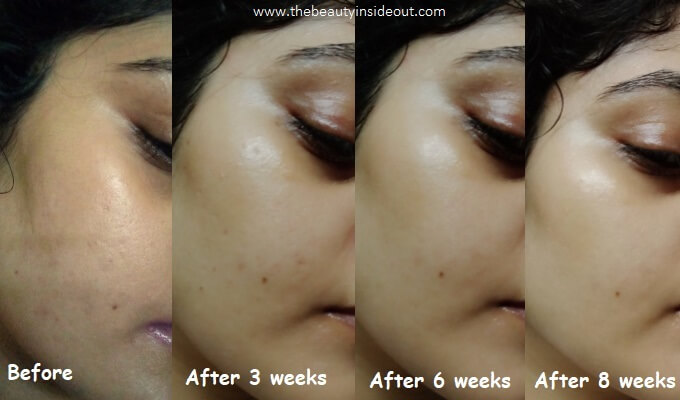 Pros:
Non sticky niacinamide serum with zinc.
Skin-friendly and suits all skin types.
Fades acne scars.
Reduces clogged pores.
Smoothens and brightens skin.
Cons:
No cons for me!
Rating: 5/5
Would I Recommend? I have got great results with the Minimalist Niacinamide Serum. In 6 weeks of regular use, my skin is now smoother and brighter. It has faded my acne scars; you can see it in the before-after picture. It has made my facial pores less visible. I am going to continue with this amazing serum. If you have problematic skin like mine or just want something to maintain the natural glow of your skin, definitely give this a shot!