Turmeric, widely called "Haldi" or "Manjal" in India is a common kitchen ingredient that is used in everyday cooking. It has immense benefits and so it's used in a lot of ways – in food, in home remedies, in skincare, and many more. In this post, we'll look into how this beautiful ingredient can help your skin when used as a face cream. And we'll list the best turmeric face creams for glowing skin.
Benefits of Turmeric Face Cream
1. Lightens skin and hyperpigmentation
Turmeric is a powerful antioxidant and can lighten skin tone. It has proven to be effective in reducing facial hyperpigmentation in a test conducted in four weeks[1].
2. Prevents and Heals Acne
Turmeric has anti-bacterial properties[2] and fights acne-causing bacteria. It eradicates pimples from the root and fastens the healing process.
3. Slows Down Aging Signs
The active compound in Turmeric, Curcumin, is a powerful anti-inflammatory and antioxidant that delays the signs of aging[3].
4. Helps with Skin Inflammation
Turmeric has therapeutic benefits on the skin and has been studied to be helpful for eczema, atopic dermatitis, acne, and photoaging[4].
5. Regulates Sebum Production
The antioxidant activity of Turmeric helps in regulating excess sebum production on the skin[5]. Thus reducing oily skin issues such as acne breakouts, whiteheads, and blackheads.
6. Reduces Facial Hair
Turmeric has been used for decades by our ancestors for facial hair reduction. An urban with turmeric, besan, and curd may reduce the growth of hair and promote the shedding of existing hair. There are studies on Curcuma Oil from the same family as Turmeric that reported significant hair reduction[6].
Best Turmeric Creams For Dark Spots and Skin Lightening
1. Vicco Turmeric Cream WSO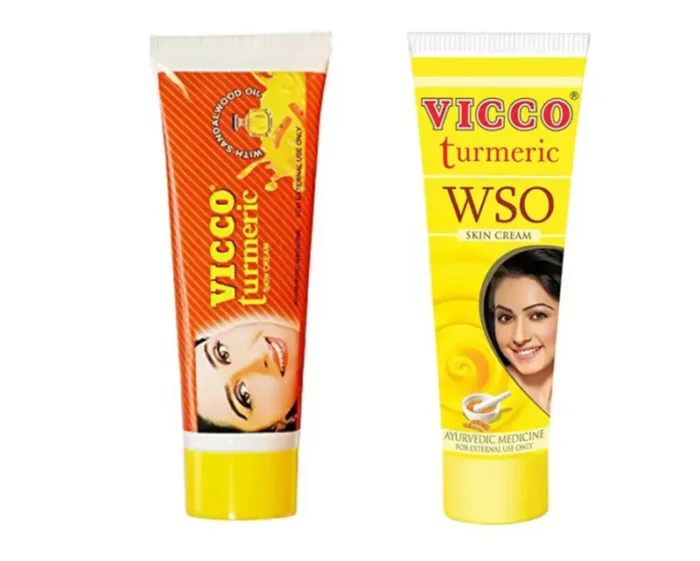 This is the most trusted and loved turmeric cream in the market. It's affordable, easily available, and brightens the skin amazingly well. The Vicco Turmeric Cream WSO contains 12% Turmeric which is highly effective in reducing pimples, fading acne marks, and pigmentation. It is the best turmeric cream to even out the skin tone and texture. It's Vegan and Cruelty-Free too.
The original Vicco Turmeric Cream contains 16% Turmeric which is much more potent than the WSO (Without Sandalwood Oil) version. However, we love the WSO version since it's non-comedogenic and gentler on the skin than the original.
Price: ₹30 for 15g
2. Soultree Anti-Wrinkle Cream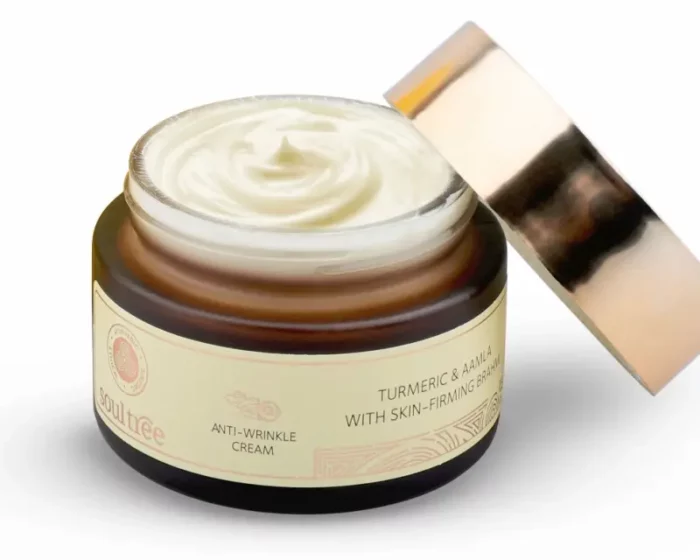 If you are looking for a luxurious, ayurvedic night cream, this is for you. This face cream from Soultree is made with a blend of precious healing herbs such as Turmeric, Amla, and Brahmi. These work on the visible signs of aging reducing the appearance of wrinkles. It also boosts the skin's radiance and makes you look youthful. It's a 100% Vegetarian product and a Certified Natural product.
Price: ₹1925 for 50g
3. Neutrogena Clear and Soothe Turmeric Moisturiser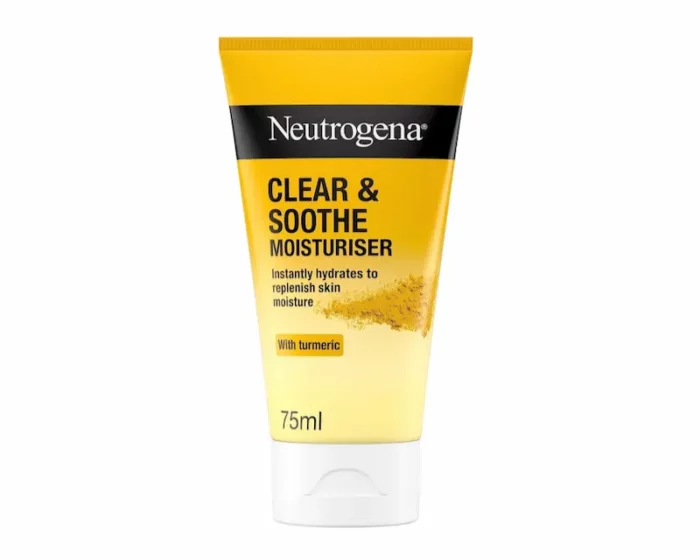 Coming from the Dermatologist Recommended Skincare Brand, Neutrogena, this is an excellent moisturizer for acne-prone skin. It's a lightweight, Non-comedogenic, oil-free gel-cream that instantly hydrates the skin. It soothes stressed skin and helps you to achieve spotless skin.
I wonder why this isn't popular. Some say it's discontinued but it's still available according to the brand's official website.
Price: ₹779 for 75g
4. Mamaearth Daily Glow Face Cream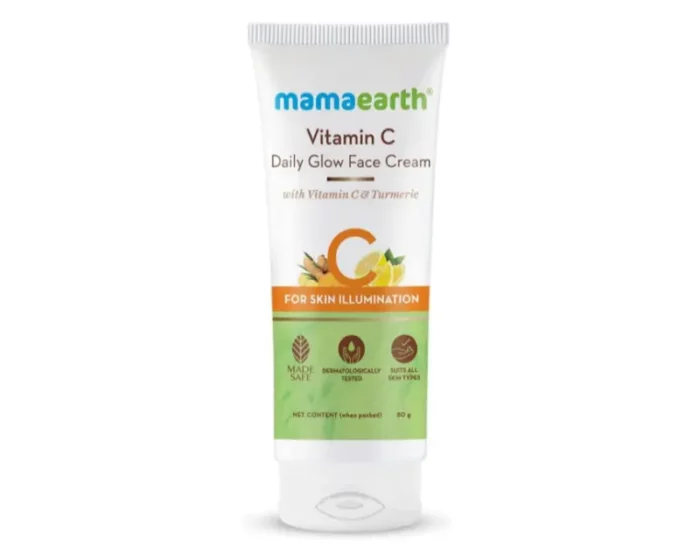 This is like your regular thick face cream. It's infused with some great ingredients such as Niacinamide, Vitamin C, Glycerin, and of course, Turmeric. It's meant to moisturize and impart your skin with glow and illumination. It's Made Safe Certified, so it's safe to use and doesn't contain harmful ingredients.
Price: ₹223 for 80g
5. Mother Sparsh Turmeric Healing Day Cream
This is a lightweight gel cream that beautifully moisturizes the skin. Ideal for normal, combination, and dry skin types, it is formulated with Gotu Kola, Aloe Vera, and Sandalwood. It soothes the skin with its cooling sensation and helps with fading dark spots and pigmentation. It eventually gives an even-toned skin.
Price: ₹285 for 40g
6. Jiva Turmeric Cream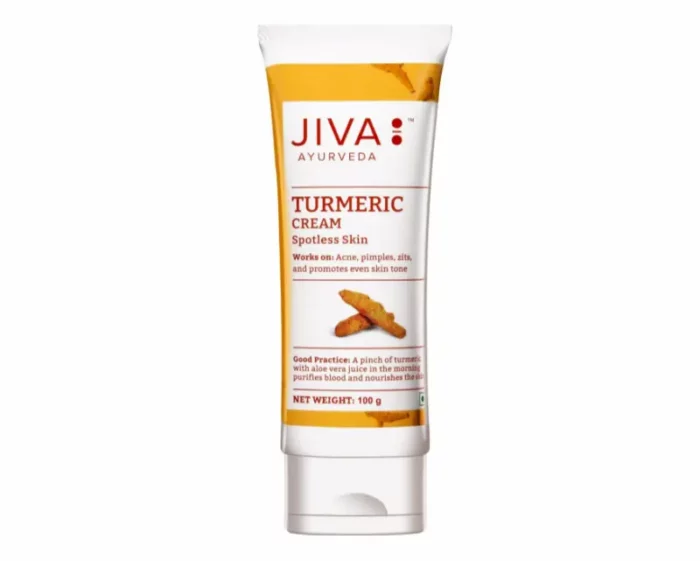 This is a non-greasy, mattifying turmeric cream that's similar to Vicco. It contains Neem Oil, Rosemary, Tea Tree Oil, Lemon, and Long Pepper. These are great for zapping zits, whiteheads, and milia. Someone with oily and acne-prone skin will like this cream.
Price: ₹235 for 100g
7. KP Namboodiris Turmeric Face Cream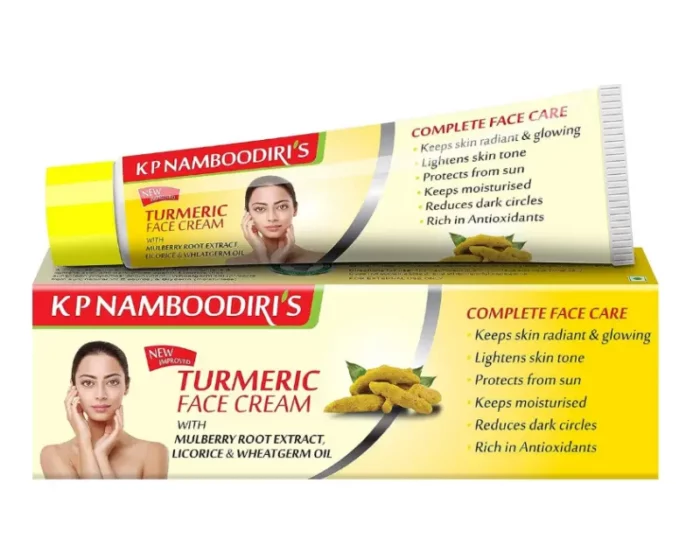 Marketed as a fairness cream, this turmeric cream is infused with Licorice Root, Mulberry Root Extract, and Wheat germ Oil, along with the star ingredient, Turmeric. It comes at a super affordable price making it the cheapest turmeric cream in the market. It is a thick cream but spreads effortlessly to give you a toned-up brightened skin.
Price: ₹50 for 50g
We hope you found the best turmeric cream that suits you.
Article References

Hollinger JC, Angra K, Halder RM. Are Natural Ingredients Effective in the Management of Hyperpigmentation? A Systematic Review. J Clin Aesthet Dermatol. 2018 Feb;11(2):28-37. Epub 2018 Feb 1. PMID: 29552273; PMCID: PMC5843359.

Nurficahyanti, Romadhania et al. "Anti-Acne Inducing Bacteria and Free Radical Scavenging Activities of Turmeric Rhizome Extracts Prepared Using Different Solvents." Planta Medica International Open 4 (2017): S1 – S202.

Sikora E, Bielak-Zmijewska A, Mosieniak G, Piwocka K. The promise of slow down ageing may come from curcumin. Curr Pharm Des. 2010;16(7):884-92. doi: 10.2174/138161210790883507. PMID: 20388102.

Vaughn AR, Branum A, Sivamani RK. Effects of Turmeric (Curcuma longa) on Skin Health: A Systematic Review of the Clinical Evidence. Phytother Res. 2016 Aug;30(8):1243-64. doi: 10.1002/ptr.5640. Epub 2016 May 23. PMID: 27213821.

Zaman, Shahiq uz & Naveed, Akhtar. (2013). Effect of Turmeric (Curcuma longa Zingiberaceae) Extract Cream on Human Skin Sebum Secretion. Tropical Journal of Pharmaceutical Research. 12. 665-669. 10.4314/tjpr.v12i5.1.

Srivilai J, Phimnuan P, Jaisabai J, Luangtoomma N, Waranuch N, Khorana N, Wisuitiprot W, Scholfield CN, Champachaisri K, Ingkaninan K. Curcuma aeruginosa Roxb. essential oil slows hair-growth and lightens skin in axillae; a randomised, double blinded trial. Phytomedicine. 2017 Feb 15;25:29-38. doi: 10.1016/j.phymed.2016.12.007. Epub 2016 Dec 20. PMID: 28190468.