Giving Gifts is akin to Giving Joy! Not only to the recipient but also to you, who purposefully chose something in the hope that they will like it. And you don't have to wait till Christmas to pick out the perfect gift set cause Anytime is a good time to gift, to show someone you care- be it family, friends, or co-workers. However, if you're having difficulty choosing gift sets for your loved ones, let us help! We've compiled a list of the best skincare gift sets. We've also mentioned who they might be useful to. Let's get right in then.
10 Best Skincare Gift Sets in India For Her & Him
1. Kama Ayurveda Daily Skincare Ritual Gift Box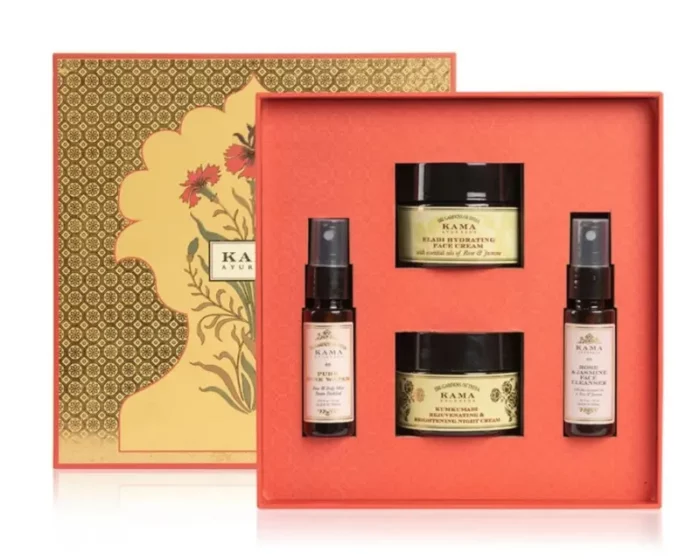 This Kama Ayurveda Gift package is ideal for folks who enjoy treating themselves to high-end skin care products or splurging your money (aka, your sister). The ultimate everyday skin care kit, the Kama gift set, which has its roots in Ayurveda, will be the epitome of lavish luxury for your younger sister.
What does it contain?
1. Rose Jasmine Face Cleanser
Wash away your stresses with this mildly scented gentle ayurvedic face wash.
2. Pure Rose Water
Smell like a gorgeous rose garden with this 100% pure steam-distilled rose water made from Kannauj Roses.
3. Eladi Hydrating Face Cream
Get ready to look prettier than ever with this rich intensely moisturizing natural face cream.
4. Kumkumadi Rejuvenating and Brightening Night Cream
Infused with the purest form of Kumkumadi Thailam, sleep tight and let your skin brighten overnight.
This is the perfect natural skincare gift set to gift for your bride-to-be sister or friend.
2. The Moms Co. Complete Care Gift Box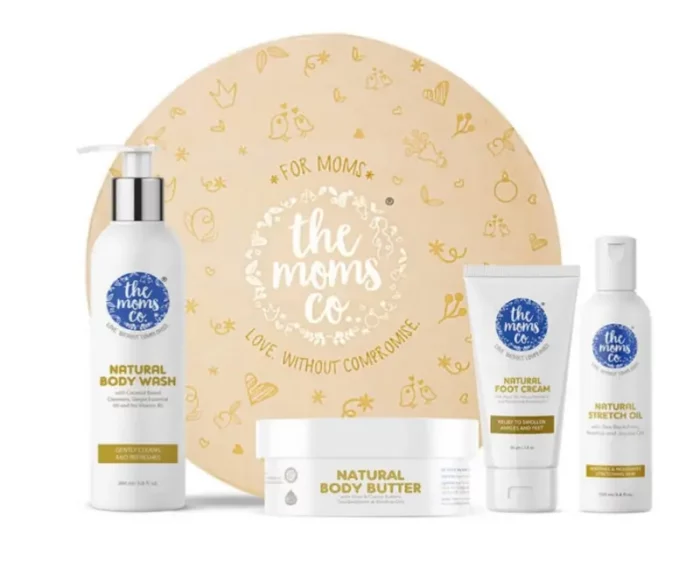 This lovely gift set is for all the expectant mothers out there. This gift set is going to let them know that even though it can be frustrating and challenging at times, we are always here for them. The Moms Co. Gift Set contains all the kindness and nutrition they could possibly need and is created with the most potent and safe ingredients.
What does it contain?
1. Natural Body Wash
Made with gentle coconut-based cleansing agents for softer, smoother nourishment and cleansing.
2. Natural Body Butter
Flex your skin with the intense moisturization of the rich Cocoa Butter and Shea butter-based body butter.
3. Natural Stretch Oil
On the Way to Being Wonder Woman with this natural stretch oil that increases skin elasticity and controls the formation of stretch marks.
4. Natural Foot Cream
Alleviate pregnancy-induced swollen feet and let yourself indulge in a foot massage with this shooting natural foot cream.
What makes it lovable is it's a complete gift set that is Australian Certified Toxin Free and is also allergy-tested, dermatological tested, and PETA certified cruelty free.
3. Mcaffeine Start Easy Skincare Gift Kit for Men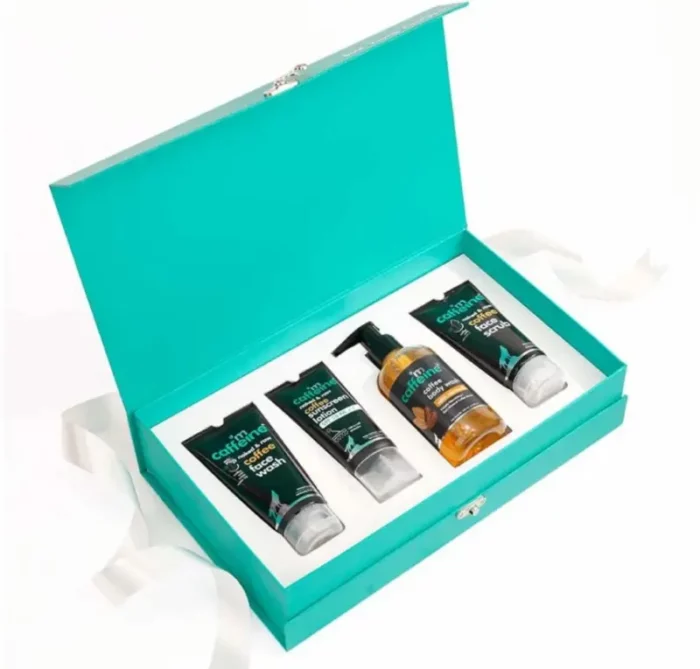 The time has come for you, Men! This starter set will make it simple for fathers, brothers, bae, or that buddy who has never ventured past soap to begin their skincare adventure. It's also nearly impossible to resist because of the delightful caffeine fragrance.
What does it contain?
1. Coffee Face Wash
Get rid of the dirt, and oil with its deep cleansing action and make your skin clean and clear.
2. Coffee Face Scrub
Scrub away dead skin cells and stubborn blackheads with this weekly scrub. Makes your skin super soft and glowy.
3. Coffee Sunscreen Lotion SPF 50
Protect your skin with this lightweight sunscreen lotion.
4. Coffee Body Wash with Almonds
Rinse your sins and start afresh with this nutty fragranced body wash.
4. Vilvah Gift Set For Her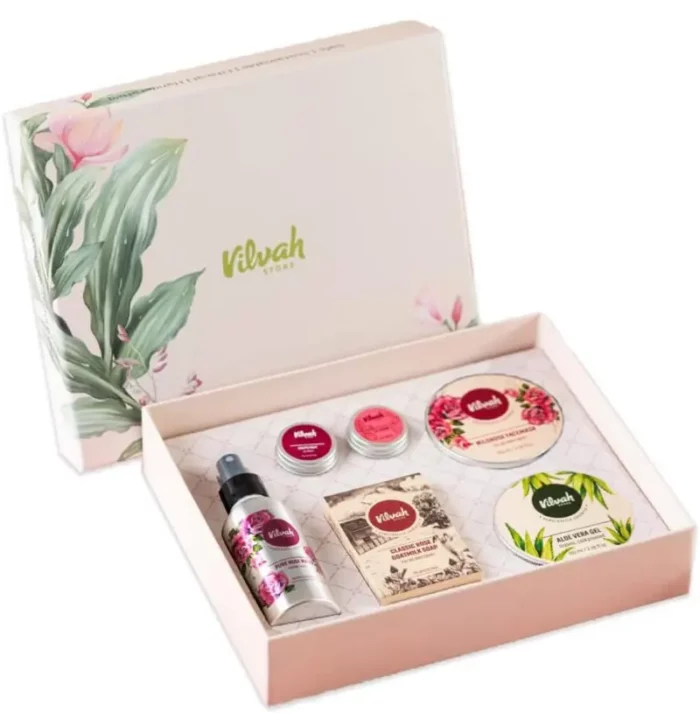 The Vilvah Gift Set is intended for her. We believe it is perfect for YOU! Gifting shouldn't always be reserved for others. Every once in a while getting yourself a gift is also important. This time, treat yourself to a gift that will serve as a reminder of your affection for yourself and as a reward for your hard work, such as the Vilvah Gift Set.
What does it contain?
1. Lip Balm
Make those lips plum plum with this tinted grapefruit lip balm
2. Lip Scrub
Take a moment to de-stress and relax your lips and tackle lip pigmentation with the lemon oil present in it.
3. Wild rose face mask
We know rosy soft skin awaits you when you use this soothing and calming face mask.
4. Rosewater Toner
Glow it up with this skin-regulating toner.
5. Classic Rose Goat Milk Soap
Rinse and shine with this classic hydrating and moisturizing goat milk soap
6. Aloe Vera Gel
Calm and soothe those nerves with this multi-purpose chemical-free aloe vera gel.
5. Dear Klairs Skincare Trial Kit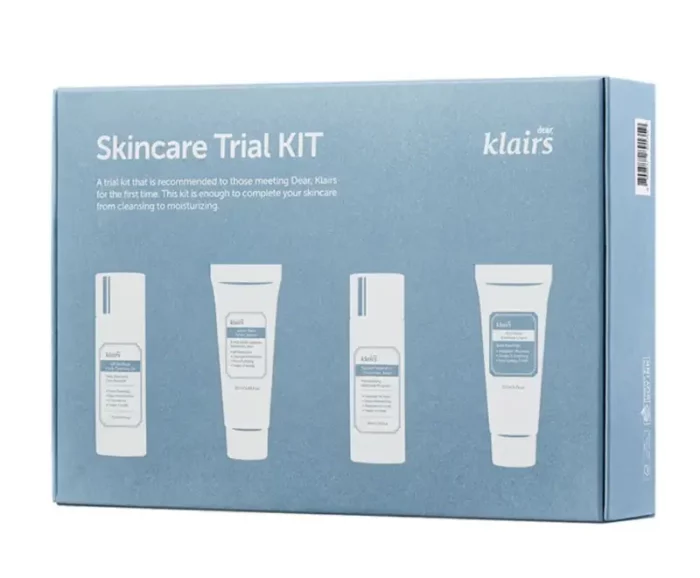 The perfect gift to introduce Korean skincare to your loved ones. Packed with a complete set of products, these Klairs Products help you to achieve glowing glass skin. The best thing – they are sensitive skin friendly. Well, you can gift this to yourself too – this makes a great travel-friendly kit.
What does it contain?
1. Gentle Black Fresh Cleansing Oil
Get away from pore-clogging impurities, sunscreen, and makeup with this deep cleansing oil.
2. Gentle Black Facial Cleanser
Double cleanse with this foaming cleanser for a refreshed and clean skin.
3. Supple Preparation Unscented Toner
Hydrate the skin with this award-winning essence-like toner. It soothes and gives you a healthy glow.
4. Rich Moist Soothing Cream
Lock in moisture into the skin with this ceramide-based soothing cream for long-lasting hydration and barrier repair.
6. The Exotic Korean Skincare Gift Set From Skinbae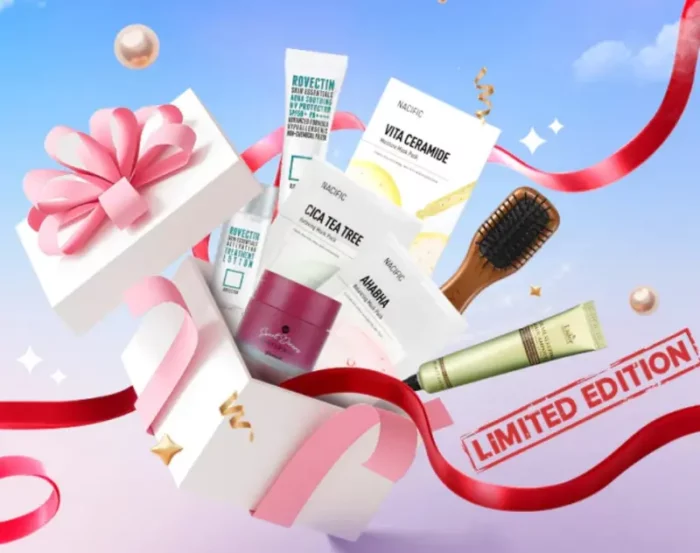 Treat your Korean skincare craze "chingu" with this exotic sampler kit containing products from Luxury Korean skincare brands. Filled with surprisingly unique and versatile products, this sure is going to be a treat and bring happiness to your loved ones.
What does it contain?
1. Rovectin Skin Essentials Aqua Soothing UV Protector SPF50+ PA++++ (10ml)
Protect your skin with this gentle, lightweight sunscreen. It's fragrance-free and absolutely a treat for sensitive skin.
2. Rovectin Skin Essentials Activating Treatment Lotion (15ml)
Boost your skin's hydration level with this power-packed toning essence. It works as an anti-aging product too.
3. Glowiest Sweet Dreams Berry Lip Mask (5gms)
Bring on that baby soft lips with this berry-fragranced leave-on lip mask.
4. Nacific Cica Tea Tree Relaxing Sheet Mask (30gms)
Perfect for a weekend boost – this regulates your skin's moisture and oil balance.
5. Nacific Vita Ceramide Moisture Sheet Mask (30gms)
Instantly soothe and brighten your skin with this calming ceramide sheet mask.
6. Nacific AHA/BHA Balancing Sheet Mask (30gms)
For a quick cleaned-up look, this exfoliating sheet mask will bring out the best.
7. Lador Snail Sleeping Hair Ampoule (20ml)
Repair your damaged locks with this lightweight leave-in treatment with Keratin and Collagen.
8. Lador Mini Wooden Paddle Brush
A great addition to this kit. Untangle your hair knots with this gentle paddle brush with nylon bristles.
7. Forest Essentials Luxury Gift Box For Him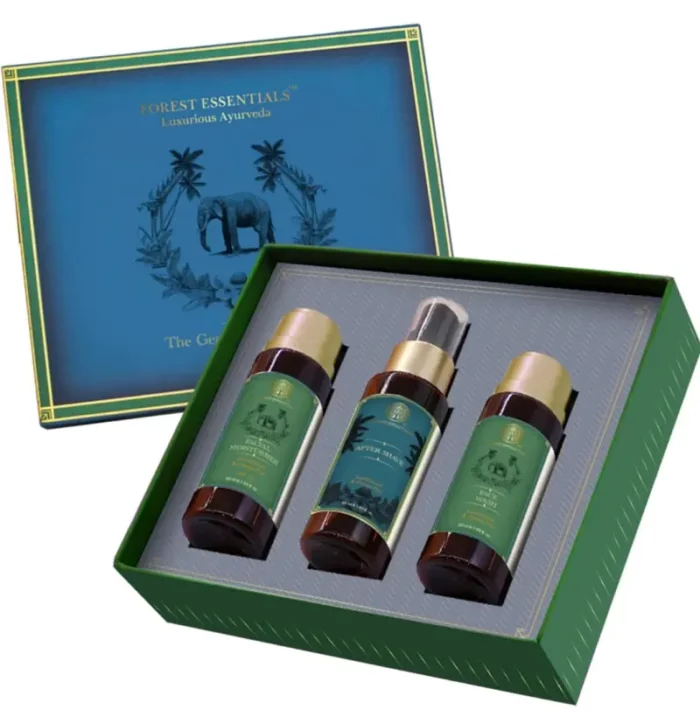 Sweep the men of your family with this luxury gift set. Curated with the best products from Forest Essentials, this would give a pleasant grooming experience for the men. It's perfect for all occasions – be it Rakhi or Anniversary. The smell is so good that one can't resist!
What does it contain?
1. Facial Cleanser Sandalwood & Orange Peel
For the perfect morning cleanse. Refresh and rehydrate the skin with this face wash.
2. After Shave Spray Sandalwood & Orange Peel
Perfect to calm down aftershave.
3. Replenishing Facial Moisturiser Sandalwood and Orange Peel
Keep them moisturized with this nourishing moisturizer.
8. Minimalist Glow and Protect Skincare Kit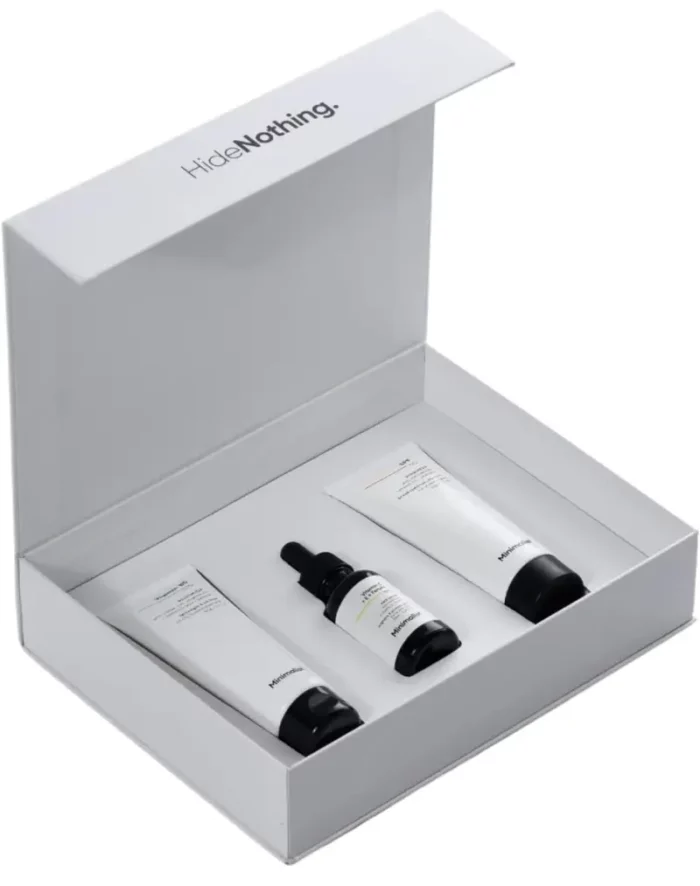 Gift the Protect and Glow Kit to your dearest In-laws. The glow and protect kit will work wonders for aging skin. This will make skin radiate. Its simple-to-use products will nourish and hydrate all kinds of skin.
What does it contain?
1. 16% Vitamin C Face Serum
Antioxidants save the day! And this Vitamin C Serum adds that beautiful glow to the skin.
2. SPF50 Sunscreen
Nothing's gonna work till we slather some sunscreen on. Protect the benefits of the Vitamin C serum with this lightweight, broad-spectrum sunscreen.
3. Vitamin B5 Face Moisturizer
End the day with this hydrating, and nourishing lightweight moisturizer that's also excellent for barrier repair.
9. Plum Daily Skincare Essentials Mithila Palkar Gift Kit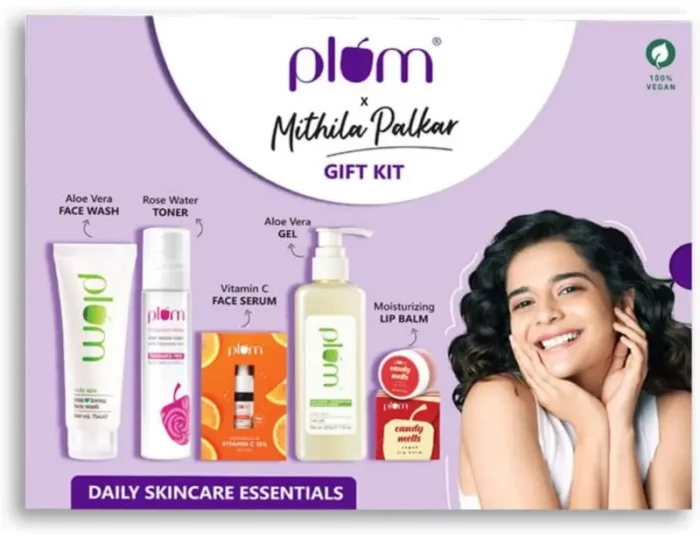 If your besties birthday is approaching, or even if it isn't, you should get her this gift set and let it empower her to enjoy every day as it comes. Also, the plum set is just as powerful and pure as your friendship.
What does it contain?
1. Hello Aloe Skin Loving Face Wash
Hello, hello beautiful skin! This is just the beginning.
2. Bulgarian Valley Rose Water Toner With Hyaluronic Acid
Spray it on and get on that glam bestie with this super hydrating toner with rose water and hyaluronic acid.
3. Plum Mandarin and Vitamin C 15% Serum:
Don't let the heat get to you. Use this Plum Serum for both antioxidant and anti-aging benefits.
4. Hello Aloe Just Gel
Calm your inflamed and irritated skin with the aloe. Say no to Sunburn!
5. Candy Melts Vegan Lip Balm Red Velvet Love
Kiss em' with kindness
10. The Body Shop Lather And Slather Juicy Strawberry Gift Bag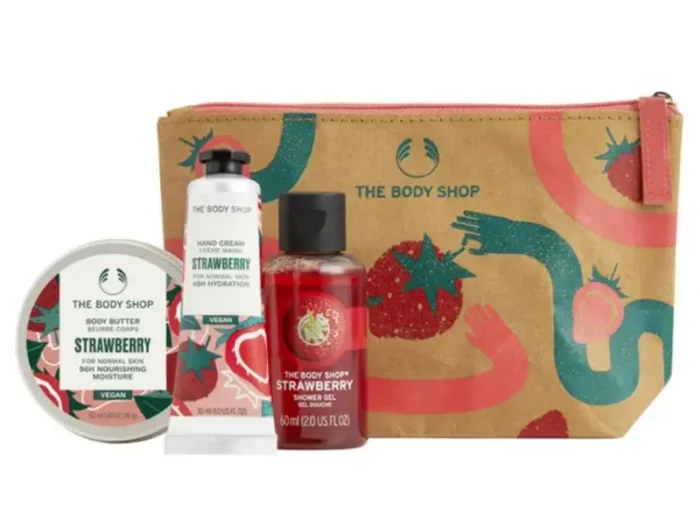 It's time for the bride! Or the groom! This gorgeous gift set is perfect for a newlyweds or someone who is about to get hitched. Considering how environmentally friendly The Body Shop is, this makes a great way to wish them a long-lasting, fulfilling marriage.
What does it contain?
1. Strawberry Shower Gel
Prepare for the battleground aka wedding hall with the beautifully fragranced shower gel.
2. Strawberry Body Butter
A new chapter of life awaits. Boost the smell of strawberries with this body butter.
3. Strawberry Hand Cream
For after-shaking hands with the gazillion wedding guest
Get one of these, and we're sure they'll be impressed, so what are you waiting for? Go on!