What is Licorice Root?
Licorice, also known as Jothi-madh and Mulethi in India, is an extraordinary herb for healing. Since ancient times, Licorice has been a crucial component of Chinese medicine given its calming effects. It is also widely used in East Asia and the Mediterranean to cure skin conditions and enhance the appearance of the skin. It has long been used in Indian cuisine, particularly in Kahwa teas to alleviate colds and sore throats. These days, due to its extremely high sugar content, it is employed in making desserts and sweetened beverages. It enhances flavor while also boosting the nutritional value of various foods and beverages. The benefits of Licorice extend beyond nutrition and health.
The scientific name for Licorice is Glycyrrhiza glabra. It has been demonstrated that Glycyrrhetinic Acid, derived from the Licorice root extract has strong antioxidant properties. That's basically how Licorice alleviates a variety of skin sensitivities, including dermatitis, eczema, skin discoloration, and age spots. Glycyrrhetinic acid will also aid in reducing pigmentation and improving skin tone since it works as a Tyrosinase inhibitor. With consistent use, it can fend off sun damage as well.
Benefits of Licorice Root For Skin
1. Skin Conditioning
Dipotassium Glycyrrhizate is a skin-conditioning compound found in Licorice root extract. It helps soothe the skin by reducing flaking, dryness, and redness. Therefore, it is commonly used to treat dermatitis, eczema, and other skin sensitivities.
2. Skin Lightening
Licorice includes two powerful substances that aid in skin lightening. Glabridin and Liquiritin; Glabridin suppresses Tyrosinase activity, while Liquiritin disperses melanin and consequently lightens the skin, confirms a 2019 research paper.
3. Pigmentation and Healing
Licorice root can help speed up the skin-repair process. It suppresses melanin, preventing scars from darkening and also lightening existing scars. Licorice also fights free radical damage and minimizes sun damage.
4. Maintaining Youthful Skin
Licorice root includes a flavonoid with anti-inflammatory and antioxidant properties, according to a 2019 research. This protects the skin from environmental damage and delays the onset of aging. Its ability to promote elastin and collagen formation in the skin results in soft, supple skin. Furthermore, Dipotassium Glycyrrhizate retains hyaluronic acid in the dermis for longer, which contributes to keeping skin hydrated and supple.
How safe is Licorice?
Licorice is quite safe and efficient when used tropically. But there are some restrictions when consuming Licorice. Like if you're pregnant, it's best to stop consuming Licorice, since Glycyrrhizinate may not be the ideal substance for fetal development, as proven by some studies. Also, If you have low potassium levels, you should consume it as little as possible because it can further drop potassium levels in the blood.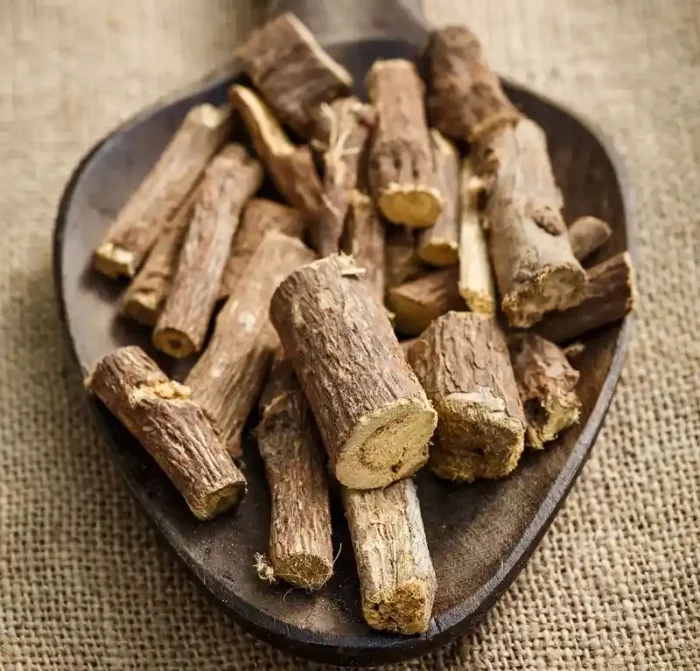 How to use Licorice Powder?
Licorice Powder, as it has been traditionally used on the skin, offers amazing skin-lightening and healing benefits. If you struggle with acne, have sensitive skin, or have any discoloration, you should give Licorice a shot.
Licorice Powder can be used alone or in combination with other ingredients to make some interesting face masks. And because Licorice is so soothing and delicate on all skin types, it is suitable for almost everyone. But you should always patch test first.
So here are the two most popular Licorice Face Masks. You can always alter the proportions and combine and contrast other ingredients.
Method 1: Exfoliating Licorice Face Mask
Step 1: Mix Licorice and orange peel powder in equal parts.
Step 2: Dilute the mix with water or curd.
Step 3: Apply the smooth paste on your skin gently, then wait for it to partially dry.
Step 4: Wash it away with warm water. For best results, slowly massage in circles as you remove.
This one is going to completely remove your tan. It will also exfoliate your skin lightly making it look smooth and supple. It works wonders for oily and acne-prone skin. For maximum benefits results, use it once every week for around two months.
Method 2: Licorice Brightening Face Mask
Step 1: Mix a spoonful of Licorice and a half spoon of sandalwood powder.
Step 2: Add a little milk or rice water to make a smooth blend.
Step 3: Apply it on your skin and wait for it to dry
Step 4: Remove it with warm water.
The effects of sandalwood on the skin are rather fascinating. It prevents fine lines, controls sebum production, and enhances the skin's natural radiance, it can also fight free radical damage. With this mask, your skin is going to be the brightest and smoothest. And this mask can be applied every day.
Skincare Products With Licorice Root Extract (Glycyrrhiza glabra)
We certainly encourage using Licorice powders in your regime, but it's not always easy to do the DIYs, so you can get some of the Licorice benefits on your skin with these wonderful products.
1. It's Skin LI Soothing Cream
If you frequently experience skin issues like acne, inflammation, or irritation, this cream should be in your skincare cabinet. It works wonders to hydrate the skin and keep it moist for a very long time. It's loaded with antioxidants and brightening ingredients that will work to heal your skin while making it more radiant and youthful with each application. And, yes, it is suitable for sensitive skin.
2. ACWELL Licorice pH Balancing Advanced Facial Serum Ampoule
Acwell has an entire Licorice range. We love this ampoule serum for its effectiveness. Containing 66% Licorice Water, it soothes, hydrates, brightens, and calms down the skin. Glutathione and Niacinamide help to lighten pigmentation marks. What we love the most is its lightweight texture that blends like a dream.
3. I'm From Licorice Soothing Cream
This is a lightweight, soothing moisturizer cream made with 58% Licorice ExosomeTM. The Licorice in it calms irritations and helps with fading pigmentation with its whitening function. Most of all, the cream is Non-comedogenic and is an absolute treat for acne-prone skin that's irritated.
4. Sulwhasoo First Care Activating Serum
This award-winning serum contains a variety of plant extracts to significantly improve skin tone and texture. It gives your skin a beautiful doughnut glaze look with each use. It combats pigmentation and skin unevenness. It's an excellent option for those looking to delay the signs of aging.
5. Kikumasamune High Moist Lotion
If you like milky toners for your dry and dehydrated skin, you'll like this Japanese lotion. With Dipotassium Glycyrrhizate as one of the ingredients, this lotion mainly consists of sake, a fermented rice ingredient that will not only brighten your skin but make it silky soft as well. Its lightweight texture makes it apt to be used all year round and can be used on both face and body.
6. Eminence Organic Skin Care Bright Skin Licorice Root Booster Serum
If you are looking for a hydroquinone alternative, but don't want to risk its side effects, this is a great product to try. Coming from the professional skincare brand, this Eminence Licorice Root Booster Serum aims to fade hyperpigmentation, brighten, and even out the skin tone. It's Organic and Cruelty-Free too.
7. Paula's Choice 10% Niacinamide Booster
This is a niacinamide-based Serum that targets pores while enhancing the skin's natural glow. It's also infused with Vitamin C and Licorice Extract for antioxidant and anti-inflammatory benefits. This is an excellent all-in-one product for skin brightening, pore tightening, acne control, and overall skin improvement.
8. 82°E Licorice Beam
This product from the celebrity beauty brand, 82°E, though expensive has garnered the eyes of skincare enthusiasts. This is a clear sunscreen gel infused with Licorice Extract, Rice Extract, Rosemary Extract, Ceramides, and other great ingredients. It has got new generation chemical filters and offers SPF 40 Pa+++.
If this piece piqued your interest, then you should go ahead and purchase your very own Licorice/Mulethi powder.
Article References

Mamedov NA, Egamberdieva D. Phytochemical Constituents and Pharmacological Effects of Licorice: A Review. Plant and Human Health, Volume 3. 2019 Feb 12:1–21. doi: 10.1007/978-3-030-04408-4_1. PMCID: PMC7123875.
Frattaruolo, L.; Carullo, G.; Brindisi, M.; Mazzotta, S.; Bellissimo, L.; Rago, V.; Curcio, R.; Dolce, V.; Aiello, F.; Cappello, A.R. Antioxidant and Anti-Inflammatory Activities of Flavanones from Glycyrrhiza glabra L. (licorice) Leaf Phytocomplexes: Identification of Licoflavanone as a Modulator of NF-kB/MAPK Pathway. Antioxidants 2019, 8, 186.
Ciganović, P.; Jakimiuk, K.; Tomczyk, M.; Zovko Končić, M. Glycerolic Licorice Extracts as Active Cosmeceutical Ingredients: Extraction Optimization, Chemical Characterization, and Biological Activity. Antioxidants 2019, 8, 445.