Maintaining a healthy scalp and haircare routine is as important as following a good skincare routine when it comes to achieving a healthy mane. Hair fall and dandruff are two of the most common hair problems. I wonder if there is anyone who hasn't suffered from them at least once in their lifetime. And I'm no different. With tons of hair products in the market targeting those concerns starting from shampoos claiming to reduce hair fall to hair growth serums that are infused with new age activating ingredients like Redensyl to bond repairing products that repair the damaged hair shaft, it always left me confused and overwhelmed. Despite this, my safest choice has always been hair oils. Oiling has been a part of my daily routine since I was a kid. So I always go for good quality hair oils. This newly launched Rosemary Oil from Mamaearth caught my eye so I thought why not give it a try – especially since Rosemary Oils have been quite popular to promote hair growth.
Read to know my thoughts on this Mamaearth Rosemary Oil.
Overview: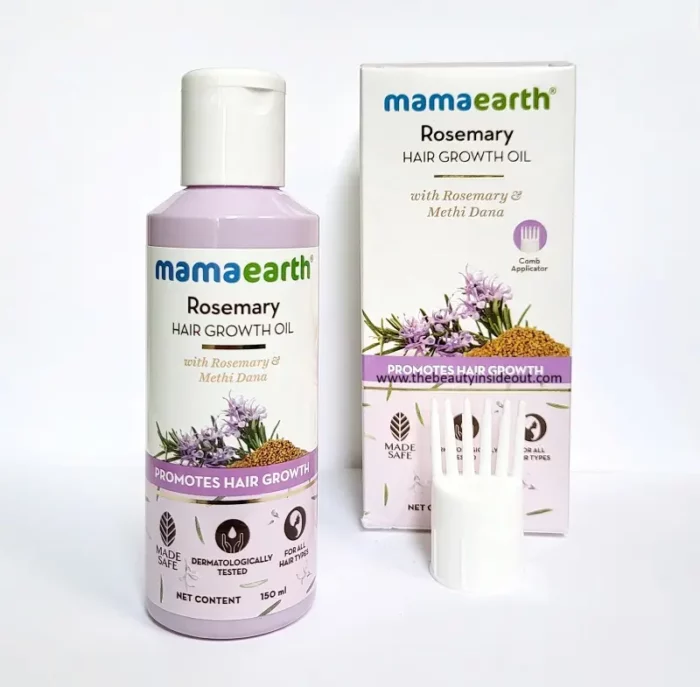 Mamaearth Rosemary Oil
Though there was no major difference in hair growth, I liked the lightweight texture and feel of the Mamaearth Rosemary Oil. It's a nice hair oil to keep your locks nourished and soft. The pleasant scent is an added bonus.
Product Description:
Mamaearth Rosemary Oil is packed with the goodness of Rosemary to strengthen weakened roots and stimulate hair follicles thereby promoting new hair growth. It is boosted by the Fenugreek Seeds (Methi Dana) to control hair fall. Curry Leaves and Bhringraj packed with essential nutrients further strengthen hair strands while nourishing the hair. The Mamearth Rosemary Oil is Made Safe Certified and is free of toxic chemicals.
Mamaearth Rosemary Oil Ingredients: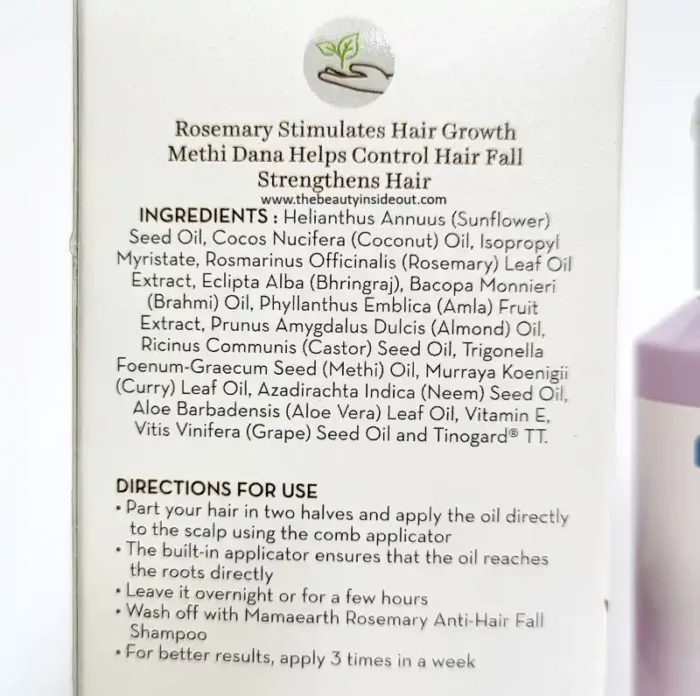 Ingredient Benefits:
Sunflower Seed Oil: Rich in antioxidant Vitamin E, Oleic acid, and Linoleic acid, Sunflower Oil is great for damaged hair. It imparts softness and shine to the hair.
Coconut Oil: Rich in vitamins and fatty acids, Coconut Oil is highly nourishing and it's great for severely dry and damaged hair. It replenishes dull, lifeless hair and also encourages hair growth.
Isopropyl Myristate: This is a common ingredient in skincare and haircare products. It's a 3-in-1 emollient, hydrator, and enhancer that moisturizes the hair, locks in moisture and enhances the performance of other ingredients.
Rosemary Leaf Oil Extract: Studied to be the natural Minoxidil alternative, Rosemary Extract is known to arrest hair fall and promote new hair growth. It's an excellent ingredient that tackles various hair problems.
Bhringraj: The age-old Ayurvedic herb has been used for centuries for hair growth. Apart from reducing hair fall, Bhringraj also darkens hair and is great for grey hair. It also helps with reducing dandruff.
Brahmi Oil: Brahmi Oil is good for thinning hair. It contains nutrients to support healthy hair growth. It also has a cooling and soothing effect.
Amla Extract: Rich in Vitamin C and antioxidants, Amla helps with hair growth and dandruff. It also makes your hair stronger and thicker.
Almond Oil: Almond oil has emollient properties and makes your hair shine. It helps to reduce frizz thereby reducing hairfall due to breakage.
Castor Oil: Castor Oil is a thick and viscous oil that is widely used for treating hair loss. It's great for dry scalp as it keeps them nourished.
Methi Oil: Methi is nothing but Fenugreek. It's rich in proteins and strengthens hair follicles. Fenugreek promotes hair growth, reduces dandruff, and adds shine and softness to the hair.
Curry Leaf Oil: Curry Leaves are rich in protein and beta carotene, which is excellent for making you stronger and preventing hair thinning and hair loss.
Neem Seed Oil: Neem has antibacterial effects and is great for treating scalp conditions. It helps with dandruff significantly.
Aloe Vera Leaf Oil: Aloe Vera is rich in vitamins and has anti-inflammatory properties that are great for calming scalp inflammations and irritations.
Vitamin E Oil: Vitamin E, has antioxidants that fight free radical damage and keep your hair protected from external factors.
Grapeseed Oil: It is a sealant and locks in moisture to keep your hair nourished and soft. Its lightweight texture is suitable for all.
Tinogard TT: It's an antioxidant by BASF, and is used in personal care products to increase stability.
How to use it?
Use it on clean dry hair.
Part your hair into sections and apply the oil directly onto your scalp.
Use the comb applicator for uniform dispersal.
Massage the oil with your fingertips for a couple of minutes for effective blood circulation
Leave it on overnight or wash it off in an hour or two.
The Rosemary Oil can be used every day or at your convenience.
Shelf Life: 24 months from the date of manufacture.
Price: ₹343* for 150 ml
Where to buy? Amazon.in
*price at the time of publishing
Mamaearth Rosemary Oil Review
Packaging:
The product build is similar to most hair oils – coming in a sleek plastic bottle with a flip cap that opens to a small hole dispenser. We get a comb applicator separately in the outer box – which we can attach it by unscrewing the flip cap. This comb applicator helps to apply the oil onto the roots directly to promote faster hair growth.
The packaging is quite sturdy and wouldn't open on its own, but it's still best not to travel with it as it contains oil. And if you plan to use the comb applicator, the oils do leak on the outside of the bottle.
What I like the most about the packaging is its appealing lavender-themed branding for this Rosemary Range. It's definitely aesthetically pleasing to at look it when it rests on my vanity shelf.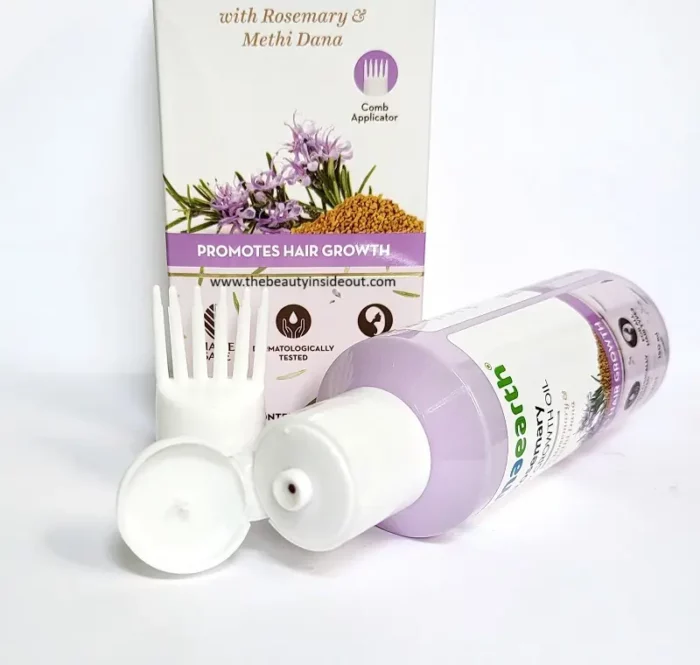 Color & Texture:
It's a clear oil – with no color or other residues inside it. The texture is light and medium to thin. It's not thick or heavy at all.
Fragrance:
It has a mild pleasant fragrance with notes of Rosemary. I have an aversion to strongly scented headache-inducing hair oils – like the Indulekha Bringha Oil and I'm glad this isn't like that. This oil has a very soothing scent and it's barely noticeable once the oil is applied on the hair.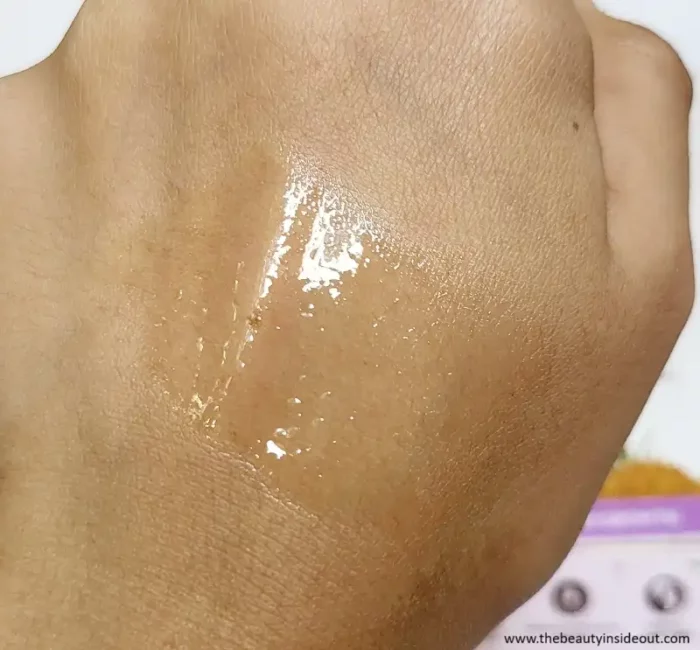 My Experience:
I've been trying out this hair oil for about two months now. And I'll be sharing my experience based on that.
About my hair:
I have fine straight hair that is a few inches below my shoulder. I have a hair fall and recurrent dandruff problem that needs to be taken care of regularly. My routine is shampooing once a week with regular shampoo and two weeks once with a Ketoconazole Shampoo for Dandruff. I oil my hair heavily before hair wash day and post washing I use a few drops of Argan Oil on damp hair. I don't use a conditioner as most of them weigh down my hair. If I have a lot of time, I like to whip up simple hair masks using kitchen ingredients. My favorite is a simple Fenugreek Seeds Hair Mask.
Application and Usage:
I found using the comb applicator to be the easiest and fastest way. It helps to disperse the oil evenly onto the roots, along with promoting blood circulation to induce hair growth. I like that the oil is light – it spreads easily and is not that sticky compared to other oils like coconut oil and castor oils. It's also fairly easy to wash off the oil with a shampoo. I don't need to shampoo twice. The oil definitely left my hair moisturized and nourished.
Results:
In two months of usage, it did help in reducing my hair fall to a certain extent. Not a major difference, but still noticeable. I also noticed some positive results on my dandruff – thanks to the presence of Methi Dana(Fenugreek). I'm yet to see its effects on new hair growth. I believe it might help with consistent usage. However, I do think that a Rosemary Essential Oil mixed with Coconut Oil would give better results when it comes to stimulating new hair growth.
Similar Products:
Soulflower Rosemary Lavender Hair Oil is a popular choice among consumers. It's made with Cold Pressed Oils, so if you want something that is available in its pure natural form, this is great. And it's also cheaper and comes in more quantity.
Summarising Pros and Cons
Pros:
Good packaging – comes with a comb applicator.
Lightweight hair oil.
Mild soothing fragrance.
Washes off easily.
Nourishes the scalp and hair.
Reduces hair fall decently.
Helps with dandruff considerably.
Takes care of split ends.
No tingling sensation or irritations caused.
Cons:
Slow results.
May not help with hair growth.
Would I recommend it?
If you are looking for light and pleasant oil to keep your hair strands nourished and soft, along with a little help for dandruff and hair fall, this is a nice one to try. It's also almost always available on sale, so you can easily get it at a lower price.
What do you think of the Mamaearth Rosemary Hair Oil? Would you try it?