Son & Park Beauty Water is a cult favourite Korean Beauty product. Seeing all the hype over this product, I was inclined to try it out. So I bought the smallest size from BeautyBarn Website. I always prefer to try out mini sizes (if available) in that way I'm not losing much in case the product fails to impress me. Anyways, I've been using this Beauty Water for the past two weeks now. Keep reading to know my take on this popular k-beauty product.
Product Description:
The Beauty Water is not just a cleanser but it mildly exfoliates with willow bark and papaya extract to help sweep away dead skin cells, revealing brighter skin tone and smoother texture. Lavender water, rose water, and orange fruit extract impart a subtle hydration so your skin can be prepped to absorb the next skin care steps, while adding in a bit of moisture.
Beauty Water can be used in the morning to create the perfect canvas for makeup application, midday as a refresher, and night after cleansing to whisk away remaining impurities. For normal, oily, dry, and combination skin types. Beauty Water has a pH of 4.5, effectively resetting the skin's natural pH after cleansing. Paraben free.
Son & Park Beauty Water Ingredients: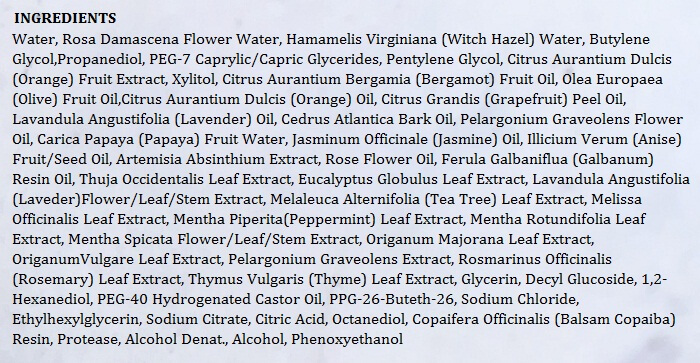 My take on the Son & Park Beauty Water:
To begin with the packaging, the Son & Park Beauty Water comes in a boring white see-through plastic bottle. For the price, the bottle quality does feel a little bit cheap although it convenient to use. The Beauty Water is available in various sizes. Since I choose the smallest one it is easy to travel with. The 340 ml biggest size is surely not very travel friendly. The full size does come with an outer card box with details about the product furnished on it which includes the ingredient list.
Moving on to the key features of the Beauty Water. The Beauty Water is a water like product which is colourless and very liquidy. It has a citrusy fragrance which is not overpowering to me but it maybe otherwise for some. The product didn't sting my skin or caused any irritation so far. It felt quite gentle on my skin. However it can be strong and sting if you use too much of product at once. I use only 2 to 3 drops per application. Also, please check the full ingredient list if you are allergic to any of the ingredients. Because it contains alcohol and other citrus fruit extracts which can be sensitizing for your skin.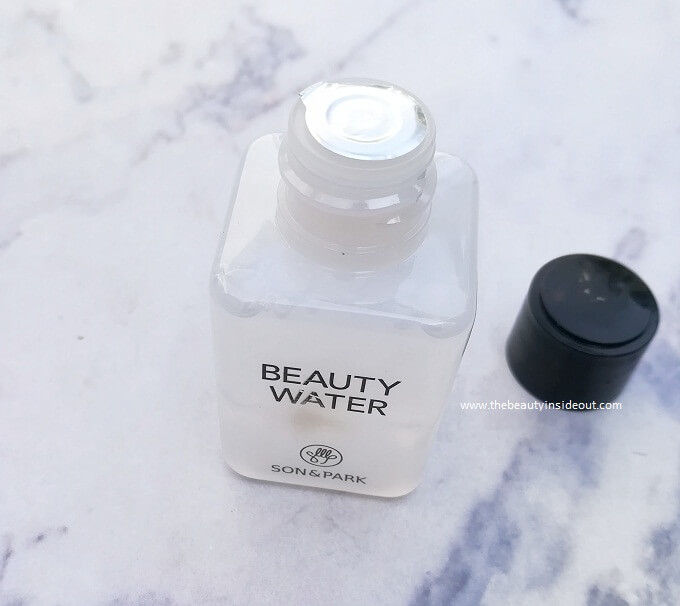 Coming to the performance of the product
As a cleanser: I tried using it as a cleanser taking a few drops of the beauty water in a cotton pad and swiping across my face. It did gently wipe out excess oil and dirt from my skin. But I didn't enjoy using this product as a standalone cleanser. I always feel like using a foam cleanser thereafter to give a squeaky clean effect.
As a makeup remover: The Beauty Water was able to remove light BB cream makeup easily. For my foundation I had to use 2 to 3 soaked cotton pads. And it definitely does not remove waterproof makeup or mascara. In my opinion it is not an efficient makeup remover.
As a toner: I loved it. Its effectiveness as a toner is great. I could see that it gently exfoliated my skin. Over a period of two weeks using it once a day in my night time routine, my skin looked visibly brighter. The rough texture on my forehead was smoothened out as well. The Beauty Water is not very drying despite containing alcohol but at the same time it is not very hydrating for my now dry combination skin. The Beauty Water contains exfoliating ingredients like Willow Bark and Papaya Extract so it shouldn't be used for the 7 Skin Method of layering of your toner.
As a freshener: I don't particularly like using toning waters with a lot of ingredients as a midday freshener. Because doing so, my skin breaks out a majority of times. I generally stick to organic rose water or plain hydrosols for refreshing purposes. I used this Beauty Water a few times as a fresher to test it out but I didn't really enjoy it. It didn't give a very refreshing feel nor is very hydrating as I said earlier.
Overall, I do acknowledge the hype of this product partially. I don't see this as a multipurpose product as claimed but as a highly effective toning water for brightening and evening out the overall skin tone. I wouldn't be getting the full size product mainly because of the alcohol content in it. But I will stock up the 30 ml travel size as a backup in case my skin craves for this beauty water sometime later.
Pros:
Available in multiple sizes.
Cleanses, exfoliates & preps skin.
Gentle on the skin.
Brightens and Even outs skin tone.
Smoothens skin roughness.
Mildly hydrating.
Removes light makeup.
Suits both oily and dry skin types.
Cons:
Contains alcohol & fruits extracts which may not suit all.
Price point.
Rating: 4/5
Would I recommend? Depends. If you are fine with alcohol and citrus fruit extracts, this will be a great addition to your skincare routine. It is a mild exfoliating toner that brightens and even outs the skin tone.