Coloressence was, once, a popular makeup brand. A couple of years ago if you had searched for herbal or 'natural' makeup, you would have landed to this brand. Lately due to the enormous arrival of new brands, Coloressence has totally gone unnoticed. I hardly notice a few of their counters in supermarkets. But Coloressence is still one of the most affordable makeup brands in India with some good makeup range, particularly for beginners and teenagers. I've had this Coloressence Aqua Makeup Base as a beginner. Let's see how this product works.
Product Description: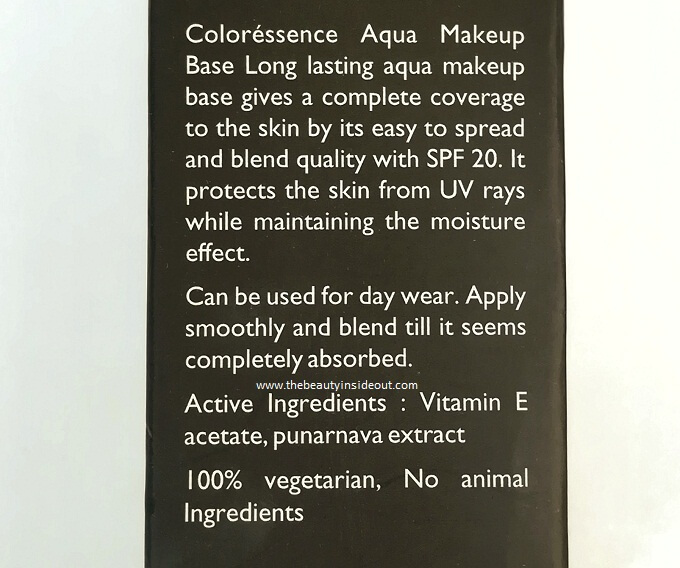 Shades:
Coloressence Aqua Makeup Base is available in 4 Shades
Pink – Fair pink undertones
Ivory – Fair yellow undertones
Beige – Medium Beige with neutral undertones
Brown – Dark beige with orange undertones.
Price: Rs.199 for 35 gms.
My take on Coloressence Aqua Makeup Base:
Packaging: Coloressence Aqua Makeup Base comes in a translucent plastic tube with a screw type. You just have to press the tube to get the product out. Overtime, the product gets a little bit messy over the cap. Anyhow the tube is handy and not too big which makes it easy to travel with. The tube itself comes housed in a black card box with all necessary details about the product furnished on it. No complete ingredients though!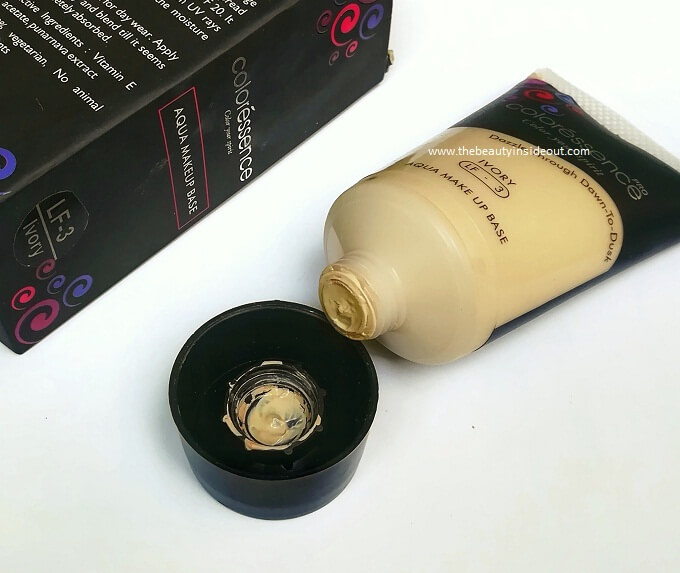 Shade: I have the shade Ivory, which has decent yellow tones. The shade is slightly light for me, but it oxidises after while and matches my skin tone.
Texture: The texture is thick, creamy and smooth. It is not an easily blendable formula. You cannot apply it without your fingers like some BB Creams. You will need a wet sponge or moistened brush to blend this product. Also, you need to blend really well for a good finish, otherwise it might look patchy. It's a creamy formula hence a little of the product is enough for the whole face making it cost effective.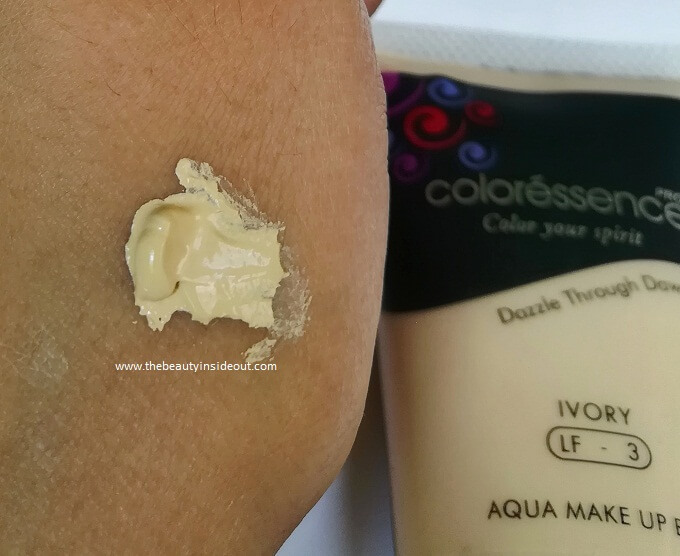 Fragrance: This has a strong fragrance which stays for quite a long time. I find the scent irritating which has notes of Clove Oil. The scent is same as their Panstick Concealer.
Coverage: This has sheer to light coverage. It doesn't hide dark spots or pigmentation but is able to even out the overall skin tone quite nicely, provided you pick the right shade.
Finish: The finish is quite different. It feels mattifying but looks dewy and glowing. The product has barely noticeable shimmers which gives the glowing finish. I like that actually. Mattifying plus Glowing Skin. However, my skin starts to become oil within 2 hours or so. Even sooner during the summers. So this isn't a great pick for very oily skin types. But still dry skin types should use a good moisturizer so that the product blends easily without sticking to dry patches.
Staying Power: The staying power averages 3 hours on me. By that time it slowly starts fading. It surely is not long wearing.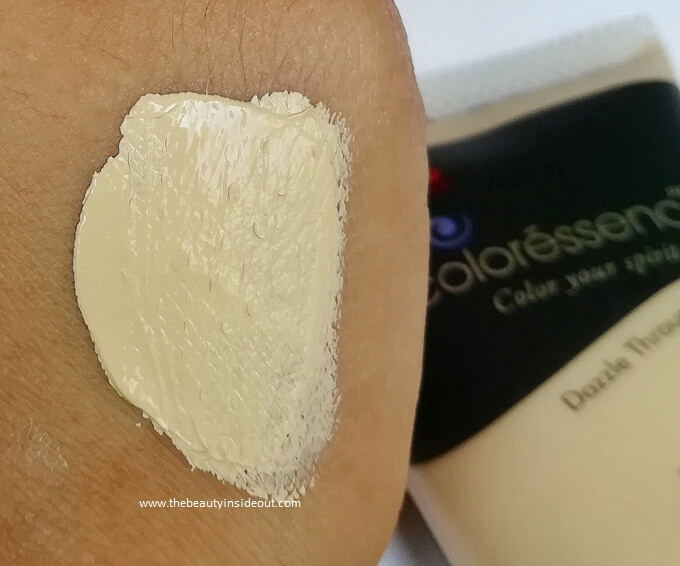 Pros:
Travel friendly packaging.
Budget friendly.
100% vegetarian.
Creamy and Smooth Texture.
A little goes a long way.
Dewy finish looks great on skin.
Has SPF 20.
Cons:
No full ingredient list.
Super strong fragrance.
Tend to oxidise, so it might look darker after awhile
Low coverage & staying power.
Difficult to blend.
Makes skin oily after sometime.
Rating: 2.5/5
Would I recommend? No. I can't stand the strong fragrance of this product, although the other aspects of this product are quite decent. The pricing does look affordable, but you could very well get a good BB Cream at almost the same price. Also the coverage and longevity is nothing like a foundation in this Aqua Makeup Base that makes a difference with BB Creams.