I've talked about Sebamed Products before on the blog. Sebamed is one of my favourite personal care brands. Their adult range products are really good especially for acne prone skin like mine. I'm impressed with their sensitive skin friendly and pH balanced formulations which are very effective as well. Today I am up with the Sebamed Baby Range of Products. I have four products with me, keep reading to know more about them.
1. Sebamed Children's Shampoo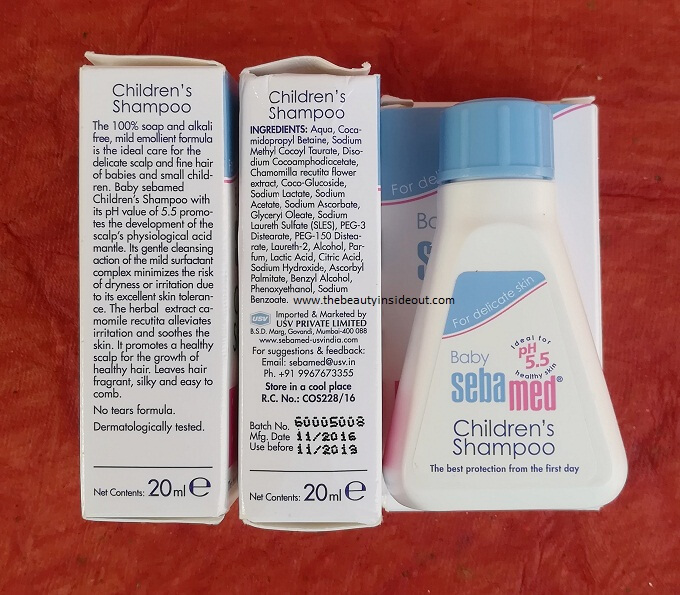 Sebamed Children's Shampoo is a 100% Soap Free, Alkali Free, 5.5 pH balanced and sugar based mild cleanser. It is mildly scented and mildly foaming therefore being very gentle on the scalp. It does not contain added artificial fragrance in it. The soothing chamomile extract in it alleviates irritation and promotes healthy scalp. The shampoo washes off easily and does not dry out baby's fine hair. The shampoo is paraben free and formaldehyde free. It is also tear proof hence does not irritate baby's delicate eyes. In short, Sebamed Children's Shampoo is a gentle hair cleanser that is well formulated to suit delicate scalp and fine hair.
2. Sebamed Baby Lotion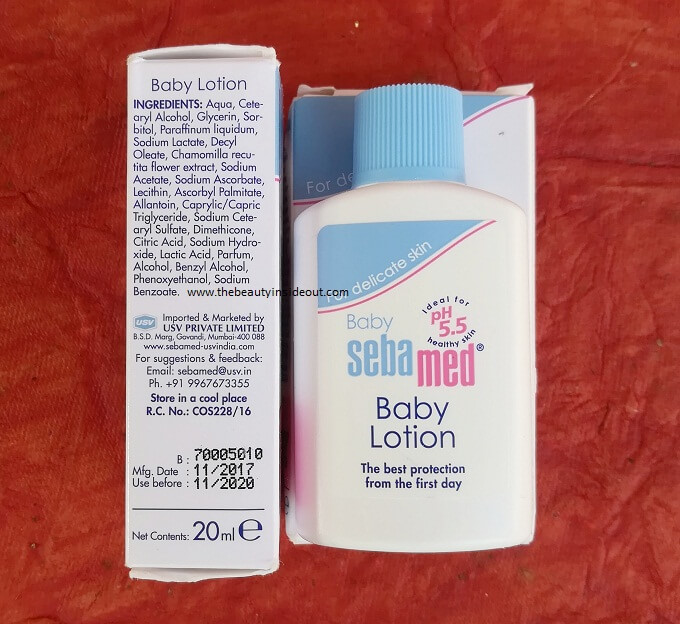 Sebamed Baby Lotion is your typical white colored lotion with a smooth medium consistency. It has a faint milky fragrance which stays on breezily for few hours and makes your baby smell nice. The lotion is fast absorbing and never feels greasy at all. It moisturizers baby's skin well and tackles dryness and roughness instantly. The Chamomile in it soothes irritation and Allantoin makes skin soft and smooth. In addition to that, Glycerin and Sorbitol in it prevents water loss thereby enhancing skin's moisture balance. Overall, Sebamed Baby Lotion is a nice baby body lotion which keeps baby's skin soft and healthy.
3. Sebamed Baby Body Milk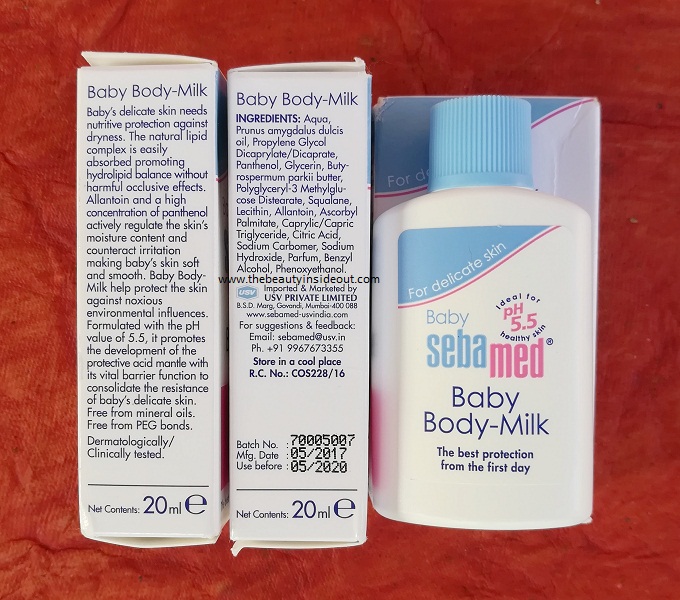 The Sebamed Baby Body Milk has a slightly more thicker formula than the Baby Lotion. It is also more nourishing but still leaves the skin moisturized without any greasy residue. Looking upon the brand's website I found out that the Body Milk has 24% oil content (which is why it is more moisturizing) while the Body Lotion has 6% oil content. I would suggest going for the body milk for drier skin types. It will also be a great choice for the winter season. The body milk has an almost negligible fragrance and is not the milky sorts scents, although the body milk gives a milky vibe with its appearance. The body milk fragrance is milder than the Body Lotion. Apart from that, the body milk has Sweet Almond Oil, Squalene, Shea Butter and Lecithin to safeguard skin against dryness. This body milk is free from mineral oils and PEG bonds. Overall, the Sebamed Baby Body Milk is a highly nourishing body milk lotion that would best suit baby's with dry skin.
4. Sebamed Baby Protective Facial Cream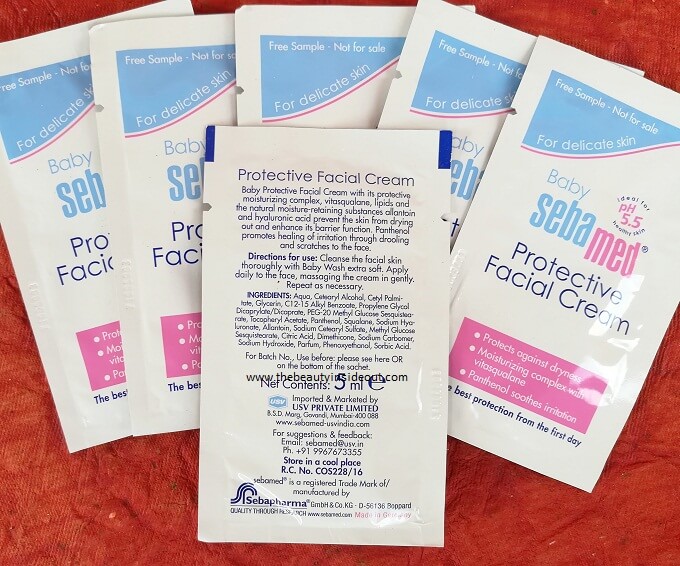 There aren't many facial creams that are made exclusively for babies. Most babies have dry skin which also includes facial skin. So this product comes as a savior. The Sebamed Protective Facial Cream is enriched with Vitamin E, Panthenol, Allantoin, Chamomile Extracts and Hyaluronic Acid. All of which are amazing skin beneficial ingredients that helps to tackle dryness and keep skin healthy. The facial cream is a thick white cream, thicker than the Body Lotion and Body Milk. It is also extremely moisturizing but doesn't make the skin greasy. It soothes skin irritations and protects against dryness. It can also be used on the body. In all, the Sebamed Protective Facial Cream has a lot of skin nourishing ingredients and imparts moisture into the skin relieving dryness.
Swatches of the Sebamed Baby Products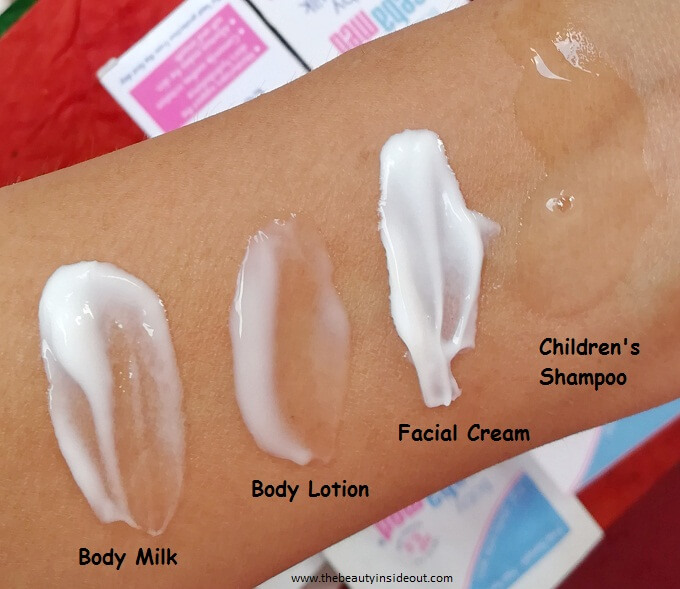 In a nutshell, if you are looking for gentle, pH balanced, not overly fragranced baby products, then you must check out the Sebamed Baby Products.