Today I am going to review Spoo Shampoo for Babies. It was prescribed by our pediatrician for our newborn. While I have tried many other baby shampoos in the past for my firstborn, I can to know about this shampoo just now. Apparently, this is a shampoo that's loved by many parents – that includes me now. I wonder where this gem was hidden till now. It's not widely marketed but it's the most recommended by doctors. Anyways read on to know my experience with the Spoo Shampoo.
Product Description:
Spoo Shampoo is a gentle, non-irritating, soap-free shampoo. It is emollient based, hence cleanses gently without drying the baby's scalp. Spoo Shampoo has a tear-free formula and is hypoallergenic.
Spoo Shampoo Ingredients: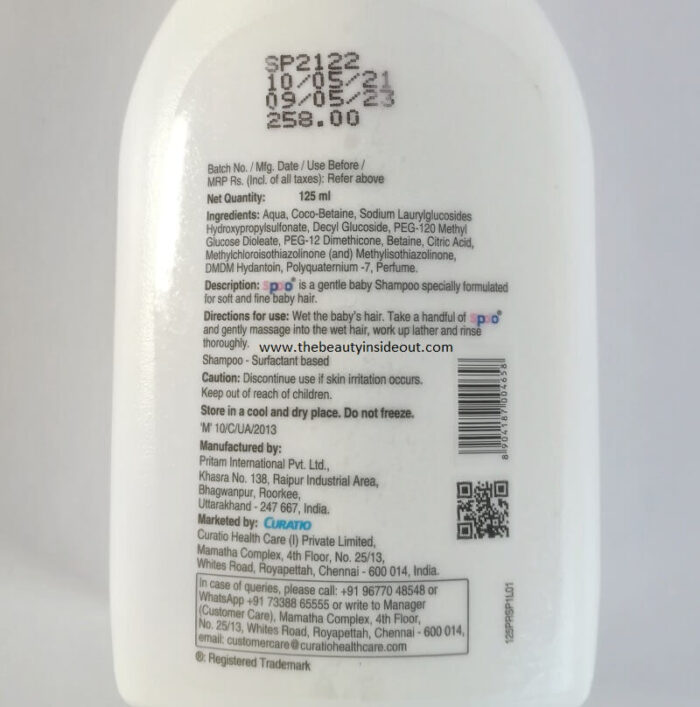 How to use Spoo Shampoo?
Wet the baby's scalp.
Take a small quantity and apply it.
Massage gently and lather up.
Rinse well and pat dry.
Spoo Shampoo Review
Packaging: Curatio's Spoo shampoo comes in a thick white plastic bottle. It has a pink-colored flip cap top that opens to a small nozzle that disperses the product out. The packaging is basic yet convenient to use. It does not leak but if you are going to travel with it, I suggest taping the top with a cello tape.
Like most products, all the necessary details about the shampoo are printed on the backside of the bottle. I am glad we can find the full ingredient list on the bottle itself, unlike many pharmacy products.
Color: It is a clear shampoo with a smooth texture. The consistency is medium, towards the runny side.
Fragrance: Spoo shampoo has a mild pleasant fragrance. I personally love how it makes my baby smell like a baby.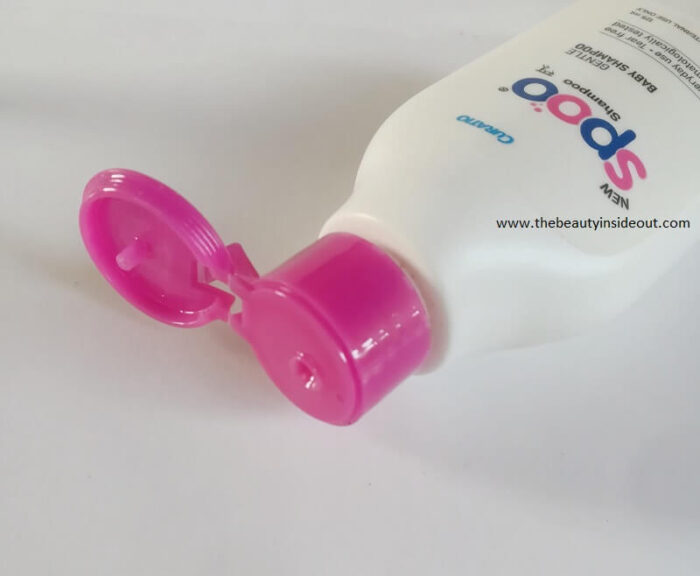 My Experience:
I've been using the Spoo shampoo for my baby for the past one year since my baby's birth. And we've been loving it. I use a coin-sized amount for each use. The shampoo is sulfate-free and uses mild surfactants. So it produces a soft and rich lather and cleanses the scalp well. It rinses off easily and leaves the baby's hair soft and smooth. It does not dry the scalp and is very gentle. It is a tear-free shampoo and doesn't irritate the baby's eyes in any way. Using this shampoo gives a soft fluffy bounce to the hair. The shampoo is said to maintain the pH level of the baby's scalp.
This is the first and only shampoo we've used and there was no reason to change it. Many pediatricians recommend Spoo shampoo for cradle caps in babies. This is much better than other baby shampoos in the market – such as Himalaya, Dove, Mamaearth, and Johnsons making Spoo shampoo to be one of the best baby shampoos in India. It's easily available in medical stores and one bottle lasts really long.
We did not experience any side effects from using this shampoo.
The age limit to use Spoo shampoo is 0 to 2 years – that is newborns and infants can use this comfortably. Post that you might need a more strong shampoo as toddlers' scalp can attract more dirt. In a nutshell, this is a must-have shampoo if you have babies at home.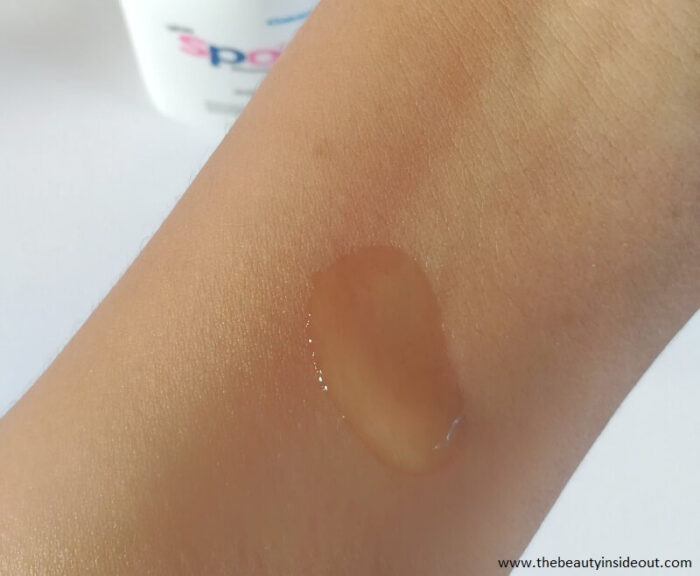 Pros:
Gentle for baby's delicate scalp.
Non-irritafing, TearTear free formula.
Sulphate free and Paraben Free.
Cleans and rinses easily.
Softens hair.
Smells really nice.
Suitable for every day.
Recommended by pediatricians.
Dermatologically Tested.
Cons:
Some might find the price is high. But one bottle lasts really long.
Rating: 5/5
Would I recommend it? Yes, this is a great baby shampoo that's used by many parents.
Have you tried the Spoo Shampoo? Share your experience with us.