Dove Soap is a household product for many of us. It's been used for decades across the world in many countries. Over the years, the brand may or may not have changed its formulation. So here we are with an exclusive review of it in 2022. We are also covering the usage of Dove Soap For Face in the post. So keep reading.
Dove Soap Claims:
Dove is not a soap. It's a beauty bar. With 1/4 moisturizing cream, this beauty bar cares for your skin leaving it soft and smooth.
Dove Soap Ingredients: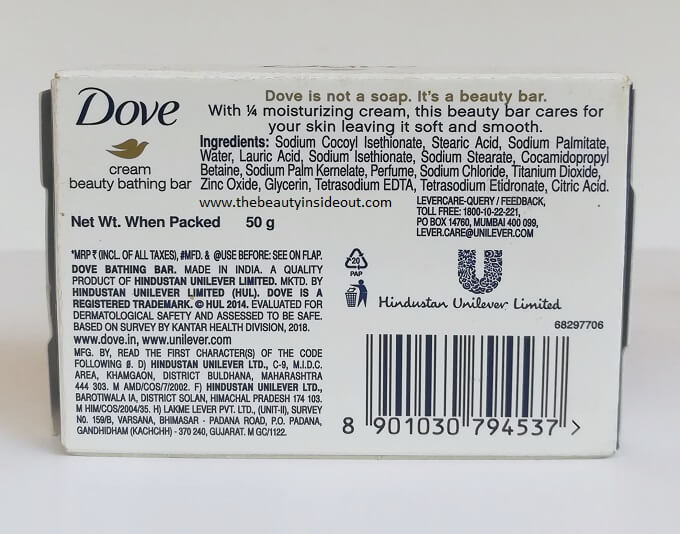 Dove Cream Beauty Bathing Bar Ingredients:
Sodium Cocoyl Isethionate, Stearic Acid, Sodium Palmitate, Water, Lauric Acid, Sodium Isethionate, Sodium Stearate, Cocamidopropyl Betaine, Sodium Palm Kernelate, Perfume, Sodium Chloride, Titanium Dioxide, Zinc Oxide, Glycerin, Tetrasodium EDTA, Tetrasodium Etidronate, Citric Acid
As you can see, it's a soap with minimal ingredients. It doesn't contain Alcohol, Sulphates, Silicones, or Parabens. There are some comedogenic ingredients that are not fungal acne safe.
Dove Pink Soap Ingredients:
Sodium Lauroyl Isethionate, Stearic Acid, Sodium Tallowate, Sodium Palmate, Sodium Isethionate, Lauric Acid, Water, Sodium Stearate, Cocamidopropyl Betaine, Sodium Cocoate, Sodium Palm Kernelate, Fragrance, Sodium Chloride, Propylene Glycol, Tetrasodium EDTA, Tetrasodium Etidronate, Red 4, Red 33, Titanium Dioxide.
There is not much difference between both in terms of ingredients. Except the pink variant contains added colors and the order of ingredients vary slightly.
Dove Soap Price:
Original: Rs.55 for 100g.
Pink : Rs.60 for 100g.
Dove Soap Uses:
Dove is a simple bar soap, precisely a syndet. A syndet is different from normal soaps. Syndets are made with synthetic surfactants that are derived from oils, fats and petroleum products and are manufactured in a different process than the regular saponification method. Syndets are said to be gentle and often recommended for sensitive skin types including babies.
Because Dove is a Syndet, its Total Fatty Matter TFM might not be greater than 60%. The TFM of the Dove Soap has not been disclosed by the brand to the consumers.
Dove Soap Review
Packaging: It comes in a standard carton that most commercial soaps come with. Inside it, the soap is wrapped in a plastic cover. The Dove Soap is opaque and white with the brand's dove symbol embossed on it. The outer carton has all the details that one would look for in a product.
Fragrance: It's Dove and so it has the classic dove fragrance. If you have used any Dove products you might know. You'll either love it or hate it. Personally, I love its clean and fresh scent.
Texture: It's a creamy soap bar with a buttery smooth feel to it. It forms a rich lather and gives a luxurious bathing experience. It doesn't melt away faster, like handmade soaps. But it can distort faster than other drugstore soaps, especially if you compare it with glycerine soaps.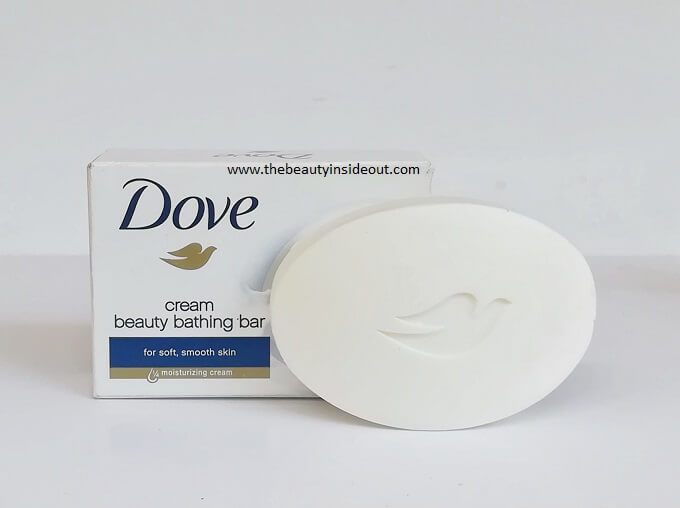 My Experience:
The Dove Soap makes a simple claim of leaving your skin soft and smooth with its ¼ moisturizing cream formula. While I believe that the purpose of soap is to just clean the skin and not serve as a moisturizer, the most I would expect is to not dry it out. And the Dove Soap does just that! This doesn't moisturize the skin. But cleans and leaves the skin soft without drying. I've used this as a body soap at various points of time in my life and my experience with it has been great. It's a basic, non-irritating gentle soap that's apt for my dry body skin. It should be noted that it can be a bit difficult to rinse off the slippery soapy residue if you have hard water in your place. Otherwise, it washes off easily with no problems.
Washing Face With Dove Soap:
I have used the Dove Soap on my face occasionally before with no issues. But I haven't thought of using it exclusively for my facial skin until recently. I learned that the Dove Soap has a pH of 6 which is closer to the acid mantle of the skin. Ideal pH is necessary to not disrupt the skin's moisture balance. So I started washing my face with Dove Soap.
I have combination skin with dry cheeks and an oily T zone. To my surprise, the Dove Soap worked amazingly well for me, with everyday use for more than a month. It cleans my skin well, in fact, it removes my non-water resistant sunscreen too. But doesn't dry out the skin. It leaves my facial skin fresh and soft.
Does Dove Soap Help with Acne?
My skin is moderately acne-prone. It no more breaks out with every product I try but some products can trigger acne outbursts. So I tread carefully with my skincare products. While I don't think the soap alone would heal or treat active acne or acne marks, the soap hasn't caused any new pimples on me. I am not sure how it'll work for someone with oily, acne-prone skin. This contains comedogenic ingredients. But if you are using drying acne medications, this soap should help a bit with the dryness.
Similar Products:
Cetaphil Cleansing & Moisturizing Syndet Bar and Bioderma Atoderm Intensive Pain Cleansing Ultra Rich Ultra Soothing Soap are two other popular face soaps that are similar to Dove. Both are more expensive than Dove though but are known to be better options.
Bottom Line
There is no doubt this is one of the Best Soap For Dry Skin. It definitely can be used on the face. It's pretty inexpensive and has immense potential to become one's holy grail product. In the worst case, it doesn't work for the face, it can easily be used for the body, leading to no wastage. Overall, the Dove Soap is certainly a product that everyone should give it a try at least once.