Choosing baby care products for our little ones is as important as choosing a name for them. Well at least for me! Even though I experiment with a lot of products on myself, I try to stick with minimal products for my little one as I do not want to experiment much and irritate my baby's skin. But recently after coming to know about Mama Earth Baby Care Products, I wanted to try them as they are toxin-free and safe for our baby. They are also Asia's First Made Safe™ Certified Brand which intrigued me more to try out their products

About Mama Earth :
Started by a couple Varun and Ghazal Alagh, we can say Mama Earth is a brand, by a parent, for the parent. A brand which develops products from world class research and attempts to solve every little problem that we as parents face. All products under the brand go through multiple testing processes including clinical dermatology testing in Europe to make sure they are high quality, global standard products. Apart from being safe as certified by external agency MadeSafe these products are also enriched with goodness of natural ingredients like Calendula Extract, Shea butter, Jojoba Oil to name a few. Mamaearth also plans to provide safe natural solution to problems ranging from morning sickness to baby colic in future.
My take on Mama Earth Baby Care Products:
Packaging: All three products I received, have a user friendly packaging and are designed specifically to attract kids with their adorable cute animal prints. I specially love the tiger sketch on the massage oil, its so lovable. The body wash and shampoo has an enchanting fish and elephant pictures respectively which I'm sure every kid would love.
Mama Earth Soothing Massage Oil: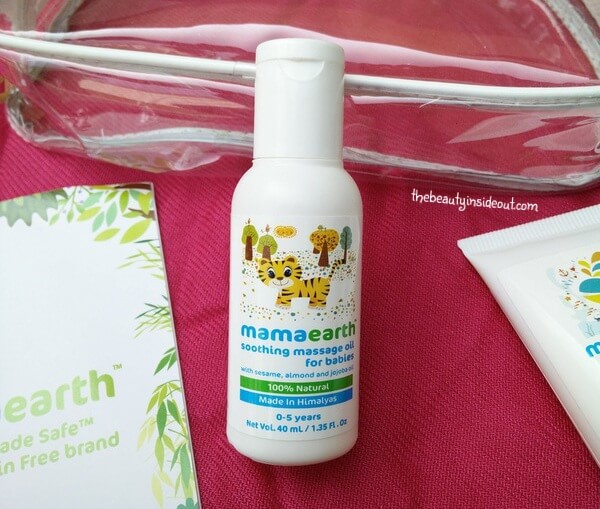 Mama Earth Soothing Massage Oil is made with a blend of pure Cold Pressed Sesame, Almond, and Jojoba Oil which are highly nourishing for our babies skin. I like the consistency of the massage oil, its not too thin or too thick. The medium consistency aids in giving some time to massage my baby which is what I prefer. I usually massage my baby before bed time to induce peaceful sleep and once the oil is massaged well, it leaves my baby's skin very smooth and healthy with no greasiness. Also I didn't notice any oil stains on my baby's clothes which rarely happens with other oils. After using this oil, my baby's dry patches on her thighs were completely gone. Also the massage oil has a soothing citrusy fragrance which makes the whole massage time even more soothing and calming.
Priced Rs.299 for 100 ml . It has a shelf life of 24 months.
Mama Earth Deeply Nourishing Body Wash for Babies: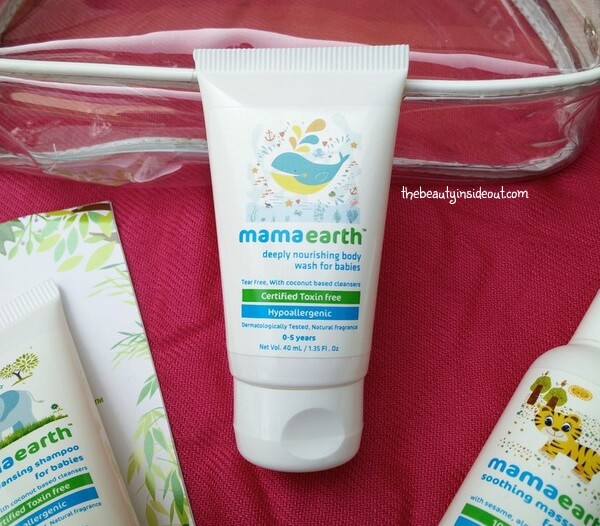 The body wash is made with coconut based cleanser and the formula is tear free, so once can use it for their baby with no second thoughts. It is also free from parabens, sulphates, mineral oils, phthalates, synthetic fragrance or dyes. The body wash is mildly scented, produces enough lather and gently cleansed my baby's skin. Since it contains Aloe Vera, it does not dry out the skin either and keeps it nourished throughout the day.
Priced at Rs.299 for 200 ml . It has a shelf life of 24 months.
Mama Earth Gentle Cleansing Shampoos for Babies: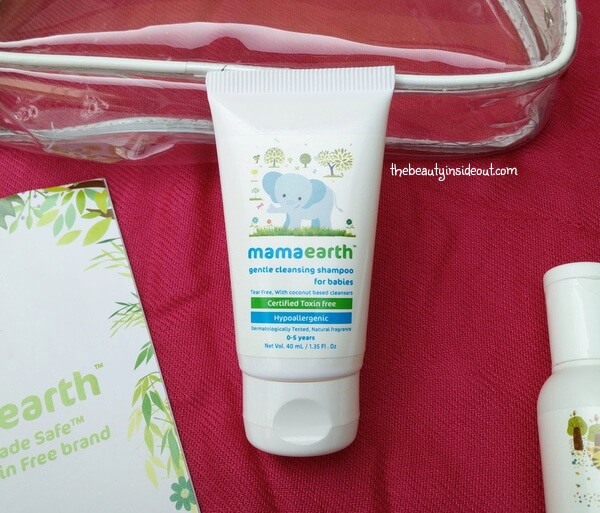 Mama Earth Shampoo is a toxin free, tear free coconut based cleanser which is absolutely safe for babies. It is a gel shampoo with a runny consistency and produces enough lather with a little quantity. The shampoo mildly cleanses my baby's scalp maintaining a balanced pH and leaves the hair soft and hydrated. The shampoo is formulated with the nourishing Jojoba Oil and made without sulphates, parabens, pthalates and synthetic fragrance or dyes. Again I love the fragrance, it's is mild and soothing which does not irritate my baby at all.
Priced Rs.299 for 200 ml . It has a shelf life of 24 months.
Overall, I loved all the three products for their gentle and non-irritating formula. Being made with only safe ingredients and without harmful chemicals adds more value to their products. I would recommend every parent to give these products a try. They also have a moisturizing lotion, sunscreen, diaper rash cream and insect repellent for babies. You can check them as well. All Mama Earth products can be brought from Amazon.in, Nykaa.com and FirstCry.com
So that was all about Mama Earth Baby Care Products. Have you tried these? Share your thoughts in the comments section below.
Until Next Time,
Stay Beautiful♥
*PR Samples but that does not affect my review and all opinions expressed are my own.