The moment you give birth to a little one, you are going to be showered with lots and lots of gifts from your friends and family. If you are in India, you are most likely going to receive a gift pack of baby products from Himalaya Herbals. Years ago, people would receive Johnson & Johnson products, but after the lost fame of the Brand, Himalaya Baby Products have grabbed that spot. Also, Himalaya Herbals have a variety of gift sets for newborns which makes everything easier. I was no exception, I was gifted a pack of Himalaya Baby Products as well by one of my close friend. I have also purchased and repurchased a few of them. For all those new moms and/or moms who are considering to buy them, here is a collective review of various Himalaya Baby Products.
1.Himalaya Baby Massage Oil Review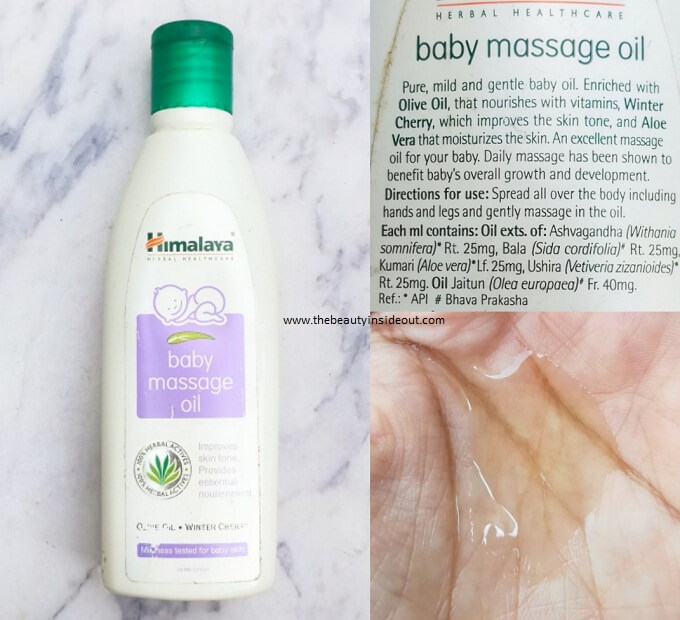 The packaging of the product mentions that it is an olive oil based massage oil with aloe vera extracts and winter cherry. But surprisingly the oil does not smell or feel thick as olive oil. It has a thin consistency and is pretty lightweight on the skin. It gets absorbed nicely into the skin without staining clothes. It does keep skin supple and nourished which is trait of most oils. This oil has a floral fragrance which is not my favourite kinds. But no doubt, this is an immensely nourishing massage oil. If you like fragranced oils on your baby, you might like this.
Rating: 3/5
2. Himalaya Baby Lotion Review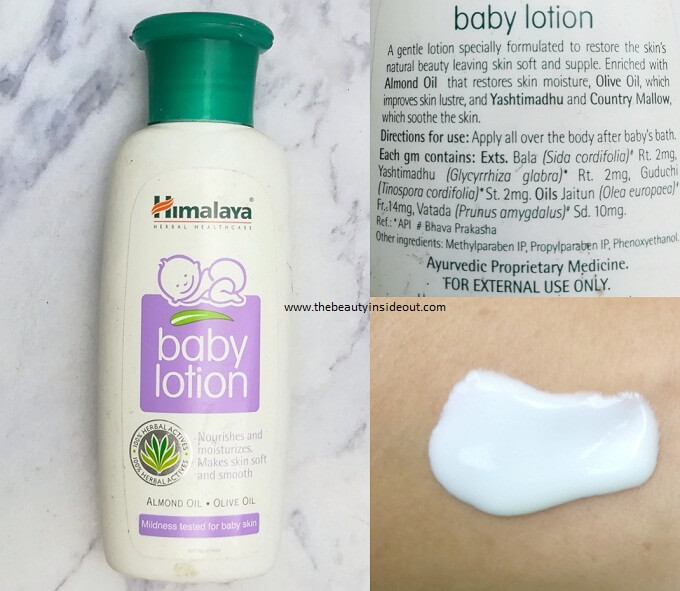 This is your typical white colored, semi-runny, lightweight baby lotion. It is fast absorbing and instantly tackles dryness by keeping the skin moisturized for the whole day. The smell is very refreshing and pleasing. The lotion is enriched with Almond Oil, Olive Oil, Licorice and other herbs to soothe the skin. But due to the presence of multiple parabens preservatives in this product I ended up finishing the product on myself and not on my kiddo. As a moisturizer, the product is good but the other aspects of this product aren't.
Rating: 3/5
3. Himalaya Diaper Rash Cream Review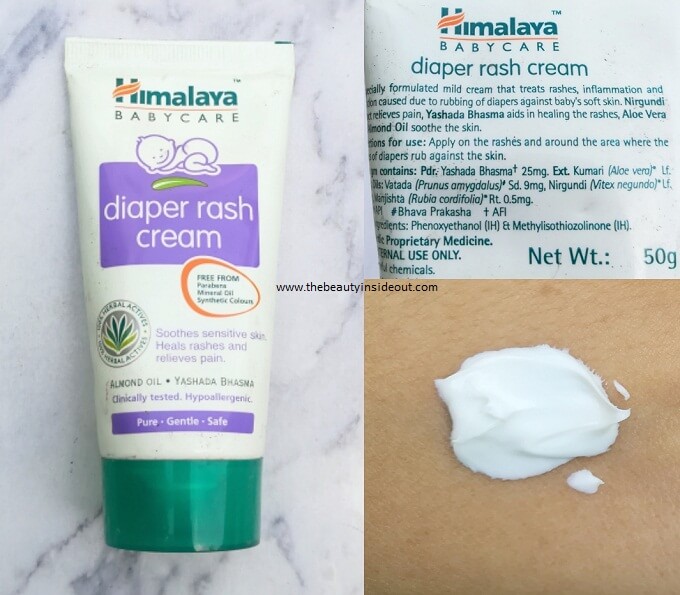 I always had this handy in my travel bag, because that's when she'll be on diapers most of the time. Thankfully we didn't get to use this much. In our journey of diapering, we only had two instances of mild diaper rash and this rash cream did help a bit, but not as comparable to Coconut Oil. This Diaper Rash Cream is made with great skin soothing Ayurvedic Herbs, but still works a bit slowly to heal the rash. It takes a couple of applications to heal the rash, whereas coconut oil is able to do it faster than this. The diaper rash cream is a thick white cream which can also be used as a preventive aid. Applying this before putting on the diaper will prevent friction between the skin and diaper thereby preventing diaper rash. This is an affordable product that works decently to heal diaper rashes.
Rating: 3.5/5
4. Himalaya Baby Powder Review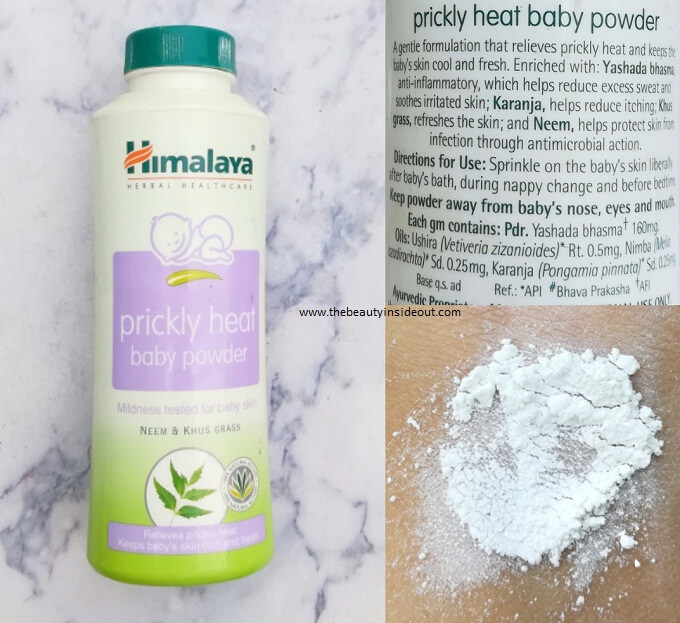 I don't generally favour the usage of powder for babies and kids after I came to know of the harmful consequences like respiratory problems. I used this baby powder only when we were visiting the family and also during the summers when the weather was very hot and sweaty. This powder helps to keep my baby sweat free, especially in the neck area where the excess sweat made her uncomfortable. So I apply there using a baby puff. What I like the most is the smell of it. It is really wonderful and has a typical baby scent. I solely love this powder for its scent. If you are into powders, you will love this one. I recommend using it with a puff dusting the excess before applying onto your baby and avoid using it on his/her face. If you are looking for a talc free baby powder, then mamaearth has one.
Rating: 3.5/5
5. Himalaya Gentle Baby Shampoo Review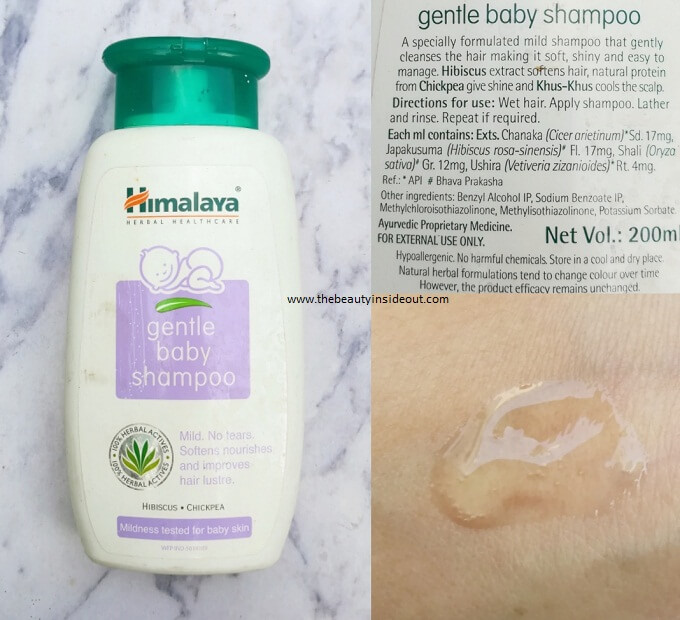 Probably the only product from the Himalaya Baby Products Range that I used up fully on my kiddo. Although I am not happy with the ingredient list, I compromised with this as it is a rinse off product and not a leave on lotion or cream product. This is a clear liquidy shampoo. It is mildly foaming and does not strip off moisture from the hair nor makes it dry. Rather it made my baby's already soft hair silky smooth. Ideally this shampoo will be suitable for babies and kids below 3 or 4 years as I can see it not cleaning so well as her hair kept growing thicker day by day. Indeed it is a very gentle and tear proof shampoo. I had repurchased this once.
Rating: 4/5
6. Himalaya Baby Wipes Review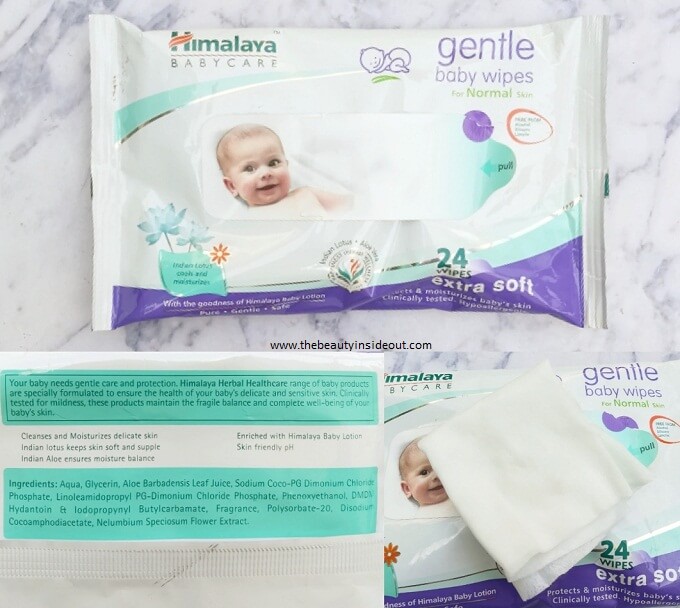 I didn't really like these much. I found them to be too soapy with too much of fragrance and with a not so good ingredient list for being a baby wipe. I used these to clean my baby's bum after poop on unavoidable circumstances like travel or so. I couldn't use them to wipe off hands or feet as with other wipes. Even if I did, I made sure to wash with water again. Although the fragrance is not alcohol-like, it is kind of overwhelming. These wipes cannot be used as makeup removers as well. Overall, since I prefer fragrance free products, I might not a repurchase this.
Rating: 3/5
7. Himalaya Baby Diaper Pants Review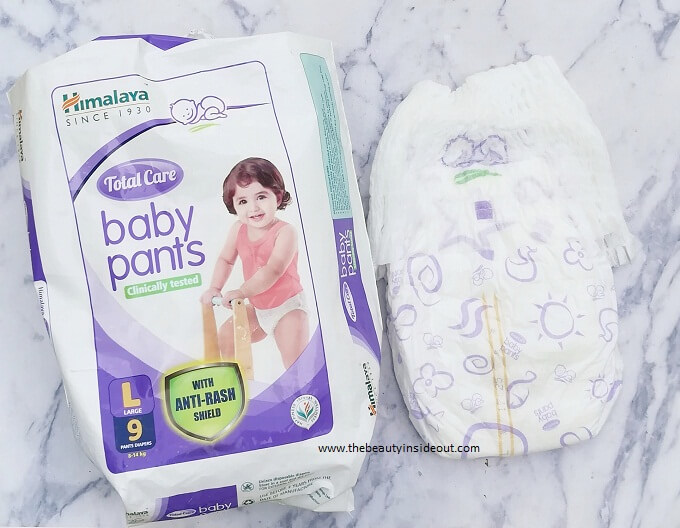 After trying out various popular diaper brands, I bought these to check how they fare. As my baby was growing up, I was looking for diapers that have good absorbency for the nights. The popular ones failed to keep my baby's bum dry and so is this one from Himalayas. This one is much lower in quality than others and made my baby uncomfortable. I'm glad that these didn't cause any diaper rash, but these are definitely not good for night time use. These are available in variable sizes such as S, M, L and so. Overall, these are average diaper pants. Not too good, not too bad.
Rating: 3/5
My Final Thoughts on Himalaya Baby Products
Efficacy wise, the baby lotion, diaper cream, massage oil, baby powder were all good enough for the affordable price it retails. Considering these are for baby, all of them have floral, herbal, synthetic mix of fragrances which some may not enjoy. I personally liked only the fragrance of the baby powder. If you are looking for fragrance free baby products, then Aveeno is the brand that you need to look for. They have a great Fragrance Free Baby Lotion which I sometimes use it on myself. Coming to the main concern, the failure to disclose the full ingredient list and also the presence of preservatives like parabens, phenoxyethanol, etc always make me think twice before getting any Himalaya Baby Products.