Youtubers Sam & Nic launched Real Techniques Brushes a couple of years ago. They instantly became the talk of the town for the quality of the brushes they offered. They have a whole range of brushes for base makeup, eye makeup and finishing brushes. I bought the Real Techniques Stippling Brush together with the Foundation Brush which I reviewed it last week on the blog. Today I'll be reviewing Stippling Brush for you guys. Firstly let's hear out what the brand has to say about this brush.
Product Description:
Our dual-fiber stippling brush is the trade secret for applying your makeup with airbrushed result.
2 bristle types and lengths distribute product for a feathery finish
Ideal for liquid or cream finishing product
100% cruelty-free

My take on the Real Techniques Stippling Brush:
Packaging: Do I even have to say? It's sleek and elegant. The color coding of the brush with pink handle and black matte bottom adds a classy touch to it. The base is flat which can be a plus or minus based on your preference. Some like that it is self standing but some like to place all their brushes in a brush stand. In that case, it will be difficult to store this brush with other brushes due to its wide base. The length of the brush is same as that of the Foundation Brush. It's not too long or too short. It is perfect to have good control over the brush.
The Real Techniques Stippling Brush is made of hand cut, ultra plush, synthetic teklon bristles. The brush is 100% cruelty free and no animal hair is used in the making. The bristles of the brush are black in color with the top part in white. They feel soft on the skin. The brush is densely packed and do not soak up too much product.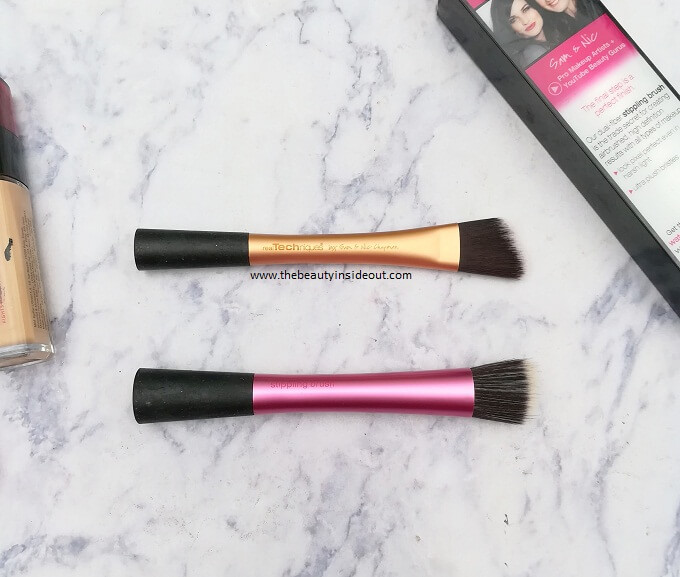 How to use the Real Techniques Stippling Brush?
Pink color coded RT brushes are supposed to be finishing brushes and are to be used for setting, bronzing and highlighting. But this brush is unique. It can also be used for applying your base with foundations and BB Creams.
You can either take a little of the product directly on the bristles of the brush or start with dotting the foundation on your face.
Then you will have to stipple, means you will have to use 'push the product into the skin' motion, rather than using circular or dragging down motions. Pushing in the product (stippling) will give you an air brushed finish. But using other methods has no harm too, just that the finish will be slightly different.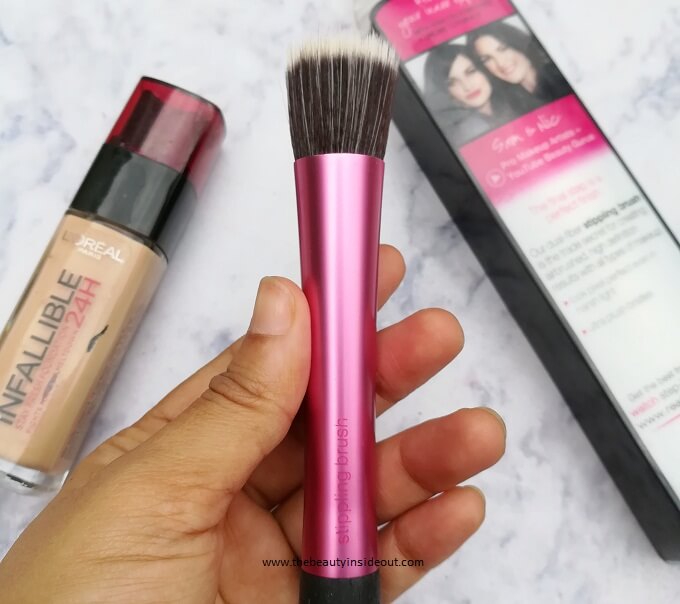 Applying the foundation with this brush is time consuming as the brush is not too big and you need to stipple for quite sometime to achieve the flawless finish. Sponges take much lesser time but are high maintenance since you will have to properly dry your soaked sponge after every use. So I find brushes to be more convenient. Also, the size of the brush is not that big of a flaw as this size is great for highlighting, bronzing and perfectly fits the apple of my cheeks to apply my blush.
The brush has great durability. I have washed it multiple times with oils and baby shampoos. I let my brushes air dry. I hardly noticed one or two strands falling out. The shape the bristles was also intact after many washes. Overall, it's a great brush to have in your makeup brush kit.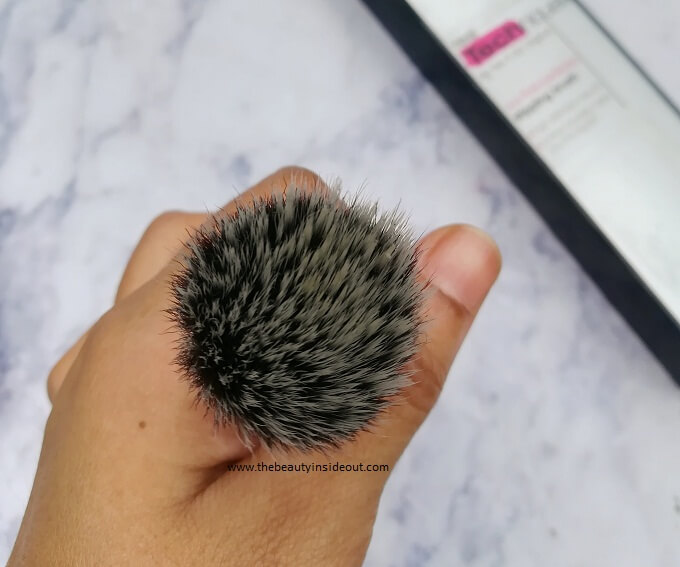 Pros:
Great Design and Packaging.
Ultra plush, soft bristles.
Cruelty Free.
Multi use – can be used to apply foundation, blush, bronzer & highlighter.
Does not soak up too much product.
Cleaning is easy.
Survived multiple washes with no shedding of strands.
Cons:
Pricey in India.
You need to learn how to use this brush (seeing YouTube videos helped me)
Rating: 4.5/5
Would I recommend? Yes. This brush is totally worth investing. If brushes are your go to, you will love this. It's soft, durable and gives amazing finish.