Having known that Sulphur is an acne reducing ingredient, I have always wanted to try a Sulphur based product. Unfortunately I have hardly seen any such products in India. The only one that I've seen few years ago was from the brand Proactiv (which has vanished from the Indian market now). I stumbled upon this O3 Sulfur Cooling Mask when I saw a couple of Youtubers prompting this product. So I just went to Nykaa.com and was analysing the product. I was surprised to see thousands and thousands of positive reviews on this product!! Is this product that good? I had my doubts. Because I've tried few other products from this brand and they were below average to me. Anyways, I decided to try this popular mask, so I bought the travel sized one.
The benefits of sulphur haven't been talked about a lot due to the limited products available. Sulphur is known to work like Salicylic Acid and is highly beneficial for oily acne prone skin. Sulphur helps to unclog pores, reduce excess sebum production and control acne breakouts. Sulphur also helps to heal active acne faster.
Product Description: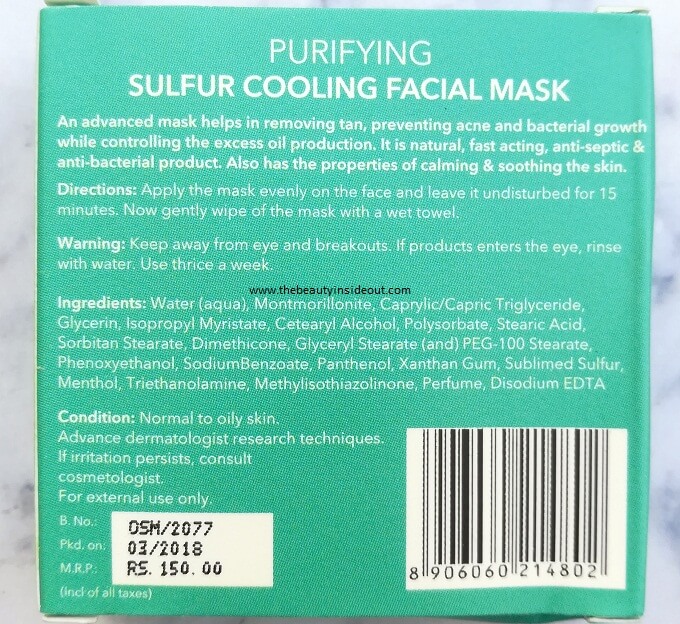 My take on O3 Sulfur Cooling Mask:
As you can see, the product comes in a small box packaging with the 5 gms mask inside a semi-circle plastic cup. You really don't have to carry the box while travelling. Because the plastic cup is sealed, so you can carry just that if you want. The packaging had necessary details and I don't have much complaints about the look or packaging. The full size product comes in a typical glass jar packaging.
The travel size has just enough product for one application. The mask has a creamy clay texture which spreads with ease on damp skin. The color is similar to Charcoal Masks with a greyish tinge. The smell? It's pungent. You will surely be reminded of chemistry labs. It was not overwhelming when I smelled it on the tub, but once I applied, it was not something that I liked.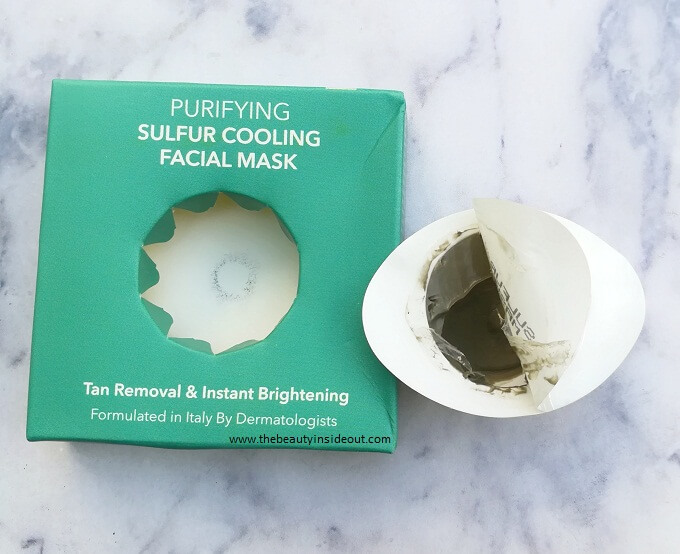 I patch tested this mask below my jawline before full application, as my instincts said this will cause me redness. I've developed sensitive skin in the past few months and 80% of the ready to use cream type face masks have caused me red face. There was intense cooling sensation on the applied area, something like minty cooling. The patch test didn't go well. When I wiped it off, the area had become red. So yes sensitive skin types should strictly stay away from this. I was glad that I didn't get the full size.
So I didn't use it on my full face on that particular day. I just closed the plastic seal and kept it on my shelf below other products. So practically it was closed, but wasn't sealed. After about 4 days, I tried it again, and the intensity of cooling sensation was reduced and there wasn't any redness too. I certainly believe air might have touched the product when I had stored it. Anyways, this time I applied on full face and kept it on for 15 mins. It didn't get dried up quickly and was still creamy moist on my skin when I removed it with a sponge. The mask wasn't very drying and gave a nice cleaned up effect, just like I have used a face mask. I wasn't impressed or disappointed, but I had a pleasing masking session. There wasn't any effect on the acne or marks. I don't know. I don't believe that a one time usage mask will do anything. To top it that, mine was exposed to air a bit. So I can't really tell if this is really effective. In any case, I am not interested in trying out this mask again. My sensitive skin cannot tolerate such intense cooling masks.
Pros:
Nice packaging.
Available in two sizes.
Easily spreadable texture.
Gives a cleaned up effect.
Skin looks and feels nice after masking.
Does not dry out the skin too much.
Apt for oily skin types.
Cons:
Costly.
Not for sensitive skin.
Pungent smell.
Rating: 2/5
Would I recommend? Definitely not for sensitive skin types. Others may try it out. But personally I don't think it's worth the money. In my opinion, Mamaearth Charcoal Mask has a similar effect, is priced lower than this and is a much better option.