When someone says Real Techniques Foundation Brush, the image that'll cross your mind is the Real Techniques Expert Face Brush. It was like that for me too. So when I asked my acquaintance to pick up the foundation brush, I was surprised to receive this. It wasn't the buyer's fault, but this brush is the only one that is actually named as The Foundation Brush, hence the confusion. Anyways, I've had this accidental buy for three years now and let me share my thoughts on this product.
Product Description:
Our foundation brush helps you layer on product for a more opaque base and a full coverage finish.
Classic style with an angled cut
Ideal for liquid foundation
100% cruelty-free
How to clean the Real Techniques Foundation Brush?
Clean weekly with our brush cleansing gel for improved brush performance
My take on Real Techniques Foundation Brush:
I own the Stippling Brush & the Miracle Sponge from RT and I'll have to say this foundation brush is the least favourite among the three.
The build of the brush is nice, sturdy and has an appealing look. It has a flat bottom base, so it is self standing and don't require a brush stand. I like how all RT brushes are colored coded, as in, the base brushes are orange, the eye brushes are purple and the finish brushes are pink colored.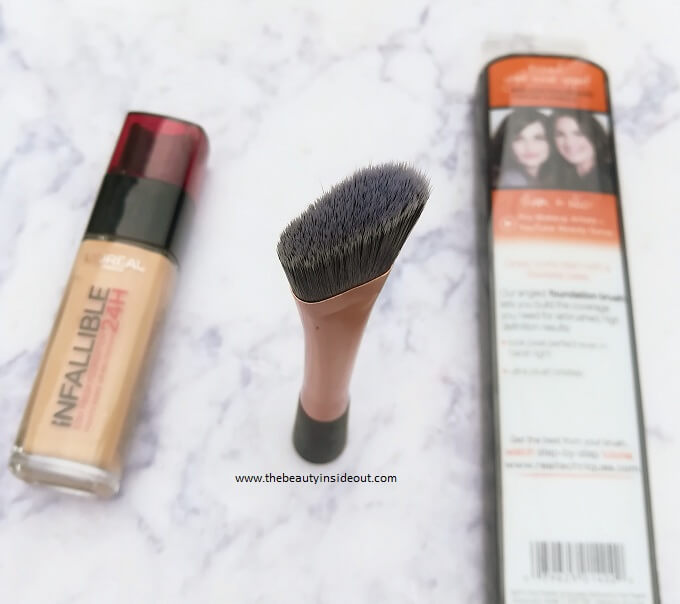 This foundation brush is not too long. Long brushes tend to have lesser control. This one has just the right length to handle and is much easier to control for blending the product. As you can see, this is a flat, slightly angled brush and so you get the painting your skin feel rather than buffing or pushing the product in to the skin.
The bristles of this brush are very soft, not too flexible but feels nice & smooth on the skin. The bristles are densely packed, but not the super super thick. The width of the brush is small, so it is time consuming for application. But the purpose of it being small is to cover every nook and corner easily like the sides of your nose, under your lips, bridge of the nose.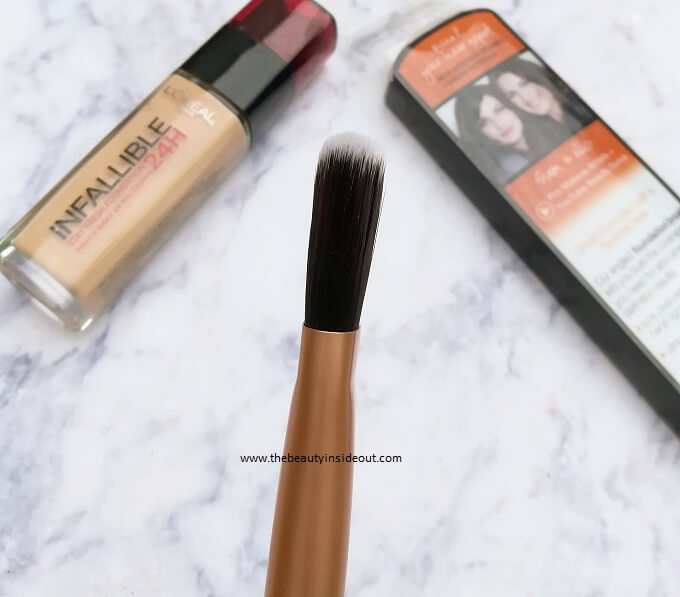 The synthetic bristles of the brush does not soak up lot of product and gives great coverage compared to the sponges. But on the downside, this brush leaves noticeable streaks with some liquid foundations and is a major let down to achieve a flawless base. I have to always use a sponge or other tool after using this brush for the best finish. This alone is not sufficient for a flawless base. Since this is an angled brush, you can also use it for contouring. I haven't tried it though.
The Real Techniques Foundation Brush is durable and long lasting. I have washed it many times and I haven't noticed much shedding. The bristles are still in good condition. They also dry up faster than other brushes, after washing them. Overall, this can be an additional tool for the makeup experts but is not a much needed or effective tool for beginners and for basic makeup application. This is considered a budget friendly brush if you buy it from the US.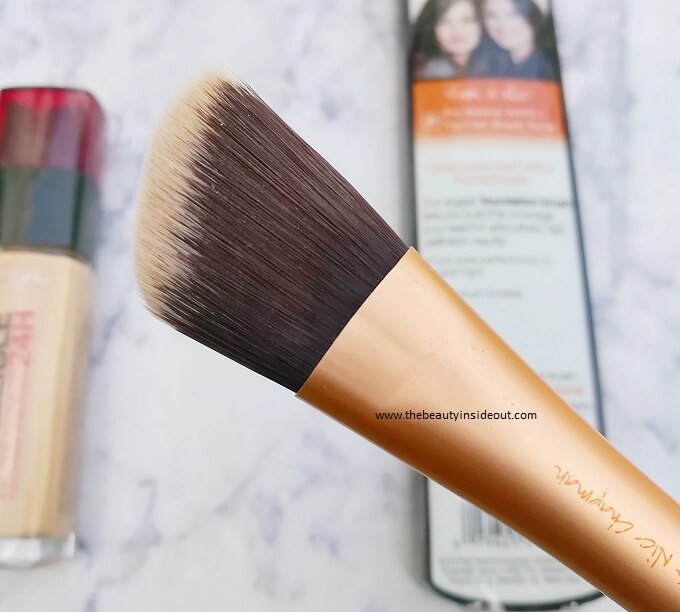 Pros:
Great design and packaging.
Self standing Base.
Cruelty Free Product.
Bristles are very soft.
Gives high coverage without soaking much product.
Angled brush helps to cover hardest areas of the face.
Doubles up as a concealer brush.
Doesn't shed after multiple washes.
Cons:
Leaves streaks of lines with some liquid foundations.
Standalone finish is not flawless.
Small brush, hence application is time consuming.
Rating: 3/5
Would I recommend? No. I could any day do away without this brush. This doesn't add much value to my makeup routine/vanity. It is not a must have for me. You can get it if you would like to experiment with brushes because it is priced well.