One of my favourite websites to shop beauty essentials is Nykaa and when they launched their own makeup range, I was quite intrigued. Lately they are going crazy with introducing new launches and it's really hard to keep up with the pace they bounce, seriously! I am not a regular makeup junkie as my skin is really sensitive. I think a lot before applying any sort of skincare or beauty products on my face. Even DIYs have created a problem for my skin. But one of the basic makeup product every girl needs is a foundation. This Nykaa Skingenius Foundation has been the talk of the town for a long time now, so I wanted to try them out. I finally purchased it and here I am with a review of it after using it for more than six months.
Product Description:
Experience the weightless texture of Nykaa Skingenius Foundation. This luxurious long-wear formula lasts all day long keeping your skin fresh & radiant. Enriched with Polylift Technology & Hyaluronic Acid, this foundation not only sculpts and lifts your skin but also imparts oodles of hydration to it. The unique colour-adapting technology allows you to get a perfect match to your skin tone. It is also equipped with sun filters that shield your perfect complexion. Let the imperfections disappear and let your skin glow!
Enriched with Hyaluronic Acid
Features exquisite Polylift technology and colour-adapting pigments
Offers beautiful dewy finish
Fragrance and Paraben Free
Made in Europe

Ingredients:
Not mentioned.
Shades: 5
01 Pure Ivory
02 Almond Beige
03 Warm Sand
04 True Tan
05 Golden Honey
Price: Rs.575/- for 30ml
My take on Nykaa Skingenius Foundation:
The packaging of the Nykaa Skingenius Foundation is very sleek and classy. It comes in a plastic bottle with a beige colour body and black colour lid on it. It is travel- friendly, but as it has a nozzle applicator, it gets a little messy.
Coming to shade selection. I have tanned skin and I got confused between True Tan 04 and Golden Honey 05. Finally, after a lot of cracking my head, I went ahead with Golden Honey 05 even though it seemed a little dark for my skin. You may ask, Why? This foundation, as the name itself, is genius that it has colour adapting technology which means even if you buy a somewhat lighter or darker shade, it will automatically adapt to your skin colour and leave you with a flawless finish. Amazing, ain't it?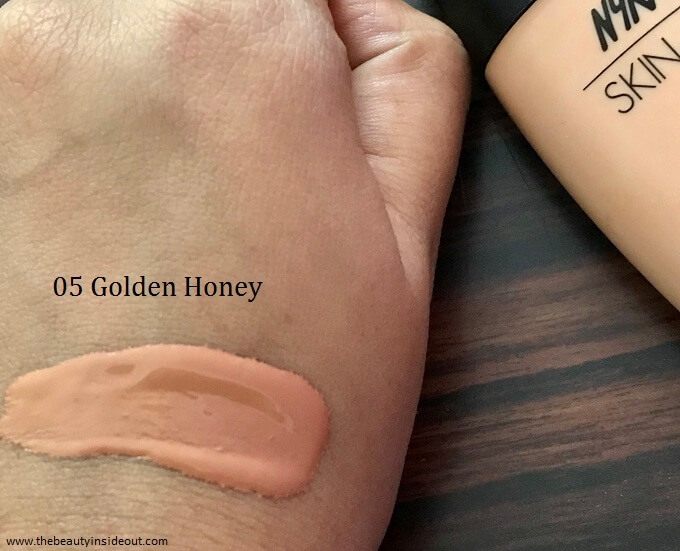 This product is enriched with Polylift technology and Hyaluronic Acid. Now you may feel a little hesitant to use this product after hearing these foreign words. In fact, Polylift technology sculpts and lifts your skin and Hyaluronic Acid, which by name scares you, will actually hydrate the skin and leave the skin looking flawless.  Studies say that our skin cells actually produce Hyaluronic Acid in a bid to maintain moisture levels.
The Nykaa Skingenius Foundation has a creamy texture which is perfect to apply on to the skin. A small amount gives a good coverage for me. I apply the foundation with Nykaa Beauty Blender Sponge. It offers medium coverage compared to other foundation brands in the market.  That was perfect for me as I do not like to use much makeup on my face. Also, I have an acne prone oily skin. Since this product gives a glossy finish, people with Normal and Combination skin can manage, but it becomes very flashy for people with oily skin. I always use my Revlon Nearly Naked Pressed Powder after applying foundation to set it. The foundation easily lasts for 4-5 hours. With frequent touch ups, it lasts even more. The foundation does smell a little chemical to me, but it has not caused any acne in the last 6 months. Overall I am liking this foundation.
The only suggestion I have for Nykaa on this foundation is to launch more shades because, in India, we have fair, wheatish and also beautiful dusky skin types. And this shade range is definitely not enough to cover versatile skin tones.
Pros:
Enriched with Hyaluronic Acid
Travel-Friendly
Very Affordable
Hydrating and Polylift Technology
Adapts to the skin colour
Not heavy for the skin.
Cons:
Not perfect for all Skin colours
Nozzle applicator becomes messy with prolonged use
Not very suitable for Oily skin. Have to use pressed powder if you don't like the glossy finish.
Rating: 4/5
Would I recommend? Yes definitely.
I hope you guys like this review and it will help you decide whether to buy the product or not. If it did, please drop your comments below and share the post with your fellow ladies. Stay Happy. Think Positive.
Guest Writer : Bhumi