Dear Packer Sheet Masks were quite the rage when they were launched in India on Nykaa last year. Just like everyone else, I was curious too and bought a couple of them. These Dear Packer Sheet Masks are exclusive to Nykaa and are Made In Korea by the Korean Sheet Mask brand Dear Packer. These dedicated sheet masks are formulated using ingredients that are native to our country like Sandalwood, Coconut, Turmeric and so, to cover our Indian Consumers. These sheet masks cost Rs.100 each and are often available on sale/offers where you can get it cheaper. In this post, I'm going to share my experience with these Dear Packer Sheet Masks.
Dear Packer Sheet Masks Review
Starting off with some common things of these sheet masks
Packaging: It's eye candy! Each of them have appealing, colorful packaging with the main ingredient pictured beautifully on its cover. The Home Remedy Collection Masks come in unique semi circle pouches whereas the Lab Collection Masks come in colorful square pouches. The back sides have information's like what the sheet mask does, all the ingredients that goes into it, best before date and so on. All these sheet masks have a shelf life of about 3 years.
Fit: The fitting of Home Remedy Masks were good on me but the Lab Collection ones weren't perfect, especially around my outer cheeks, it was pretty hard to place them wrinkle free.
Material: Except the Charcoal one whose sheet is made of Bamboo Charcoal and Bamboo Fiber, all other Home Remedy Masks are made of Micro Cell Sheet made of pure cotton. All Dear Packer Sheet Masks run on the thinner side which adheres well to the skin. The Home Remedy Masks are a bit thinner than the Lab Collection Masks. Dear Packer Sheet Masks are 5 free – No Paraben, No Mineral oil, No Talc, No Triclosan, No Triethanolamine.
Serum/Essence: All Dear Packer Sheet Masks are soaked in a colourless, semi-thick serum. There wasn't much/any serum left over in the pouches after taking out the sheet mask out. These sheet masks are drenched in enough serum. The serums do not drip over due to its thickness, hence I didn't have the need to lie flat or stay immobile. All the sheet masks have a cooling effect on the skin, inspite of not refrigerating them.
Fragrance: Most of them have mild to moderate synthetic herbal scent. The fragrances never irritated my nose while I was having the masks on. They are subtle and doesn't reek of alcohol. I will put up the fragrance notes individually in the reviews section down.
Color: Except the charcoal variant which comes in black color, all other sheet masks are white in color.
How I used the Dear Packer Sheet Masks?
Each and everyone use sheet masks in different ways. Some use as one of the steps in their 10 step korean skincare routine, some use it as a standalone product, some rinse the serum after sheet masking etc etc. I will tell you how I used them.
I always cleanse first and never use it on dirty or oily skin.
Then straight away I use the sheet mask. It is good to tone before you mask. But I prefer not to tone, mostly to check its standalone efficacy for review purposes.
I mostly keep the mask anywhere between 15 to 30 minutes, depending upon how fast the serum evaporates or if my skin starts to feel uncomfortable. I always remove the sheet mask when it's still damp.
Next, No I don't wash my face. Why would I rinse away the benefits of the mask!!
I just pat the serum onto my skin for about a minute or two and then apply aloe vera gel, even if the serum is still damp or sitting on top of my skin. Because aloe gel dries down along with the serum, locking all the goodness of the serum into the skin. Some follow up with night creams or other moisturizers but for me, it's always aloe vera after sheet masking.
That's it. Go to sleep. I generally don't use a lot of products when I'm sheet masking.
1.  Dear Packer Home Remedy Sheet Mask – Sandalwood & Rose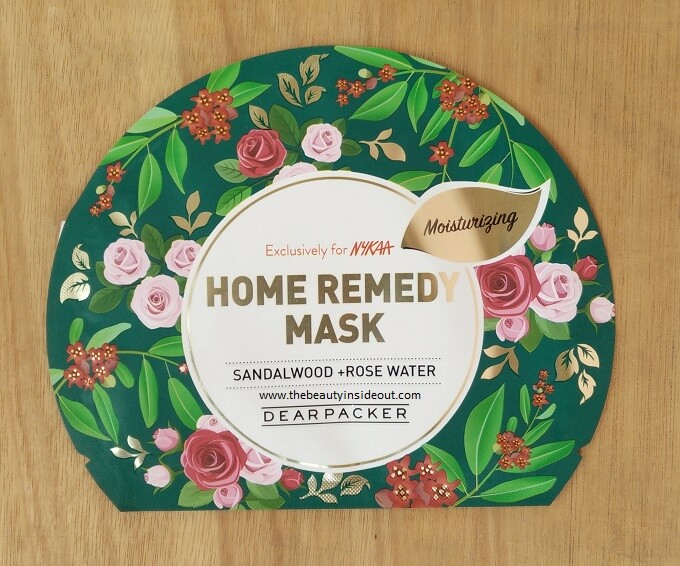 Property: Moisturizing.
Claims:
Enhances moisture retention.
Strengthens skin's barrier by preventing water loss.
Helps seal in the skin's moisture.
Instantly Freshens, hydrates and softens dry, chapped skin.
Suitable For: Dry, Dehydrated, Non Acne Prone Skin.
Experience: This was the first sheet mask that I tried from the Home Remedy Collection. Since this was a moisturizing mask, I used it when my skin was dry and craving for some real hydration. After masking, the serum felt tacky and stayed that way for a long long time. Since I don't wash off, I just slept with it. This mask as claimed was insanely nourishing, softened skin and healed dryness. I woke up with a fresh, supple skin, but along with three tiny little whiteheads! The masking effect lasted until I washed my face with a cleanser. The mask had a mild rose scent.
Repurchase? No, this broke me out.
2. Dear Packer Home Remedy Sheet Mask – Charcoal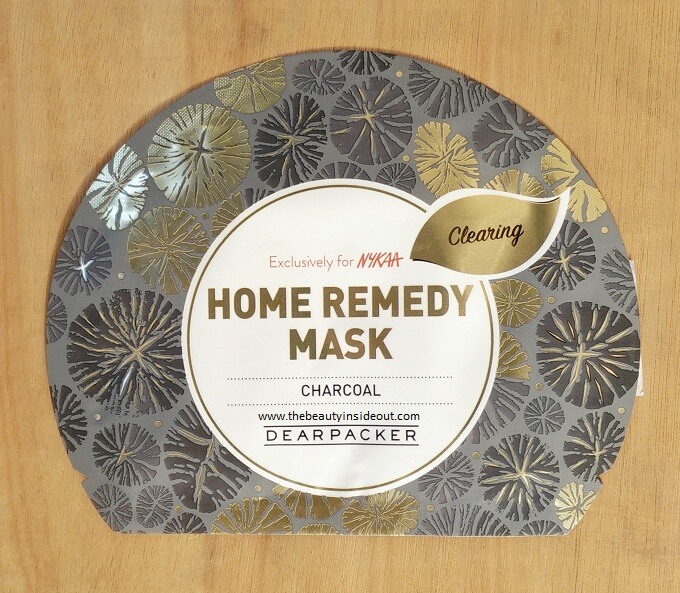 Property: Clearing
Claims:
Purifies skin
Reduces a range of skin impurities.
Unclogs polluted pores.
Protects skin against environmental stressors.
Suitable For: Oily, Congested, Clogged Skin.
Experience: I used it the very next day of using the Sandalwood+Rose Mask and this worked beautifully to vanish those tiny zits. I consider this Mask as the best among all the Dear Packer Sheet Masks that I tried. It is perfect for oily skin types and the serum is not the sticky types. It gets absorbed into the skin quickly with just few pats. My skin also looked visibly brighter the next morning. One of the best sheet masks for visible results. This mask has a mild soapy scent though!
Repurchase? Totally yes.
3. Dear Packer Home Remedy Sheet Mask – Coconut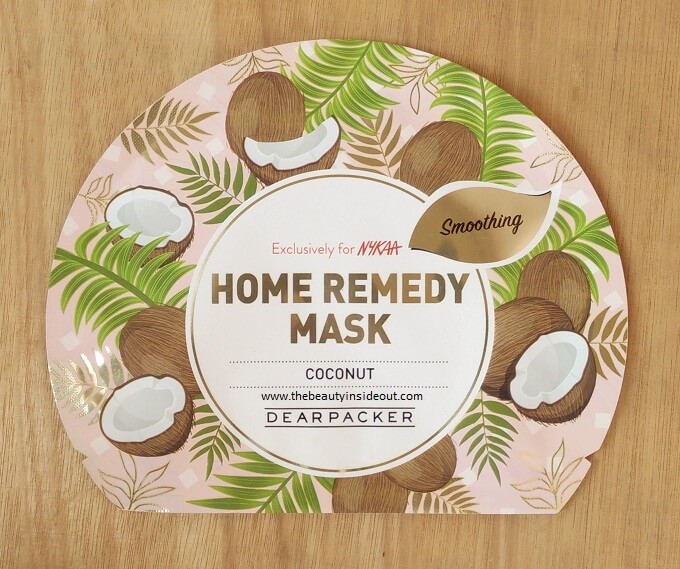 Property: Smoothing
Claims:
Moisturizes skin
Gives healthy, smooth, even tone skin
Heals redness from rashes
Suitable for: Dehydrated, Normal, Combination Skin Types.
Experience: I used this after a week of using the above mask. This mask has a coconut candy- coconut powder fragrance. It is slightly stronger but if you like Coconut scents it will not be a bother. The essence of this mask is nicely hydrating, it's not as sticky as the rose variant but not as light as the charcoal variant, it's somewhere in between and gets absorbed in a while without being uncomfortable. This mask made my skin glow and boosted hydration that my skin was plumped up. I liked it. This will be a good option if you are looking for hydrating mask that isn't overly moisturizing and perfect for slightly oily and combination skin types.
Repurchase? Maybe
4. Dear Packer Home Remedy Sheet Mask – Cinnamon & Honey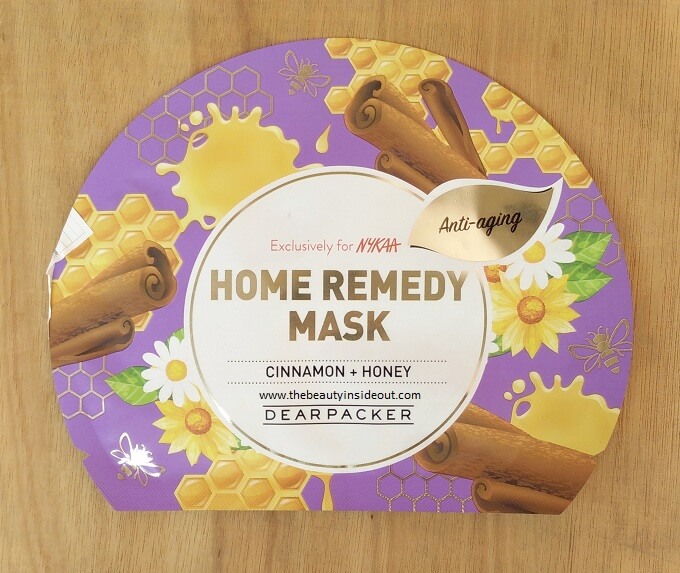 Property: Anti-aging
Claims:
Restores suppleness
Deeply nourishes
Lifts, Smoothens, sculpts, re-texturizes, moisturizes
Suitable for: Dry, Aging, Mature Skin
Experience: Although it said Anti-aging, since it contained honey & cinnamon, my favourite acne ingredients, I thought this will be amazing. But it is purely a moisturizing mask suitable for dry skin types. The serum in this feels very heavy after mask removal and fails to get sealed in even after applying Aloe Gel. I felt kind of uncomfortable post masking and slept with a sticky face. Thankfully this didn't break me out and my skin was soft and nourished when I woke up. The results are pretty decent, satisfying some of its claims, but only if you could bare sticky serums go for this. As usual the supple skin effect was there, temporarily.
Repurchase? No
5. Dear Packer Home Remedy Sheet Masks – Egg White & Lemon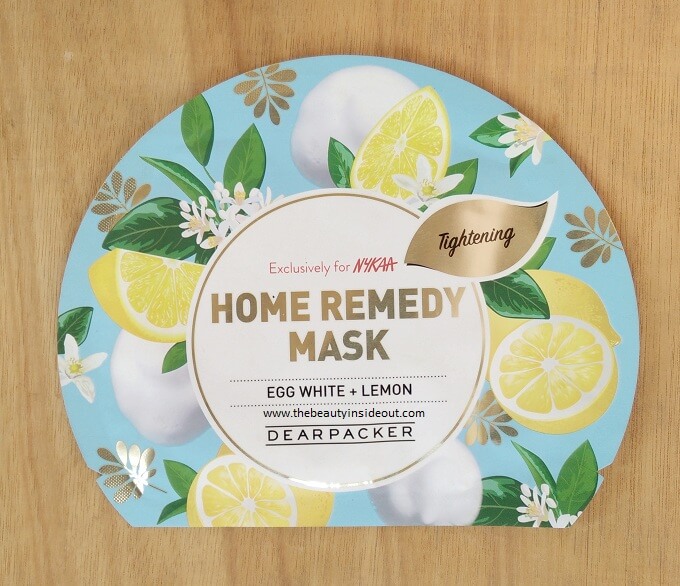 Property: Tightening
Claims:
Tightens sagging skin.
Seals dilated pores.
Gets rid of blemishes.
Creates a lift.
Suitable for: Dry, Mature Skin.
Experience: I wasn't happy with this mask. Because I didn't notice much of a difference after using this mask. There was no tightening effect,  blurring of pores, or anything of that sorts. Getting rid of blemishes would need multiple usages, so I can't talk about that claim. This mask again provides a lot of hydration to the skin. Someone with dry and parched skin may like it. On my skin the serum of the mask felt a lot more sticky and took a bit of time to settle down. This mask didn't really impress me!
Repurchase? No, not for my skin type.
6. Dear Packer Lab Collection Anti-Pollution and Clearing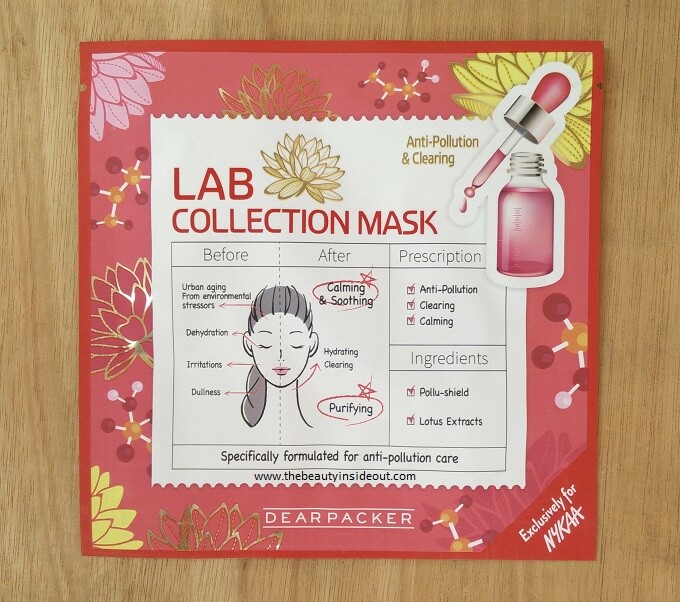 Property: Anti-Pollution & Clearing
Claims:
Protects skin against pollution
Provides anti-oxidant defense
Alleviate signs of irritation
Relieve dryness caused by environmental stress.
Suitable for: Dehydrated, Oily, Pollution Exposed Skin.
Experience: I loved this for my oily skin. I had uneven texture when I used this and it smoothened them out nicely. The serum is not sticky and gets absorbed in a few minutes. I am sure it would be a pleasing experience when used after a day out in the pollution. I woke up with a glowing, slightly brightened up skin. The smoothening effect lasts till the next day, until I used a foaming cleanser. The fragrance is artificial, but mild and non-bothering.
Repurchase? Yes
7. Dear Packer Lab Collection Mask Anti Aging & Firming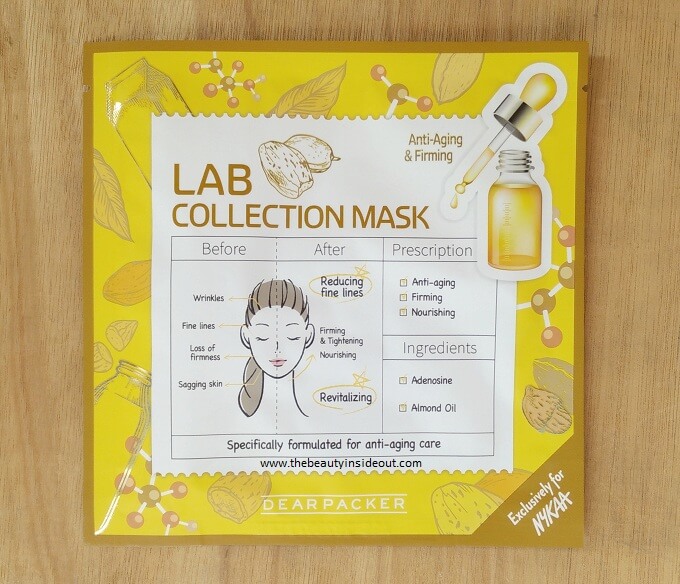 Property: Anti Aging & Firming
Claims:
Nourishing
Improve elasticity
Gives youthful glow
Skin will appear smoother, tighter and more radiant
Suitable for: Oily Skin
Experience: Anything for anti-aging requires a lot of time to show results. So I wasn't expecting much from it. This was a simple hydrating mask which gave a nice glow. But I liked this mask because the serum soaked in so quickly without the stickiness after removing the mask. My skin felt soft and supple like every mask. There wasn't any tightening effect as claimed. The fragrance of this mask is bit loud. It smells sweet like Vanilla essence. It may be bothering for sensitive noses but mesmerising for those who like vanilla ice creams. The mask has a soothing cooling effect while the serum evaporates. Overall, I liked this mask for its fast absorbing serum which gave a plump and glowing skin.
Repurchase? Yes
Overall, I had mixed experience with the Dear Packer Sheet Masks. Some were good and some weren't. I noticed that only the ones that are meant for my skin type and skin concern worked for me. So I suggest checking for the product descriptions well before making a purchase and not randomly pick up sheet masks like I did (I was blinded by the sales and offers at that time).
My favourite from the Home Remedy Collection is the Charcoal and from the Lab Collection Masks both were pretty good. Most of you would have tried these masks. Do let me know your favourites in the comments section below.