Disguise Cosmetics is a fairly new brand that I came across on Instagram. I was intrigued with its Vegan tag, so I decided to get one shade from them. Also it was a while since I bought a lipstick, I thought this will be a better option than the drugstore Lakme and Maybelline Lipsticks. I bought this while it was on sale from Nykaa.com. This lisptick was also available on last month's Fab Bag. Without any further ado, let's get into the details of the Disguise Cosmetics Lipstick.
Product Description:
Each Disguise Cosmetics Lipstick is enriched with marula and avocado oil that soothe and heal lips. Our small batches are made with luxurious almond, argan and jojoba oils to nourish your lips and prevent them from drying out. For the smoothest glide, we also add Shea butter for that perfect finish. Together with Vitamin E, a natural antioxidant, this is the best lipstick to experiment with. It is so light and comfortable, you'll forget it's there!
Our signature lipsticks are toxin free and will leave your lips healthy and hydrated. All our lipsticks are lead free. We also never use any animal derived ingredients and our makeup is not tested on animals. We're PETA certified Vegan and Cruelty-Free.
Disguise Cosmetics Lipstick Ingredients: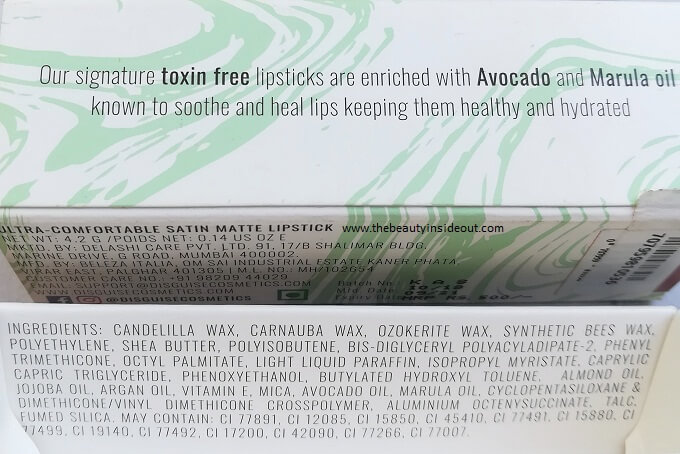 Shades Available: 11
01 Fuschia Explorer
02 Red Model
03 Wine Chef
04 Nude Poet
05 Coral Dramatist
06 Pink Trekker
07 Plum Striker
08 Orange Editor
09 Biege Magician
10 Blush Actress
11 Black Slayer
Price: Rs.500 for 4.2 gms.
Shelf Life: 36 months.
My take on Disguise Cosmetics Lipstick:
Packaging: Disguise Cosmetics Lipstick come in a minty green plastic bullet packaging. The lipstick doesn't feel like cheap plastic. It has an aesthetically pleasing look and feel with the addition of a magnetic lock. There is a label with shade name and color at the bottom of the bullet. The lipstick by itself comes housed in card box packaging with various details about the lipstick printed on it.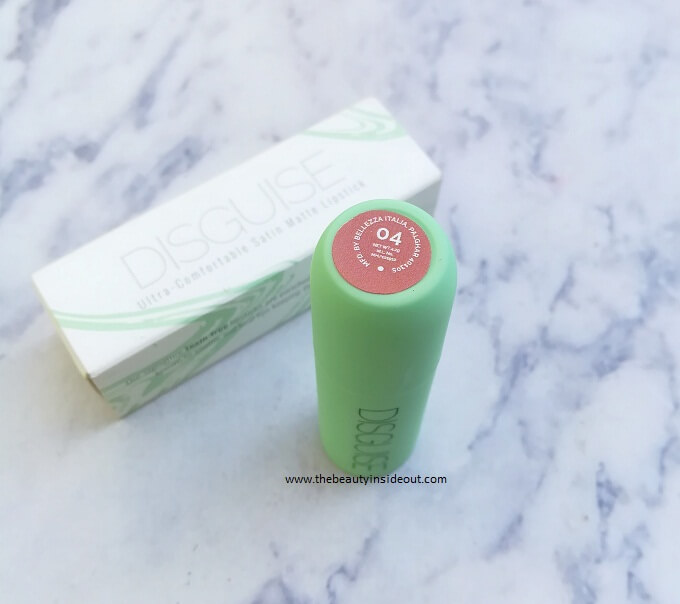 Ingredient Analysis: I guess I missed out on something while buying. I thought these were like the Soultree Lipsticks with clean ingredients. These aren't like that though. They only claim to be Toxin free, Lead free, Paraben free, Vegan and Cruelty-Free Lipsticks. Also, looking at the ingredient list closely, we can see silicones, talc and few other chemically derived compounds. In all, these are said to be safe but not natural. Atleast we are rest assured that they do not contain carmine or crushed bug pigments in our lipsticks because Disguise Cosmetics is Vegan Certified by PETA.
Shade: The shade range is good with a variety of colors including a black shade. I bought the shade 04 Nude Poet as I wanted to replace my favourite Lakme Red Chaos Lipstick. Also, I wanted to put this vegan lipstick into use easily and not to lie down in my stash for years together. Because I tend use darker shades only on some occasions and such nude shades are easy to be worn any day.
04 Nude Poet is a peachy rust color with slight orange tones. It is not a very MLBB kind of shade on my medium fair skin tone. So it would never wash out any skin tone (like some nude shades) and would suit all skin tones universally. The shade will show up darker for lighter skin tones and will be a perfect nude shade for deeper skin tones. In any case, the shade is so beautiful and would totally woo you.
Fragrance: The Disguise Cosmetics Lipstick has a faint floral scent. It is not at all bothering as it wanes away in a couple of minutes post application.
Texture & Finish: This lipstick has a creamy matte formulation. It is not very creamy to glide and bleed at the touch of it but does not tug either. It applies smoothly on well hydrated lips. This shade has a beautiful matte finish which feels so comfortable on the lips. A few other shades have a satin matte finish with a sheen to it. The lipstick is very lightweight on the lips and gives a nothing on my lips feel. The lipstick is not at all drying even after a couple of hours. I would say this lipstick has one of the most comfortable matte formula. It neither settle into lip lines.
Pigmentation: The pigmentation of this shade is impressive. Despite being a nude shade, one swipe gives almost full coverage hiding pigmented lips really well. I'm certain darker shades will need just one swipe to flaunt that bold color.
Staying Power: The staying power is average. It is not very long lasting. It stays put as long as food is consumed, roughly around 4 hours. It can survive few sips of water initially. The shade do transfer onto cups and tissues. On food intake it vanishes completely. This shade does not stain the lips or leave my lips dry thereafter. The staying could have been a little better.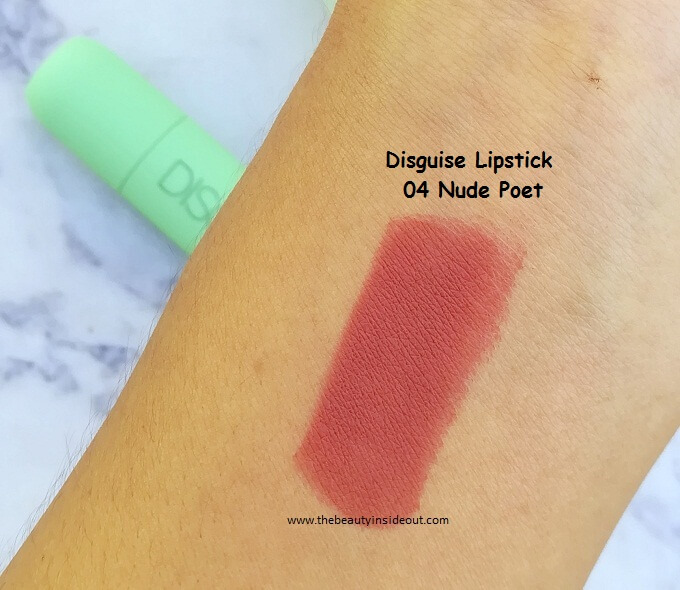 Pros:
Vegan and Cruelty-Free Certified.
Attractive packaging with a magnetic bullet.
Great shade range, including a black.
Applies smoothly without tugging.
Does not bleed or settle into lip lines.
Good pigmentation.
Comfortable non drying matte finish.
Cons:
Staying Power could have been better.
Not transfer proof.
Not completely free of chemicals.
Rating: 4.5/5
Would I recommend? Yes, the Vegan and Cruelty-Free tag is enough to recommend this product. Except for the staying power, the other aspects like the lightweight formula, pigmentation, finish of the lipstick, everything is great. The price point is also reasonable. Neither too expensive nor cheap. Overall, I would recommend the Disguise Cosmetics Lipstick.