Himalaya Neem Face Pack is a popularly recommend face pack for acne and acne scars. I bought this from the store instinctively as I was looking for something to calm down my angry active acne. I've heard so many positive reviews about this product, so that knocked a bell in my mind to pick this product. Moreover, it costs only 70 so even if it didn't work I have nothing much to lose. Let's hear out what I have to say about this product.
Product Description:
Himalaya's Purifying Neem Pack brings together the goodness of Neem, Fuller's Earth and Turmeric, which work together to regulate excess oil secretion, clean clogged pores and prevent the recurrence of pimples.
Ingredients: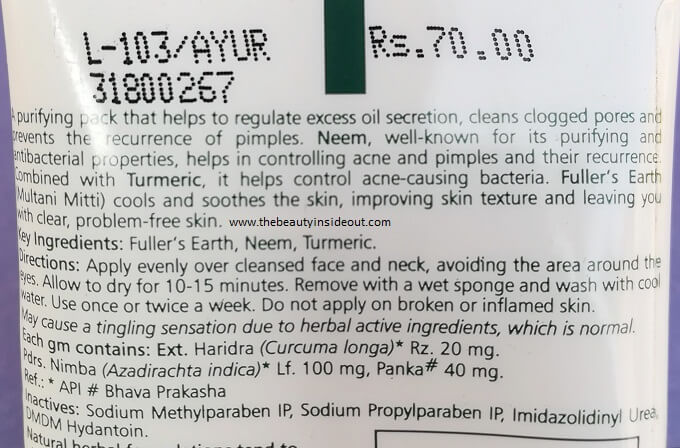 My take on Himalaya Neem Face Pack:
Packaging: The packaging is very basic but practical. It comes in a white plastic tube with a flip cap. The cap is tight enough and does not open up by itself. But still it is best to tape the cap with a cellophane if you are going to throw it in your luggage. The product tends to get accumulated on the cap and makes it look messy, but that's something that happens with most tube packaging. The back of the tube has details regarding the product usage, key ingredients that goes inside it and related mfg & expiry dates. The product has a shelf life of 36 months.
Color & Fragrance: The Himalaya Neem Face Pack is a dark green colored ready to use pack. It does not have the most appealing sight but what bothers me a lot is not the color or look, but the scent. I didn't see any reviews alerting me about the smell. This face pack has the most nauseating fragrance. It has this synthetically made floral fragrance. It is as though it has been poured to mask the herbal scent, if it had any. The fragrance is too strong and it stays as long as you have the pack on your face. It is so overwhelming if I apply the pack on my upper lips or very close to my nose area. So I usually avoid applying there. The fragrance is a big turn off.
Texture: The Himalaya Neem Face Pack is not the usual smooth clay types. It has a semi-thick texture with uneven particles in it. They do not feel harsh on the skin when used as a pack but at the same time can be used as a mild scrub. The face pack sometimes separates itself with a liquid part of it coming out of the tube. This mostly happens if the weather is too hot. I would suggest shaking the tube first before taking the product out for application.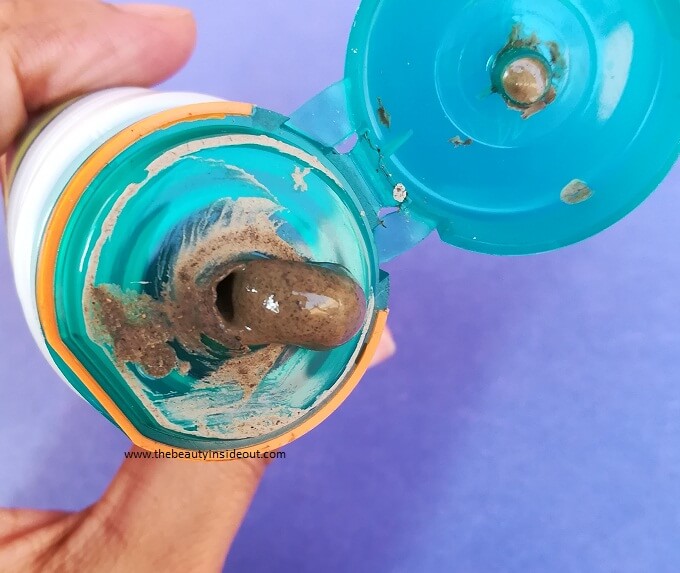 Effectiveness: Since my skin has an aversion to most ready to use packs (my skin turns red), I patch tested it first. I tested it on my chin applying a pea sized of the product. After observing no adverse reactions, I decided to use on my entire face. I applied a thin layer of the pack all over my face. It gave an intense cooling sensation which wasn't the irritating or itchy types. The pack starts drying quickly and it took less than five minutes to dry out completely. I then moistened my skin and washed off my face with plain water. Removal is not easy as you think. I mostly use a wet sponge for easy removal.
Since the face pack has scrubby particles, it can double up as a physical scrub. Since I like my exfoliations to be gentle, I didn't really massage, but just removed the mask gently. After pat drying, my skin felt very fresh and clean. The pack has sucked out all the impurities and oils, so my skin felt a bit dry. I followed up with my toner which picked up the remaining face pack residue and then applied my regular moisturizer. Himalaya Neem Face Pack awakens dull skin and certainly gives the refreshing after effect of using a face pack.
Since the face pack dries out quickly and makes skin slightly itchy & uncomfortable, often times I tend to apply a thick layer of the mask, so that I can keep it on for 10 minutes atleast and remove it before it becomes completely dry. Sometimes I had applied this as a spot treatment (on problem areas where I have acne that hasn't come to a head) even for 4 hours straight. The pack has helped to heal the inflamed acne and flatten it faster than it would normally.
Overall, I was pretty satisfied with the results of this face pack. It's budget friendly but gets used up fast if you apply a thick layer like me. The parabens and synthetic fragrance in it could have been avoided though!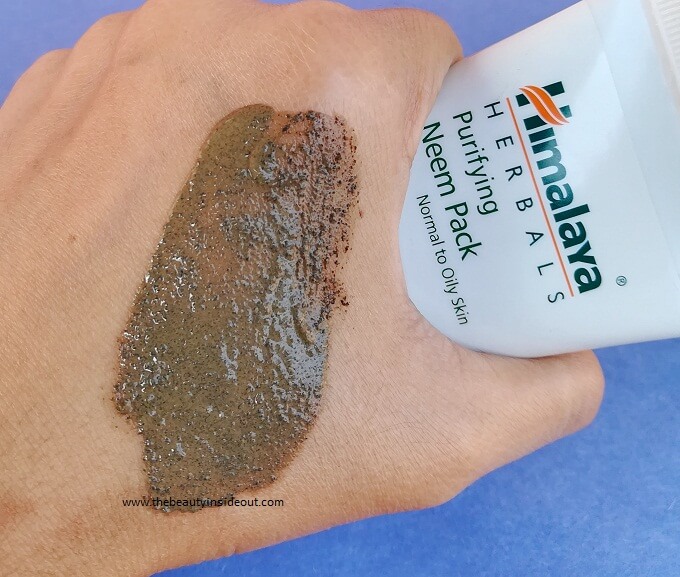 Pros:
User friendly packaging.
Budget friendly.
Contains Neem, Turmeric & Fuller's Earth.
Has a texture that doubles up as a Scrub.
Quick masking session as it dries quickly.
Sucks out all the gunk from the skin.
Gives a refreshing and clean skin.
Awakens dull skin.
Fastens healing of acne.
Perfect for oily and acne prone skin.
Cons:
Strong synthetic fragrance.
Dries out the skin if left on for more than 10 minutes.
Leaves a residue if not rinsed with a sponge.
Presence of Parabens.
Rating: 4/5
Would I recommend? Yes for oily acne prone skin. It's budget friendly and gives good results as a face pack. But if you detest strongly scented products, stay away from this. Even though this worked for me. I am not repurchasing this because I can stand such fragrances.
Related Reviews