Lotus Herbals is a leading Herbal Cosmetics Brand in India. They have a wide range of effective skincare products. Especially their sunscreens are a major hit among acne-prone skin girls. They have various ranges in skincare categories targeting specific skin conditions. This White Glow Range is targeted towards Brightening & Whitening the skin whereas the Youth Rx is targeted towards aging skin. I got this Lotus Herbals White Glow Cream since its a highly popular and best selling product on Amazon. Not because I wanted to "whiten" my skin 😛
Product Description: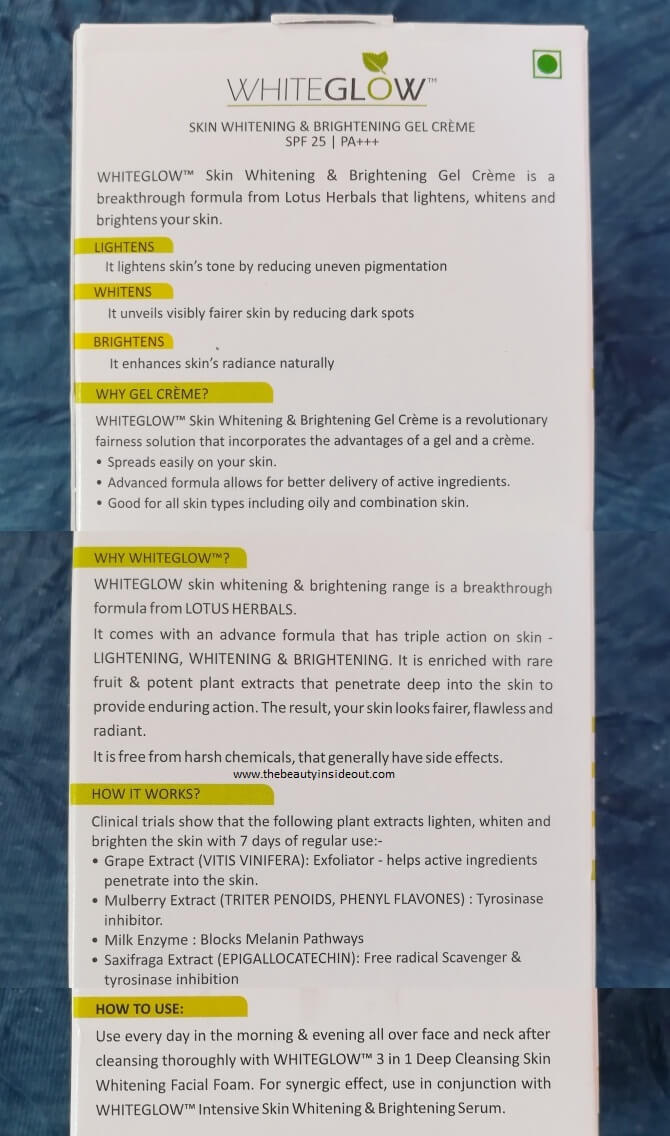 Lotus Herbals White Glow Cream Ingredients:

Price: Rs.345 for 60 gms.
Lotus Herbals White Glow Cream Review



Packaging: I got the 40 gms one which comes in a glass jar packaging. I like the classy look of the frosty white glass jar. It is further enclosed in a white card box with so so many details about the product. The whole packaging surely gives a luxury product vibe. Just look at it! Although the glass jar it is not travel friendly and I will have to dip my fingers in it each time, lately I've been preferring such eco-friendly packaging instead of plastic tubes. So that's not a major con for me. Anyways, if you still want a travel friendly version, they do have a smaller size plastic tube.
Color & Texture: I was disappointed to see its texture. It is not a gel crème texture. It is more on the creamy side but still fast absorbing. The texture is not bad as such, it is nice but I wish they sticked to their Gel Crème claim. Because I did buy the product thinking that it will be Gel Crème. I don't know why brands make such claims and fail to make them as such. One more product that disappointed me in a similar way is the Garnier Light Complete Serum Cream (Serum Cream?!?).
Fragrance: The Lotus Herbals White Glow Cream has a subtle floral fragrance. It smells artificial and not herbal like. The scent is not bothering though. It's mild and dissipates soon after.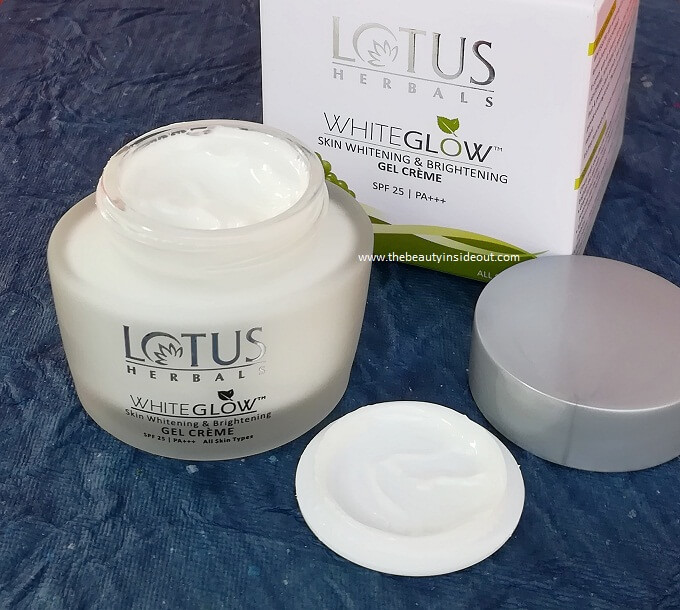 Efficacy: Before going into the performance of the Lotus Herbals White Glow Cream, I'll let you know my skin condition when I used this. I used this product during the last winters (December/January) where my usual summer oily skin was combination (dry cheeks, oily nose and normal forehead). I used it once a day in my morning routine even though the packaging says to use twice a day. Why? Because it's an SPF product and I don't want to use it overnight.
My morning skincare routine is usually simple with a cleanser, toner, moisturizer cum sunscreen. After applying the toner, I apply a big blob of the Lotus Herbals White Glow Cream all over the face. A big blob because I want it to effectively work as a sunscreen as well. The cream has a cooling effect when it touches my skin. It spreads and gets absorbed easily. It has a moist/wet feel initially which settles down in 2-3 minutes. The crème leaves the skin well moisturized without any greasiness. It doesn't give any instant brightness but gives a nice dewy skin. The gel crème just moisturizes the skin along with providing sun protection. It is not at all like those drying, mattifying SPF day creams which is what I like about this cream.
It claims to have so many natural fairness agents which I'm least bothered about. Anyhow, regular usage of this cream didn't Brighten or Lighten my skin tone. I don't know if it works for tan removal as I wasn't tanned at the time usage. This may not work to remove skin dullness as well, since I didn't see any brightening effect. My skin was the same as it was when I started using this.
If you are not expecting any major skin change (like brightening/whitening), I would consider this to be a good non-greasy 2 in 1 moisturizer & sunscreen for combination skin. I doubt that this cream will suit oily skin, as this felt slightly greasy for the summers,
The Lotus White Glow Cream hasn't broken me out. It might break you out if every other second product breaks you out since it contains few comedogenic ingredients. The product also contains parabens, a controversial ingredient that I'm trying to avoid. So I wouldn't be repurchasing this again.
Pros:
Classy packaging.
Lightweight texture.
Absorbs quickly.
Moisturizes as well as protects the skin.
No greasiness or stretchy feel.
Cooling Sensation.
SPF 25 PA+++.
Suitable for oily, combination skin types.
Not tested on animals.
Cons:
Lots of chemicals including parabens.
No gel-cream texture.
Tall claims.
No temporary or long term brightness.
Not suitable for very oily or very dry skin types.
Rating: 3.5/5
Would I repurchase? No.
Related