Today's review will be about the recently launched Garnier Light Complete Vitamin C Serum Cream. This is a 'Fairness Cream'. There are people who are into them and people who are against them. I'm not going to go deep into controversial talks but stick to reviewing the performance of the product against its claims. There are mixed reviews about this cream, let's see how this worked for me.
On other note, wondering why I bought this cream
The term Serum Cream, I wanted to see how the texture is.
This is super cheap costing Rs.69
The main reason, I was short of one Garnier product for my Brand Focus Series on Garnier.
Product Description:
Ingredients:

How to use Garnier Light Complete Vitamin C Serum Cream?
After cleansing and toning, take a little of the product and apply it in sections.
Blend it until it gets absorbed.
Price: Rs.69 for 23 gms.
Garnier Light Complete Vitamin C Serum Cream Review



Garnier Serum Cream comes in a simple, small tub with a screw type lid. The packaging is bright and yellow which kind of attractive to me. You will have to dip your fingers into the tub each time which is a bit unhygienic. Also, a little goes a long way, so even the smallest size will last really long. The product is very cost effective. The tub itself comes placed in a carton box with various details about the product on it.
Moving on to its texture, the name of the product is surely misleading – Serum Cream! Forget it. It's the usual thick cream which has a glistening effect, similar to other Garnier creams. This cream has a faint citrus scent which is detectable only when you keenly notice it. I don't smell anything much while applying.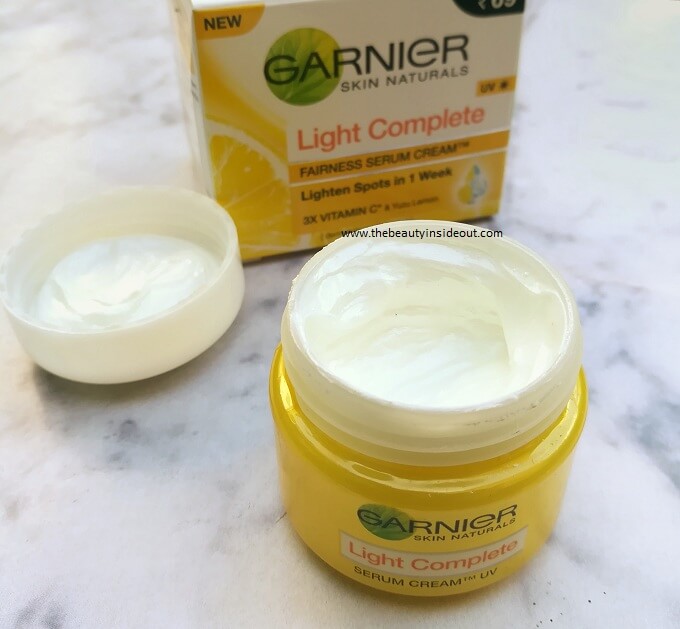 I have oily combination skin which turns slightly dry and itchy when the climate is cooler. When I tested it, I had fairly normal to dry skin. I used this for a full week during day times after my moisturizer. I apply it as dots section wise and blend it quickly as it dries/gets absorbed quickly. This cream gives an instant brightening effect on my skin tone which is not ashy or the white cast kind of. But this might not be the case for medium or deeper skin tones. As for it claims of making skin tone lighter in one week – it is an exaggerated claim. It doesn't improve skin tone or lighten dark spots. It only removes dullness of my skin temporarily.
The cream is on the mattifying side but doesn't make my skin feel stretchy like some creams. At times, it feels drying(not stretchy) if I don't use a moisturizer or moisturize properly beforehand. The finish is shine free and oil free. I heard people telling me this cream makes skin oilier faster but it wasn't the case for me, mostly because my skin was on the drier side when I tried this cream. However this cream did break me out into tiny bumps/whiteheads when used continuously. So it might not be a great choice for acne prone skin. Indeed, it contains few comedogenic ingredients.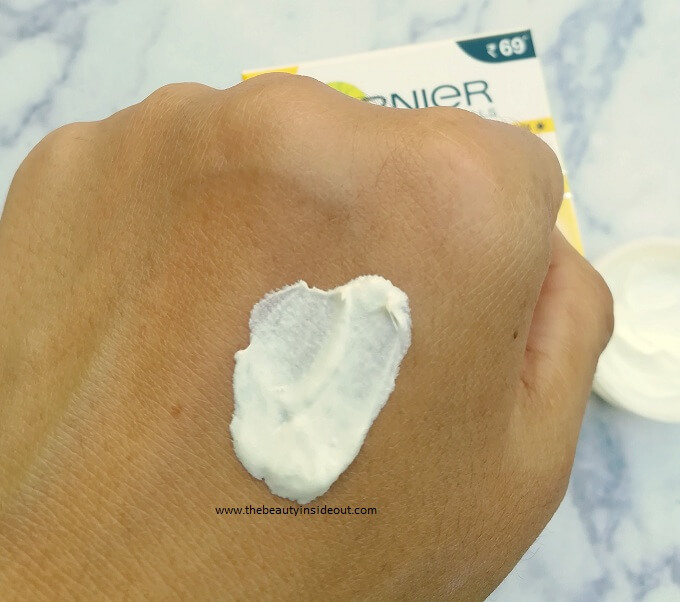 The Garnier Light Complete Serum Cream states it has UV Filters but doesn't mention its SPF, although various online portals state SPF 19?? I don't get how? Anyways, the ingredient list has sunscreen ingredients Butyl Methoxydibenzoylmethane and Titanium Dioxide which must be ok for indoor protection but certainly not enough to be used when out in the sun. I don't use this cream every day, but I still continue to use this for my occasional late afternoon outings because I like how it brightens my skin and I tend to believe it gives some protection. (Update 2021: The newer version has SPF 40 PA+++ and the packaging has changed from Light Complete to Bright Complete)
Pros:
Budget friendly and easily available.
Presence of skin brightening ingredients like Niacinamide and Japanese Yuja Lemon Extract.
Fast absorbing, oil free cream.
Instantly brightens up skin.
Hardly noticeable fragrance.
Has UV Filters. SPF 19??
Best suited for normal skin types.
Cons:
Exaggerated claims.
Does not lighten skintone or spots.
No Serum Cream texture.
No SPF Mentioned.
Not for acne prone skin.
Rating: 4/5
Would I recommend? Probably yes, as an instant brightening cream for normal skin. This is not the best but still an above average cream for teenagers and skincare beginners. It's budget friendly and is a little better than other commercially available creams like the Lever Ayush, Himalaya, VLCC and Ponds Creams.
Where to buy? Amazon