Finding a good moisturizer for combination skin is not that easy. It is very tricky since your skin is not completely dry but at the same time, it is not completely oily either. It is a combination of both, meaning parts of your skin would be dry and parts of it oily. Often it is the T-Zone that becomes oily faster and the rest of the face remains dry. I have such a skin type and I had a hard time with moisturizers until I stumbled upon this wonderful product which is ' Neutrogena Oil Free Moisturizer for Combination Skin'. They also have one specifically meant for Sensitive Skin. Today let us see how the one for combination skin fares.
Product Description:
Neutrogena Oil Free Moisturizer for Combination Skin is clinically proven to normalize combination skin by moisturizing dry areas while controlling shine in oily areas.
Moisturizes dry areas: Lightweight, non-greasy formula moisturizes where skin is dry, without leaving it oily or oily.
Controls Shine in oily areas: Clinically proven oil absorbing MICROSPONGE system controls oil and shine in the T-zone for a natural, matte finish all day.
Won't clog pores
Alcohol-free
Allergy tested
Fragrance free.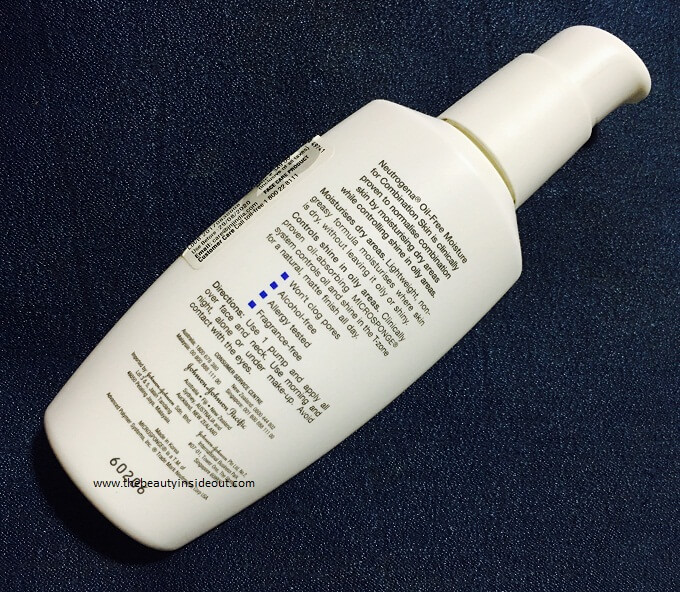 Ingredients: Water, Cyclomethicone, Cetyl Ethylhexanoate, Glycerin, Cetyl Ricinoleate, Stearyl Alcohol, Glyceryl Stearate, PEG-100 Stearate, Methyl Methacrylate Glycol Dimethacrylate Crosspolymer, Lysine Carboxymethyl Cysteinate, Lysine Thiazolidine Carboxylate, Tocopherol, Silica, Xanthan Gum, Diazolidinyl Urea, Benzalkonium Chloride, Methylparaben, Propylparaben
Price: 349 INR for 118 ml.
My take on Neutrogena Oil Free Moisturizer for Combination Skin:
Packaging: The product comes in a white encased bottle packaging with a pump dispenser and is travel-friendly. The bottle comes without a cap and is layered with a paper box packaging which holds various details about the product.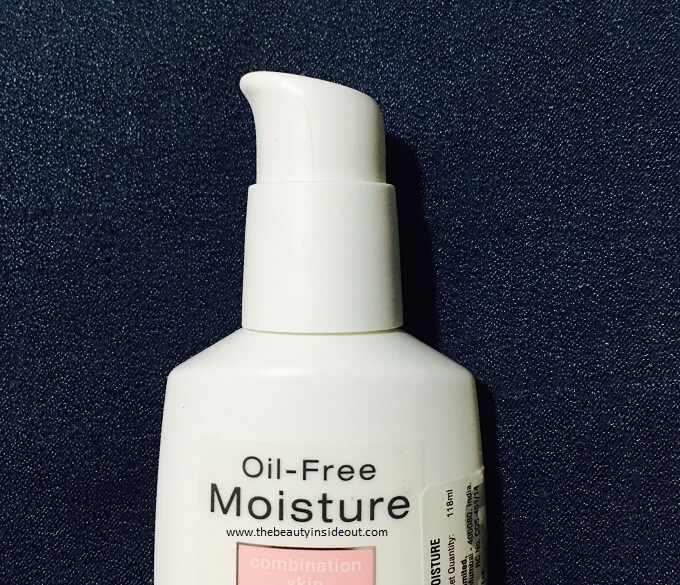 Color: Well there's nothing to talk much about the color of the product as it is white and solid in texture but it is light weight.
Fragrance: There is no significant smell for this cream but when you deeply smell it you will find a chemical related smell. The fragrance free quality of the product is what makes it recommendable to the users who go through major medical skin issues and is why it is also recommended by doctors.
Texture: It looks like it's a thick paste but it slathers on in the most perfect way and is light-weight so it also doesn't feel heavy on the skin. It possess no color or shade which makes it incredibly great when planning on using it as a base makeup or as a primer.
Experience: I strongly believe the product is honestly meant for dry-skin and is incredibly good as it gives out a matte effect without any shining over the T-zones. It made my skin feel supple soft and really healthy after applying it. My skin absorbed the product well without making it oily and I encountered no breakouts. Neutrogena Oil Free Moisturizer works best when used in winters because it justifies its usage. I felt free to team this product up with my medications also. The product never landed in my stash because I never felt like keeping it aside as it worked wonders on my skin as I have a combination skin. It's easily available at your nearest medical store, it is travel friendly, just stash it in your bag and your good to go; and it won't spill if you lock it as recommended. It's greatly budget efficient.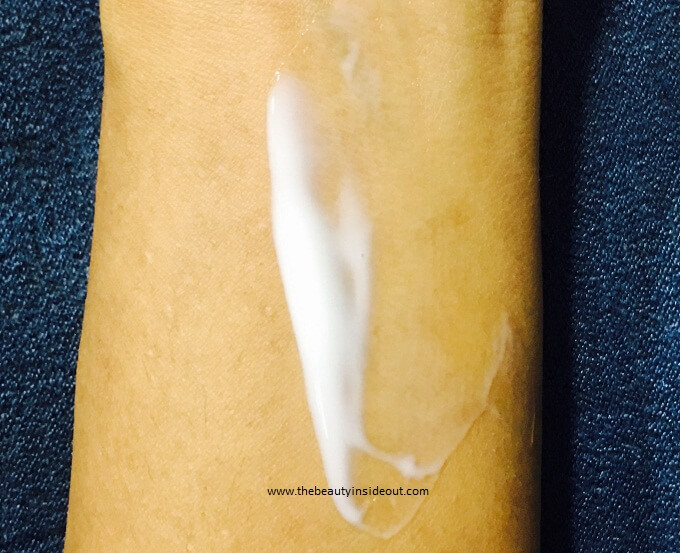 Pros:
It's a blessing for those with dry skin and combination skin.
It is absolutely fragrance free and is mildly texture in white color.
It glides on the skin as a canvas.
It is mild on the skin.
It doesn't cause breakouts or acne, provided you consult a doctor if you're going through some severe medications for a chronic irritation.
Lastly, it makes the skin so smooth and supple soft that you wouldn't want to stop touching it.
Cons:
The product could not be the right choice for those with extremely oily skin during the summer. Though a little could not hurt everyone.
Rating: 4/5
Do I recommend? Well, Neutrogena Oil Free Moisturizer is in a 9:1 ratio with respect to its pros and cons. So, I'd say, buy the product, give it a shot, you never know it could work wonders on you and probably you'd fall in love with it just like I did as the ingredients aren't very harmful and has more pros than cons.
Where to buy? Amazon
Have you tried the Neutrogena Oil Free Moisturizer? Share your thoughts in the comments section below.
Looking for other moisturizers/day creams?
Guest Author: Sakshi. S. Fagania