A month ago, when I was at the department store, unusually I picked up few products from various commercial brands like Ponds, Ayush & Patanjali. Obviously I got these to test them out for you all so you can expect reviews pretty soon. Keeping in mind that these aren't chemical free which is my usual preference, I'm not going to be judgemental with its quality or performance. I'll be starting off with the review of Lever Ayush Anti Marks Turmeric Face Cream, a product that I found to be similar to Vicco Turmeric Cream. Let's dig into the details.
About Lever Ayush Anti Marks Turmeric Face Cream:
How to use Ayush Anti Marks Face Cream?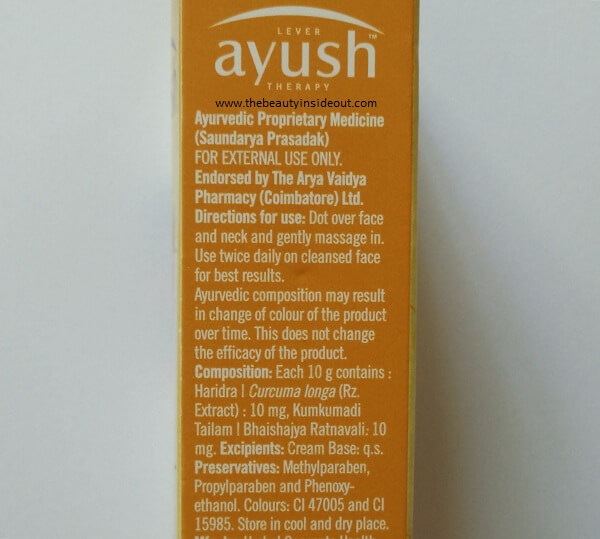 Price: 70 INR for 65 gm, 120 INR for 50 gm. Easily available in various department stores as well as online. You can buy it from HERE.
My take on Lever Ayush Anti Marks Turmeric Face Cream:
Packaging: The face cream comes in a squeezable tube form with a screw lid. The tube itself is housed in a carton with all relevant details about the product printed on it. The packaging is pretty basic yet it is travel friendly and convenient to use.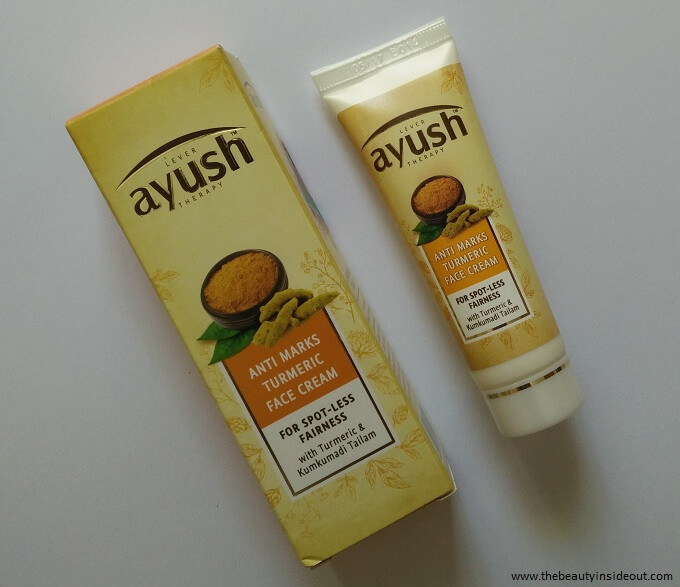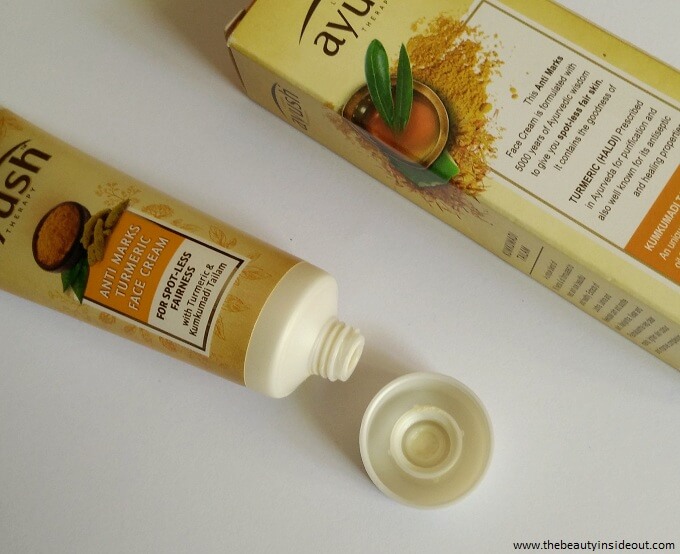 Color: It is pale yellow to almost white in color and has a mild sheen to it.
Fragrance: I expected it to have a herbal fragrance, but it has an apparent soap scent similar to Lux soap. The scent is not unpleasant but it isn't refreshing either. The fragrance lingers post application which might be a hindrance for sensitive noses.
Texture: The face cream has a rich, semi-thick consistency that spreads fairly well on moisturized or damp skin.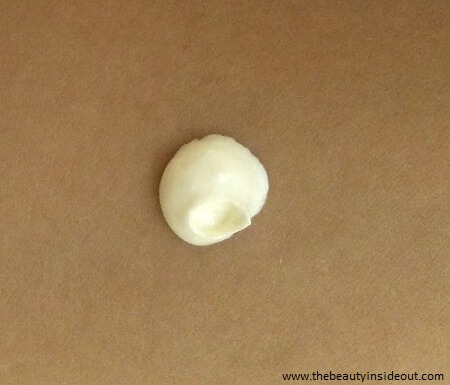 Efficacy: I started using this cream like a day cream by applying all over my face. First by dotting the cream and then blending it using my fingers. It has a tendency to dry quickly, so I had to be quick in application. The face cream immediately leaves a white cast on my fair-medium skin tone. Though it subsides after a few minutes and my skin becomes natural looking, I doubt that it would suit dusky skin types. The face cream does not hide marks or blemishes but evens out my skin tone very well. It gives an outright powdery matte finish that makes even my oily skin feel stretchy. It's almost like something is glued onto my face. Even when I splash water in the initial hours, it does not budge and I could see water droplets sitting on top of my skin. Just like when oil comes in contact with water. If you have used Vicco Turmeric Cream, you can easily relate to what I'm saying.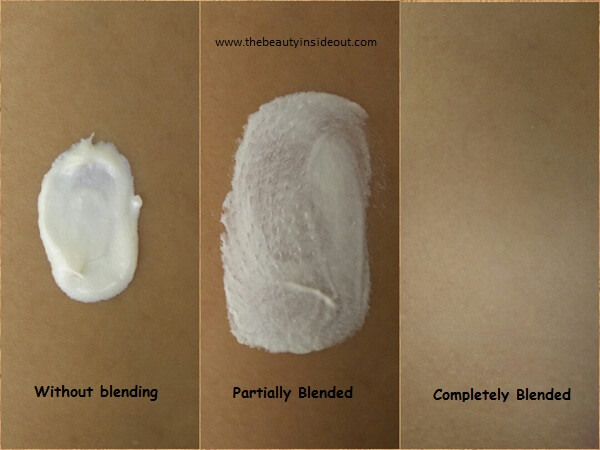 The mattifying finish might be liked by a few of you who have very oily skin type. It controls oil for the initial 3 hours after which oils start peeping through my skin and the cream starts to completely fade away making my skin look dull. I did not notice it doing anything on my active acne or acne marks when used as a day cream. Also with continuous usage of this cream for 4-5 days, this gave me tiny bumps and zits, so this might not be non-comedogenic and it might break you out.
So after a while I started using this turmeric cream as a spot treatment for my active acne and tiny zits during the nights. That's how I used Vicco Turmeric too. The Lever Ayush Turmeric Cream did dry out my acne significantly in 3 days time. So I would say this is a satisfying acne spot treatment and an average day cream. Dry skin types should stay away from this cream.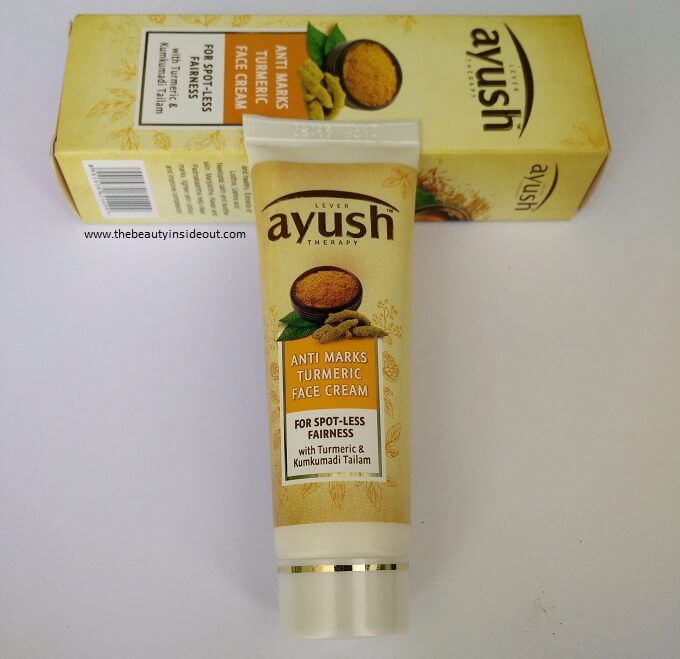 Pros:
Affordable price.
Good packaging.
Enriched with Haldi and Kumkumadi Tailam.
Suitable for very oily skin types.
Evens out the skin tone.
Controls oil for 3 hours.
Dries out active acne and zaps tiny zits when used as a spot treatment.
Cons:
Gives a stretchy feel.
Temporary white cast.
Does not prevent new pimples.
Not suitable for dry skin types.
Contains parabens and chemical preservatives.
Rating: 3/5
Recommendation: Yes as an acne treatment. No as a day cream. This is an exact dupe for Vicco Turmeric Cream, so get it if you like Vicco.
I hope you find this review helpful. Have you tried this Lever Ayush Anti Marks Turmeric Face Cream? Share your thoughts in the comments section below.
Also check out
Until Next Time,
Stay Beautiful♥